Getting a blocked sewer repaired in Sydney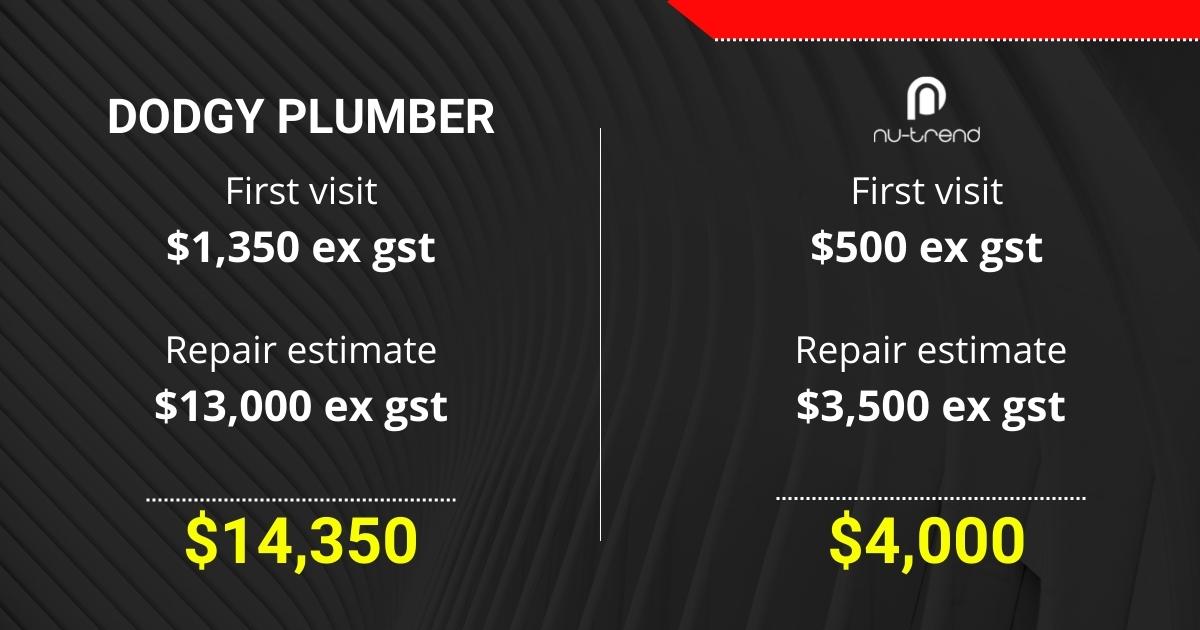 This is a real situation that many home owners face everyday in Sydney. You have a blocked drain or sewer pipe and need to get it repaired by unblocking the debris that is sitting inside the pipe. Although which plumber do you choose, how will they work out what is causing the blockage & how do you know they will do the most cost effective (and appropriate) repair?
It pays to do your homework and even be prepared to seek a second opinion and perhaps organise two plumbers to assess the problem.
The most common problem that we see is a lot of plumbers in Sydney will quickly clear the sewer pipe blockage and that's it. They won't really work out what the underlying issue is, the home owner won't know and as long as the water can flow again then everyone is happy. This is a short term repair solution that will just come back and cost more money to repair again later.
This home owner found out the hard way, they were charged for a plumber to visit who charged one thousand, three hundred & fifty dollars but didn't even fix the issue. It got worse, they quoted thirteen thousand dollars to do the repair. We were asked to assess the blocked drain (we'll explain below what we uncovered) we did this, cleared the blockage and provided a quote for a long term repair for around four thousand dollars.
You have to choose a licensed plumbers very carefully, try not to get caught up in flashy websites, fake plumber sales gimmicks or cheap 'call out fees' – they don't mean a lot if you don't get the right work done or get quoted ridiculous prices to get something repaired. Every plumber at Nu-Trend has been trained to find the problem & provide a short term as well as long term repair solution to ensure the underlying plumbing problem is addressed.
Read on to see what we discovered at this property
Get a blocked sewer pipe that is overflowing repaired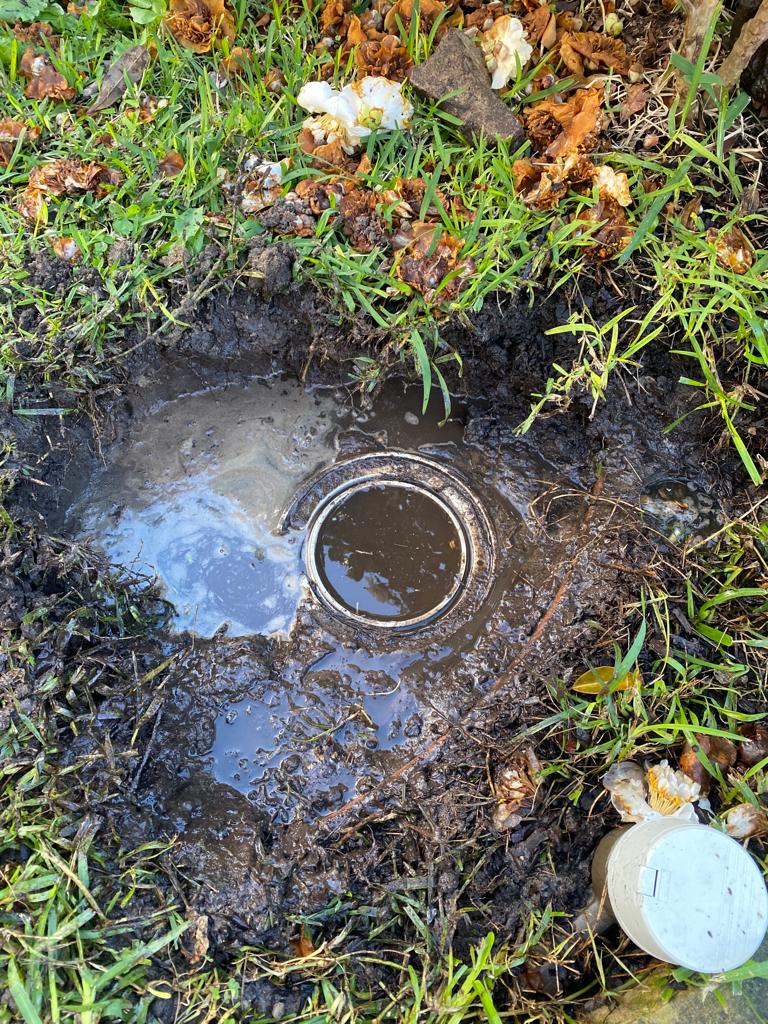 The background
The Nu-Trend plumbing team attended the site on Winchester road in Clovelly to clear a blocked sewer pipe that had waste from the toilet overflowing onto the front lawn. As we mentioned earlier they called a plumber in Clovelly to try and repair the problem, they thought all it needed was the drain to be plunged. The plumber that visited completely mis-diagnosed the problem, they didn't even repair the blockage while demanding to be paid up front for an hour's work that achieved nothing at all
How we found and cleared the blockage
We used our CCTV digital camera pipe inspection equipment to look inside the plumbing and inspect the sewer pipes. What we found was a 
micro flap in the front garden bed next to the driveway gate that was overflowing with sewage. Through this point we were able to locate both the boundary trap and the 6" raised inspection shaft from the main water pipe. 
Both points were buried below ground level, at this point in time we can only access the "6 riser inspection shaft because the boundary trap is buried below the sand stone wall in the front yard on the boundary. We didn't stop there, w
e dug out a few shovels of soil and accessed the 6" riser main. 
Through this point we were able to clear the sewer blockage in the main line heading out to the street using our
high pressure water jet blasting
equipment. 
What we eventually discovered was that tree roots were causing the blockage which we could see using the pipe inspection camera. We made sure the house sewer and main line were tested and made clear. In the 
old clay pipe main we found some roots, some slight dislodging of the pipe work and some bellying of the pipes.
So the short term repair only cost $500 ex gst to complete and it has cleared the blockage but because of the underlying damage to the plumbing & the tree roots finding their way inside the system, the sewer will get blocked again in a few months thus requiring further repairs.
What is the long term repair solution for this sewer pipe?
To avoid repeated blocked plumbing repairs the line could be 're-lined' to ensure the owner doesn't experience ongoing issues or damage to other parts of the property. 'Re-lining' a piping system can be more cost effective compared to a complete dig up and replacement of the existing plumbing. 
Our plumbing team recommend raising the micro flap, the 6" riser inspection shaft and the 6" boundary trap to ground level. This will ensure these elements meet current building and code requirements while also providing easier access for future maintenance requirements. We will also camera inspect the boundary trap for any further damage. The cost for this remedial work will be around $3,500 not the $13,000 the other contractor was quoting.
The only thing this estimate doesn't include is any required landscape work or if we find any underlying issues past that point once the other plumbing is exposed. 
What is the lesson to be learnt? 
The other contractor was a local plumber who looked and sounded very professional, was a great talker, nice uniform and fancy truck. So for most home owners they will seem and feel 'legitimate' but in this instance if they didn't check they would have paid over $13,000 for something that should cost less than half of that to get repaired.
How do we repair blocked pipes in Sydney?
There is no real fixed price cost to get blocked drains repaired in Sydney. If any plumber provides a fixed price over the phone – run. They have no idea about your site, your plumbing or even what the cause might be – so how could it be possible to offer a fixed price for a scope of work they can't determine over the phone.
For most blocked drains or sewer pipes maybe it is some food debris, tissues or a small toy that can be fixed with a hand plunge – although as we explained in this example the whole plumbing system needs to be looked at with a completely different level of cost required for long term remedial repairs.
If you think the sewer pipe is blocked because of a build up of number 2's then maybe try pouring hot water down the drain, then follow it with one cup of bicarbonate of soda and a cup of vinegar. Leave it for ten minutes, then chase it with more hot water. A combination of the hot water and the natural cleaner mixture can break blockages up.
If that doesn't work, each of our licensed plumbers are equipped with the latest inspection equipment and tools;
CCTV digital camera pipe inspection unit

Thermal imaging camera to inspect walls or floors for moisture

High pressure hot or cold water jet blasting equipment

Water leak detection tools to find leaks in walls, showers or fl

oors
Tree roots are the most common cause of damage to wastewater pipes in Sydney because of the age of the city & some of the buildings in certain suburbs. Tree roots can enter small cracks in your wastewater pipes to seek out nutrients and then continue to grow. As they grow, they take up more space and slow down your drainage. This can eventually cause a blockage or eventually lead to the pipe completely failing.
We will always make sure the immediate issue is repaired & work out what is causing the underlying issue so that each property owner knows exactly what they have to do to solve the blockage long term. For many home owners it could be something simple stuck in the pipe, but for older homes that have a mix of clay and pvc piping there could be issues with connections failing, clay cracking or other failures that are no obvious at ground level.
Local | Licensed | Insured

Protection for home owners.
Local Sydney contractors.
A qualified and licensed renovator.
Public liability insurance for peace of mind.
Drainer | gas fitter | plumber | renovator
Nu-Trend is a Sydney company with more than 15 years experience completing bathroom renovations & solving plumbing problems. he Directors Rob and Rick are hands-on, and provide a personalised service.
STANDARDS AUSTRALIA AS/NZS3500:2018 Compliant
All the work carried out by Nu-Trend is AS/NZ3500:2018 compliant. It is the Australian Standard for Plumbing and Drainage in NSW as set down by Standards Australia and the Australian Building Codes Board. They give the plumbing industry technical direction to enable compliance with required regulatory frameworks.
15 years experience with a written commitment.
Rick and Rob are the hands-on directors for Nu-Trend. Rather than hire sub-contractors and manage their business from a distant office, they are on the tools, at your site & working towards delivering your bathroom renovation or plumbing service. It means you are talking directly to the owners of the business, the guys who are accountable and responsible rather than via email or through customer service teams.
It is why they are able to provide a written guarantee that demonstrates their confidence in standing by the quality of their workmanship and the service they deliver to every single client.
They have a very single minded commitment to deliver a high level of professionalism and quality, they've been doing renovation contracting in Sydney for 15+ years.