LEARN MORE ABOUT NU-TREND
We love sharing our story with everyone, it's what makes us different.
Real people, real services.
When I was a young child my father Michael would always talk to me with a strong, steady voice,
"…son, always treat people fairly, be honest, always be real no matter what."
Rob carries these words with him from those early days, for more than 15 years, that is how he worked with his father delivering plumbing services across Sydney. While Michael enjoys retirement, Rob and Rick stick by those principles everyday with Nu-Trend.
Yes we are 'tradies' and realise there is a stigma attached to the professional. While it does sound like a cliche we strive to be professional, courteous and deliver a high quality service no matter the project size with over 100 reviews as proof.
Yes it is true, you will find many discount offers from plumbers like "$50 discount when you mention this ad" or "Fixed Service Fee" etc. Basically the trade just copies each other for fear of missing out. Guess what? Most of these 'offers' are just loaded into their pricing elsewhere. We avoid these gimmicks.
Sometimes the most difficult part is judging the quality of work that a plumber can deliver as typically it is tucked behind a wall, tiny finishing details or underground in a pipe. For us quality is about all the little details that go into making sure your job or renovation project is completed perfectly, every time.
"...son, always treat people fairly, be honest, always be real no matter what."
Nu-Trend was formed just over 10 years ago by father and son team, Rick and Michael Karagiannis.
Michael has been in the industry for more than 20 years, passing his knowledge and expertise to Rick as the family tradition lives on.
Rick has always enjoyed the finer elements design details. Not content with solving plumbing problems he soon broadened his skills to also do bathroom renovations in Sydney. A perfect match with hundreds of reviews later & beautiful bathrooms being enjoyed by hundreds of people.
Local | Licensed | Insured
Nu-Trend is a plumber and bathroom renovations specialist in Sydney available 7 days a week. Rob and Rick are the Directors of the business, hands-on and provide a personalised service that is fully licensed, insured and qualified.
A qualified and licenced service provider.
Public liability insurance for peace of mind.
A personal, written, committment.
Nu-Trend service guarantee
Rick and Rob are the hands-on Directors for Nu-Trend Plumbing. Rather than hire sub-contractors and manage their business from a distant office, they are on the tools, at your site & working towards delivering your bathroom renovation or plumbing service. It means you are talking directly to the owners of the business, the guys who are accountable and responsible rather than via email or through customer service teams.
It is why they are able to provide a written guarantee that demonstrates their confidence in standing by the quality of their workmanship and the service they deliver to every single client.
They have a very single minded commitment to deliver a high level of professionalism and quality.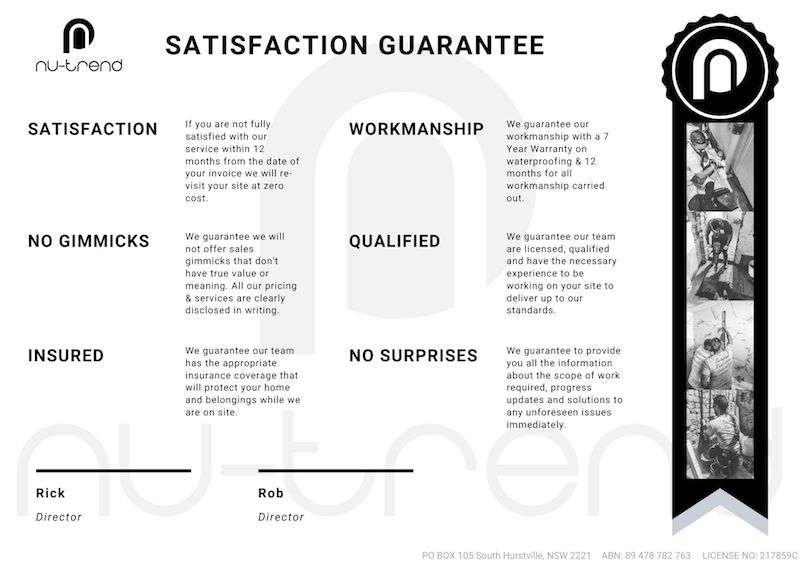 It's all in the little details
Rick and Rob from Nu-Trend are involved with each step of every project they deal with that gives you a personal touch and concierge-like experience. With so many years of experience between them they have encountered all types of plumbing problems that has developed a keen level of expertise to solve practically any situation. 
Although beyond all of that are the little things they do that can make all the difference to a delivering a high quality project efficiently and quickly.
Floor protection
The Nu-Trend team will do floor coverings from entrance to project site, even book cases or shelves to protect from dust or dirt.
Organised & prepared
All of Nu-Trend's equipment and tools are labelled, sorted and organised to deliver a quick, efficient and precise service each time.
Property protection
The outside of your property is just as important as the inside. So the Nu-Trend team will make sure those areas are protected as well.
Tidy work site
If we need to leave the site at the end of a working day we make sure it is tidy, organised & everything in place to minimise disruption.
...I can't recommend the team strongly enough, they are professional, tidy, prompt and polite, and above all excellent craftsman...
See some examples of our work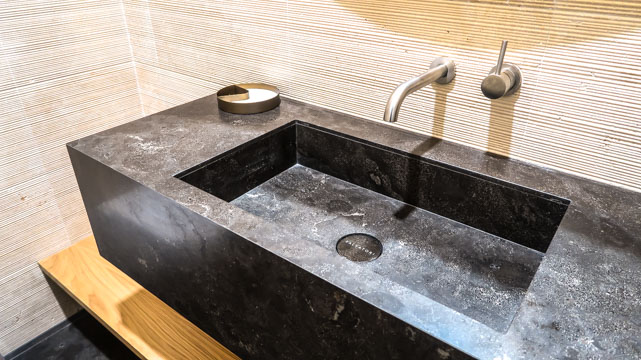 A luxurious and incredible master bathroom renovation designed by Boffi.
SEE MORE >
Learn more about Nu-Trend