Ready for the bathroom remodel you have always dreamed of?
Nu-Trend isn't just another bathroom remodel contractor in Sydney, we're artisans.
We merge age-old craftsmanship with today's cutting-edge design trends to breathe life into bathrooms, crafting exquisite spaces starting from $20,000. 
Nu-Trend remodel; where tradition meets trendsetting.
Ready to dive into a magazine style bathroom remodel?

Let's turn the pages of your imagination into reality, whether it's a dazzling space worthy of magazine covers or a personal haven reflecting your unique style.
Perhaps you're thinking of transforming that old laundry room into a spa-like retreat? Or dreaming of an ensuite adjoined to your bedroom? Want to make your old bathroom bigger? 
At Nu-Trend, we say: "Why not?"
But here's the thing: in Sydney, crafting that perfect plumbing and bathroom remodelling is an art and science. It starts with a sharp, precise quote from a maestro in bathroom renovations. 
So, first things first, do a bit of detective work before getting quotations for a bathroom remodel. 
Seek out the crème de la crème of Sydney's bathroom remodellers.

Shortlist. And then, invite them over. Let them feel the space, hear your vision, and touch upon every detail, from that vintage faucet you fancy to the marble tiles you've been eyeing.
Spotted a leak? Mould making an unwanted appearance? Lay it all out. Every quirk, every issue. It helps us craft a quote that's as spot-on as our work. And when discussing dollars, be frank, but also realise every remodeller is not the same no matter what is written on paper. 
We tailor dreams to fit all sizes of wallets with our projects starting from $20,000.
Securing a bang-on quote in Sydney isn't an errand; it's the first step in a waltz towards bathroom brilliance. Invest time, voice your desires, and soon, you'll be stepping into the bathroom you didn't just dream of, but truly deserve.
Local bathroom remodel contractor in Sydney.
Want simplicity? We manage every step of your bathroom remodel.
Forget ordinary. Dive into excellence. 
With unparalleled craftsmanship and visionary designs, we turn your 'blah' bathroom into a breathtaking masterpiece. Because you deserve more than 'just a remodel'. You deserve a Nu-Trend transformation. 
Experience the Nu-Trend difference with our professional bathroom remodel contractors.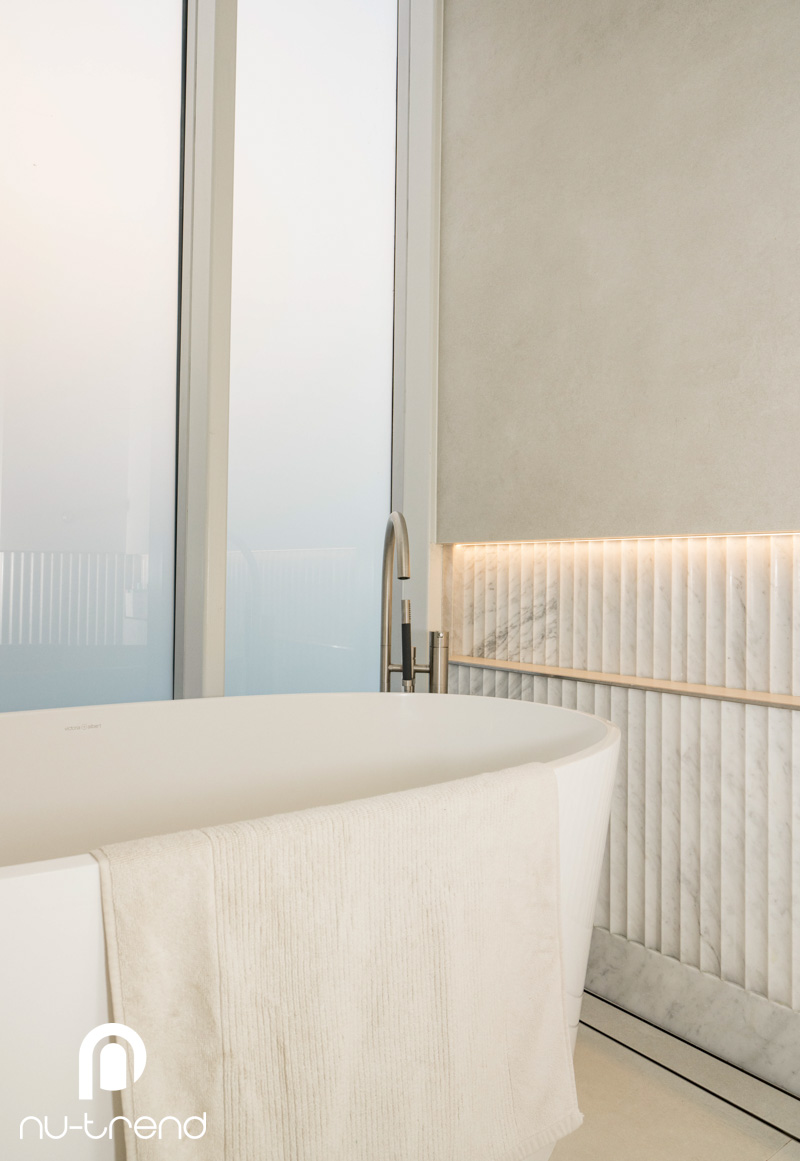 We remodel using industry leading bathroom products.
The differences are in the small details.
Want to know what our magic sauce is?
We have an obsession with the minutiae, those seemingly trivial details, that catapults our work from great to legendary. While most are busy skimming renovation quotes, the discerning eye will spot the difference that we bring. 
It's a commitment to excellence, to ensure every project is not just completed but perfected, that sets us leagues apart in Sydney's renovation arena.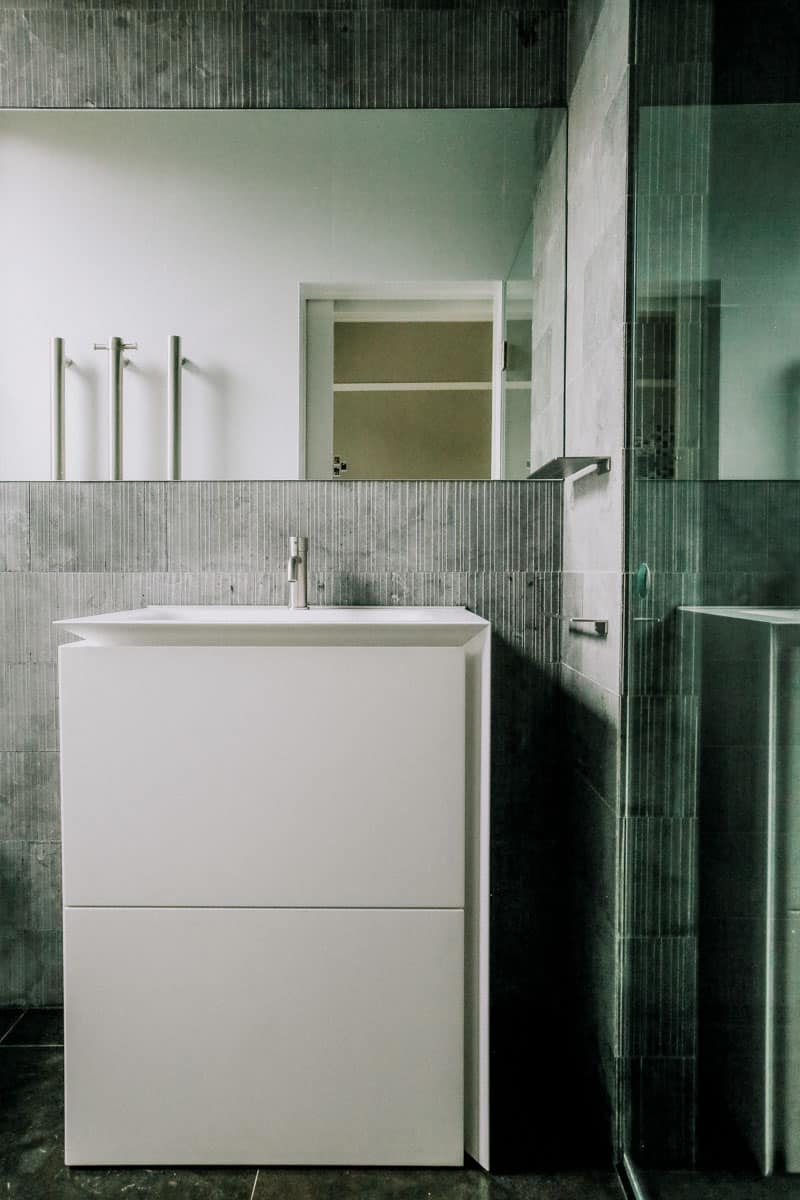 Experienced bathroom remodel contractor in Sydney.
Want someone trustworthy?
We are local, experienced and have remodeled thousands of bathrooms.
Choose seasoned craftsmanship. Choose Nu-Trend.
For more than 20 years, Nu-Trend has been improving homes, chosen by homeowners across Sydney as their bathroom remodel contractor of choice. Each stunning bathroom we help to design and remodel to be as functional as it is beautiful. 
We are masters of the bathroom realm with decades under our belt, every tile and tap speaks of our unmatched expertise. It's not just remodelling, it's artistry. Years honing skills, perfecting every detail and not cutting any corners.
Nu-Trend isn't a choice, it's an investment in excellence. Experience the depth, feel the difference. 
Licensed & qualified bathroom remodel contractor in Sydney.
Looking for someone that is legitimate? We are locally owned, operated, qualified and licensed in Sydney.
An independent bathroom remodeller in Sydney with great reviews.
See and read some of our reviews.
Why trust ordinary when you can have the best?
Discover Nu-Trend: Where bathroom dreams become reality. Not just our words, but echoed in the rave reviews from thrilled homeowners like you. They chose excellence. They chose visionary designs. They chose Nu-Trend.
Now it's your turn. Dive into the Nu-Trend experience, your dream bathroom awaits.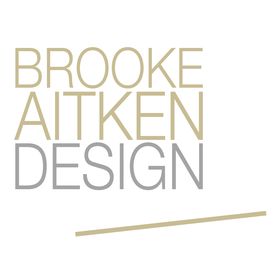 Brooke Aitken
Brooke Aitken Design
"Working with Rick and Rob has been an absolute pleasure. They are easy to work with, warm spirited yet professional and eager to please clients and architects alike.
Their attitude and work displays their belief that there is no job too small or too great for them.
We would be very keen to work with them again on upcoming projects and would recommend them to anyone."
"I had Rick and Nu-Trend completely remodelled the small bathroom my three teenage kids share. Rick was on board with my ideas from the start and with the help of his many years in the business the bathroom was transformed into a sophisticated and functional space. 
Rick and the boys could not do enough to help whether it be recommending where to buy bathware or offering trade discounts where they could. 
They always left the house immaculate after a days work. I will definitely use them again."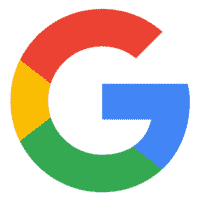 "The Nu-Trend team have just completed my bathroom remodel and did an outstanding job. They don't cut corners and everything is done to the highest standards.
Rick is very, very responsive and I felt comfortable discussing any concerns that I had with him – he and his team did everything that they could possibly do to keep me happy.
Chris and Robbie were onsite getting their hands dirty as well as managing external trades and I can not speak highly enough if these guys.
Very professional, respectful, always smiling, very polite and more than happy to answer my questions. I am so happy with how the bathroom has turned out."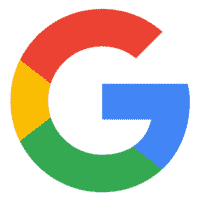 "Rick came highly recommended and his professional friendly manner makes him a pleasure to deal with. 
His time and advice has been invaluable and I look forward to working with him on my bathroom re-do as he has instilled me with great confidence."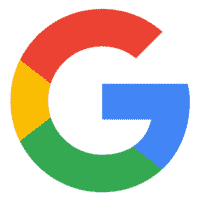 "We had a wonderful experience with Nutrend. Planning and executing renovations is not an easy task, what Nutrend makes it easy for you. 
Rick and his team are dedicated persons that will help you navigate through all the steps of the reno without hassle.
They also reacted quickly when we had to make modifications to the original plan, ensuring that the project didn't get delayed. I highly recommend Nutrend."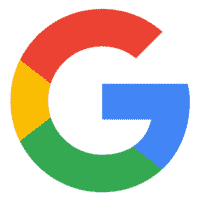 "Over the last 2 years Ricky and Robbie from Nu-trend have been the hero's of our renovation. They came in at the 11th hour and ruffed out all our pipes before the slab got poured.
From that day onwards they have been the most reliable, honest and friendly tradies we've had. Dealing with them is painless and honestly a relief. 
Their attention to details with fitting off is spot on. Couldn't be more happier and highly recommend."
Our trusted 5 step remodel process.
We provide a documented, easy to understand, process so you have 100% transparency.
Nu-Trend isn't just a service, it's a promise.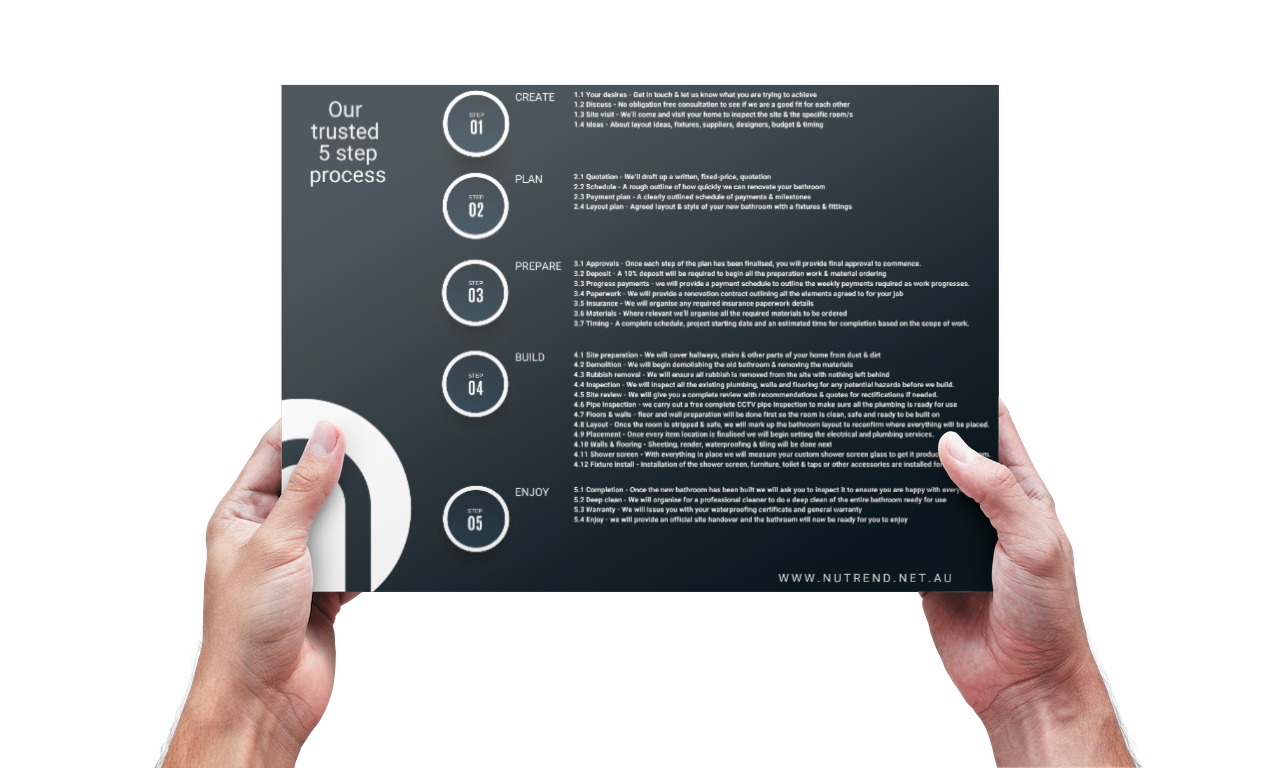 A vow to bring your dream to life, flawlessly, on time, without pinching your pocket. Our clients? They're not just satisfied; they're ecstatic. 
We take the reins, guiding you seamlessly from idea to reality, with a team of remodel contractors, maestros,  obsessed with turning your vision into a masterpiece. This is just one reason why our bathroom renovation pricing starts at $20,000.
Take a look at our trusted 5 step process that we have refined as contractors working on different types of homes and renovating thousands of bathrooms in Sydney. 
We document & detail every step so you know exactly what is happening during each stage of the renovation process.
Our bathroom remodel
contractor checklist.
Get our remodel quotation checklist so you can see the depth of our detail.
No mysteries, no hidden corners. Just pure, unfiltered clarity.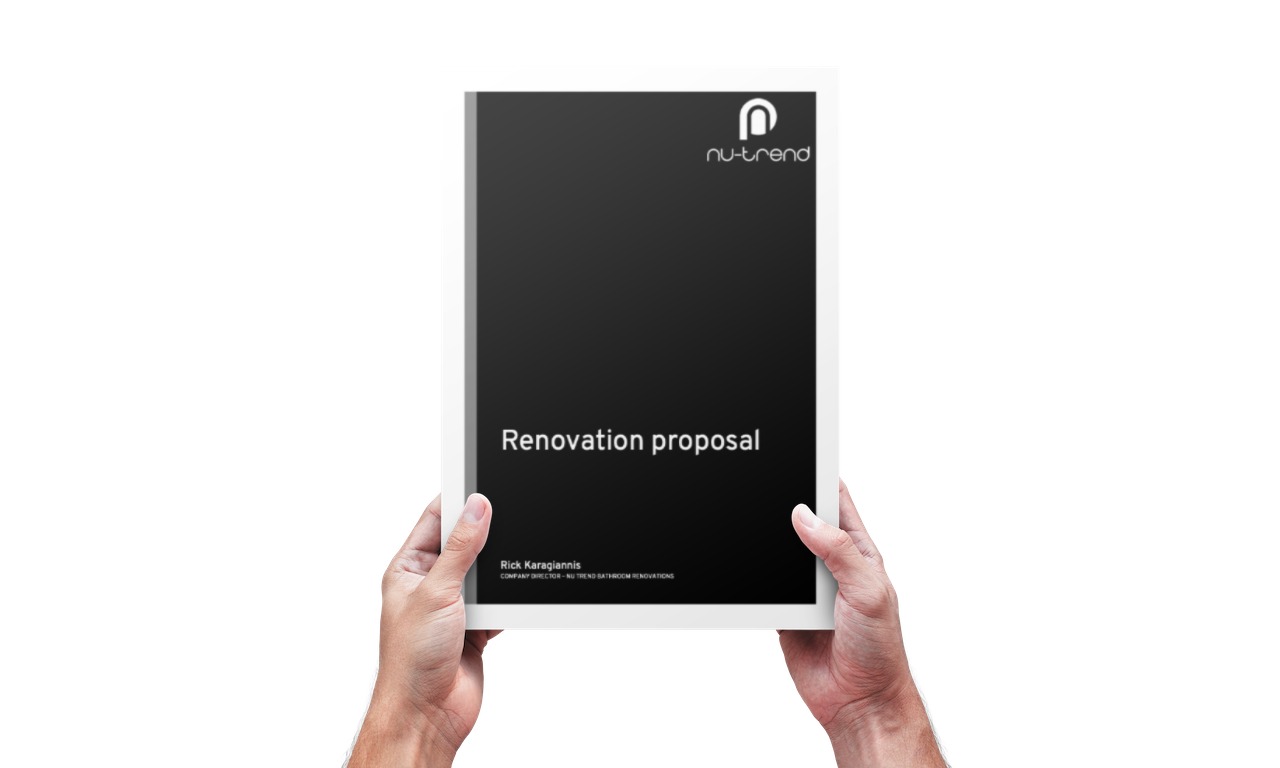 Still not sure if Nu-Trend is your best choice for a bathroom remodel contractor?
Take a look at our in-depth bathroom remodel checklist. This isn't your typical flimsy pamphlet. It's a comprehensive 10+ page manifesto detailing every nuance of the renovation journey that we help manage when remodeling your bathroom in Sydney. 
You will quickly see the investment needed to remodel a bathroom properly.
Want to understand our pricing? WIth a checklist covering more than 30-points we give every client a transparent roadmap to getting a customised, written, written quotation that breaks down every penny, every material, every hour of labour needed that contributes to our starting prices from $20,000.
With Nu-Trend, we don't just promise excellence; we lay it all out, black on white.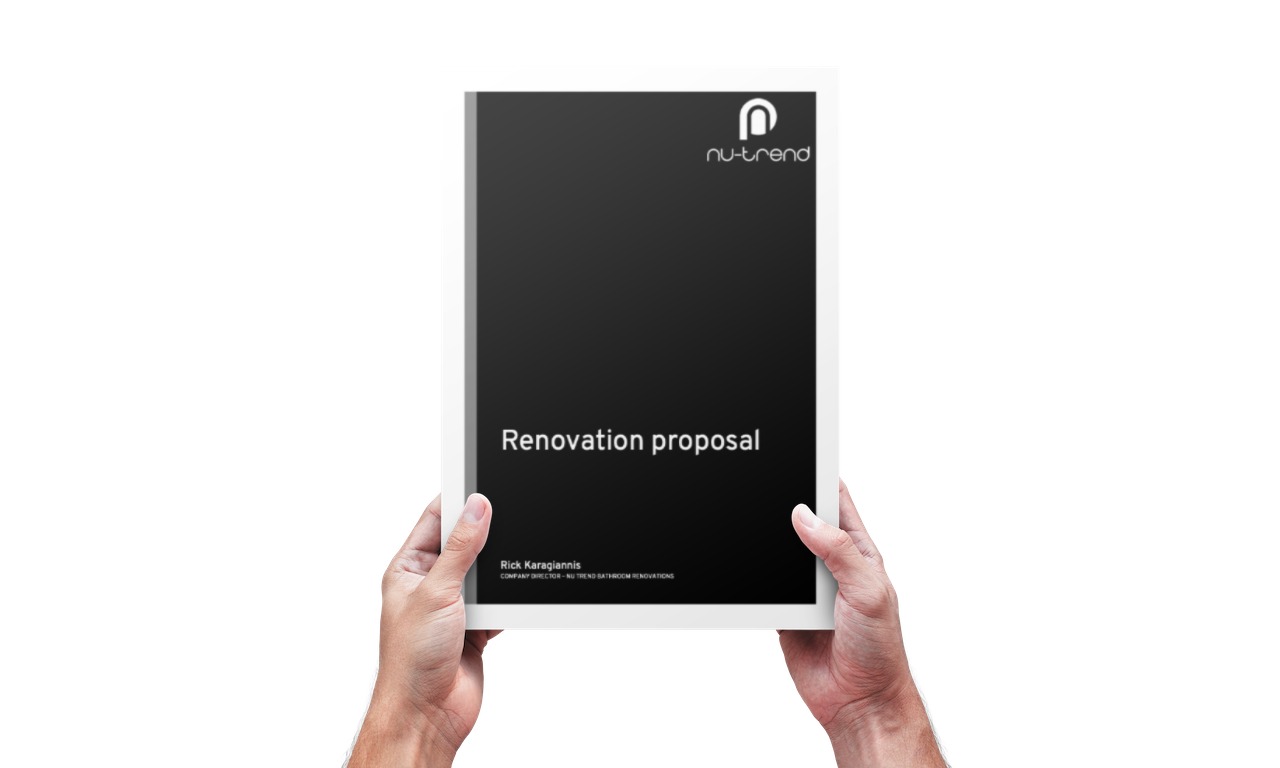 A bathroom remodel contractor that designs & builds.
You can get a new bathroom remodel in just 21 days or less.
Your choices, your designs. No surprises.
Design the bathroom of your dreams with Nu-Trend, imagine a personalised bathroom masterpiece, finished in just 21 days. No surprises, only a firm price, that's the Nu-Trend promise. 
Operating in Sydney, we're not just another remodel contractor. Whether it's a house, apartment, or business, we're licensed masters transforming spaces into magazine-worthy sanctuaries. 
Yearn for that designer touch? 
We're just a call or email away. Get a no-strings-attached, set-price quote and let's craft the bathroom you've always fantasised about. 
With Nu-Trend, you're the director – from hues to layouts. Your dream, our expertise.
We are obsessed with every little detail
Complete property protection
We will make sure your property is protected with coverings from entrance to project site, even furniture to protect from dust or dirt.
Organised & prepared
All of Nu-Trend's equipment and tools are labelled, sorted and organised to deliver a quick, efficient and precise service each time.
Daily progress updates
At the end of each day we will provide an update on the progress of your project. This ensures you know exactly what is happening at each step.
Tidy work site
If we need to leave the site at the end of a working day we make sure it is tidy, organised & everything in place to minimise disruption.
Rick and Rob aren't just names behind a brand; they're the beating heart of every bathroom transformation they touch. As Sydney's premier bathroom remodellers, they infuse every project with a bespoke touch that feels more personal concierge than contractor.
With a treasure trove of experience, they've danced with every bathroom challenge out there, mastering the art of crafting solutions that are nothing short of ingenious. But here's the magic sauce: It's their obsession with the minutiae, those seemingly trivial details, that catapults their work from great to legendary. 
While most are busy skimming renovation quotes, the discerning eye will spot the difference that Rick and Rob bring. It's this commitment to excellence, to ensuring every project is not just completed but perfected, that sets them leagues apart in Sydney's renovation arena.
Fixed price bathroom
remodels in Sydney.
We provide a fixed price remodel quotation that gives you complete transparency.
Fixed price quotes, no mysteries, no hidden costs. Just clarity.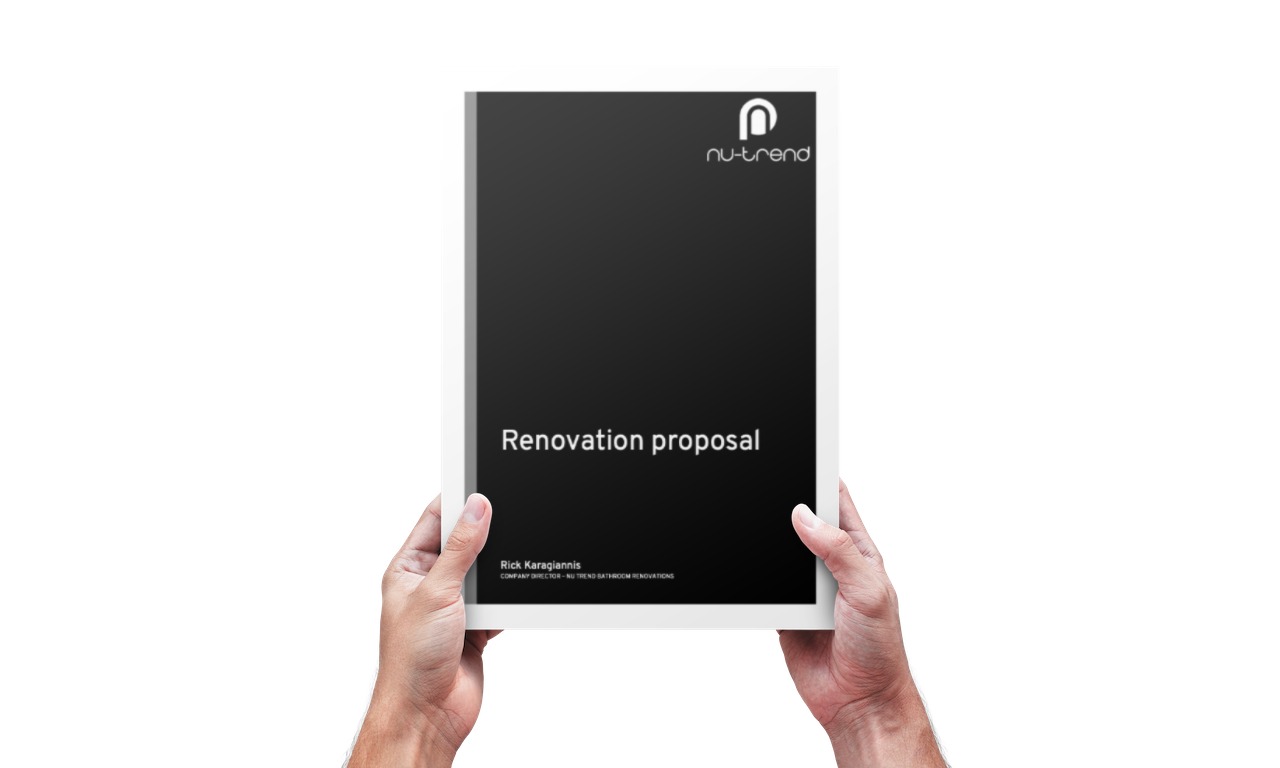 Worried about cheap quotes that have hidden costs later?
We provide fixed price bathroom remodel quotations in Sydney. You can even download our quotation form to see what we include and how we show you every little detail.
This isn't a typical glossy pamphlet with pictures. It's a comprehensive 10+ page outline that calculates the fixed costs required to remodel your bathroom in Sydney. 
You will quickly see the costs needed to remodel a bathroom properly by downloading our bathroom renovation quote example.
Want to understand our costs? WIth this list of tasks we cover more than 30-points to give every client a transparent roadmap to getting a customised, written, fixed price quotation that breaks down every penny, every material, every hour of labour needed.
That is why our bathroom remodel prices start from $20,000. With Nu-Trend, we don't just promise excellence; we lay it all out, black on white.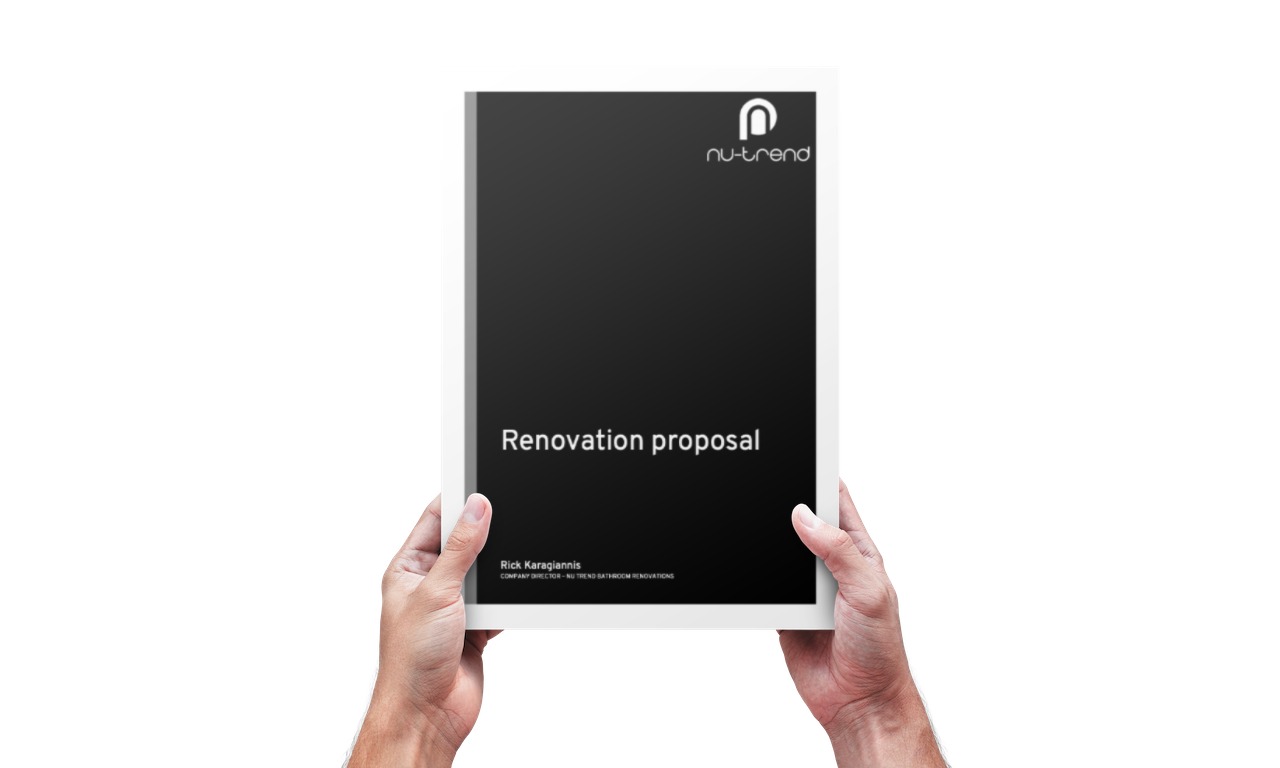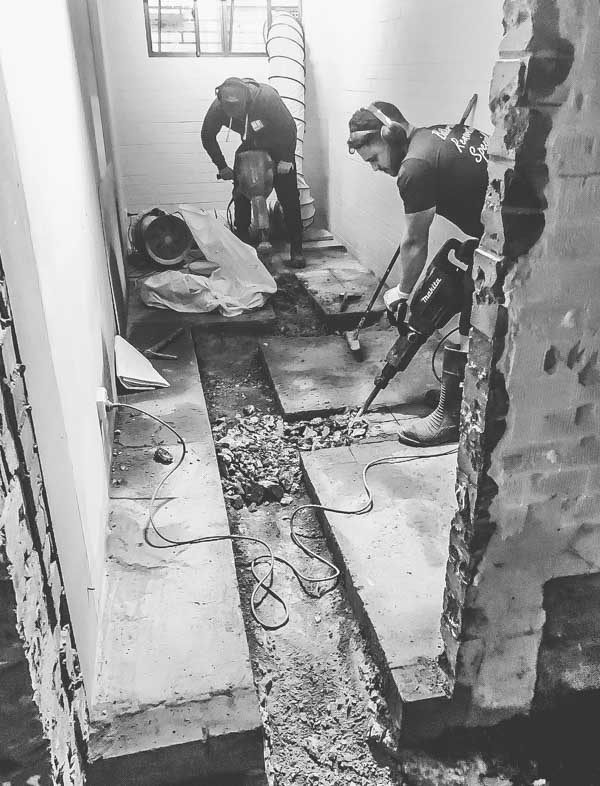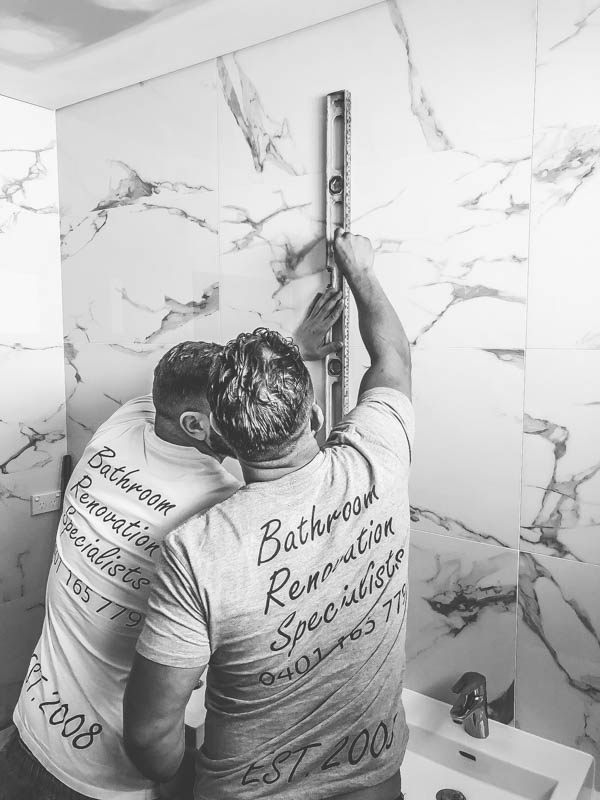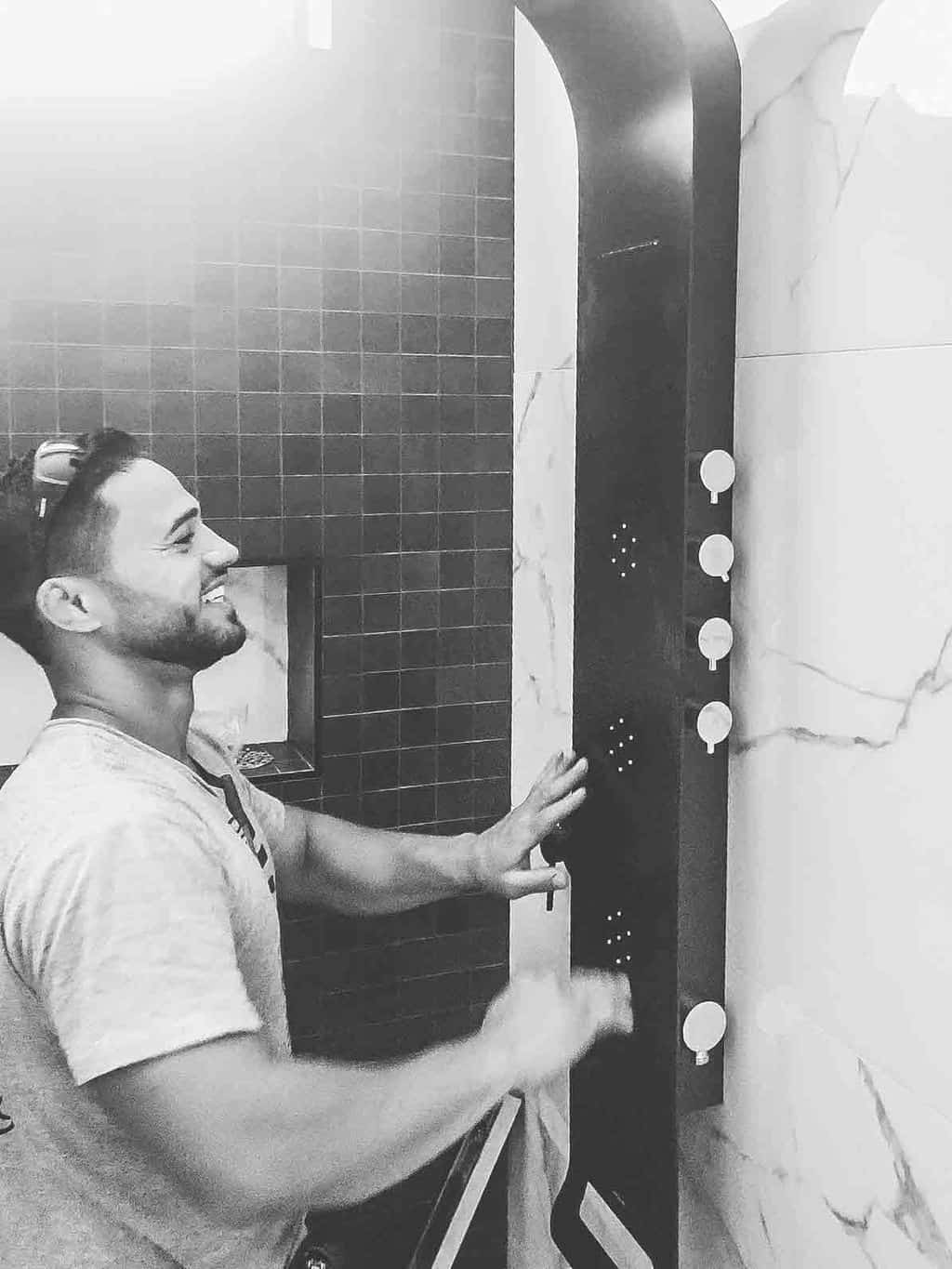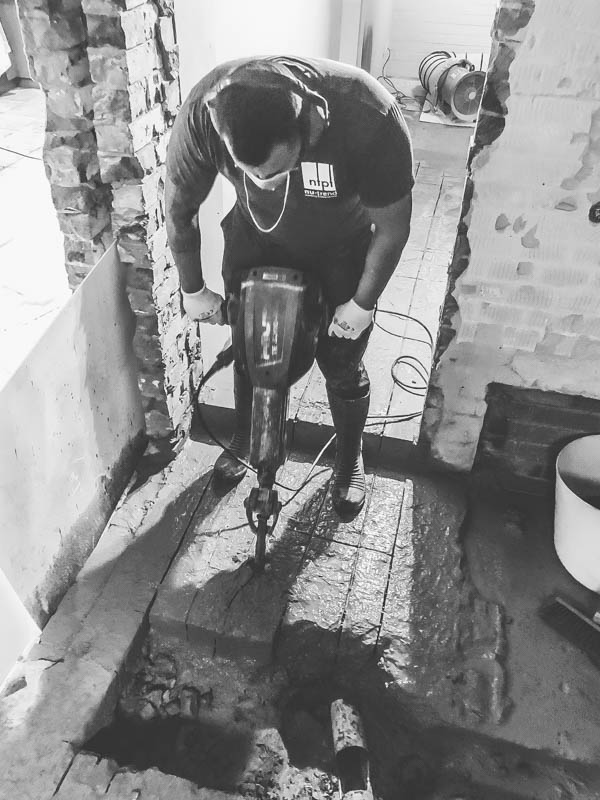 Bathroom remodel demolition contractor in Sydney.
We start with a blank canvas to deliver the best quality renovation possible
Our work ethic prioritises quality over quantity.
We manage every part of the remodel for you & tightly control the quality from the first tap installed, lighting, waterproofing to the final touch of paint. We make sure everything is completely renovated the right way, the first time.
Once we demolish your old bathroom the room will be prepared to get your new bathroom in built in Sydney by experienced, licensed, bathroom remodel contractors who have more than 20 years of experience as well as more than two hundred reviews.
We are driven by a work ethic that prioritises quality over quantity, completing hundreds of bathroom remodel projects every year.
Our contractors build complete bathroom remodels in Sydney that include everything from design, demolition to installing every new product that you choose including taps, tiling, waterproofing, shower, toilet, vanity or bath.
Free advice about bathroom remodels in Sydney.
We take you behind the scenes to see how to remodel your bathroom the right way, the first time.
We don't just talk the talk; we walk you through it. 
Beware of the bathroom mirage! Most remodel companies flash dazzling bathroom snaps online, but here's the catch: they're often just digital daydreams that are photos they copied or bought off the internet, they probably didn't even do the work. Want the real measure of a renovator's mettle? Hunt for their actual handiwork, their solutions to real-world remodel riddles.
What you might uncover? Many are all sizzle, no steak.
Free advice, genuine insights, and a commitment to do it right. Remember, in Sydney's sea of bathroom builders, only a few truly shine. Nu-Trend? We're the gold standard
Bathroom remodel before and after examples.
Have a look at some of the bathrooms our contractors have remodelled in Sydney.
See real examples of renovations, not just glossy photos. 
Beware the great bathroom illusion! Many bathroom remodel companies in Sydney lure you in with glossy website snaps, but here's a little secret: they're often borrowed fantasies from digital shelves. Want to gauge the true prowess of a renovator? Dive deep. Seek their authentic creations, their masterstrokes in tricky spots.
You might just find that a lot of them are masters of disguise, not design.
But here's the Nu-Trend difference. We arm you with invaluable advice, insider tips, and the real-deal insights for a flawless renovation journey. In the bustling bathroom brigade of Sydney, many march, but only a few, like Nu-Trend, lead the parade.
Frequently asked questions about bathroom remodels
We make it really simple to get a quote from our bathroom remodel contractor service to calculate the cost to build the bathroom you are dreaming of.
We can answer some of the most common questions we get asked here, but send us your details and we can arrange a site inspection to provide a fixed price written quotation so you know exactly where you stand.
Every free bathroom remodel quotation
includes the following
How long does a full bathroom remodel take?
The time it takes to remodel a bathroom can be as little as 21 days
Forget complexity. Get ready for efficiency & expediency. 
We can remodel a bathroom in 21 days or less, sometimes it can be done within 14 days if all the right planning, preparation and material delivery is done on time. So yes, you can walk into a new bathroom in less than 3 weeks to have a shower, go to the toilet or soak in a new bath.
The things that tend to add to the length of time needed to remodel a bathroom include;
Changes being made to a design or layout.
Delays in materials or products being delivered.
Surprises that are found when the room is demolished.
Changes to your circumstances that prevents access to the home.
Delays in payments.
Most of the bathroom remodels that we do in Sydney are completed very quickly as we plan everything with a written schedule to make sure things are done on time and on budget. Most of the delays we experience are typically not something that we create.
Experience the Nu-Trend difference with fast bathroom remodels in Sydney.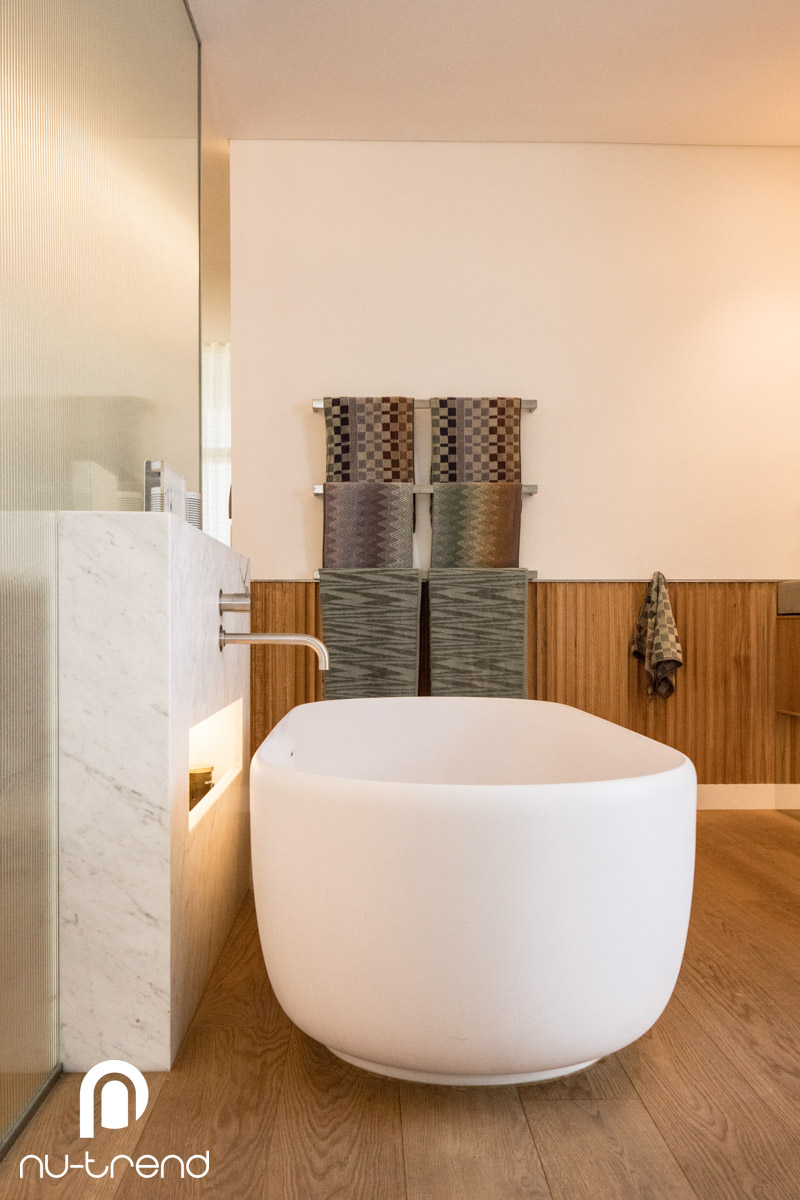 Plumber for bathroom remodels in Sydney
The plumbing is just as important as the tiling or fixture installation.
Work with a plumbing and bathroom contractor. Enjoy simplicity. 
If you want a plumber for your bathroom remodel then you don't need to look any further. Nu-Trend's team of contractors have plumbers, renovators, tilers, painters and electricians so that every step of a remodel can be completed.
You don't need to engage any other contractors, we manage the whole remodel from start to finish including any plumbing, water supply lines, electrical wiring or structural changes.
Plumber bathroom renovations in Sydney have never been easier.