We can install or relocate hot water heater systems
Nu-Trend is a licensed plumber in Sydney that will visit your home, business or rental property to repair or replace your hot water heater system. We can also be contracted to move or relocate your hot water tank if you are renovating your home, unit or apartment.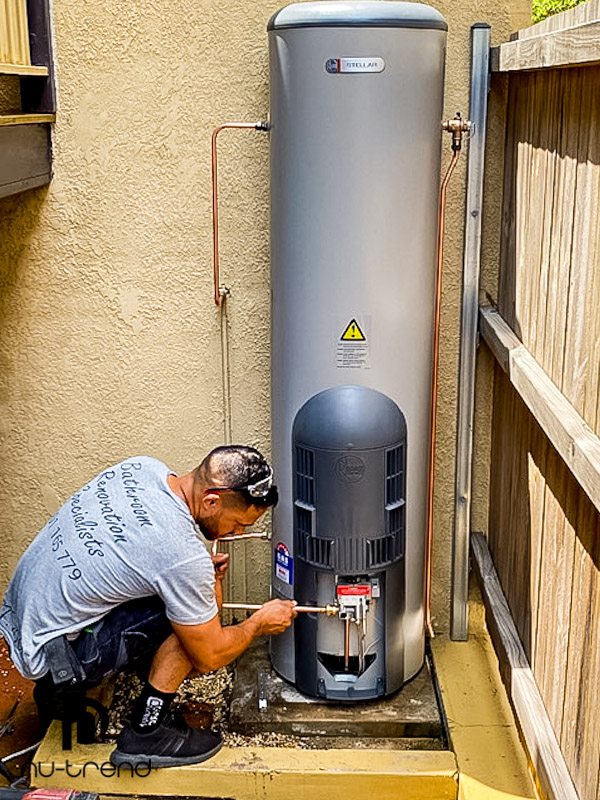 Experienced hot water heater system plumbers
We have a team of licensed plumbers that are real, get their hands dirty to complete any type of plumbing or hot water heater system work we don't use fake photos from the internet either.
Amazing hot water system plumber reviews
Don't take our word for it, if you are looking for a plumber in Sydney that has great reviews then we have more than 170 that you can read. Lots of great reviews for our plumber, bathroom renovation and bathroom plumbing services in Sydney.
Nu-Trend Plumber & Bathroom Renovations went out of their way to fix a blocked drain and do a hot water high pressure jet blast which then uncovered underlying plumbing issues at my property.

Rather than not tell me about it they helped solved my blocked drain problems in Sydney quickly and efficiently.
We cannot recommend Nu-trend Plumbing enough!

Our customer experience from start to finish has been exceptional and the team did a fantastic job at our commercial kitchen.

We will be using Nu-Trend for all our future plumbing needs. Thanks again, guys!
Nu-Trend were very professional and very easy to deal with.

They undertook their work with care and were keen to make sure everything was done to our satisfaction. Very neat and tidy too.

Overall a great experience and we would definitely use again!
We don't just repair, replace or install
We don't just roll up to your home and take things for granted. We will spend the time required to properly assess what you need done with your hot water heater system. Maybe you are building a new home and need to install a new hot water tank. Perhaps you are renovating and want to move it to another location to make space.
Your hot water system might be leaking water and needs to be repaired. In all of these scenarios our licensed plumbers can visit your home to provide a free quotation to work out the various cost options available to complete the work needed.
We don't take shortcuts, we make sure you completely understand what is happening with your bathroom or kitchen plumbing so you can make an educated decision on how to proceed with the work you need. We have the same ethos if you are the property owner, real estate agent, tenant or business owner.
Nu-Trend has a team of qualified and licensed plumbers that are available to work with any type of hot water heater system either gas or electrical for a residential, commercial, rental or industrial property in Sydney. 
Generally don't think about their hot water system until there is a problem and there is no warm water, it bursts or there are leaks from it.
Our team can visit any location with the right tools & equipment to quickly assess what is required for your home or business.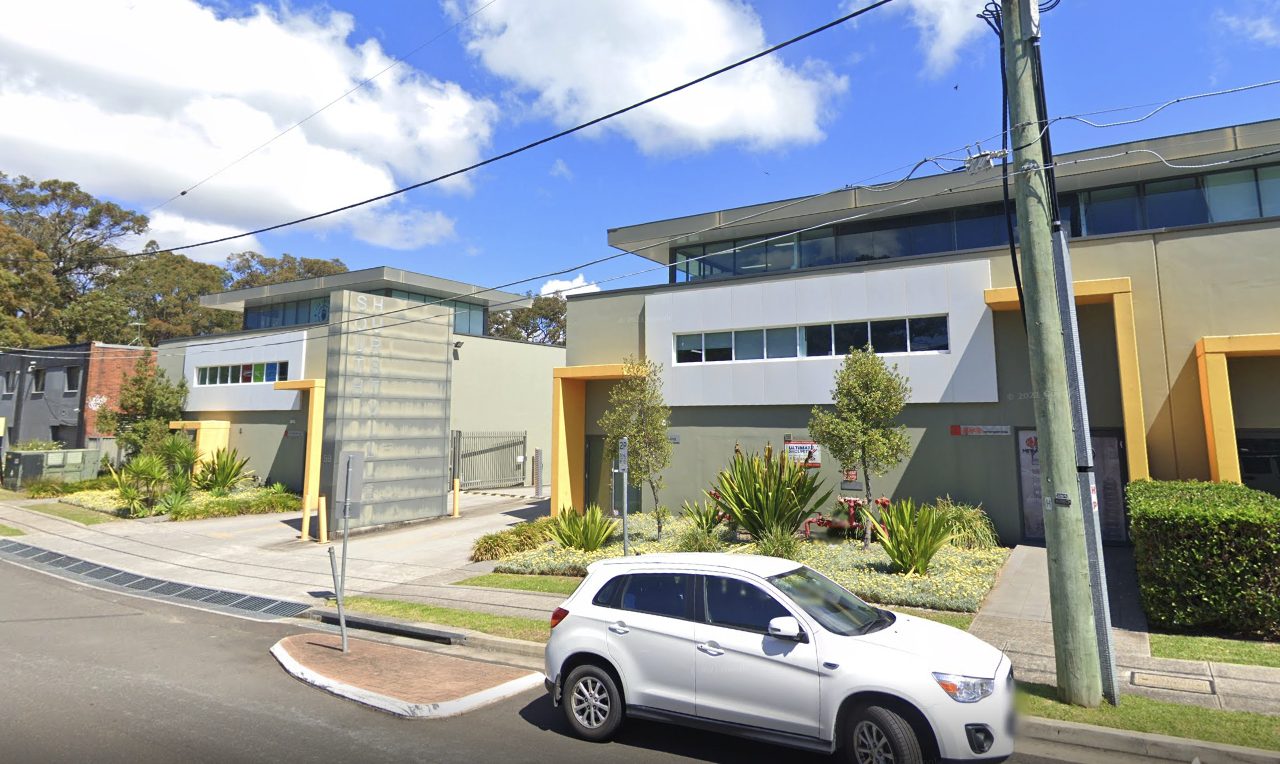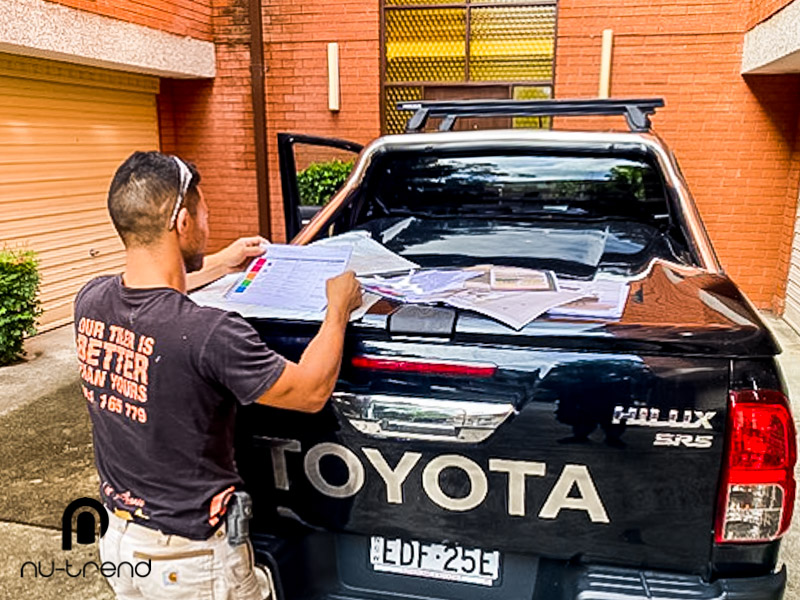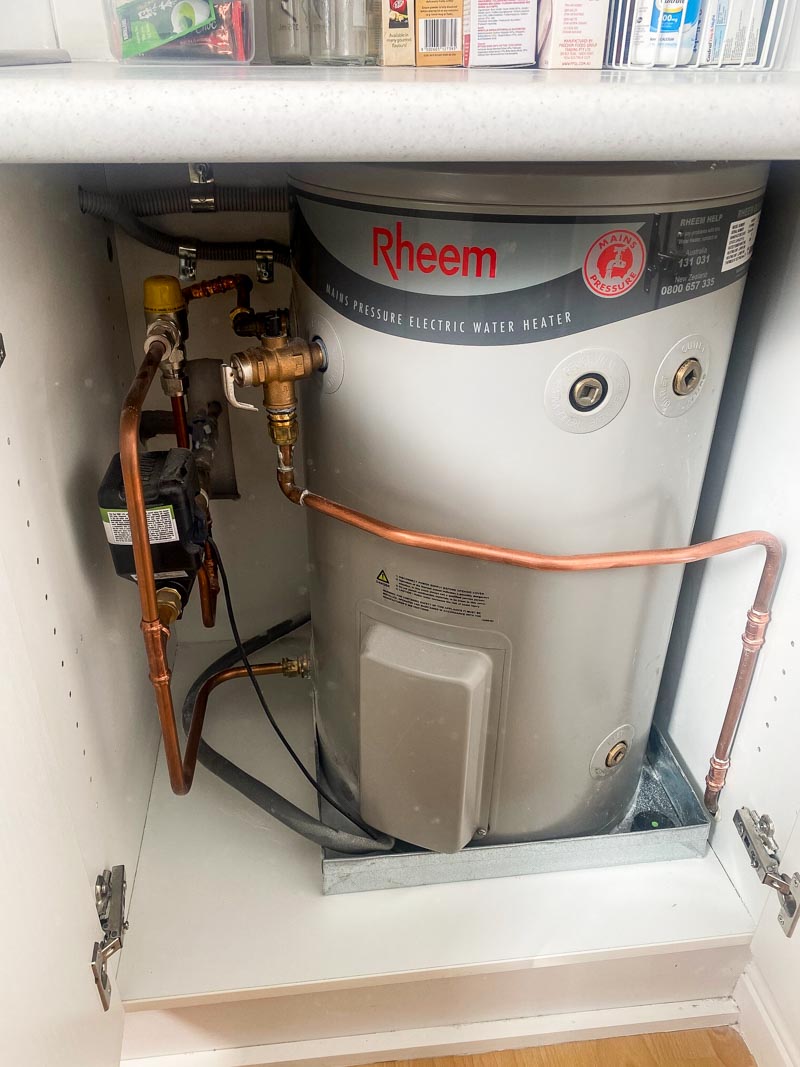 Hot water heater installations
Our plumbers can install a new hot water tank to Australian Standards for any property type in Sydney. We regularly install new units into houses, units or apartments that require a new hot water system connected to their property. We have worked with all the major brands like Rheem, Rinnai and others with either gas or electrical connections.
Our team can also create custom made cabinets, footings and enclosures to house the new unit so that it is kept safe, secure & isn't damaged from the elements.
Relocate or move your hot water system
If you want to move your hot water tank we can provide a cost estimate during a free site assessment. Even if you are wanting to move it a few metres there might be extensive work involved to make sure it is done safely with all the right plumbing and electrical wiring in place.
Our team will make sure that the existing piping is suitable, the distance or size of tank will work in the situation & certify the work completed.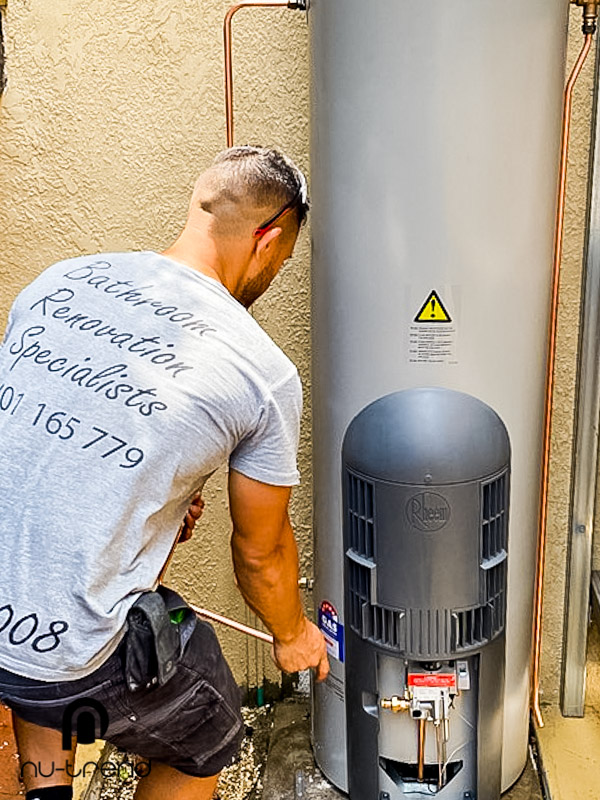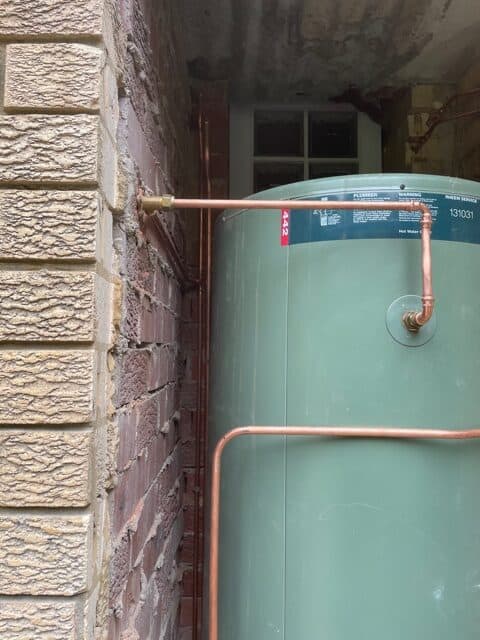 Switch from gas or electric
Your current system might be using gas or electricity but you want to convert it to another power source. No problems.
Our plumbing team are licensed gas fitters in Sydney so we can help you figure out what is required to either connect or disconnect a hot water system to your gas supply. We will work on any of the piping connections required and make sure everything is safe, secure and there are no leaks.
How do we install hot water systems?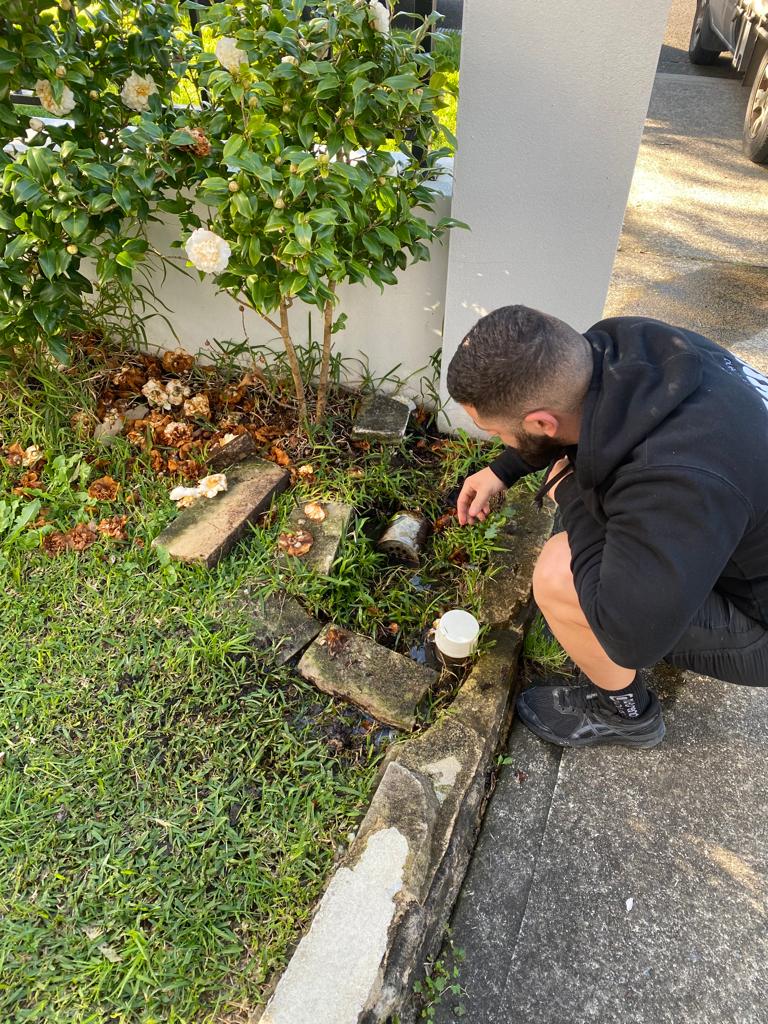 METHOD 1
We inspect the property to fully understand what is already installed and the services that are available.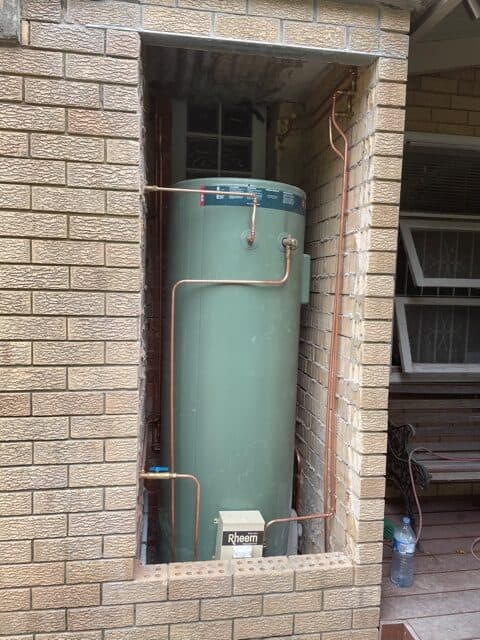 METHOD 2
We will asses the existing unit that is installed & what you would like done to work out the costs involved.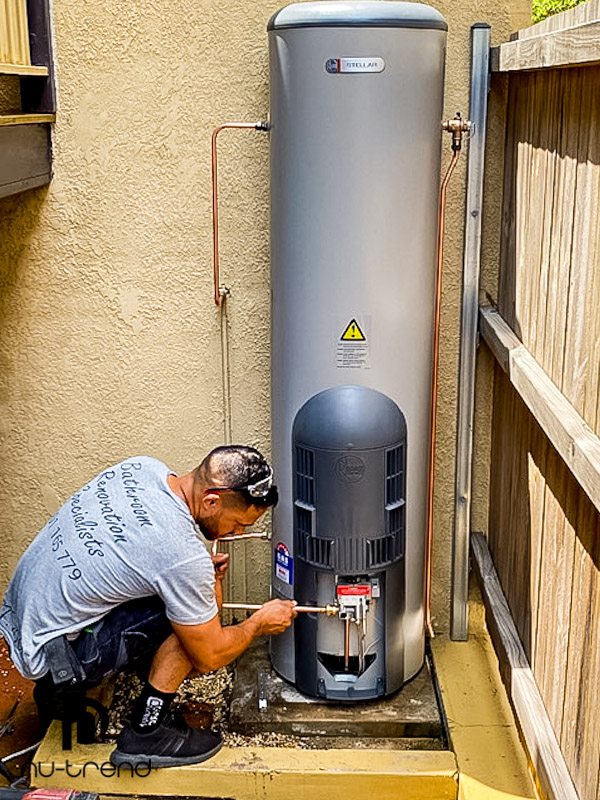 METHOD 3
Once you are happy with the choices provided we will commence work to prepare the location for use.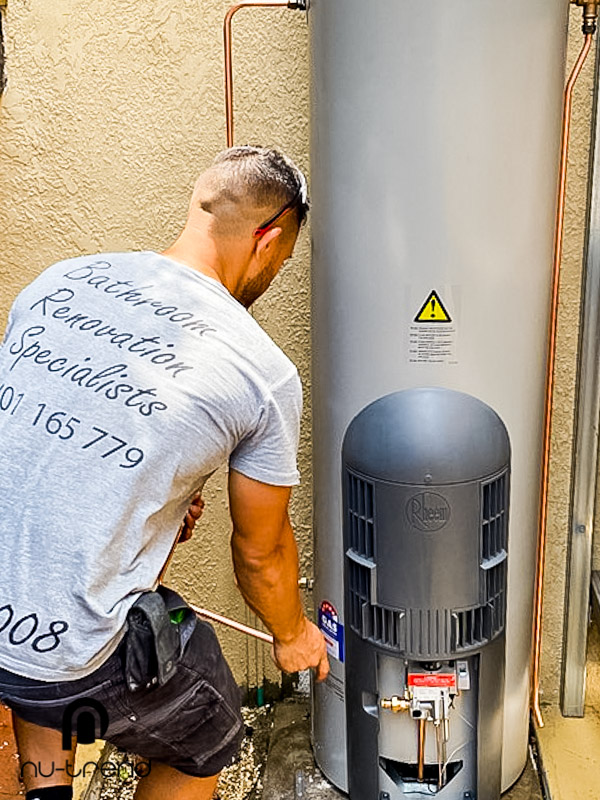 METHOD 4
Our team will ensure all the connections are ready for use and then test the unit to ensure it is working correctly.
Every property will have a different hot water system set up that may have been in place for many years that needs to be worked on, our team is very experienced at quickly figuring out where everything is, what needs to be done and how to efficiently complete the work required.
Alternatively for new building sites our team can work closely with your builder or architect to make sure their plans are constructed to millimetre precision.
Local | Licensed | Insured

Protection for home owners.
Local Sydney contractors.
A qualified and licensed renovator.
Public liability insurance for peace of mind.
Drainer | gas fitter | plumber | renovator
Nu-Trend is a Sydney company with more than 15 years experience completing bathroom renovations & solving plumbing problems. he Directors Rob and Rick are hands-on, and provide a personalised service.
STANDARDS AUSTRALIA AS/NZS3500:2018 Compliant
All the work carried out by Nu-Trend is AS/NZ3500:2018 compliant. It is the Australian Standard for Plumbing and Drainage in NSW as set down by Standards Australia and the Australian Building Codes Board. They give the plumbing industry technical direction to enable compliance with required regulatory frameworks.