BATHROOM RENOVATION COSTS IN SYDNEY
We explain how much a bathroom renovation can cost.
How much does a bathroom renovation cost?
Renovation costs explained.
The most common question we get asked everyday 'how much does a bathroom renovation cost' and we wish there was a really simple answer. Although as you can imagine there are billions of variables to consider and that is why you will get hundreds of answers.


We have created the guide below using our knowledge and expertise after renovating lots of bathrooms in Sydney over the last 15 years from apartment bathrooms to commercial bathroom constructions. We want to help people understand the potential costs involved for a renovation project although more importantly how to plan for one correctly. 


Nu-Trend is a renovation contractor in Sydney that can work closely with you for each step of a bathroom renovation project to deliver a modern room, to your budget, with high quality finishes in compliance with Australian Standard AS/NZ3500:2018 & with Home Owners Insurance
What is the average cost of a bathroom renovation in Sydney?
Basic – $21,640 – $29,280
Typical – $26,990 – $36,515
Luxury – $42,605 – $57,645
Basic – $25,416 – $34,386
Typical – $30,810 – $41,682
Luxury – $46,482 – $62,886
Basic – $29,048 – $39,300
Typical – $34,478 – $46,650
Luxury – $50,393 – $68,183
BMT Tax Depreciation is a quantity surveying firm specialising in tax depreciation schedules for residential investment properties and commercial buildings. BMT has gathered information about the average cost of bathroom renovations, writing various articles about bathroom and laundry deductions over the years using data from hundreds of property owner assessments. 
What we like about this information is that it has been gathered from multiple third party sources, from real life bathroom renovation projects around Sydney, to create a pretty clear guideline that anyone can follow. As you can see from the information provided, most complete bathroom renovation projects are in excess of $20,000 to achieve a total remodel of a bathroom.
What influences a bathroom renovation cost?
It is very easy to get bathroom renovation quotations online and we see people getting really confused and lost all the time because the quotes will vary from $5,000 to $50,000. A lot of this has to do with what information was provided when trying to get the quote, how precise that was and then what the ability was for the renovator to be able to understand what is required. To do this online is difficult as there are so many variables.
So what are some of the things that influence a bathroom renovation cost?
Where you live
The builder has to determine the distance his trades need to travel to/from the site but more importantly what is the access like, the age of the property or building or how difficult it will be to complete the work. So a house on a nice quiet street is different from a small unit block in a tight city street.
Is structural work required
To the naked eye the walls and floor may look fine, but in reality, they may not be 100% aligned and therefore could need remedy work. Or you may be thinking about placing a 200kg bathtub in the room which may need ceiling re-enforcement.
Fittings and fixtures
Yes it is true, you can buy taps and fixtures from Bunnings for $5. Although like anything in life you typically get what you pay for. So quality products using better materials and internals will, of course, cost more. You can select these yourself or you can have your renovator do it for you, either way, time, energy & effort is involved to select, source and deliver the right items.
The floor plan
Is it a simple square room or an odd shape that needs to be worked with? Do you want rounded walls or other changes made to the existing floor plan?
The size of the room
Renovating a 4-metre square room is cheaper than an 8-metre one. Everything required changes ie materials, time, preparation work etc.
Existing services
The electrical, waste and plumbing of the existing room could be used in lots of cases. Although you may like to move things around, which is possible, although requires the work to be done but also the right level of expertise to ensure it meets safety and building code requirements.
Is it a new or existing room
There are different scenarios and sometimes we are starting from scratch which means creating a room to fit in with the existing structure.
Extra luxuries
You may be looking to have floor heating, mood lighting, extra ventilation or even larger windows installed. All this is possible but needs to be factored into the project.
How quickly you need the renovation completed
There are times where a property owner needs something completed within a short time period and other times a job can be spread over weeks or months.
Are you using a bathroom designer?
For most renovations with a budget of $40,000 or less there isn't a bathroom designer involved. Most of the inspiration for the design will come from magazines, photos online or other sources that are used to re-create a particular look or style. Some renovations will have a designer leading the work being done to choose fixtures, fittings, colour palette and overall design.
Are you using a project manager?
For larger renovations having someone manage the project from end to end will help co-ordinate everything that needs to happen to finish the renovation job quickly. Nu-Trend will typically provide some level of management to make this easier for you, although for larger jobs normally a designer and project manager are involved.
What other factors influence bathroom renovation costs
It we go a step further there can be some other items that can lead to big variations in the cost of your bathroom renovation that can add up quickly. This is where it becomes important to be really clear about the purpose and goal of the renovation. So for example is it a rental property, are you restoring an old home, have the kids moved out so you want a luxury retreat or are you renovating to sell.
All these scenarios lead to different choices that need to be made on where money is spent and this can influence your bathroom renovation budget greatly. Here are some examples;
Insurance


The first thing any property owner should check is if their builder has the right Home Warranty Insurance provisions in place to make sure you are protected We have helped a lot of property owners correct problems or complete jobs where the builder went out of business or walked off a project.
Tiles
Simple tiles can cost from $30 to $60 per square metre with premium tiles $150 or more. So combine this with the size of the room and costs can very quickly grow by 20 or 30%
Bathtub
A simple acrylic bathtub is normally $300-$500 while freestanding, stone or other premium material tubs could be $8,000-$10,000 to make a statement piece.  A heavier tub may also require floor re-enforcement work to be done to ensure it is safe. A tub that has floor mounted tap mixers may also require relocating existing plumbing. While the physical size could also be a factor if roof tiles need to be removed to get it into the room. So a variance could be $800 installed to $15,000 installed just with a few different factors.
Toilet type
Similar to tiles or bathtubs, a simple toilet with plastic cistern could be as little as $250 but there are other options like concealed units etc that can cost over $1,000.
Shower with or without a screen
In some situations it may be possible to place a pre-fabricated shower screen into the floor plan, although typically it is recommended to have a custom made one to ensure correct fit but also maximise the use of the space. Coming back to the design though, a open shower recess could be designed that eliminates the need for a shower screen at all.
Vanity and basins
We will repeat ourselves here but yet again there are simple all in one vanity and basin units that are pre-made and simple to install or you can get bespoke, hand crafted, pieces that are designed to suit the style and space.
Types of materials
Some materials may require specialist labour to have them handled and installed correctly. So here we are talking about the difference between using standard flat pack build it yourself products vs hand carved stone for example.
 If you make a list of the items needed in the room you can then add things like exhaust fans, lighting, towel rails, door handles, drains, cabinetry and other items that are needed to complete the room. All of these items can greatly vary any quote you received, so it becomes important to list each item so you are working off a master list.
A complete bathroom renovation usually means replacing most of the items mentioned above so it becomes important to be really clear about what you need to achieve, your budget and a clear list of items you need.
How much do bathroom renovators charge per hour?
The average charge per hour for bathroom renovations in Sydney is around $65 per hour and this will vary depending on
The scope of work
As we have outlined the scope of a renovation project can vary greatly considering the millions of options. So for each scenario we will take this into consideration when determining our quotation as it could be we are doing labour only or it could be end to end design, supply, project manage etc.  
Size of the job 
Similar to the scope of work, the physical size of the job will determine the per hour rate as there may be extra labour required to complete it to your required timing or budget.


Complexity of the job 
Like any skilled profession there will be variances in the hourly rate based on the complexity of the job. A simple bathtub replacement is different to a second storey ensuite addition to a 1920's home for example.
What is the average cost of renovating a bathroom per square metre
The average cost per square meter to renovate a bathroom will depend on lots of different factors, so it is a similar scenario to what we have explained earlier where these things will vary your cost greatly.
What is the size of the room
The per square metre cost will be relative to the size of the room of course, although there could be situations where you might want a renovation completed in a short period of time, this requires more labour and hence lifts the cost slightly.
What is the scope of the renovation 
Fairly self explanatory but doing a renovation which is just replacing a bathtub vs doing a complete strip back of a room creates totally different scopes of work, changing the cost per square metre greatly.
What materials are being used
Just like the scope of work, the materials like tiles used will vary your average cost greatly.
What fixtures and fittings being used
Just like the scope of work or the materials used, if you use high-end fixtures or fittings then your average cost goes up.
What is the average cost of renovating a bathroom in Australia?
The Housing Industry Association (HIA) has reported an estimate of more than 230,000 bathrooms renovated in 2018/2019 with more than 70% of those in properties aged 11 to 20 years old. This average is taken from thousands of bathroom renovation sites of all shapes, sizes and situations. Many people do ask us if a bathroom can be renovated for less than $10,000 and while the answer is yes, you need to understand what that would truly mean in terms of quality, fittings and design. 
Looking at averages that are quoted on websites or in reports can also paint a false picture if all the details aren't provided to be able to determine exactly how the price was made up. As you can see in the other sections of this guide, there is typically more than meets the eye when it comes to bathroom renovation costs – even variances like labour rates in different states.
What is the cost to supply & install bathroom fixtures?
The cost to supply and install fixtures and fittings will vary greatly, especially if you are asking people to quote on generic items like this example below
2 x Silver Taps vs Caroma Metro Basin Tap Set SKU 97400C5A
Typing silver taps into Google reveals over 37,000,000 search results so can you imagine the cost variances on quotes if your requests are very generic? Especially when you apply this to all the items that are needed. It also doesn't take into consideration where they item needs to come from, is it a bath from Reece or something that needs to be imported from Italy?
It is another area where we find people get frustrated or wonder why there are big differences in the quotes they are getting. Below is a rough guide you can use that is based on mid-range quality items. For all Nu-Trend enquiries we receive we provide written quotations and try to be as specific as possible.
How do you renovate a bathroom on a tight budget?
The really simple answer is you can't. There are thousands of online articles or hacks to make updates to your bathroom to save money. Typically these are things like painting over existing tiles, doing fresh grout, resurfacing, updating tapware and things like that. They are home DIY activities that can freshen up a bathroom but ultimately you are working with the same room and it isn't a complete renovation.
When you renovate a bathroom on a tight budget it normally means that corners are being cut in terms of the items being used, the labour involved or how much is actually being renovated. It may suit some situations but typically these are short term projects that don't deliver long lasting results. 
If you are looking to renovate to profit in the long term, then a quality bathroom renovation with the right budget will give you the returns you are hoping for. Be careful what you see in photos online or on TV shows, with the right lighting they can easily hide poor quality surfaces, finishes and all the little details that you notice in real life.
What tradespeople do you need for a bathroom renovation?
When you are planning a bathroom renovation it is important to consider the various types of trades you will need to have it completed. You may be lucky and some can cover multiple areas or in other situations, one company can do it all. In any scenario, you must make sure they are qualified, insured and licensed before any work commences. We do see lots of examples where Clients haven't checked, only to find out their project was done to a sub-standard level.

In most situations you will need a;
Plumber
They manage things like piping, waste removal as well as bath, shower or toilet installations.
Electrician
For any lighting, switches, fans etc that are being added or changed.
Tiler
In most renovations, the floor and wall tiles are changed in the whole room.
Waterproofer
This has to be a qualified person to ensure the room is waterproof and won't damage other parts of the building.
Carpenter
If things like walls, doors, shelves or cabinets are needed they can either create or install them.
Painter
When all the renovation work is done all the surfaces need to be painted to finish off the room.
Nu-Trend will typically manage your required trades to keep the project running smoothly. We can also work with other contractors if required like architects, designers etc.
Are budget bathroom renovations any good?
Well it is easy to roll out the cliche of 'you get what you pay for' although let us take a different approach, have a read of a few of the stories below to learn about how money can be saved that leads to corners being cut. It is typically in areas people can't see or understand that then become issues later.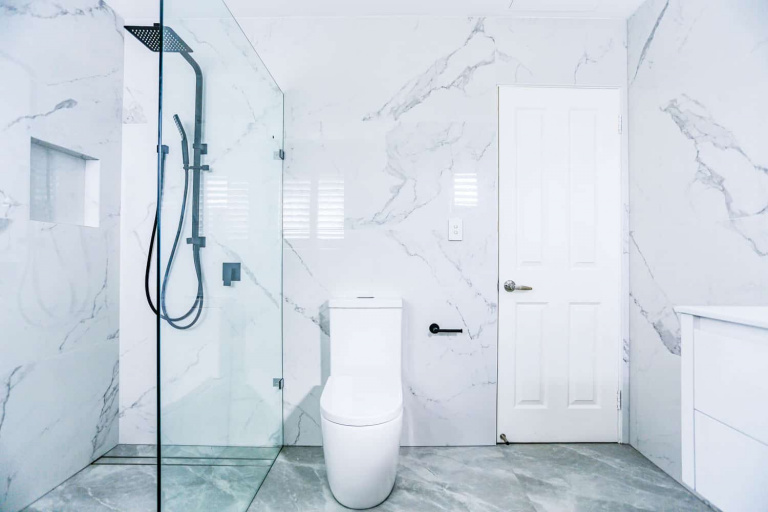 You can replace your toilet quite easily if you are in a house, unit or apartment. We explain the process and some of the costs involved.
SEE MORE >
How to get a bathroom renovation quote
Here is our step by step guide on getting accurate bathroom renovation quotes. By gathering the information below you can present a clear and detailed plan to each company that is consistent and clear. By compiling all the information below you can present a clear list of needs and requirements to be quoted on and do this in a consistent way so each company is quoting on the same scope of work.
What to ask a professional bathroom renovator
Are you licensed and what areas are covered?
What qualifications do you and your team have as individuals?
What insurance provisions do you have?
Will you be carrying out the work or will it be other contractors?
Will you provide a written quotation?
What references do you have that I can call?
Do you have job sites that are active that I can inspect?
Do you have previous examples of your work?
What brands do you prefer and recommend
What are the steps to follow for a bathroom renovation
Initial planning – this is the critical part that most people don't spend time on. Read, research and understand what is required with the main priority of setting a budget to work with as this will drive your decision making around the project.
Get the required permits or approvals – depending on what you are trying to achieve you may require certain permits, inspections, reports or approvals to undertake certain work and this can vary by state or local council.
Check for strata requirements – if you are doing the renovation in an apartment then there is another level of regulation and process to follow to ensure the work doesn't effect the rest of the building or neighbours.
Decide on what trades are needed – Designer, demolition, plumber, electrician, plasterer, waterproofer, tiler, builder etc you will need a good understanding of what you need before you can begin getting quotations.
Be clear on the timeline – depending on the amount of work your contractors are doing, a renovation job could take a week or a year. It is important to understand this very early.
The key pieces of information you'll need