How to spot a low cost bathroom renovation
You know what happens to so many home owners that want a bathroom renovation in Sydney? They see a
fancy, shiny renovation contractor truck show up
the person has a nice fancy uniform
they have perfect brochures and stationary
they even pull out an iPad to do the quoting
It all seems impressive but what we see a lot of is that these marketing gimmicks then hide all the low cost bathroom renovation work that is being done afterwards. Nu-Trend is a renovation contractor in Sydney that repairs hundreds of bathrooms each year that have failed waterproofing of tiles falling off the wall due to poor workmanship or shoddy renovation work.
The way that some renovation companies operate is to then hire low cost labour to do painting, electrical, tiling, waterproofing etc but to a poor standard to then maximise profit margins. We know many might offer a 'one stop shop' with every service available, but most likely what is happening is they are;
Partnering with a builder or another 3rd party to complete the job but without any direct control over the quality of what is actually being renovated. So in other words they pass on the job and just get a commission.
Forcing each customer to use certain products that they source instead of choosing what they like. They maximise profit margins by selling low quality products instead of letting people choose what they want to install whether that is a $200 toilet or a $5,000 bath.
Watch out for supply & installation package pricing. How can any company know the real cost of renovating a bathroom without even seeing the building site or what is going to be required to build in the structure? It will lead to high variation costs, add-ons and other extras.
Providing a interior designer, tiler, builder or architect all together in one service should also be treated with caution. Each of these are specialist trades in their own right. So any possible combination package that includes this in a renovation most likely means corners are being cut somewhere based on time, experience or expertise. 
Choosing a bathroom renovation company that doesn't have all the glitz and glamour could be the smarter choice because you can deal directly with the people that will be doing the actual work and are responsible for the quality of what is constructed. So for example we will;


Visit your site to inspect it, talk about your needs & things that can or can't be done.
Provide a detailed, itemised quotation.
Help you select the right fixtures from wherever you'd like to buy them.
Work out if all those items will work together or not
Ensure what you require will make sense from a budget perspective 
Manage the project end to end including any 3rd party trades that we require
Too many people who choose to renovate get all excited by the nice shiny looking renovation company and don't spend enough time considering their credentials. In the end they get caught up by all the shiny brochures and package pricing they forget the basic elements to ensure the work that will be done is of a high standard.
Have a look at the examples below from one of those bathrooms.
Poor tile set out and preparation
The photos above speak for themselves.
Yes you might get excited about a sub $15,000 bathroom renovation quotation but this is what you might be left with. No, you won't see it when they first finish, these types of tile cracks or grout gaps will appear a few weeks or months after the bathroom has been completed & the renovation contract completed.
Here you can see the wrong type of grout was used and potentially the floor and walls were not completely square which can create movement within the room and thus tiles cracking as they are pushing on each other in different ways.
Split tiling on the bathroom floor
The fastest way to renovate a bathroom is to take shortcuts when it comes to things like cutting tiling shapes. For every bathroom you have to have floor wastes and the floor needs to have a gradient to direct water towards them. Normally this will be in the shower and another one in the main floor area.
To save labour costs some bathroom renovation companies will split the tiles like the photo below as the quick and easy solution to achieving this. You might not know they are doing it until they have layed all the tiles. Although see how strange it looks that tiles are split on unusual angles and diagonal lines everywhere. It still functions as it is intended to direct water to the floor waste, but it looks ugly.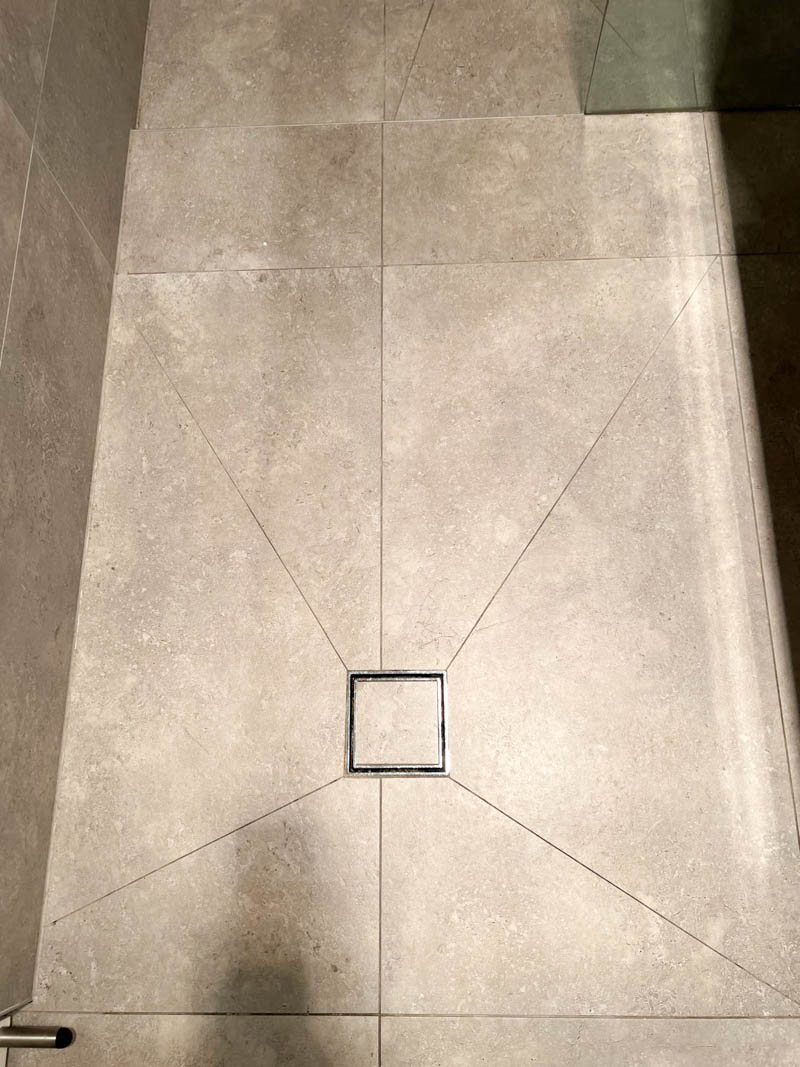 In the two examples below you can see how we take the time to correctly place and lay the tiles to accomodate a floor waste without splitting the tiles or cutting them at unusual angles. This takes longer to achieve in most situations but aesthetically looks much better.
You can see here where the tiler has cut corners, see the large tile on the right and the smaller one on the left, this is the fastest, quickest way to tile a wall because there is very little cutting involved. Although it means the wall isn't balanced and the way we would do it is have the larger tile in the middle and smaller ones on the outsides so that it balances the look of the wall. It is a visual thing that adds to the quality of the interior design finish for a luxury level bathroom.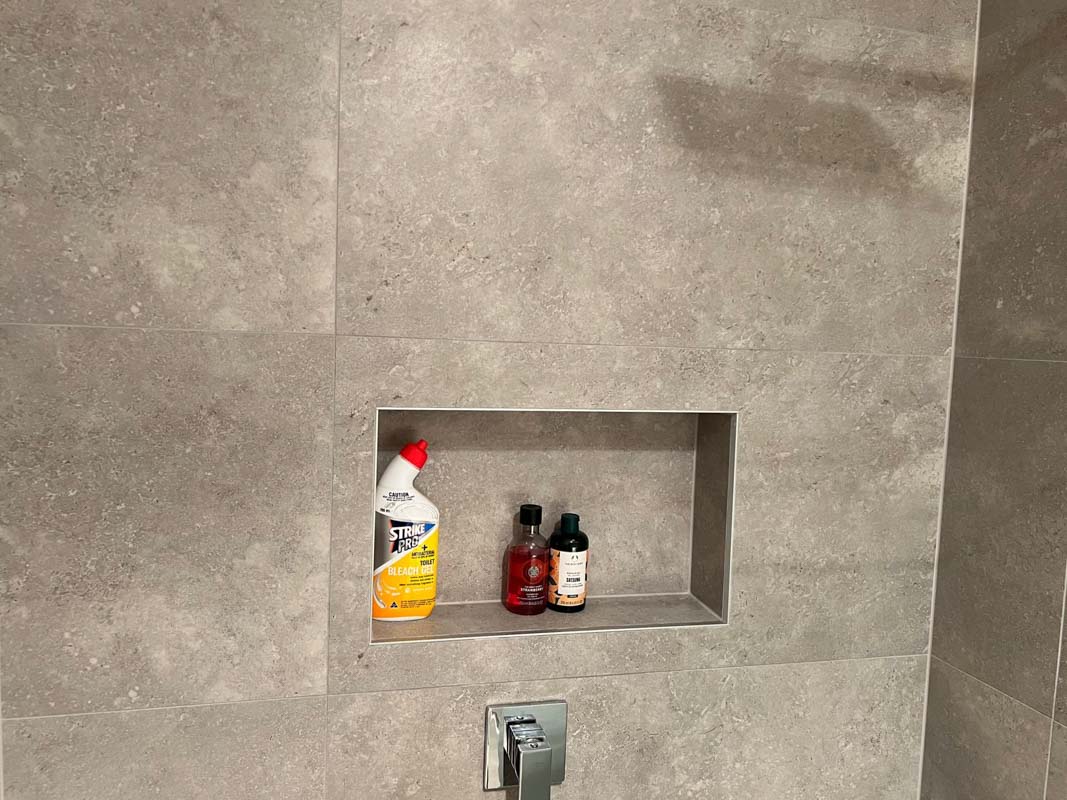 Tile grout colour matching
If you can closely match the tile grout colour you can make the room feel larger because you don't notice lots of lines in the room when you look around. By matching the tile grout more carefully it can visually blend the tiles together to create a more cohesive and aesthetically pleasing look. This is especially important if the wall tiles have a unique or intricate design that may be disrupted by a contrasting grout colour.
It takes more time & effort to do, and this is how some renovation companies will cut costs, but you can; 
Hides imperfections:

Grout that matches the colour of the wall tiles can help to hide imperfections or irregularities in the grout lines. This is particularly beneficial if the wall tiles are not perfectly aligned or if there are variations in tile thickness.
Easy to maintain: Grout that matches the colour of the wall tiles can be easier to maintain than contrasting grout. Dirt and stains are less noticeable, and the grout lines appear more uniform.
Provides a custom look: Colour-matching the grout to the wall tiles allows for a more customised look, as homeowners can choose from a variety of grout colours to create the desired effect.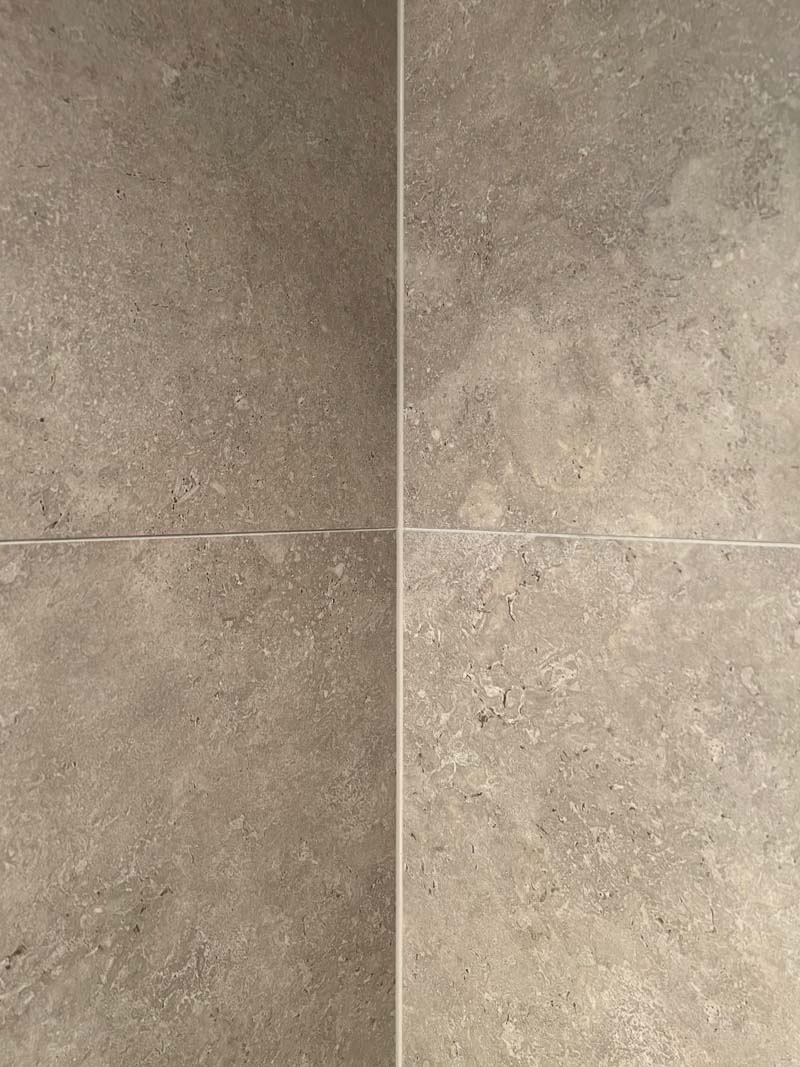 Paint gaps between the ceiling and tiling
See the thick silicon line around the edge of the roof, this is evidence of not measuring the tiling height correctly and then using silicon to patch the gap. Poor preparation, poor room set out and low quality labour being used will cause this. Normally you would see a very small line of silicon not something as thick or large as this
Low quality bathroom package fixtures & fittings
We often laugh when people say 'but I got a quote to renovate by bathroom for $5,000' as they have no clue what they are actually buying. If you let your bathroom renovation contractor supply all the furniture, taps or PC items in the room they are going to source the lowest quality products they can find. You might be lucky & they specify actual models / brands of products like your vanity, toilet or taps. Although generally they will buy low cost items to maximise their margins.
Angle finishing on corners of tiling
Using cheap angle finishing strips on the corners where tiles meet can also save a lot of time for a bathroom renovation company. It means they can cover the tile edging quickly & easily but it means there is lots of strips around the bathroom where there is two edges meeting each other. It's easy for this finishing to discolour, collect dirt or debris or even fall off. It helps to reduce the cost of labour to renovate a bathroom but isn't the most stylish way to finish a room.
Water stops at door entry areas to a bathroom
Another item that needs attention to detail is to ensure there are water stops at the door entry areas to a newly renovated bathroom. This can prevent water spilling out into a hallway or bedroom and force it back towards the floor waste.  A water stop, also known as a threshold or a curb, is commonly installed at the entry of a bathroom to prevent water from flowing out of the bathroom and into other areas of the building. The water stop creates a barrier that prevents water from seeping out of the bathroom and onto the floor outside. Water stops are especially important in bathrooms with showers or tubs, where water is more likely to splash or spill out of the bathing area. Without a water stop, water can seep under the bathroom door or through gaps in the door frame, leading to water damage, mold growth, and potential safety hazards.
Cheap shower screen installation
This is another example where not only is it poor quality but the shower screen installation is actually illegal and hasn't been installed to local building code standards. It is not the right sizing and will easily allow water to splash onto the floor area. Apart from potential flooding issues it is a safety hazzard for people walking in and out who might slip.