HIGH PRESSURE WATER JET BLASTING COMPANY
Nu-Trend is a plumbing high pressure water jet blasting contractor in Sydney
Nu-Trend provides high pressure water jet blasting services in Sydney to clear blocked pipes, grease traps, blocked drains and waste sewage pipes for residential, retail or commercial properties. We have cold and hot water jet blasting equipment and have been operating for more than 10 years. Nu-Trend is a jet blasting plumber based in Sydney that is fully qualified, insured & certified with an Australian ABN and Licence.
High pressure drain cleaning
Nu-Trend can provide industrial water blasting services and use our high pressure drain cleaning equipment to clean pipes quickly and efficiently in Sydney & surrounding suburbs. We carry an extensive range of hydrojet water blasting equipment together with CCTV digital cameras and leak detection tools to we can fix your plumbing problem quickly.
Industrial water jet blasting contractor
Nu-Trend is a Sydney contractor for industrial and residential water jet blasting for drains and pipes in Sydney. We have professional high pressure water jet blasting equipment with hot water boiler or cold water jet servicing. The hot water can be used to break down blockages even faster compared to other methods. Combined with our CCTV Digital Camera inspection equipment it means we can detect, assess and fix blockages quickly while we are on site.
5,000 psi high pressure water jet blasting equipment.
Hot or cold water options.
Site water tank, so no hose required.
Various nozzle sizes to suit all pipe types 20mm to 225mm pipes.
Perfect for fixing blocked drains and pipes without the use of expensive cutting equipment.
Nu-Trend has all the latest equipment to detect and repair water leaks in any part of a property quickly;
House, unit, apartment or townhouse.
Residential, commercial, industrial or rental properties.
Same day high pressure water jet blasting available.
Same day inspection and dig up available.
Burst pipe location and CCTV digital camera inspections.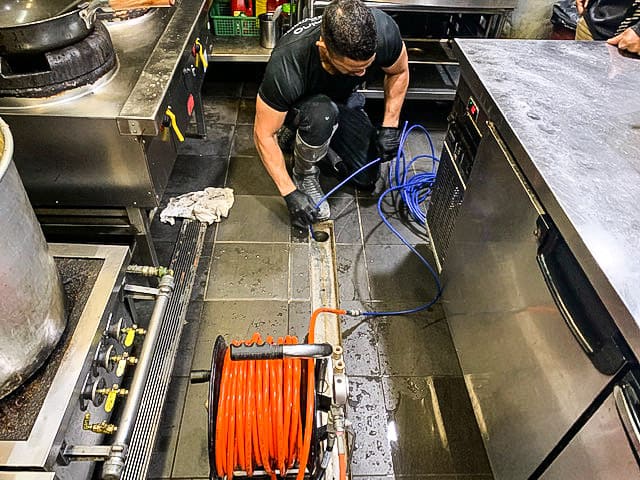 We cleared the grease that was built up in the pipes of this restaurant in Sydney using our hot water high pressure jet blasting equipment.
Read More »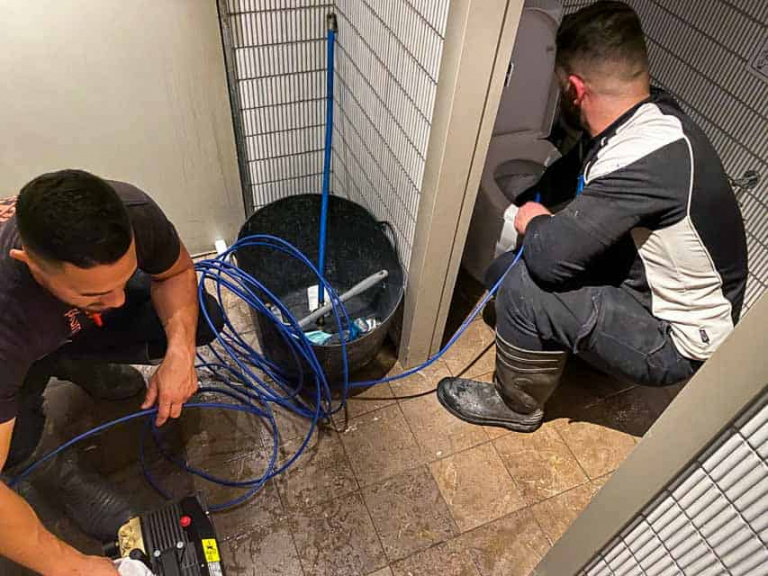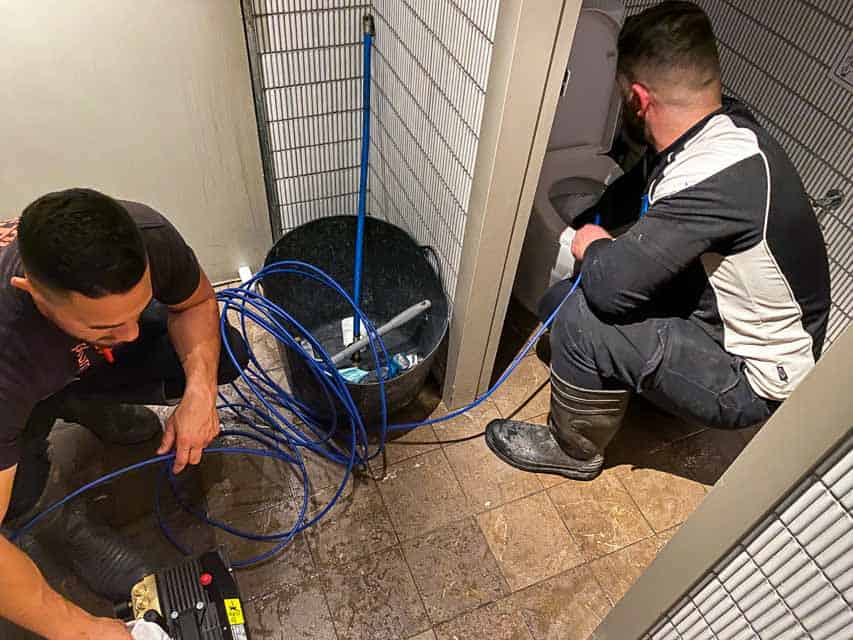 We helped this busy restaurant repair a blocked drain issue they had using our hot water jet blasting equipment.
Read More »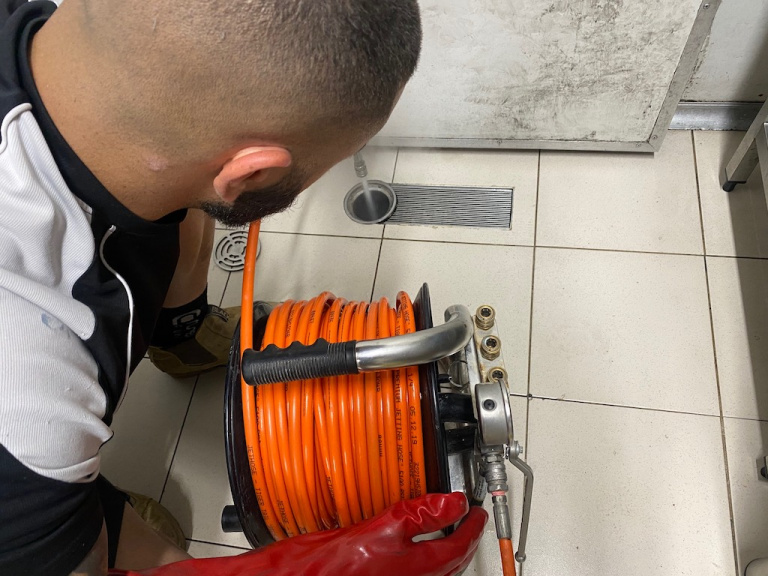 Using hot water jet blasting can fix blocked drains or grease traps for cafes or restaurants quickly and easily.
Read More »
Why is hot water jet blasting better?
Nu-Trend is one of the few plumbers in Sydney to have hot water jet blasting available. The hot water can be used to break down blockages even faster compared to other methods. Combined with our CCTV Digital Camera inspection equipment it means we can detect, assess and fix blockages quickly while we are on site. This becomes a perfect solution for commercial kitchens, cafes or other businesses where your waste has high build up of oil or other contaminants that are hard to clear with cold water.
Hot or cold water with up to 5,000 psi high pressure water jet blasting.
Suitable for residential or commercial use
Hot water can clear stubborn blockages by using high temperature to break down elements faster.
"...For over 3 years now we have been operating and using Nu-Trend's plumbing services and have been impressed with the level of attention and care your team put in to going over and above the levels that we have expected...."
Get a quote for water jet blasting in Sydney
Your decision for selecting a water jet blasting company in Sydney may purely come down to price. Although we know from experience that delivering an incredible service is more than just about price. Here are some reasons we believe you should make us your choice for any water jet blating work required.
Property protection
We will make sure your property is protected with coverings from entrance to project area, even furniture to protect from dust or dirt.
Organised & prepared
All of Nu-Trend's equipment and tools are labelled, sorted and organised to deliver a quick, efficient and precise service each time.
Regular Updates
At the end of each day we will provide an update on the progress of your project. This ensures you know exactly what is happening at each step.
Tidy work site
If we need to leave the site at the end of a working day we make sure it is tidy, organised & everything in place to minimise disruption.
Respecting Property
Yes, we will work in our socks and cover your flooring to protect your property while we work.
Love letters
That's right, we'll leave a little note when required so you know the job is completed or item is ready to use.
Over 100 reviews
We will admit we get too busy to ask everyone for a review, but we have hundreds of happy clients.
Satisfaction Guarantee
Sounds corny, but we stand by our work with a written guarantee for our workmanship and quality.
...I can't recommend the team strongly enough, they are professional, tidy, prompt and polite, and above all excellent craftsman...
...their service standards & ability to resolve problems that occur during the daily operations of a busy club are fantastic....
Local | Licensed | Insured
Nu-Trend is a plumber and bathroom renovations team in Sydney, available 7 days a week. With 15 years experience, the Directors Rob and Rick are hands-on and provide a personalised service that is fully licensed, insured and qualified. You can check online with the NSW Department of Fair Trading here
Work with a local Australian business.
A qualified and licenced service provider.
Public liability insurance for peace of mind.
Drainer  |   Gasfitter  |  Plumber  |  LP Gasfitter  |  Kitchen Bathroom Laundry Renovator
STANDARDS AUSTRALIA AS/NZS3500:2018 Compliant
All the work carried out by Nu-Trend is AS/NZ3500:2018 compliant. It is the Australian Standard for Plumbing and Drainage in NSW as set down by Standards Australia and the Australian Building Codes Board. They give the plumbing industry technical direction to enable compliance with required regulatory frameworks.
LICENSED PLUMBER – RESIDENTIAL | COMMERCIAL | INDUSTRIAL
15 years experience with a written commitment.
Rick and Rob are the hands-on directors for Nu-Trend. Rather than hire sub-contractors and manage their business from a distant office, they are on the tools, at your site & working towards delivering your bathroom renovation or plumbing service. It means you are talking directly to the owners of the business, the guys who are accountable and responsible rather than via email or through customer service teams.
It is why they are able to provide a written guarantee that demonstrates their confidence in standing by the quality of their workmanship and the service they deliver to every single client.
They have a very single minded commitment to deliver a high level of professionalism and quality, they've been doing renovation contracting in Sydney for 15+ years.