Blocked drains can occur anywhere – a home, a business, retail shop, shopping centre or even a car park. There are so many different ways that drains can get blocked by debris or other items getting into the piping systems that stop water flowing correctly. For a restaurant owner this can spell disaster if the drains flood the kitchen, toilet or dining area.

A blocked, overflowing, sewer nearly prevented this restaurant from trading.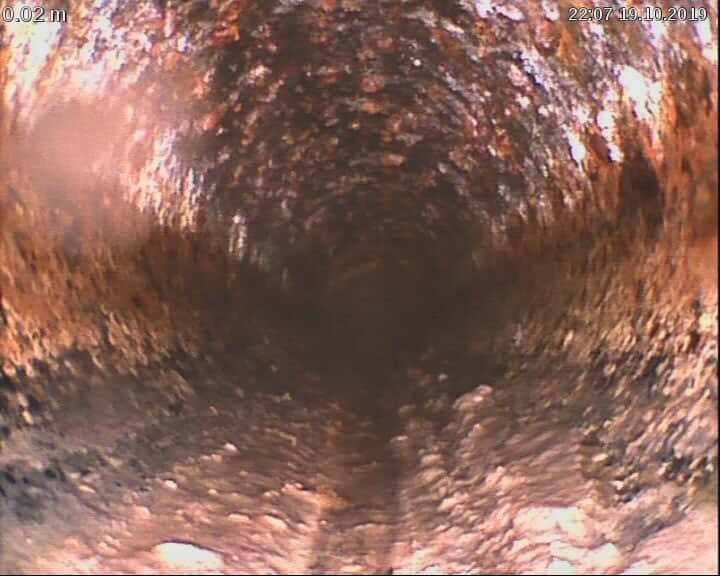 Nu-Trend provides plumbing services to local business owners in Sydney. We were called out to help one of our regular clients Ishi Ban Boshi with a restaurant blocked drain repair in their George Street, Sydney site. We had previously serviced their Bondi Junction location and now they needed a licensed plumber in Sydney to help with their other store that had a blocked, overflowing, sewer drain in the bathroom.
Yes, that's right, sewerage was flooding the bathroom.
The issue was quite significant as it was also leaking in the ceiling sewer plumbing in the restaurant area downstairs because the pipe was so badly blocked. It was a crucial threat to their ability to trade & could have caused issues with centre management if the issue effected other retail tenants from running their businesses.

What caused the drains to get blocked in this restaurant?
Quite simply a Customer had flushed a sanitary pad down the toilet which got stuck in the lines and caused the entire bathroom to over flow. We used our portable 4000psi water jet blast equipment with our whip hose to conduct a full high pressure water blast of the sewer pipes all the way to the toilets to clear the blockage.
Generally speaking the high pressure water is able to clear away most blockages without causing damage to the existing pipes.
Nu-Trend provides a range of hot and cold high pressure jet blast services that can help home owners or small businesses in Sydney. Our hot water jet blast is especially useful for cafe or restaurant owners who can experience build of up grease and oil in their pipes. Over time this can solidify and cause blockages. It can make kitchen sinks slow to drain or even become fully blocked.
Our equipment uses extreme hot water temperatures together with high pressure to clean these out quickly. Learn more about our water jet blast service here

What is the easiest way to repair a blocked drain?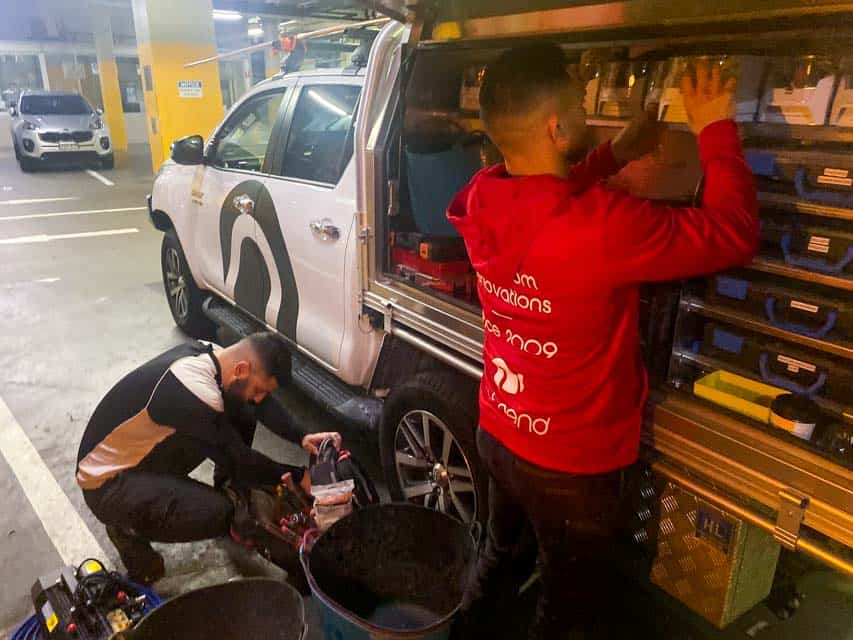 With the high usage of this retail commercial property we recommended the owner also get a full CCTV Camera Inspection of the pipes so we could make sure everything was correct and the issue wouldn't occur again. Doing a pipe inspection can help discover underlying problems to the plumbing.
Things like;
Incorrect venting set up or installation.
Poor plumbing stack work.
In this scenario we lifted the S-Trap of the toilet suite which didn't result in any damage. In some instances the toilet might crack if it's been cemented or too much silicone has been applied. Luckily from our camera inspection of the line we didn't find any unusual or underlying issues.
Nu-Trend is a local, qualified plumber service that can help business owners with any type of plumbing problem and also renovations for things like staff toilets or bathrooms.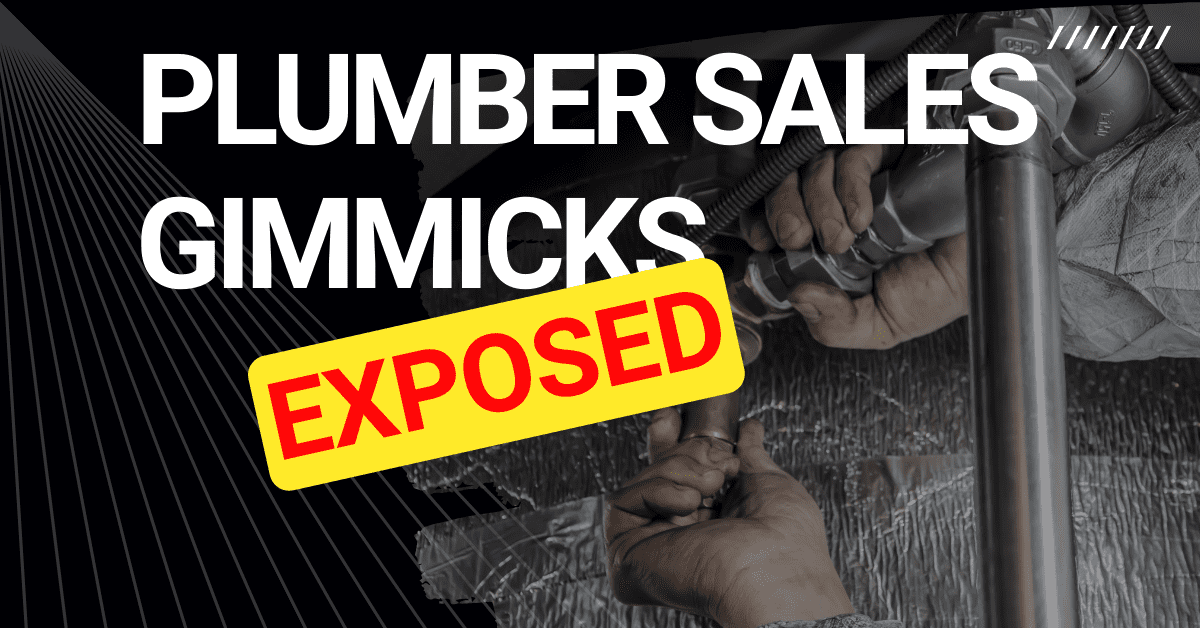 We uncover some of the most common sales gimmicks used by Sydney plumbers & explain how you can avoid getting ripped off when getting quotes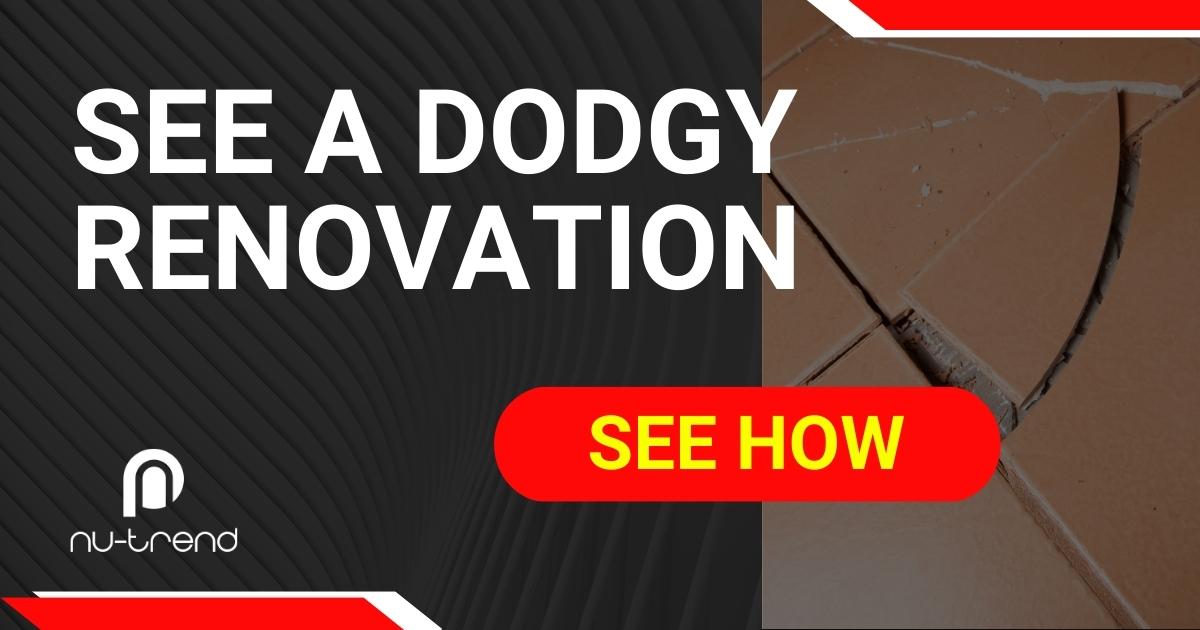 Nice uniforms, stylish work truck, fancy iPads & perfect photos can hide low cost bathroom renovations that are poor quality, see these examples for proof
Local | Licensed | Insured

Protection for home owners.
Local Sydney contractors.
A qualified and licensed renovator.
Public liability insurance for peace of mind.
Drainer | gas fitter | plumber | renovator
Nu-Trend is a Sydney company with more than 15 years experience completing bathroom renovations & solving plumbing problems. he Directors Rob and Rick are hands-on, and provide a personalised service.
STANDARDS AUSTRALIA AS/NZS3500:2018 Compliant
All the work carried out by Nu-Trend is AS/NZ3500:2018 compliant. It is the Australian Standard for Plumbing and Drainage in NSW as set down by Standards Australia and the Australian Building Codes Board. They give the plumbing industry technical direction to enable compliance with required regulatory frameworks.
15 years experience with a written commitment.
Rick and Rob are the hands-on directors for Nu-Trend. Rather than hire sub-contractors and manage their business from a distant office, they are on the tools, at your site & working towards delivering your bathroom renovation or plumbing service. It means you are talking directly to the owners of the business, the guys who are accountable and responsible rather than via email or through customer service teams.
It is why they are able to provide a written guarantee that demonstrates their confidence in standing by the quality of their workmanship and the service they deliver to every single client.
They have a very single minded commitment to deliver a high level of professionalism and quality, they've been doing renovation contracting in Sydney for 15+ years.