Convert or replace two way tap set ups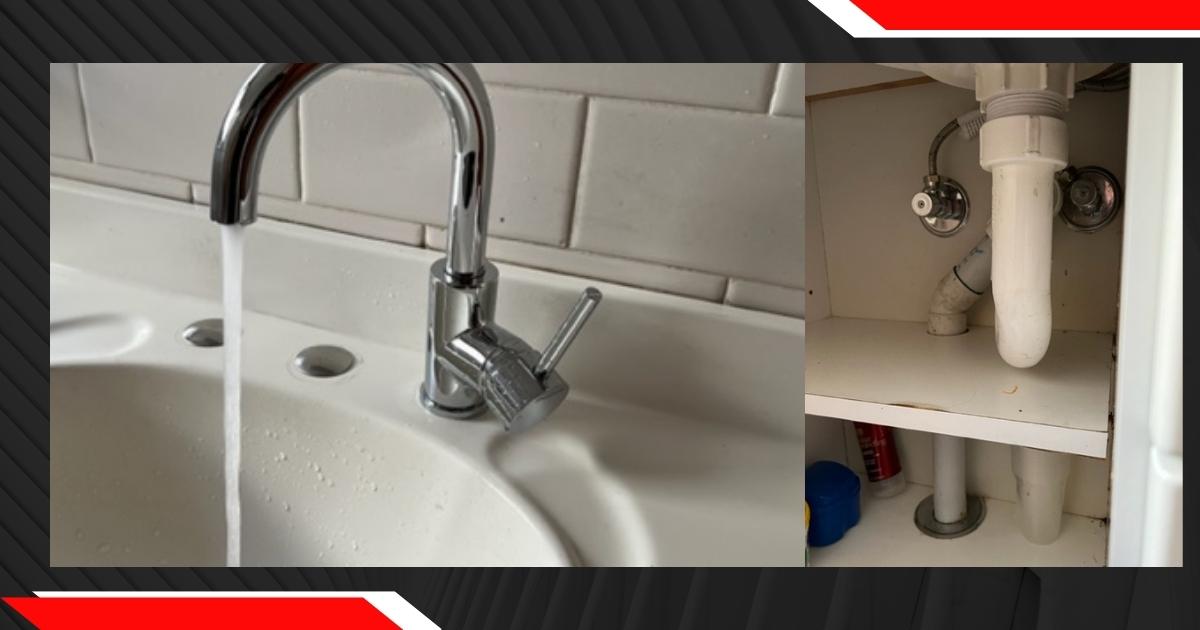 Most homes in Sydney will have a traditional two tap system set up in their kitchen sink, bathroom vanity and laundry sink. One tap is for cold water and the other is for hot water. The plumbing then combines both water sources so that you can adjust the temperature of the water by adding or reducing either the cold or hot water as required.
A plumber in Sydney like Nu-Trend can convert an existing two way mixer set up and remove it so that it can be replaced with a single mixer tap. We can do replacements or installations for any type of tap for your bathroom, kitchen or laundry.
The benefit of a single mixer tap is you just use one handle to adjust the temperature and the flow of the water as needed. This is more convenient to use and also takes up less space on a kitchen benchtop, bathroom vanity or laundry wall. 
There is no right or wrong when it comes to the choice of tap system you use, it is really down to personal preference. For most of the bathrooms we renovate in Sydney, most will have single mixer set ups but there are still people who prefer to have separate taps. For new shower installations most people will tend to choose for a single tap mixer that is installed on the wall.
How did this dual tap get converted to a single mixer?
Our plumbing team was contacted about removing an existing dual tap system that consisted of tree parts in the assembly, the two taps and the spout. They wanted to get a new single flick mixer installed onto the existing vanity unit.
So we deleted (removed) the old tap assembly by removing the old breach piece and install mini taps together with flexible hoses to work with the new flick mixer tap. This type of tap set up is perfect for elderly people to use or even homes with young children as they are easier to use, can control the water temperature a lot more efficiently and look better too.
The other benefit is there will be less maintenance required because it works off a ceramic disc, so there are washers that will get worn and eventually need replacing.
For the conversion pictured above we were governed by the existing holes in the bathroom vanity which means two of them will remain empty. If the vanity was made out of timber it may have been possible to patch the holes, but in this instance the vanity was moulded which would have made this more difficult to achieve.
Can you remove and replace the dual taps in a kitchen or laundry?
If you have dual taps set up in your kitchen or laundry you can have these removed by a licensed plumber and replaced with single mixer units. In fact you could completely replace your taps with a new style, different colour, non-touch models or even a pull out sink mixer tap.
In general these are the types of taps you can choose to have installed;
Pillar taps – these are the standard tap types marked 'hot' and 'cold' that you might see in a bathroom, laundry, kitchen or powder room. Especially in older homes. These are still used today, even in new homes.
Mixer Taps

– if y

ou have a modern kitchen or bathroom, it's very likely that you've got a mixer tap – a single tap nozzle that runs both hot and cold, or a custom temperature combo, depending on how you manipulate the handle or handles.
Monobloc taps – is another variety of single tap that you turn the single handle to the left for hotter, and to the right when you want cold water.
Washer taps

– some plumbers will call this 

a compression washer type of tap the one that many people know which has a rubber or plastic washing inside that has to get changed when it gets worn.
Disc taps

– newer taps might work with 

ceramic discs featuring holes that let the water in depending on how the handle is operated. If your tap is super-easy to turn on from nothing to full-blast, you may have one of the disc tap types.
Ball taps – these will normally be in the garden, their round appearance is because of the hollow ball on the inside that controls the temperature mix and the speed of the flow. 
Cartridge taps

– these have a cartridge inside the tap itself, w

hen it's operated to the left and right it controls the temperature while up and down is all about how strong the water flow is. You often see these in combination bath and shower installations.
How do you replace a bathroom vanity and the taps?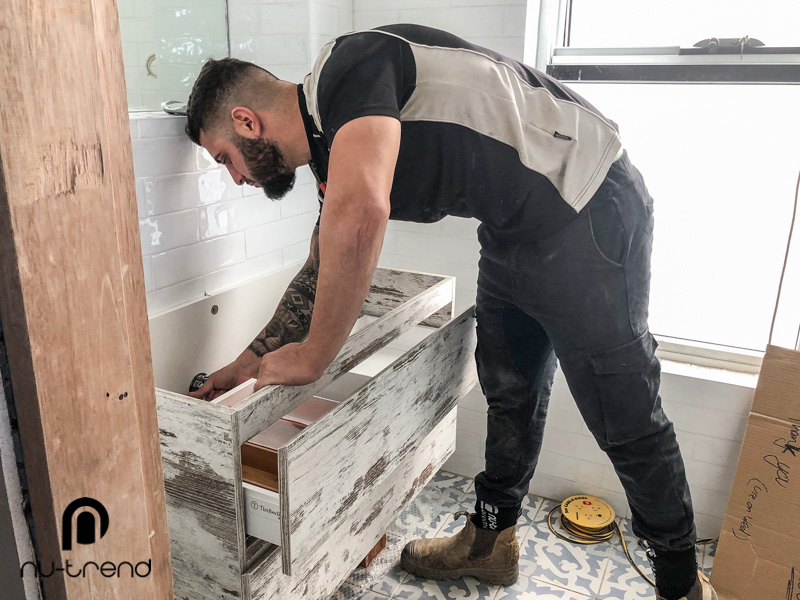 If you get a quote from a bathroom plumbing contractor in Sydney they can help you replace your taps but also replace your vanity unit as well. This is a great solution for people that want to update their taps and their vanity so that everything looks neat and tidy so you see no extra holes.
It is possible to replace a vanity quite easily but you might need to do a small amount of remedial renovation work to repair tiling, painting or other items in the room. Nu-Trend is a bathroom plumbing company that can help you do both – renovate your bathroom or adjust things like taps or plumbing.
How much does it cost to replace taps in Sydney?
The cost to remove and replace taps in Sydney will be between $150 ex gst and $800 ex gst as a rough guide. Why such a big variance in the cost? Well it depends on so many different factors;
What exactly is getting replaced e.g is it a like for like replacement.

Do the taps need to be moved or relocated to another location.

Does the plumbing need to be adjusted to suit the new tap system.

Does the kitchen bench, vanity or laundry sink have to get removed, replaced or repaired to suit the new tap system?

How quickly does it need to get done.

How old is the property and what is access like.
Depending on the answers to these questions the price will vary but w can provide a free quote over the phone to help you work out your tap replacement costs.
Here are some of our recent bathroom renovations in Sydney that Nu-Trend has completed. The majority of the projects we are contracted for are complete bathroom renovations where the room is completely stripped so that the flooring, walls, tiling and waterproofing is installed brand new.
Local | Licensed | Insured

Protection for home owners.
Local Sydney contractors.
A qualified and licensed renovator.
Public liability insurance for peace of mind.
Drainer | gas fitter | plumber | renovator
Nu-Trend is a Sydney company with more than 15 years experience completing bathroom renovations & solving plumbing problems. he Directors Rob and Rick are hands-on, and provide a personalised service.
STANDARDS AUSTRALIA AS/NZS3500:2018 Compliant
All the work carried out by Nu-Trend is AS/NZ3500:2018 compliant. It is the Australian Standard for Plumbing and Drainage in NSW as set down by Standards Australia and the Australian Building Codes Board. They give the plumbing industry technical direction to enable compliance with required regulatory frameworks.
15 years experience with a written commitment.
Rick and Rob are the hands-on directors for Nu-Trend. Rather than hire sub-contractors and manage their business from a distant office, they are on the tools, at your site & working towards delivering your bathroom renovation or plumbing service. It means you are talking directly to the owners of the business, the guys who are accountable and responsible rather than via email or through customer service teams.
It is why they are able to provide a written guarantee that demonstrates their confidence in standing by the quality of their workmanship and the service they deliver to every single client.
They have a very single minded commitment to deliver a high level of professionalism and quality, they've been doing renovation contracting in Sydney for 15+ years.