Home warranty insurance for bathroom renovations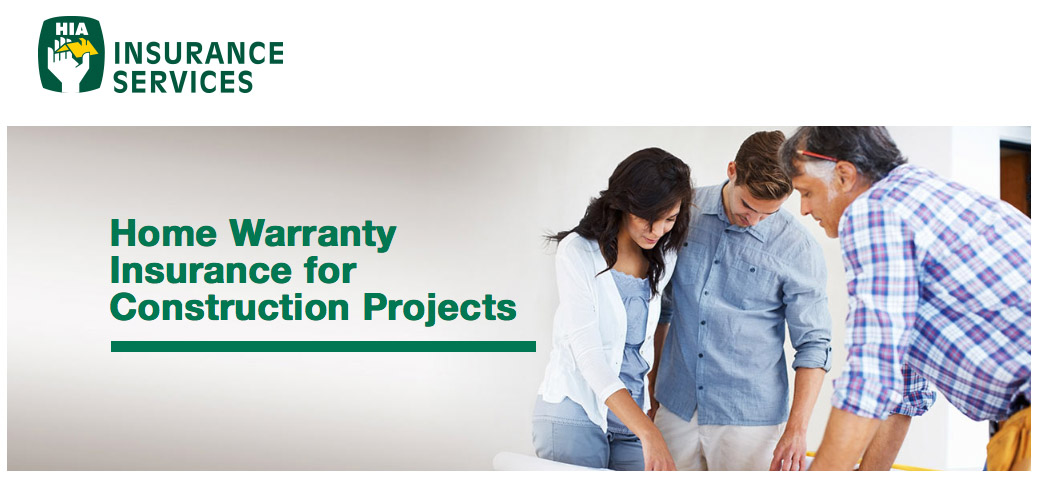 In NSW when you are undertaking a bathroom renovation there are lots of ways that contractors can cut costs to provide a cheap quotation. The area that isn't obvious is the use of cheap, inexperienced labour, poor quality products or building methodologies that prioritise speed over quality.
Although the one aspect that any property owner can check is whether they will be providing home warranty insurance. There are contractors in Sydney that may not provide this & if there are issues with the work completed, it can create all kinds of problems later on.
Ask if Home Warranty Insurance is included in your bathroom renovation quote
Have you wondered why some of the bathroom renovation quotes may be so much cheaper than all the others? One of the things we see all the time when providing our free bathroom renovation quotations is that property owners don't really understand the best way to break down the various costs required to renovate their bathroom.
We have written a guide cost of their renovation accurately. 
There are quite a few things to consider such as;
Will sub-contractors be used

Exactly what materials are going to be used

What insurance is being provided to cover the renovation

What guarantee on the workmanship is being provided
Why should you consider Home Warranty Insurance?
Nu-Trend is a bathroom renovation contractor in Sydney that has first hand experience repairing or inspecting poorly completed renovations in homes. A large percentage of the contracting jobs we complete are to repair underlying issues that are caused from work that was done incorrectly, not to Australian Standards or just done poorly.
As you'll see on our website we don't fill it with pretty photos copied from the internet. Where we can, we try and explain the things to look out for when renovation. That is why making sure your project has Home Warranty Insurance coverage becomes so important, just in case the work isn't done very well. 
Have a look at some of the examples below where we use examples from our renovation jobs to see behind the scenes and exposes poor quality renovation work.
Home Warranty Insurance cover and requirements for renovations
At the moment for each state (except Tasmania), the Government determines the policy terms of Home Warranty insurance, manages its administration and is the sole underwriter. This means if an insurance claim comes up, the Government pays out the claim to the home owner.
Nu-Trend is a licenced renovating contractor in Sydney and we deal directly with property owners, so we are undertaking work that is required to be warranted, we make sure we have home warranty insurance prior to commencement of any project.
This of course adds cost to our quotations but it also provides peace of mind for both us and you as the Client.
What does Home Warranty cover?
Home Warranty insures the property owner, either you as the original owner or subsequent owners against things like;
Non completion of the building contract
Failure of the builder to correct faults, which are deemed by law to be the builder's responsibility, for a nominated warranty period. These contingencies are poor workmanship, faulty design, and inadequate or unsuitable materials.
There is legislation that outlines the extent of Home Warranty insurance cover to the property owner and for NSW this is an outline of the requirements;
Any residential building work over the amount of $20,000 requires Home Warranty insurance.
The insurance covers up to the amount of $340,000.
Period of Home Warranty cover for major defects is 6 years after completion of works, and 2 years cover for non-major defects
Statutory warranties for renovation contractors
The statutory warranties require a builder or renovation contractor to perform work that is;


In accordance with the plans and specifications in the contract
Using good and suitable materials
Using new materials unless otherwise stated
Within the time specified in the contract
So as to be fit to be occupied when completed; and
So as to live up to any result agreed it must achieve
NSW renovation contractor checklist
The NSW Government provides a contract and checklist for property owners who want to use a renovation contractor. Below is a sample from the NSW Government's Home Building Contract that is a Checklist for people entering into a building contract. It helps to make sure all the appropriate steps have been taken before you engage a renovation contractor. 
We have seen many property owners not follow this process or even know about the requirements which has led to jobs not completed or arguments about the work that should have been done. See this example of a dispute for a bathroom we inspected.
You can also learn about the Department of Fair Trading contracts here
All the information and limits mentioned above are provided as at the date of publication to the best of our knowledge. Full details in respect to the complete state requirements should be sought from your state government authority. 
Nu-Trend provides this information for general information purposes only. It is not intended to be comprehensive, nor does it, or should it (under any circumstances) be construed as constituting legal advice. You should seek independent legal or other professional advice before acting or relying on any of the content of this information. Nu-Trend will not be responsible for any loss, damage, cost or expense you or anyone else incurs in reliance on or user of any information contained on this page.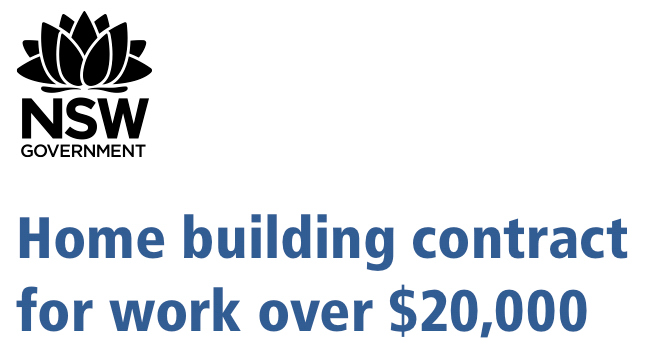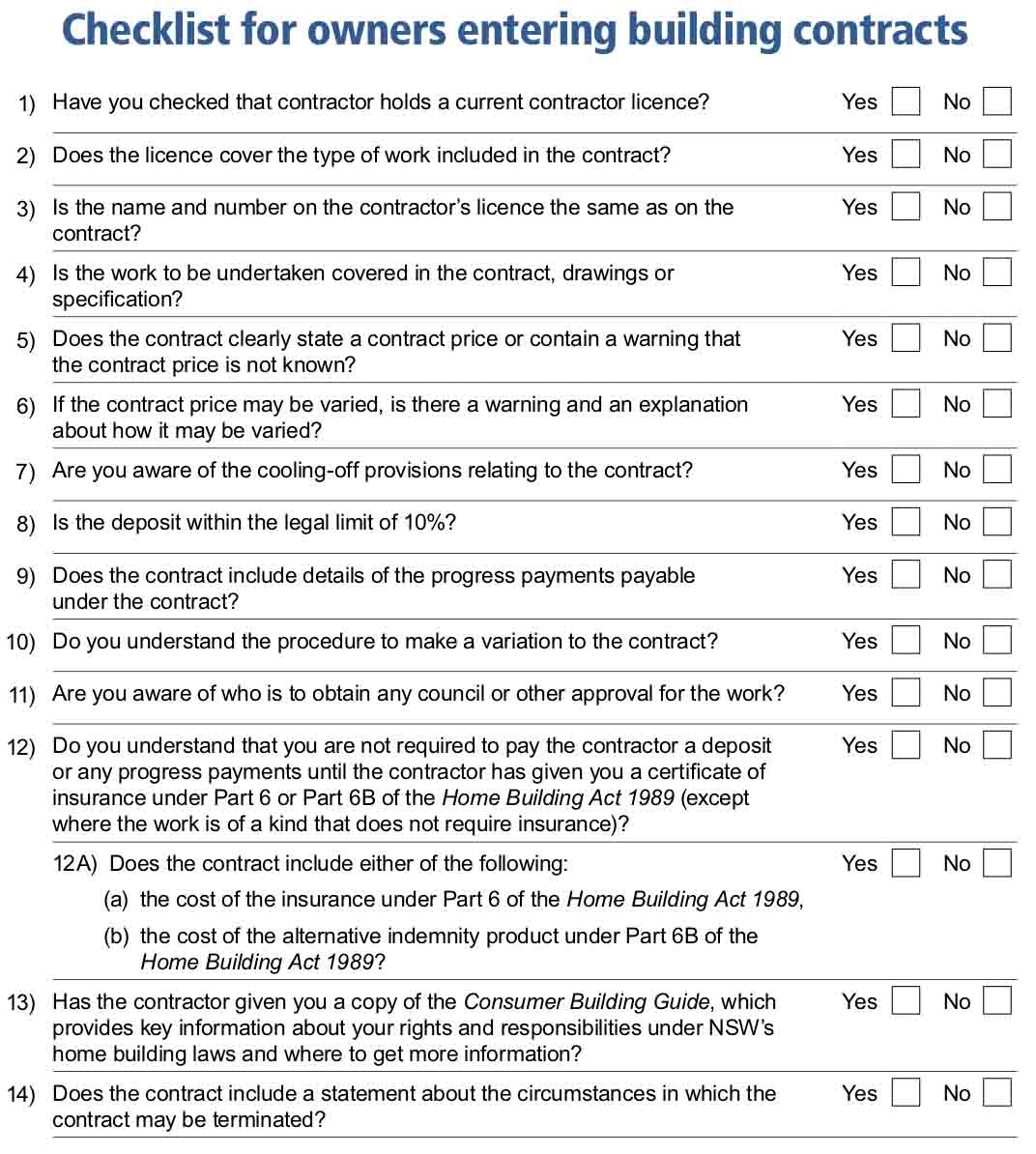 Information about home owner warranty insurance
If you'd like to find out more there are plenty of great information sources available
You have to carefully read the product disclosure statements to understand what may or may not be covered. This family experienced the pain of renovation without the property insurance in place "When you read the [product disclosure statement] the builders warranty insurance doesn't activate until the company are officially entering administration and even then they only pay $100,000."