The best way to resolve a bathroom renovation dispute in Sydney.
There are thousands of renovations taking place in Sydney & many property owners have no idea how they can protect themselves when it comes to resolving a dispute should it arise. Resolving a contract dispute is one of those things nobody really wants to go through. In this example Nu-Trend was approached by a Client who had contracted another renovation company to do building works in her bathroom. 
As you can see in the photos there is evidence of very poor workmanship. 
Of course the initial renovation quote was very cheap, but look at the outcome. It is another example of not doing the proper due diligence when it comes to evaluating renovation costs in Sydney. What the property owner didn't realise was there were a number of steps that could have been taken to resolve this issue or prevent it from happening in the first place.
This is why when Nu-Trend is engaged to renovate a bathroom we provide a written quotation with a very specific scope of work as well as a renovating contract. There are so many rules and regulations in place that renovation contractors in Sydney must follow. We always advise any owner should take the following steps before signing a contract or commencing work 
Check the License of the company and builder.


Double check if they have an ABN or a history of multiple companies being registered.


Get a confirmation that the person quoting is the one who will actually do the work.


Look for reviews online that have 3 or more sentences but talk in detail about previous work done.


Ask to speak to prior clients or visit a previous job site.


Ask to visit another site they are working on to see what 'work in progress' looks like.


Understand what a contract will look like. If it is written on paper or doesn't contain much detail then you have a fair indication as to the quality of their work potentially. Examples of contracts are available from the Department of Fair Trading here


What should you do as soon as a renovation dispute begins?
Let's say you have performed all those steps, what happens if you get the feeling a dispute is starting to form? 
Talk through the issue at first. In most situations it will then get resolved. Although make sure you take photos for evidence & follow up any conversation with something in writing so there is some other evidence available later if needed. Verbal conversations are too difficult to refer back to & easy to deny.



 

Write a letter or make an addendum to the contract following any conversations, confirm in writing with your builder what was agreed to be done, and by when, making sure this is dated, using email or registered post as proof.



 

If the matter continues, contact Fair Trading immediately so that you can lodge a formal complaint. You can do this online at the Department of Fair Trading here



 

Notify the building insurer of the matter including Fair Trading's involvement.
Sometimes though, people don't want to go through all that hassle and just want the job rectified, we can help in those situations too although depending how much money has been spent or the status of the job, you may have to continue with the dispute.
What were the problems with this bathroom renovation?
Very simply, this bathroom would not have have lasted 15 months based on the quality of work that had been completed. This is a perfect example of the importance of choosing a licensed renovator with experience rather than opting for the cheapest quote. 
Let's put our personal opinion of the quality aside, in more simple terms there was also a number of building codes and Australian Standards practices that weren't adhered to. Here are some examples;
Illegal shower widths for an open shower without a door.



Cheap floor drains were used that weren't stainless steel and would corrode over time leading to repairs or replacements needed later.



Poor workmanship with the cornices falling from the ceiling and wall but work had started to prepare it for being tiled over.



Sub-standard tiling with a 3 out of 10 rating with tiles not straight, with inconsistent gaps and more.



Incomplete work where the client was told the tiling was finished but the corners of the room hadn't been sealed. This would have lead to more remedy work required later from water leaks.



Poor design being incorporated into this renovation that required a dryer to be placed in the same room as the shower, but a ventilation fan wasn't accounted for. Virtually impossible to avoid moisture build-up in the room or allow the dryer to work effectively.

 

Unprotected plumbing was exposed on top of the concrete slab and under the screed.



Poor provisioning where there were potentially illegal allowances for a kitchen waste line that didn't meet current plumbing standards and had a dangerous back fall.
Needless to say this was another example we encountered where the client thought they were getting a low cost bathroom renovation. Well they did, it was so low cost, so cheap, that it was not only illegal but wouldn't perform the way it was meant to. They were not aware of the shortcuts being taken that were a mixture of illegal, poor workmanship or things that would lead to problems later.
What had to be done to repair this bathroom renovation in Sydney?
Its possible to repair bathroom renovations that have not been completed. The cost to do this will just depend on how extensive the work will need to be. The Nu-Trend team provided the following recommendations to repair this bathroom which the Client accepted.
Purchase and allow for preventative drop sheeting and cleaning gear to keep the work site clear and clean throughout every stage of the project.



 

Completely strip the existing bathroom back to its original core-shell timber frame stud work and brickwork without any existing render.



 

Have our licensed electrician and plumber inspect the plumbing and electrical work to determine if it is legal, meets current Australian Standards & is in the correct position for the proposed bathroom layout.


Remove and replace any services that fail inspection.



 

Correct the existing wall layouts as best as possible with stud and render correction. We are not building a new room so we will be working with existing structures that need to be made as perfect as possible.



 

Review the pros and cons of the existing bathroom layout to determine an ideal solution to maximise the use of the space.



 

Finalising the revised design, then reviewing all actions, tile set outs and finishes with all trades and the client.



 
Here is more free advice about renovating your bathroom in Sydney that Nu-Trend has created. We enjoy sharing our knowledge and experience to help people avoid the common problems caused by dodgy contractors.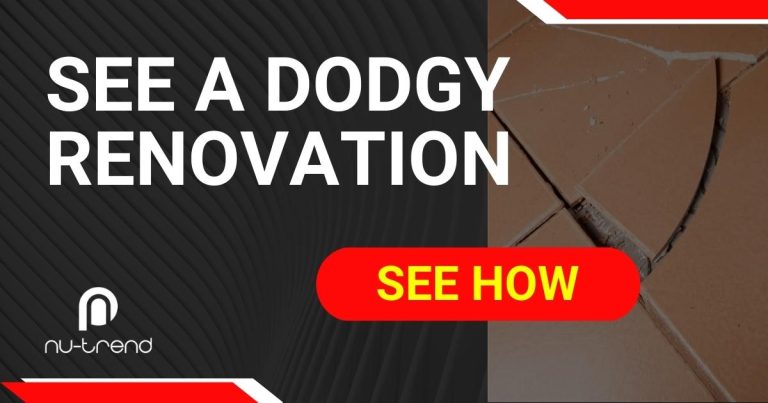 Nice uniforms, stylish work truck, fancy iPads & perfect photos can hide low cost bathroom renovations that are poor quality, see these examples for proof
READ MORE >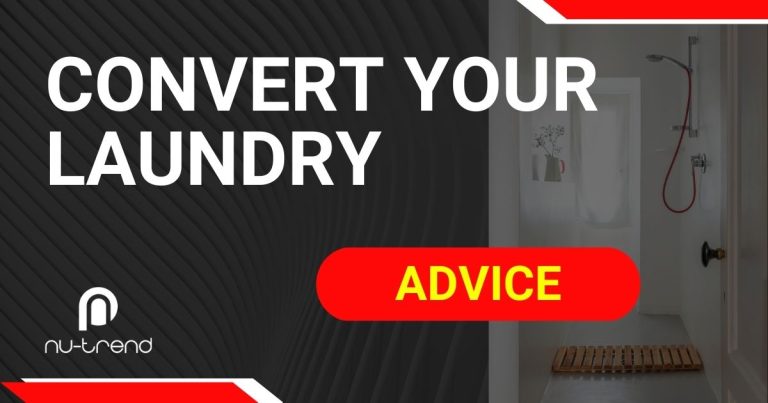 We can convert your existing laundry or powder room into a complete bathroom. See how much it costs and what is required to get this renovation work done.
READ MORE >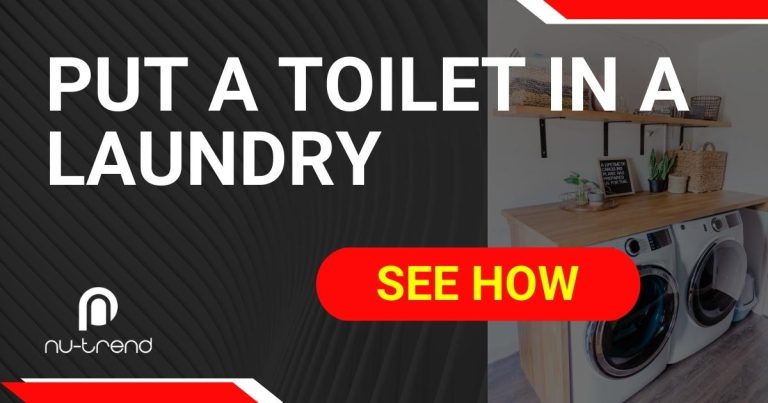 You can add a toilet into an existing laundry to give it more functionality. We explain how much it costs and what is involved.
READ MORE >
Local | Licensed | Insured

Protection for home owners.
Local Sydney contractors.
A qualified and licensed renovator.
Public liability insurance for peace of mind.
Drainer | gas fitter | plumber | renovator
Nu-Trend is a Sydney company with more than 15 years experience completing bathroom renovations & solving plumbing problems. he Directors Rob and Rick are hands-on, and provide a personalised service.
STANDARDS AUSTRALIA AS/NZS3500:2018 Compliant
All the work carried out by Nu-Trend is AS/NZ3500:2018 compliant. It is the Australian Standard for Plumbing and Drainage in NSW as set down by Standards Australia and the Australian Building Codes Board. They give the plumbing industry technical direction to enable compliance with required regulatory frameworks.
15 years experience with a written commitment.
Rick and Rob are the hands-on directors for Nu-Trend. Rather than hire sub-contractors and manage their business from a distant office, they are on the tools, at your site & working towards delivering your bathroom renovation or plumbing service. It means you are talking directly to the owners of the business, the guys who are accountable and responsible rather than via email or through customer service teams.
It is why they are able to provide a written guarantee that demonstrates their confidence in standing by the quality of their workmanship and the service they deliver to every single client.
They have a very single minded commitment to deliver a high level of professionalism and quality, they've been doing renovation contracting in Sydney for 15+ years.