A luxury bathroom renovation with great interior design techniques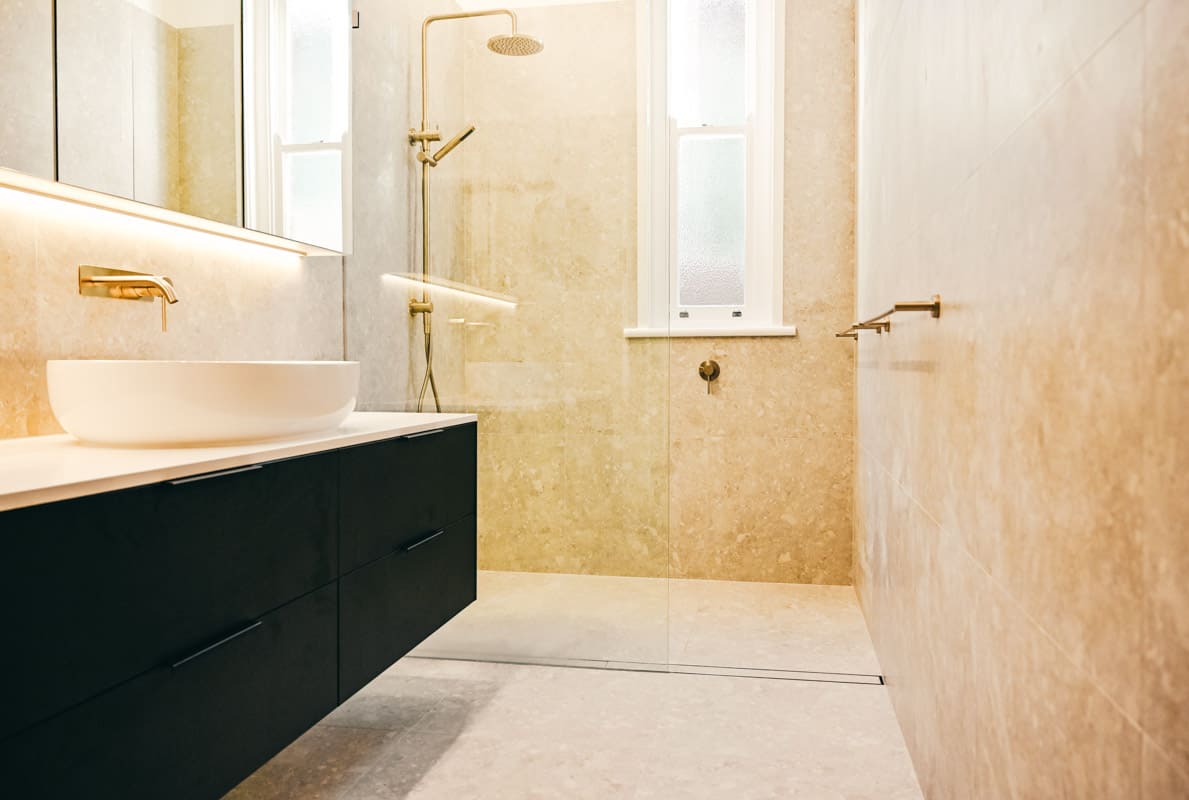 Using high quality interior design and the right materials can create a luxury bathroom with ease.
This humble property in Five Dock had a small master bathroom that felt really cold as soon as you walked in. The use of black tiling with stark white just gave you the shivers as soon as you walked into the room. There was nothing attractive about the design and maybe in the 1990's it may have been trendy but in 2021 people want to enjoy a bathroom that feels warm, inviting and comfortable.
We probably don't have to really write too much about this luxury bathroom renovation project because the two photos above tell the story about how we completely transformed this room using clever interior design and high quality materials. 
Nu-Trend was the local renovation contractor chosen to do this complete bathroom renovation by Lon and her partner, we stripped the room completely to the bare floorboards. Usually we wouldn't do this but for this property the existing sub floor had;
Poorly installed sheeting

It was an illegal size that had been used previously

It wasn't the right thickness or material that should be used in a bathroom
because we were doing a complete demolition of the room to install underfloor heating and new floor tiling we made the decision with the property owner to upgrade the flooring to use the cement board sheeting. Generally we will try our best to work with the existing framework that is in place but we don't feel comfortable doing this if we can see it is either illegally installed or not fit for purpose. Sometimes these are unseen variations that can't be avoided in order to achieve a high quality renovation finish.
This is why so many people in Sydney choose Nu-Trend are their renovation contractor & you can even read Lon's review below.  
Timeframe: The time to complete this type of bathroom renovation is around 2-3 weeks and what can create a variance in the timing is access to the property, delivery of products or any changes made to the design during the build.
Budget: For this complete bathroom renovation which included stripping back the walls & floors was $25,000-$30,000 in labour. The final budget depends on the products chosen for the room, the type of tiles etc. Our scope of work for this renovation included;
Protection of the property
Demolition of the old bathroom
Custom made shower screen
Bulk head wall fabrication
Exterior wall repairs & relocation of the entrance door
Replacing the vanity
Floor to ceiling tiling
Hot and cold water rough in

Fit off fixtures and fittings 

Grouting 

Wall tiling 

Floor tiling 

Waterproofing 

Screeding gradients to correct falls 

Painting
Interior design elements and products used in this luxury bathroom
What is so great about the interior design elements in this bathroom is just how well they work together to create such an inviting space with a luxurious feeling day or night. It's the combination of great quality products that make this possible which includes the custom made vanity and floor to ceiling tiling.
The other elements in this interior design included
Custom made glass shower screen; the frameless design reduces the visual clutter and is custom made to suit the room vs pre-made fixed shape designs. There are no clumsy tracks or messy frames required just a single sheet of glass that is easy to clean and very safe to use.
Wall hung vanity unit; this reduces the bulk sitting on the floor and allows your eye to see the floor tiles.
Custom made shower drain; created using a matching floor tile it blends into the floor and you hardly notice it.
Why is your bathroom flooring so important?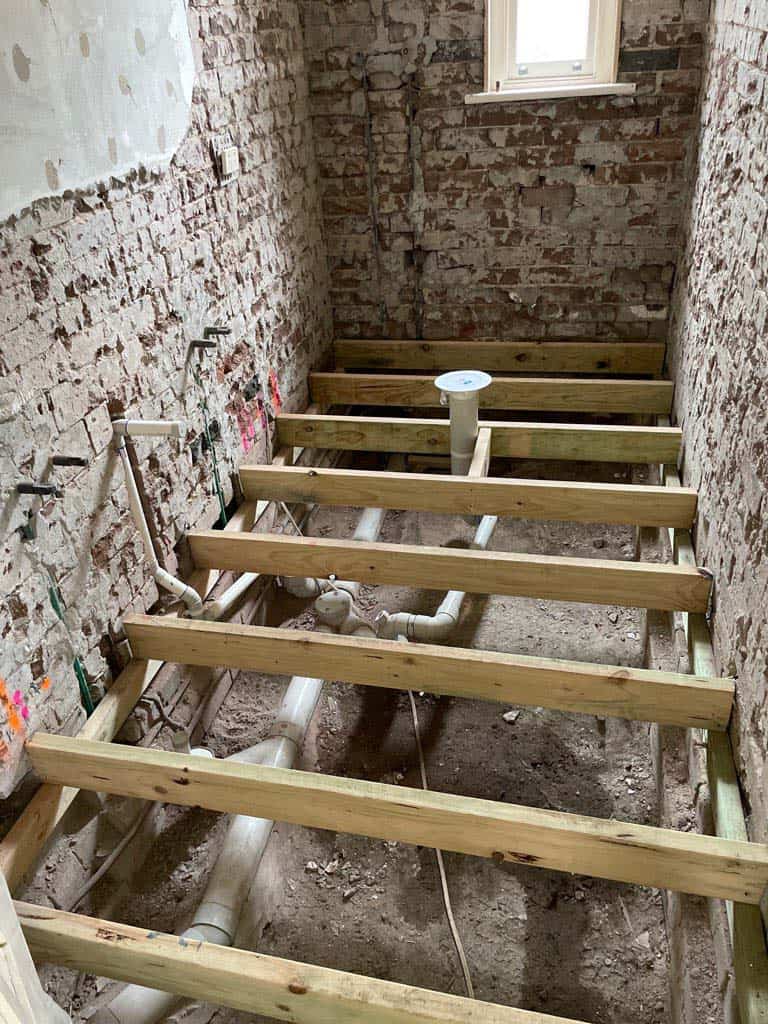 As we mentioned earlier we had to completely replace the flooring in this bathroom before we started renovating. What many people don't realise is that other renovation contractors will skip this step. It is hard to see any underlying issues in a room because they can be hidden by the existing flooring or tiling. So what can happen is that the renovator discovers the problem later than just continues to renovate over the top of it for fear of the owner not wanting work to continue.
We don't operate like this and we always give the property owner the choice about how to deal with renovation variations. In some situations it can be a legal requirement to have the works completed in a certain way or with specific materials. All the work that Nu-Trend completes is done to current Australian Standards to ensure we can uphold the warranty on the work completed & give you a great bathroom.
If the flooring hasn't been installed using the right techniques or materials then over time you can have issues with waterproofing or floor movement that can lead to cracks in tiling and other issues.
What did we do in this luxury bathroom renovation?
#1 PROTECTED THE PROPERTY
Doing as many unit renovation projects as we do, we understand how stressful they can be for people trying to live through them. Most tradies also make a big mess. We make sure we protect your property with floor and wall coverings to make sure nothing is damaged while we are renovating your house.
#2 PLUMBING & FLOORING INSPECTION
Nu-Trend is a licensed plumber which is an advantage when you are renovating a bathroom. For every project we inspect all the plumbing to make sure it is ready for use. When you combine this with our renovation expertise you get piece of mind.
Some renovation contractors will not include this in their service, they might leave the rubbish from the demolition in your backyard or on the street. Nu-Trend will make sure all the materials and rubbish that are not used are removed neatly ensuring your property isn't left in a mess and neighbours are happy.
We concealed the underfloor heating controller in the shaving cabinet to keep the walls nice and clean.
Yes, we make sure from start to finish your property is kept clean and returned to its original state once we have completed the project. We know how much of a hassle renovating can be but we look at all the little things to try make it more pleasant.