What is a variation for bathroom renovations in Sydney?
Nu-Trend is bathroom renovation contractor in Sydney that has worked on thousands of renovations sites in homes, unit blocks, apartments, townhouses and retail properties. In some of these projects the scope of work that was agreed to needed to be adjusted. This can happen for different reasons and it is called a variation. 
For bathroom renovations when we do a site inspection and provide a free quotation we try and get as much information as possible about the building, the room, the history of any previous renovations as well as inspecting as many elements as possible at the location. What can be difficult to determine are things such as the condition of the sub floor, wall studs or other items that are behind the existing constructed surfaces.
One of the benefits of completely demolishing a room to prepare it to be renovated is that everything is stripped back to the room's framework so that each element can be inspected carefully. This can ensure the structure of the room and all the surfaces are prepared to a high standard ready to be renovated on.
Why did this bathroom renovation require a variation?
Pictured above is an example of an old home we had to renovate in Ermington, Sydney. We demolished the old bathroom and once it was completely stripped back we were able to show the property owner the extensive termite damage the room had. This is the point where we can discover things that were not initially seen, it is a great example of a variation to a renovation contract's scope of work.
It would have been easy for us to ignore it and continue renovating, but this is the difference between choosing an experienced bathroom renovation company in Sydney vs using general trades or choosing the cheapest quote you get. 
We presented the termite damage issue to the property owner together with a quotation to repair the damage. This gives the property owner the ability to make a decision on how they would like to manage the situation. In this example it was roughly $2000-$3000 in extra remedial work required which included;
Full prop framing of the room for structural strength and safety

Full removal and rebuild of all the rotted wet / termite timber beams
Re building the bearers and wall frame
New batten system to carry the flooring (and eventually the waterproofing and tiling)
New flooring for the whole room
This would ensure the room would be structurally sound to begin doing the renovation. It also helps the owners consider what other rooms of the house may be effected by the termite damage so they can organise to get them repaired too.
What are examples of bathroom renovation variations?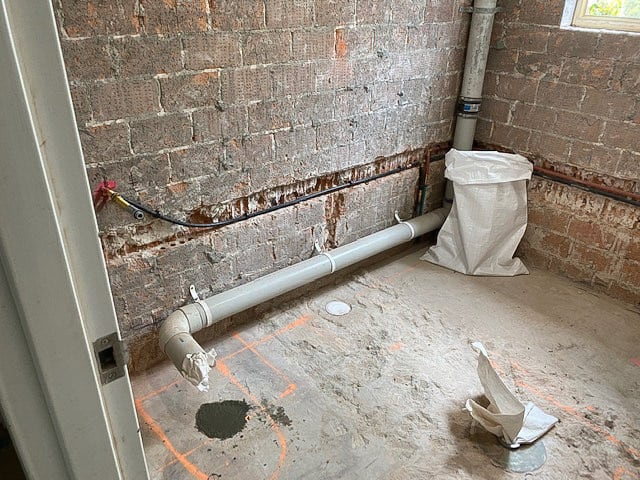 Variations to bathroom renovating contracts are actually quite common, we deal with them all the time. Here are some of the common ones that we experience;
Changing the floor plan in a bathroom. The initial ideas on where to place a toilet or shower may change. With the room completely stripped back we can relocate items in the room and swap a toilet or shower for example. There is extra labour needed to move the plumbing that might need cutting into a concrete slab or new piping for sewage for example.
There is asbestos in the walls. Homes that were built prior to 1980 have a very high chance of having asbestos sheeting used in the walls or ceiling. This would mean renovation work has to stop immediately for it to be removed.
The floor bearings need repairs. The structure of a room is critical, especially if you are thinking about installing a new bath. The floor has to be able to hold the weight of the bath and when it is filled with water. Sometimes when we demolish a room we find there is water damage to the joists or bearers that have to be repaired.
Yellow tongue flooring. Sometimes we find that yellow tongue sheeting has been used in the flooring which doesn't meet Australian Standards. We will not renovate over this flooring substrate and will always recommend for it to be removed.
Window or door placements. Similar to changing a floor plan, sometimes people will decide to move a door or a window in a room. Either option is possible, like all the other examples it just requires extra labour which may or may not be simple to achieve. 
Damaged or incorrect plumbing. Nu-Trend are experienced bathroom plumbers which means we don't just do the renovation elements. We also take into consideration your complete plumbing system. One of the steps we take is to ensure all your plumbing has been installed correctly & functioning. This makes sure your new bathroom will function correctly.
What is a variation?
The term variation' normally refers to changes that are required during a renovation that are different to what was originally agreed upon in signed building or design contracts – or any contracts really. One example is a situation where damage to a concrete slab is detected that would prevent the safe renovation of a room. The variation would be the repair of the slab before work can continue. Another example could be if you choose materials to be used, like floor tiles, but then change your mind and they need to be removed or others bought, this would be a variation in the original scope.
Why do you need a variation?
What is a variation?
A variation may be required during a building or renovation project when a contract has been agreed to for a specific scope of work, but extra work or a change to the agreed work is required. The variation can be agreed to by both parties to adjust the scope of work so the project can continue.
Can you avoid a variation during a renovation?
Can you avoid a variation?
The very simple answer is yes, it is possible to avoid a variation in your renovation project - just stick to what was agreed to. Although this is simplifying the situation because every single renovation or building project will be different and has to be treated that way. We will do everything possible to avoid a variation as it is in our interest to get the renovation completed on budget and on time. Although sometimes it will be necessary, especially when we discover building damage or things that haven't been done according to building code.
Here are some of our recent bathroom renovations in Sydney that Nu-Trend has completed. The majority of the projects we are contracted for are complete bathroom renovations where the room is completely stripped so that the flooring, walls, tiling and waterproofing is installed brand new.
Local | Licensed | Insured

Protection for home owners.
Local Sydney contractors.
A qualified and licensed renovator.
Public liability insurance for peace of mind.
Drainer | gas fitter | plumber | renovator
Nu-Trend is a Sydney company with more than 15 years experience completing bathroom renovations & solving plumbing problems. he Directors Rob and Rick are hands-on, and provide a personalised service.
STANDARDS AUSTRALIA AS/NZS3500:2018 Compliant
All the work carried out by Nu-Trend is AS/NZ3500:2018 compliant. It is the Australian Standard for Plumbing and Drainage in NSW as set down by Standards Australia and the Australian Building Codes Board. They give the plumbing industry technical direction to enable compliance with required regulatory frameworks.
15 years experience with a written commitment.
Rick and Rob are the hands-on directors for Nu-Trend. Rather than hire sub-contractors and manage their business from a distant office, they are on the tools, at your site & working towards delivering your bathroom renovation or plumbing service. It means you are talking directly to the owners of the business, the guys who are accountable and responsible rather than via email or through customer service teams.
It is why they are able to provide a written guarantee that demonstrates their confidence in standing by the quality of their workmanship and the service they deliver to every single client.
They have a very single minded commitment to deliver a high level of professionalism and quality, they've been doing renovation contracting in Sydney for 15+ years.