What is a variation when it relates to bathroom renovations in Sydney?
Nu-Trend is a Sydney contractor that has worked on many different bathroom renovations projects in homes, unit blocks, apartments, townhouses and commercial properties. In some of these projects the scope of work has needed a variation which can be required for different reasons. 
For bathroom renovations when we do a site inspection and quotation we try and get as much information as possible about the building, the room, the history of any previous renovations while inspecting as many elements as possible at the location. What can be difficult to determine is the condition of the sub floor, wall studs or other items that are behind the existing constructed surfaces.
One of the benefits of completely demolishing a room to get it ready for renovation is that everything is stripped back to the room's framework so that each element can be inspected carefully. This can ensure the structure of the room and all the surfaces are prepared to a high standard ready to be used for a renovation.
Why did this bathroom renovation require a variation to the scope of work?
In the example above we were renovating an old home in Ermington, Sydney and once the room was stripped back we were able to show the property owner the extensive termite damage the room had. It is as this point that we can discover things that were not seen initially and it leads to a variation in the scope of work.
It would have been easy for us to ignore it and continue renovating, but this is the difference between choosing a qualified and experienced bathroom renovation company in Sydney vs using general trades. We presented the issue to the property owner as well as a quotation to fix the damage so that they can make a decision on how they would like to manage the situation. In this example it is about $2000-$3000 in extra work required which would need to include;
Full prop framing of the room for structural strength and safety


Full removal and rebuild of all the rotted wet / termite timber beams


Re building the bearers and wall frame


New batten system to carry the flooring (and eventually the waterproofing and tiling)


New flooring for the whole room
It would mean the room would be structurally sound to begin doing the renovation and the owners can then also consider what other rooms in the house may be effected by the termite damage to get that repaired too.
What is an example of a bathroom renovation variation?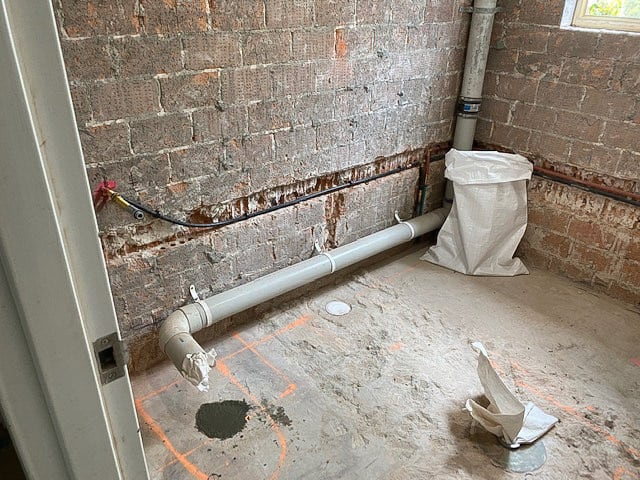 There can be lots of different scenarios where a variation is required during a project. One of the more complex variations can be to do with changing the floor plan in a bathroom. We have had clients who had initial ideas on where to place their toilet, vanity & shower but then changed their mind.
This would mean changing the scope of work to include moving a toilet on a concrete slab or repositioning the waste piping in the room to suit a different floor plan.
Of course it is all possible but just means there is different skills, labour and time required to accomodate the adjustment.
What is a variation?
The term variation' normally refers to changes that are required during a renovation that are different to what was originally agreed upon in signed building or design contracts – or any contracts really.
One example is a situation where damage to a concrete slab is detected that would prevent the safe renovation of a room. The variation would be the repair of the slab before work can continue.
Another example could be if you choose materials to be used, like floor tiles, but then change your mind and they need to be removed or others bought, this would be a variation in the original scope.
Why do you need a variation?
A variation may be required during a building or renovation project when a contract has been agreed to for a specific scope of work, but extra work or a change to the agreed work is required.
The variation can be agreed to by both parties to adjust the scope of work so the project can continue.
This could be required for;
– variations in design
– variations in quantities
– variations in models and styles of products
– variations in quality
– variations in the order in which things are constructed
Can you avoid a variation?
The very simple answer is yes, it is possible to avoid a variation in your renovation project – just stick to what was agreed to. Although this is simplifying the situation because every single renovation or building project will be different and has to be treated that way. We will do everything possible to avoid a variation as it is in our interest to get the renovation completed on budget and on time. Although sometimes it will be necessary, especially when we discover building damage or things that haven't been done according to building code.
Nu-Trend was formed just over 10 years ago by father and son team, Rick and Michael Karagiannis.
Michael has been in the industry for more than 20 years, passing his knowledge and expertise to Rick as the family tradition lives on.
Rick has always enjoyed the finer elements design details. Not content with solving plumbing problems he soon broadened his skills to also do bathroom renovations in Sydney. A perfect match with hundreds of reviews later & beautiful bathrooms being enjoyed by hundreds of people.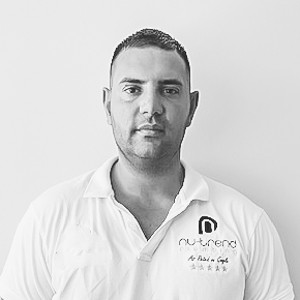 The passionate Sydney business owner who loves his job, always goes the extra mile & who many say "is too good for the industry"
Rick dislikes the typical industry behaviour and firmly believes in 'no gimmicks' and upfront, honest work.
Years in the industry: 15
Expertise / specialty: A hands-on Director and business owner who provides leadership for the team.
Qualifications: Licensed Plumber, Bathroom Renovator.
What he loves about his work? I love helping people when someone wants something and we achieve what they are after it's rewarding for me.
Funniest on the job story: Doing a job on a live sewer stack and someone flushing the toilet while we were underneath. It was quite brown, but you had to laugh.
Favourite brand of bathroom product: Caroma Products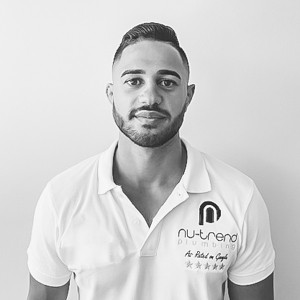 Robert is the co-owner of Nu-Trend who loves walking into different scenarios every day & trying to solve problems quickly. 
He is the organiser in the team, keeping the boys on track each day. Some dub him the 'pretty face' of Nu-Trend. 
Expertise / specialty: Quoting, team organisation and logistics to keep everything running smoothly.
Qualifications: Licensed Plumber and Bathroom Renovator.
What he loves about his work? Doing something different every day and working with really good people to solve a range of everyday problems.
Funniest on the job story: Pranking the boys with fake emails or calls and waiting to see their reactions. Funny at times but a good way to practice real situations.
Favourite brand of bathroom product: Boffi Products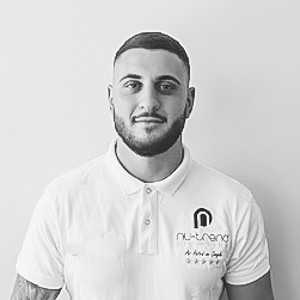 Chris joined Rick and Robert a few years ago as the number of jobs and bathroom renovations began to increase.
Ever reliable Chris gets stuck in when the hard work is required and provides the Nu-Trend team with a lot of the hard yakka.
Expertise / specialty: Maintenance and domestic plumbing for houses or unit apartment blocks.
Qualifications: Licensed Plumber with aspirations to learn about renovations.
What he loves about his work?  Seeing Nu-Trend customers satisfied after a completed job where they notice the little details or finishing touches.
Funniest on the job story: Too many to list and he has been thinking about writing a book about funny plumber stories for everyone to read about.
Favourite brand of bathroom product: Boffi Products
Local | Licensed | Insured

Protection for your renovation project.
Contract a local Sydney renovator.
A qualified and licensed builder.
Public liability insurance for peace of mind.
Drainer  |   Gasfitter  |  Plumber  |  LP Gasfitter 

 Kitchen, Bathroom and Laundry Renovator
Nu-Trend is a renovations company in Sydney that is available 7 days a week. With 15 years experience, the Directors Rob and Rick are hands-on, and provide a personalised service that is fully licensed, insured and qualified.

You can check online with the NSW Department of Fair Trading here
STANDARDS AUSTRALIA AS/NZS3500:2018 Compliant
All the work carried out by Nu-Trend is AS/NZ3500:2018 compliant. It is the Australian Standard for Plumbing and Drainage in NSW as set down by Standards Australia and the Australian Building Codes Board. They give the plumbing industry technical direction to enable compliance with required regulatory frameworks.
15 years experience with a written commitment.
Rick and Rob are the hands-on directors for Nu-Trend. Rather than hire sub-contractors and manage their business from a distant office, they are on the tools, at your site & working towards delivering your bathroom renovation or plumbing service. It means you are talking directly to the owners of the business, the guys who are accountable and responsible rather than via email or through customer service teams.
It is why they are able to provide a written guarantee that demonstrates their confidence in standing by the quality of their workmanship and the service they deliver to every single client.
They have a very single minded commitment to deliver a high level of professionalism and quality, they've been doing renovation contracting in Sydney for 15+ years.
No sales tricks, guaranteed.
'No Gimmicks' that's our policy
With so many years in the trade, the Nu-Trend team has seen their fair share of sales tricks, special offers, promotions and other gimmicks to secure business. Rather than copy what everyone else is doing they decided a long time ago to avoid all the typical gimmicks and stick to clear, upfront information and pricing, including the provision of free Quotes. 
Here are the most common sales gimmicks you will see and how they work, keep in mind there is a reason most service industries don't disclose fixed prices.
Learn more about Bathroom Renovations with these information pieces.