Sydney Water accredited plumber in Sydney for RPZ Valve and Backflow Testing.
Nu-Trend is fully accredited to provide backflow testing services in Sydney. We are qualified, insured & certified with an Australian ABN and Licence to test & report your backflow prevention device.
We have been operating for more than 10 years, originally founded by father and son. Over the years the team has continued to broaden their knowledge, skills and ability to solve any plumbing related situation. 
Nu-Trend is a plumber service for all Sydney metropolitan suburbs. We can fix your blocked drain, hot water heater, gas leaks, toilets and cisterns, leaking taps or burst pipes. We carry an extensive range of professional equipment including CCTV digital cameras, hydrojet water blasters and leak detection tools so we can fix any plumbing problem quickly.
Sydney Water Backflow Prevention Requirements
A backflow prevention device is something that is fitted to the water pipe on a property to stop the flow of water moving back into the mains water system which can occur if there is a difference or drop in water pressure. If you have backflow water issues there is a risk that potentially contaminated water containing hazardous bacteria and debris could flow back up into your water service. Backflow prevention devices stop backflow siphonage problems by using a;
One-way valve
An air gap
A break tank
Examples of properties or situations where a backflow prevention device is required can  include;
Construction sites.
Emergency sprinkler or fire service systems
Swimming pools
Manufacturing facilities.
Restaurants or take away shop with a grease trap
How to comply with a Sydney Water Backflow Prevention Letter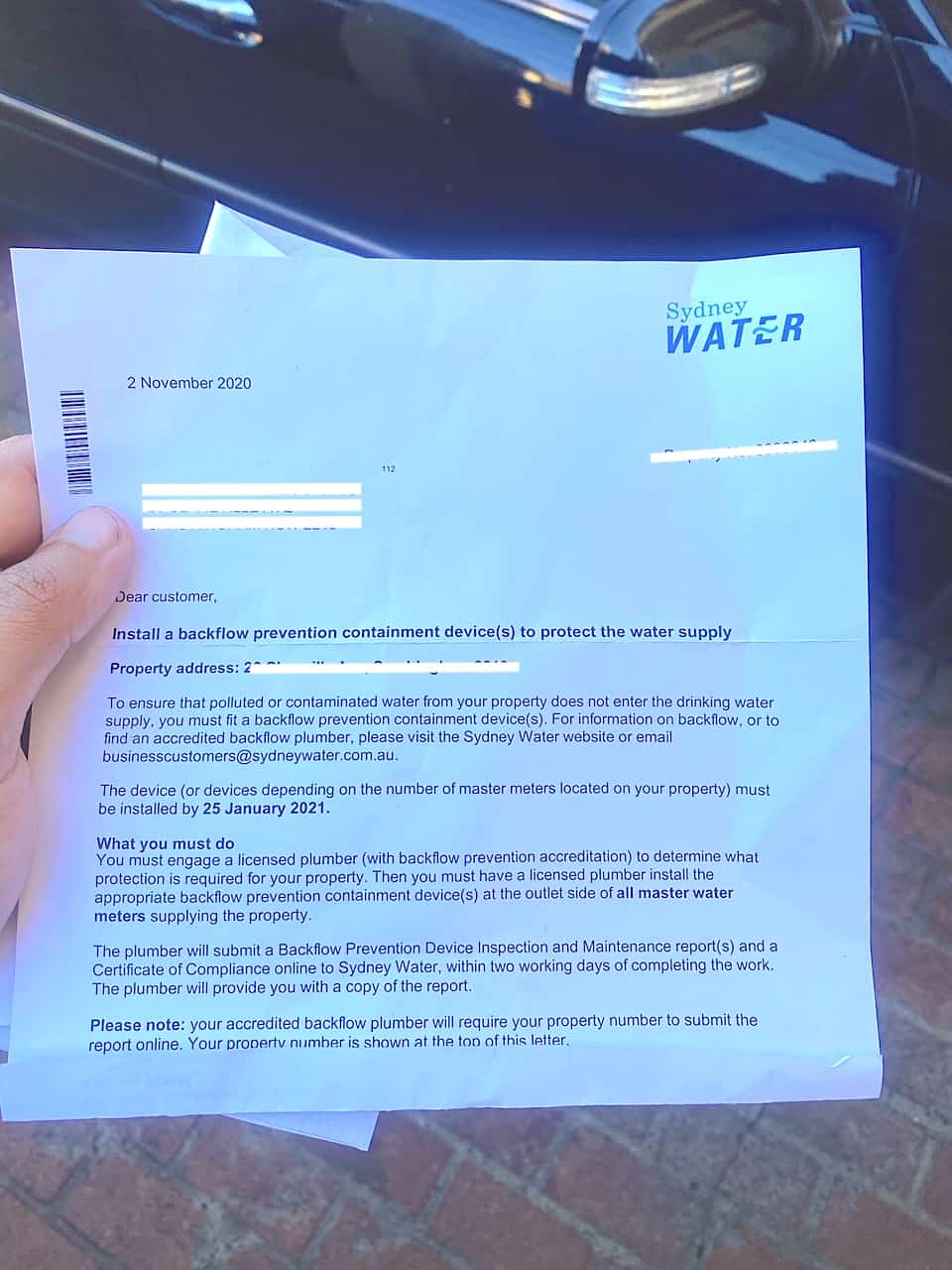 Many property owners and businesses have received a letter from Sydney Water requesting they install a backflow prevention containment device.
Get your backflow prevention device fitted or tested.
Nu-Trend is licensed and accredited to either test or install backflow prevention devices in Sydney. Our team can carry out the required tests, inspections and even commission a new backflow prevention device. 
Submit your completed test report
Nu-Trend will submit the completed test report to Sydney Water (or relevant water authority or council) on your behalf. 
Backflow testing ensures the device is working, during a backflow test, we would turn off the downstream shut-off valve, wait a few minutes and test the pressure in the system using a special backflow testing kit. The test is carried out to ensure the pressure is as it should be and the device is functioning.
Get more information about backflow prevention devices
You can get more information about backflow prevention on the Sydney Water website here
How to get a Sydney Water Backflow Test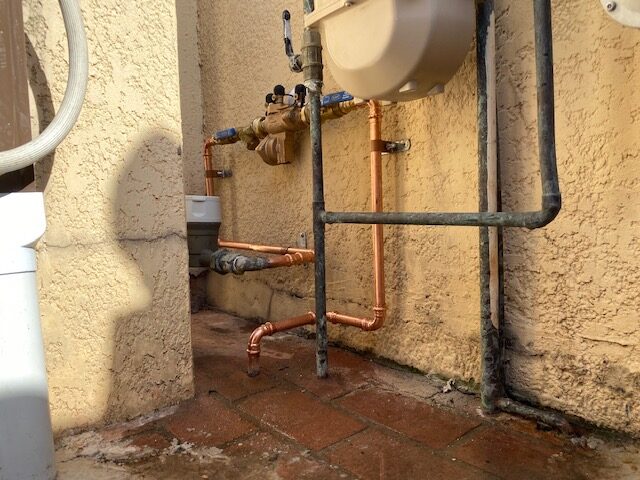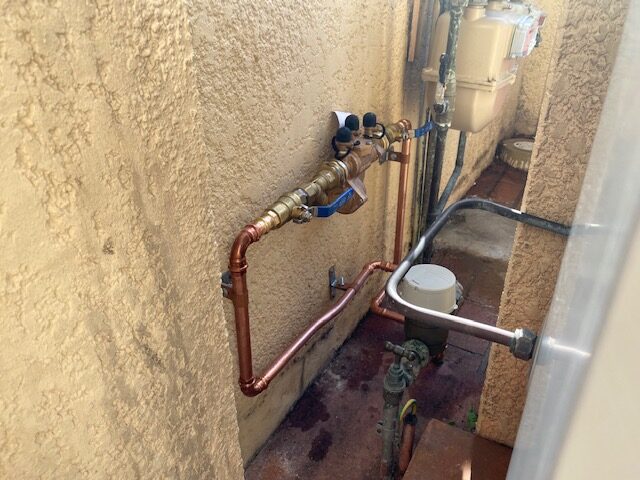 We helped George's Chickens take away shop get a backflow prevention device tested. Not every plumber in Sydney is licensed or accredited to install and test RPZ and back flow prevention devices but Nu-Trend is. 
To be able to test and install a backflow prevention device you need extra accreditation that is added to a plumbing license. Quite often Nu-Trend will sub contract for other plumbing companies in Sydney.
Sydney Water have requested a lot of business owners including take away shops to have their backflow prevention devices installed to ensure they are complying with new legal regulations that relate to water lines. 
These Reduced Pressure Zone (RPZ) valves are extremely important to keep contamination or pollution out of the water supply. Specifically, this device is installed onto your plumbing system to protect drinking water and the city water supply.
So we assessed the site to provide recommendations on what was required to make sure the right backflow devices were in place to then submit the report to Sydney Water.
What is backflow PREVENTION testing?
Backflow testing is a process that is used to test your plumbing system to make sure that drinking water is not being contaminated by dirty water infiltrating the water supply.
What is the reason for a backflow ?
Backflow can potentially allow contaminants into the drinking water system. Back siphonage can occur when the pressures from other sources are lower than the water system's pressure. This could allow an influx, or pulling of contaminated water into the system.
How much does backflow testing cost?
The typical rate for backflow device testing can vary greatly. It depends on your location, the type of device/s that require testing etc The cost can then fluctuate to repair and/or replace the backflow device if found to be faulty.
Backflow is a term in plumbing for an unwanted flow of water in the reverse direction. It can be a serious health risk for the contamination of water supplies with foul water.
CAN YOU USE A NORMAL PLUMBER FOR BACKFLOW TESTING?
Nu-Trend is a licensed, backflow accredited, plumber in Sydney. You cannot use a standard plumber to conduct or install a backflow prevention device.
Customers using Sydney Water's services are responsible for installing backflow prevention devices. They must have testable backflow devices checked every year.
All licensed and backflow accredited plumbers have certain responsibilities to their customers and to the community.
what type of backflow preventer is required?
The backflow prevetion device installed must have the correct watermark and comply with AS/NZS 2845 and AS/NZS 3500.
They cannot be installed in pits, or below ground level. They should be installed on the outlet side of all master water meter(s) located at the property boundary. 
There also has to be no connections between the master water meter and the device.
Local | Licensed | Insured
Nu-Trend is a plumber in Sydney with over 10 years experience available 7 days a week. Robert and Rick are the Directors of the business, hands-on and provide a personalised service that is fully licensed, insured and qualified.
Work with a local Australian business.
A qualified and licenced service provider.
Public liability insurance for peace of mind.
Choose Nu-Trend as your plumber.
Your decision for selecting a plumber in Sydney may purely come down to price. Although we know from experience that delivering an incredible service is more than just about price. Here are ten reasons we believe you should make us your choice for any plumbing work required.
Property protection
We will make sure your property is protected with coverings from entrance to project area, even furniture to protect from dust or dirt.
Organised & prepared
All of Nu-Trend's equipment and tools are labelled, sorted and organised to deliver a quick, efficient and precise service each time.
Regular Updates
At the end of each day we will provide an update on the progress of your project. This ensures you know exactly what is happening at each step.
Tidy work site
If we need to leave the site at the end of a working day we make sure it is tidy, organised & everything in place to minimise disruption.
Respecting Property
Yes, we will work in our socks and cover your flooring to protect your property while we work.
Love letters
That's right, we'll leave a little note when required so you know the job is completed or item is ready to use.
Over 100 reviews
We will admit we get too busy to ask everyone for a review, but we have hundreds of happy clients.
Satisfaction Guarantee
Sounds corny, but we stand by our work with a written guarantee for our workmanship and quality.
...I can't recommend the team strongly enough, they are professional, tidy, prompt and polite, and above all excellent craftsman...
...their service standards & ability to resolve problems that occur during the daily operations of a busy club are fantastic....
Plumbing services in Sydney.
A personal plumber service
Do you remember the 'old days' when personal service was the norm? That is how Rick and Rob treat each client when it comes to their plumber services. 
You deal directly with the owners of the business who have more than 10 years experience, over 100 written reviews and provide a written guarantee without any gimmicks.
They have a very single minded commitment to deliver a high level of professionalism and quality. To deliver this they use industry leading brands to perform upgrades, repairs or replacements when it comes to taps, pipes, drains, fixtures or fittings.
Nu-Trend will tackle any size of project across all suburbs of Sydney and even provides a 24/7 emergency plumber service.
"...For over 3 years now we have been operating and using Nu-Trend's plumbing services and have been impressed with the level of attention and care your team put in to going over and above the levels that we have expected...."
15 years experience with a written commitment.
Rick and Rob are the hands-on directors for Nu-Trend. Rather than hire sub-contractors and manage their business from a distant office, they are on the tools, at your site & working towards delivering your bathroom renovation or plumbing service. It means you are talking directly to the owners of the business, the guys who are accountable and responsible rather than via email or through customer service teams.
It is why they are able to provide a written guarantee that demonstrates their confidence in standing by the quality of their workmanship and the service they deliver to every single client.
They have a very single minded commitment to deliver a high level of professionalism and quality, they've been doing renovation contracting in Sydney for 15+ years.