This commercial kitchen owner needed a backflow prevention device installed in Sydney
Nu-Trend is a qualified Plumber and licensed Backflow Technician that can help commercial property owners ensure their kitchen, restaurant or cafe are compliant with current regulations.
For this commercial kitchen property owner we installed a 50mm Reduced Pressure Zone Device (RPZD) which is a Sydney Water requirement to have a testable Backflow device fitted. The purpose of the device is to protect Sydney Water's mains from any property deemed to be considered a high hazard. When the device detects backflow or discharge from the property it shuts off. It has to be accessible for annual testing purposes and this is necessary to ensure the valve is working as per its intended use.
For this property the landlord received a letter from Sydney Water asking for the valve to be installed & it had to be done within a certain time period otherwise they would shut the water off to the kitchen.
To get a backflow prevention device installed you must only use licensed plumbers with backflow prevention accreditation issued by a registered training organisation (backflow plumbers) can inspect, commission and test backflow devices. Once backflow devices have been installed, only backflow plumbers can test them. Once a test has been done, backflow plumbers must submit the test report to Sydney Water

The type of backflow prevention device you require will depend on your site
The hazard rating of your site's processes will determine which type of device you need to install. If the hazard rating varies due to multiple processes, you must apply the highest hazard rating.
Reduced pressure zone device (hazard rating – high)
This device has two independent action, non-return valves that are force-loaded to the closed position. A relief valve is positioned between the non-return valves and is arranged to be force-loaded to open to the atmosphere.
Break tank/air gap (hazard rating – high)
This device has an air break (physical gap) between the lowest water service pipe outlet and any upstream tank, fitting or container.
Testable double check valve (hazard rating – medium)
This device has two independent action, non-return valves that are force-loaded to the closed position. It is fitted with three test taps for yearly testing.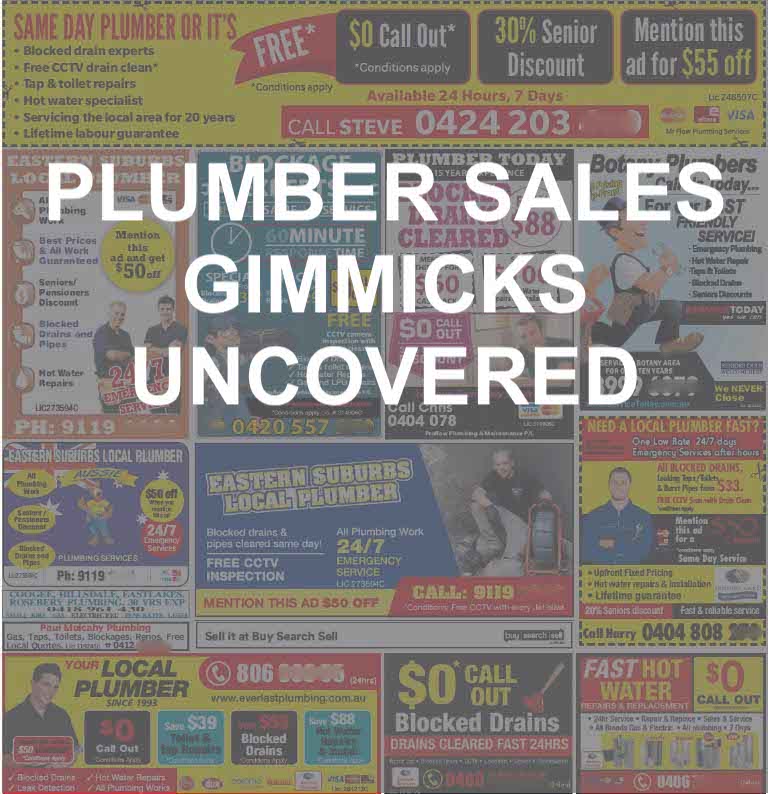 We uncover some of the most common sales gimmicks used by Sydney plumbers. Learn about our 'No Gimmicks' Guarantee.
Local | Licensed | Insured

Protection for your renovation project.
Contract a local Sydney renovator.
A qualified and licensed builder.
Public liability insurance for peace of mind.
Drainer  |   Gasfitter  |  Plumber  |  LP Gasfitter 

 Kitchen, Bathroom and Laundry Renovator
Nu-Trend is a renovations company in Sydney that is available 7 days a week. With 15 years experience, the Directors Rob and Rick are hands-on, and provide a personalised service that is fully licensed, insured and qualified.

You can check online with the NSW Department of Fair Trading here
STANDARDS AUSTRALIA AS/NZS3500:2018 Compliant
All the work carried out by Nu-Trend is AS/NZ3500:2018 compliant. It is the Australian Standard for Plumbing and Drainage in NSW as set down by Standards Australia and the Australian Building Codes Board. They give the plumbing industry technical direction to enable compliance with required regulatory frameworks.
The Nu-Trend service guarantee
A personal, written, committment.
Rick and Rob are the hands-on Directors for Nu-Trend Plumbing. Rather than hire sub-contractors and manage their business from a distant office, they are on the tools, at your site & working towards delivering your bathroom renovation or plumbing service. It means you are talking directly to the owners of the business, the guys who are accountable and responsible rather than via email or through customer service teams.
It is why they are able to provide a written guarantee that demonstrates their confidence in standing by the quality of their workmanship and the service they deliver to every single client.
They have a very single minded commitment to deliver a high level of professionalism and quality.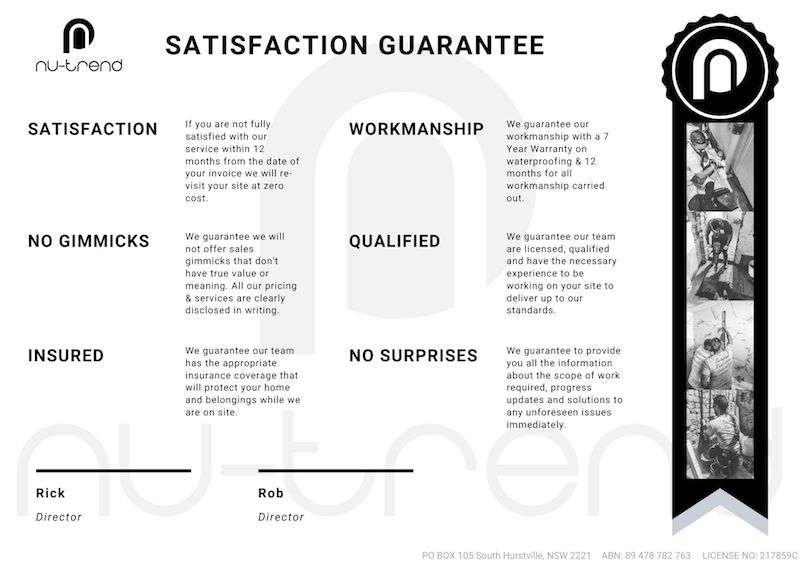 'No Gimmicks' that's our policy
No sales tricks, guaranteed.
With so many years in the trade, the Nu-Trend team has seen their fair share of sales tricks, special offers, promotions and other gimmicks to secure business. Rather than copy what everyone else is doing they decided a long time ago to avoid all the typical gimmicks and stick to clear, upfront information and pricing, including the provision of free Quotes. 
Here are the most common sales gimmicks you will see and how they work, keep in mind there is a reason most service industries don't disclose fixed prices.
"The Nu-trend guys just completely renovated our bathroom - 3 bed 1 bath unit. They were quick, friendly and affordable. Very happy with the bathroom. Noticed that the water temperature fluctuated a bit in the shower the first few days. Let them know one afternoon and they came back the very next morning and found the issue (simple fix) and sorted it out while I was at work. Highly recommend these guys, all were a pleasure to deal with throughout"
Jacob
via Google
"The boys at NuTrend recently renovated my bathroom and I couldn't thank them enough! From start to finish the service was more than professional, every question I had they were more than happy to answer making me feel comfortable through the whole process. The site was always immaculate and the end of every work day there was never rubbish left behind. Everyone who has seen our beautiful new bathroom has complimented on every little stylish touch. NuTrend helped my vision for my bathroom come to life! Out of 3 quotes they were the most pricey however I had a gut feeling that they would be the best due to the reviews and recommendations! Can't recommend them enough!!"
Elle
via Google
"I cant give these guys enough praise. Ricky organised all the trades and managed my recent bathroom renovation with such care and professionalism, I wouldn't hesitate to use them again, or recommend them to friends and family. The attention to detail and dedication to their craft was wonderful to see and I am thrilled with my gorgeous bathroom."
Prue
via Google
Real examples, real jobs.
Rather than use lots of photos copied from Google or from bathroom suppliers the Nu-Trend team shares real life examples of their work. Take a look at some of the bathroom renovations or local plumber jobs they have done around Sydney.
Years of Plumbing experience
Nu-Trend was formed just over 10 years ago by father and son team, Rick and Michael Karagiannis.
Michael has been in the industry for more than 20 years, passing his knowledge and expertise to Rick as the family tradition lives on.
Rick has always enjoyed the finer elements design details. Not content with solving plumbing problems he soon broadened his skills to also do bathroom renovations in Sydney. A perfect match with hundreds of reviews later & beautiful bathrooms being enjoyed by hundreds of people.