Bath tub removal, installation & renovations
Nu-Trend can visit you to provide a free site inspection and fixed price quotation to calculate how much a bath tub will cost. We can remove, replace, install or renovate a bath tub in any bathroom in Sydney. We can convert an existing shower to have a bath or even turn the space into a combination set up. Alternatively, we can do a complete bathroom renovation to install a new freestanding bath, new floor and wall tiling, plumbing, fixtures, fittings and more.
We make it easy to get a new bath tub installed in Sydney from brands like Decina, Caroma, Alpine, Kinglsey, Fienza, Boffi and other companies.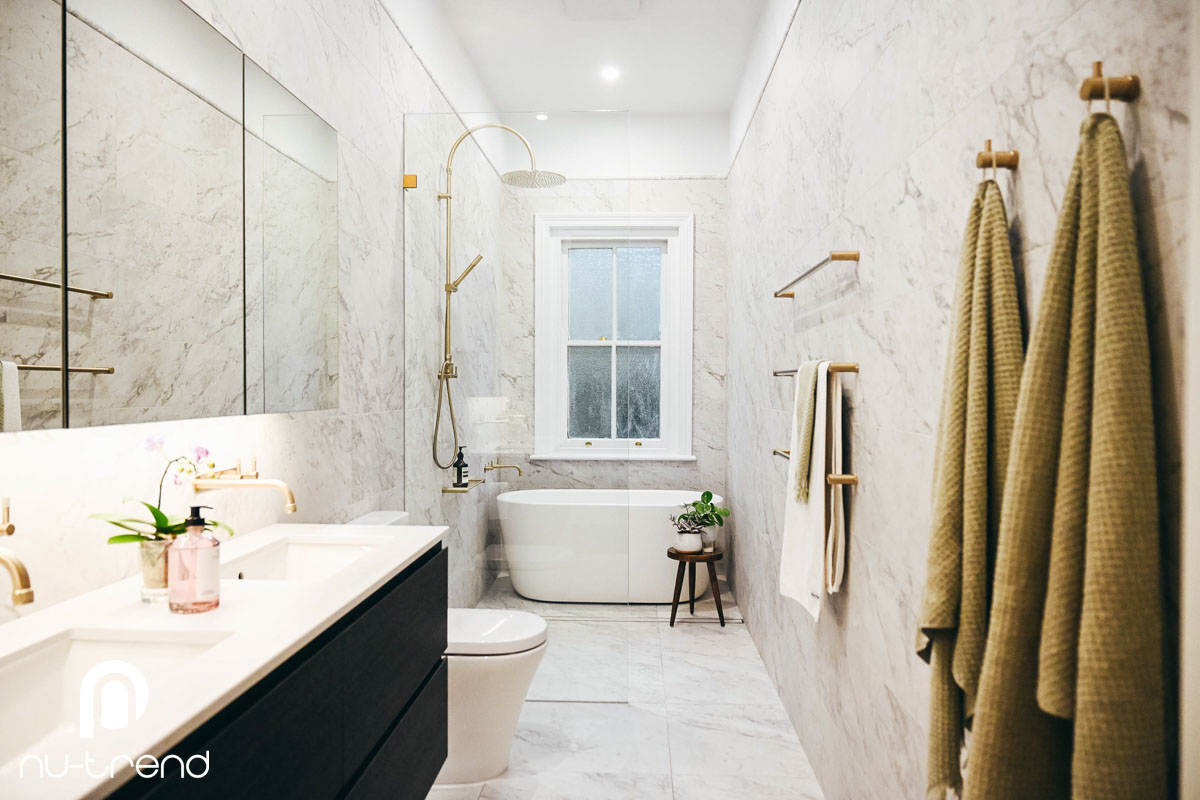 Amazing bath tub renovation reviews
Don't take our word for it, if you are looking for a bath tub renovator in Sydney that has great reviews then we have more than 200 that you can read. Lots of great reviews for our plumber, bathroom renovation and bathroom plumbing services in Sydney.
Rick and Rob were both very professional renovators and very easy to deal with.

They undertook their work with care and were keen to make sure everything was done to our satisfaction.

Very neat and tidy too. Overall a great experience and we would definitely use the guys again!
We engaged Nu-Trend Plumbing to do two complete bathroom renovations for us.

I can't recommend the team strongly enough, they are professional, tidy, prompt and polite, and above all excellent craftsman.
The Nu-Trend team have just completed my bathroom renovation and did an outstanding job. They don't cut corners and everything is done to the highest standards.

Rick is very, very responsive and I felt comfortable discussing any concerns that I had with him - he and his team did everything that they could possibly do to keep me happy
Bath tub installation design and layout ideas
It would be pretty easy for us to say we are a bath tub installation specialist in Sydney, but we prefer to back up our claims with proof. There are lots of bathroom renovation companies in Sydney that will give you a quote to renovate a bath tub, but how many can demonstrate their expertise, knowledge and renovation problem solving like we can at Nu-Trend?
We don't take shortcuts, we make sure you completely understand what is happening with any installation or renovation project so there are no surprises. We will make the whole process of getting a quote & then actually installing a new bath tub simple, easy & stress free. It all begins with working out how your bath tub will fit into room, even if that means moving other items to make space. 
Our team manages each aspect including removing old baths, preparing the walls, floor and ceiling, waterproofing, adjusting the plumbing and making sure everything works correctly. A modern bath tub is a desirable item for any house or unit. There is a seemingly limitless range of beautiful bath products that you can buy in Sydney in a wide range of natural materials, colours or finishes.
We can install any type of bath including;
A visually impactful freestanding bath statement piece.

A recessed bath that use minimal space.

An easy access bath for the elderly or those with a disability.
A day spa jacuzzi style bath for a touch of luxury.
See some of the bath tubs we have installed in Sydney
Sydney bath tub renovation company
Nu-Trend has a team of qualified and licensed renovation contractors that are available to install or renovate a new bath tub, generally within 21 days. We can renovate your existing bath tub or completely demolish your old bathroom to build something totally new.
Complete bathroom renovations

Waterproofing

Tiling

Painting

Fixture and fitting installations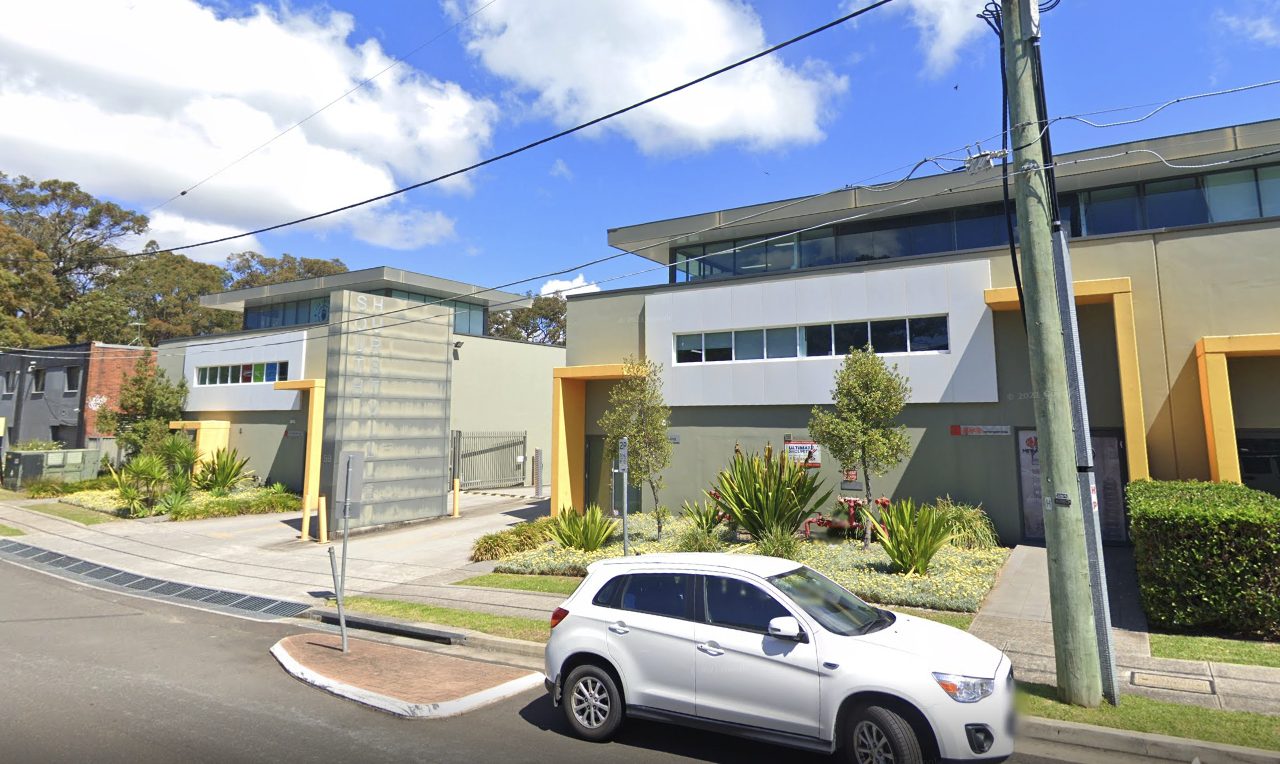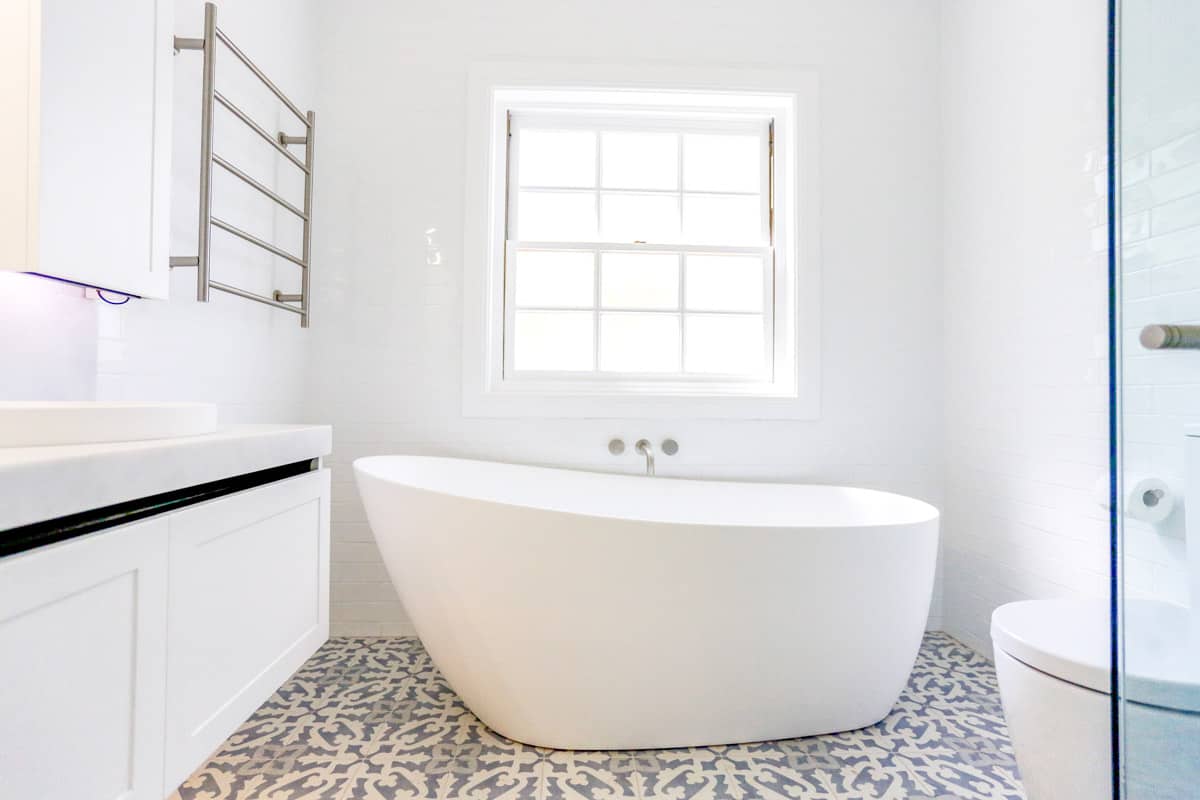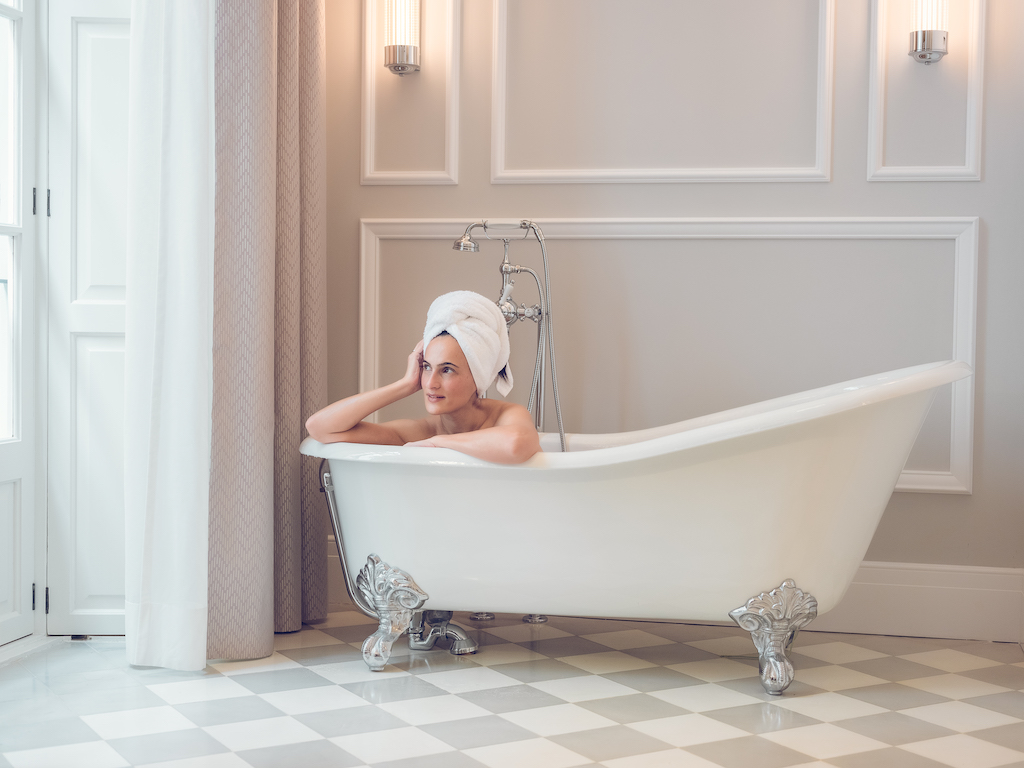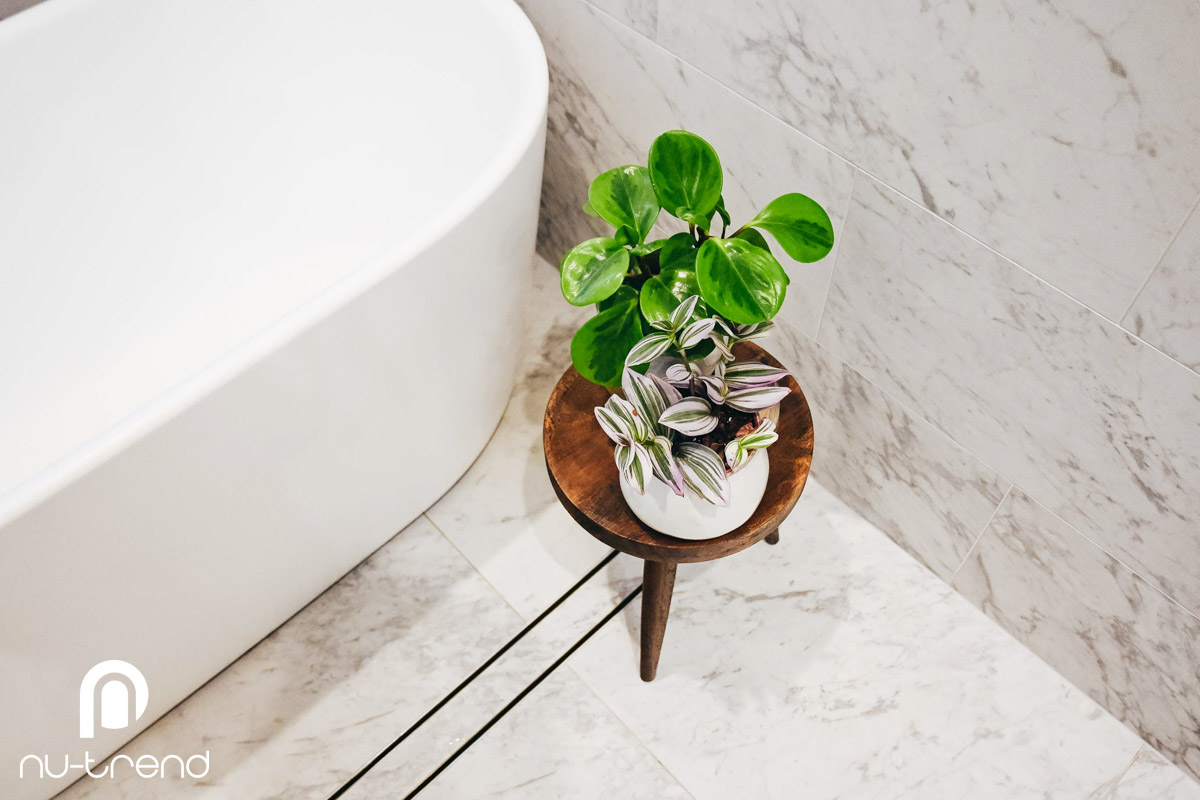 What is the best type of bath?
So how do you choose what is right for you? Well firstly you have to think about the type of bath you want, it's a critical first decision as it determines all of your renovation planning. Freestanding baths require more space than inset baths because they're not tucked neatly against a wall, so the size of your bathroom may force this decision (unless you are thinking about making the room larger)
Freestanding bath – these may be positioned in the middle of the room or towards a wall although either way they require space around them and you need to allow for tap positioning. There are modern versions of the traditional claw-footed tubs or a contemporary square or round style in a range of sizes, materials and finishes. A freestanding bath can be an incredible centerpiece for a bathroom, but for those with young kids they can also be a practical choice giving all-around access.
Inset, built-in bath or straight bath – are more commonly used and can fit into smaller bathrooms, They can create space efficiencies when designing a layout for larger rooms as they sit against a wall typically and only take up one or two corners of the room. They come in different sizes allowing you to choose a version for your room's dimensions.
Shower bath combo – are like inset baths but try and offer a two in one solution especially if space is limited. The downside to this design is the need to step over the bath to have a shower which could be a concern for elderly people or those with a disability.
Single or double-ended bath – whether you choose a freestanding or inset bath there are both single and double-ended versions available. A single-ended baths have taps and waste at one end while a double-ended bath has taps and waste in the centre. Your choice could depend on whether there is a need to move or alter existing plumbing or waste locations in the room, apart from aesthetics or style.
Bath materials – the material a bath is made from can affect how you need to care for it, how durable it is and even influence how long water will retain its heat. It also affects the weight of the bath which is important from an engineering perspective to make sure the floor can hold it.
Acrylic is widely used for baths and a budget friendly choice. It is easy to care for, light, and easy to work with. so can be preferable for the first floor of an older home.
Steel is a very hard-wearing material for a bath. It's colder to touch than other bath materials, but will retain the heat of bath water.
Cast iron is traditional for freestanding baths and is very hard wearing and easy to clean. Bath water should retain heat well in a cast-iron bath although it is one of the heavier materials, so check whether floors will need reinforcing before installation.
Solid surfaces like Corian and Hi-Macs can be moulded into shapely bath designs, they're durable and easy to care for and will retain heat well.
Stone baths are very attractive, although a more costly choice than other materials. They are also very heavy, so could have further budget implications as the floor may need to be strengthened or it may take more labour to have it brought into the site.
Fixtures and fittings – It is pretty normal that you would then buy bath taps and fixtures separately. The bath may or may not have pre-drilled holes and will depend on the design you are trying to create.
Tiling – depending on the type of bath and what is or isn't being replaced in the room, the tiling will need to be corrected or updated. So this needs to be allowed for in the budget.
How can you install a bath tub?
The process to install a bath tub sounds simple, but it isn't. First step is prepare the floor with the right load bearing capabilities, waterproofing and plumbing. You then move the bath in its position to connect the plumbing. To achieve this might require floor or wall alterations, moving the plumbing or even re-enforcing a floor. Nu-Trend is a bath tub renovator in Sydney that can help install any type of bath for you, the right way.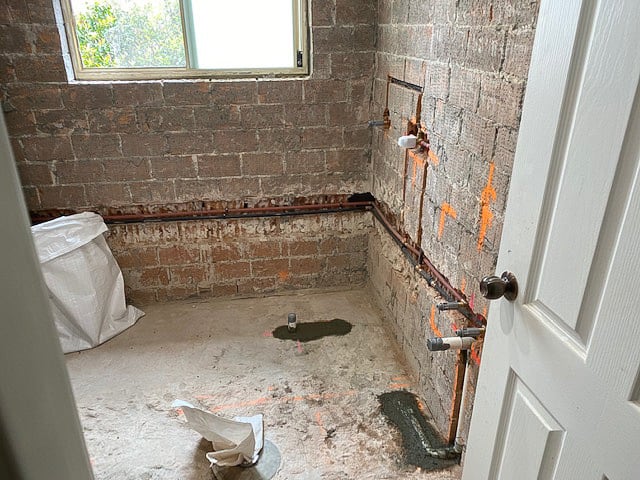 The costs to install a new bath tub?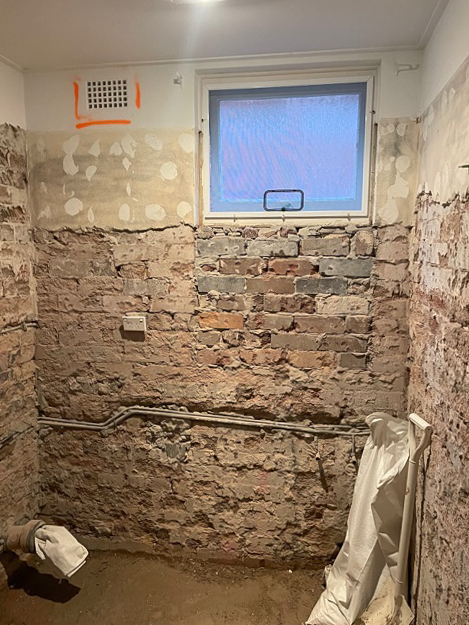 STEP 1
Normally we would remove the old bath, but if it is a complete renovation then the whole room is demolished. We remove all the fixtures and tiling to access the bare frame of the room.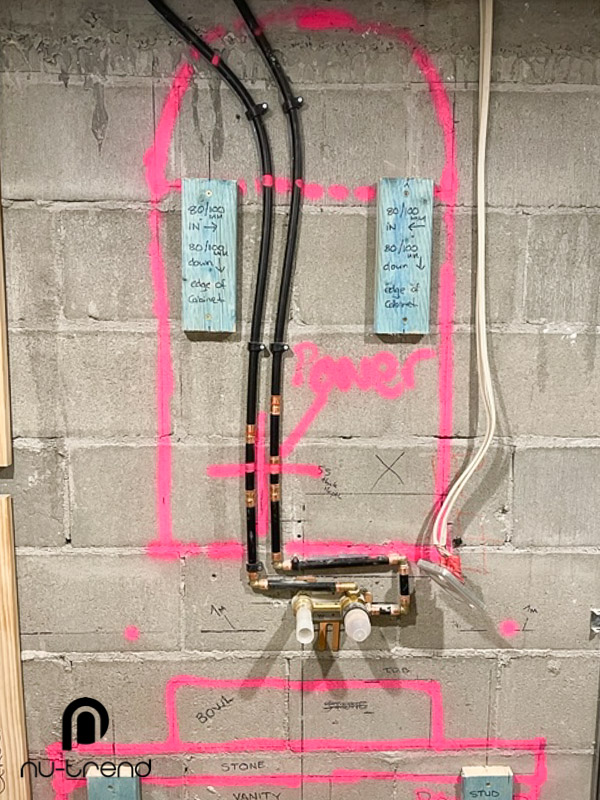 STEP 3
Once the room is ready we will begin by inspecting all the bathroom plumbing to make sure it will be suitable and mark out each item to be installed including the taps.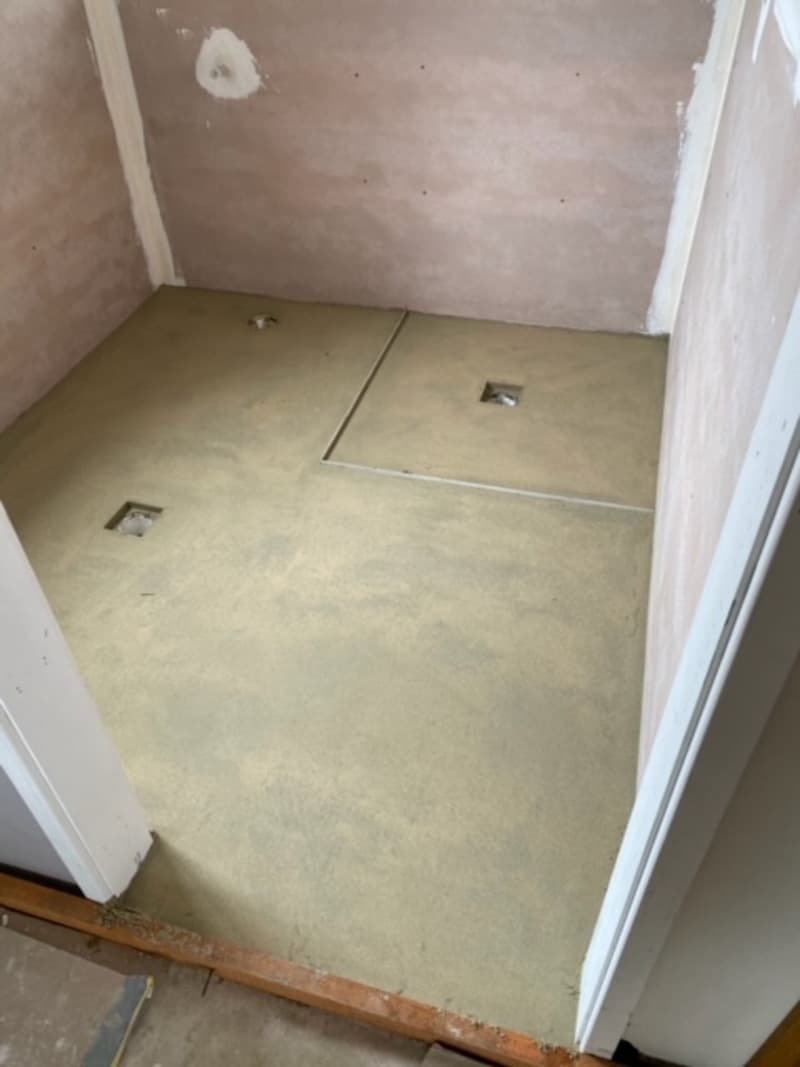 STEP 2
We will make sure the bathroom has the right waterproofing so that either the new tiling and/or bath can be installed. This is critical to make sure the room remains water tight.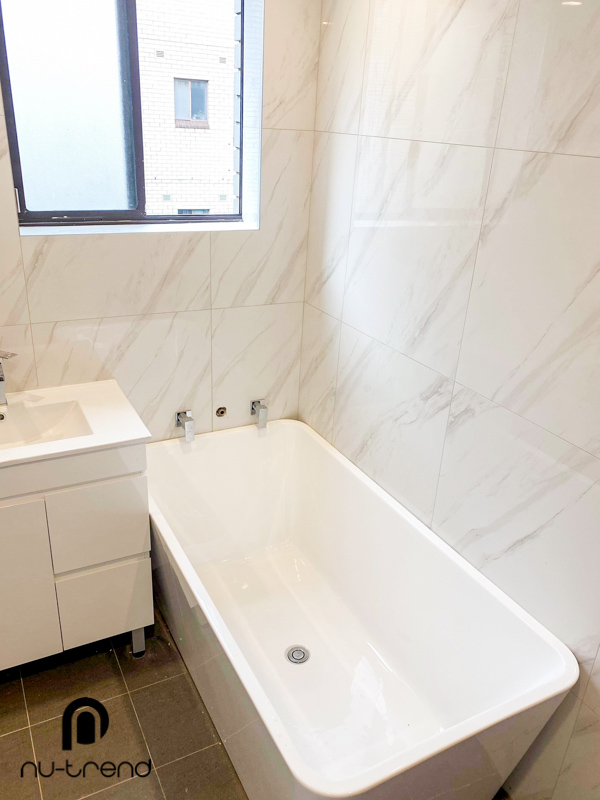 STEP 4
Once all the preparation work has been done the final finishing touches are applied like painting, tap fittings and a deep clean to make sure it is ready to. use.
Tips on hiring a bath tub installer in Sydney
It is important to hire the right professional to install a new bath tub in your home or business. You have to consider the potential weight issues, water leaks and waterproofing requirements which means hiring a bathroom renovator makes a lot of sense. You don't just want a the new bath to look good, it has to function well and not create any damage to a property.
Written quotations; for anyone you speak to that will provide a quotation make sure every item is clearly itemised. You have to check if plumbing, electrical, painting or other items are included or not. It is important to know exactly what size bath you want to have installed and maybe even the specific model. This can help comparing estimates or quotations that are provided so they are 'like for like'



Licensing and qualifications; think carefully about the tradesperson that you try and hire, a local handyman may say they can do a bath tub installation but might not hold a licence for plumbing. So if there was a water leak your insurance company may not cover you. A compliance certificate or even waterproofing sign off may be required to ensure the job was done correctly.



Choose your product; by selecting the specific bath tub that you want to have installed you can get a very similar price comparison for the labour involved to install it. You can compare bathroom retailer pricing to know what you are paying for the bath vs the install costs. Even if the tradesperson supplies it you can compare apples with apples. It is very easy for a contractor to supply a cheap bath, but then you have no idea what you are buying.
Local | Licensed | Insured

Protection for home owners.
Local Sydney contractors.
A qualified and licensed renovator.
Public liability insurance for peace of mind.
Drainer | gas fitter | plumber | renovator
Nu-Trend is a Sydney company with more than 15 years experience completing bathroom renovations & solving plumbing problems. he Directors Rob and Rick are hands-on, and provide a personalised service.
STANDARDS AUSTRALIA AS/NZS3500:2018 Compliant
All the work carried out by Nu-Trend is AS/NZ3500:2018 compliant. It is the Australian Standard for Plumbing and Drainage in NSW as set down by Standards Australia and the Australian Building Codes Board. They give the plumbing industry technical direction to enable compliance with required regulatory frameworks.