Complete bathroom renovation in Maroubra with new floor plan layout
Complete bathroom renovation in Maroubra, Sydney
Nestled in the heart of Maroubra, a charming seaside suburb in Sydney, we recently had the privilege to breathe new life into an old, outdated bathroom. Our client sought a transformation that not only revitalised the space aesthetically but also enhanced functionality, space, and user experience. With the integration of a new plumbing system, a modern layout, and the incorporation of elegant fixtures like a walk-in shower, wall-hung vanity, and back-to-wall toilet, we embarked on a journey to turn this vision into reality.
The original bathroom, antiquated and cramped, was built on a concrete slab, making plumbing renovations a complex task. The layout was not conducive to the relaxing and spacious atmosphere our client envisioned. Our mission was to overcome these hurdles, ensuring a blend of sophistication and optimum functionality.
Nu-Trend is bathroom renovation company in Sydney with a renovating team can build a completely new bathroom. As an experienced renovation contractor in Sydney we have skilled trades that can manage the plumbing, electrical, tiling, painting and installation of new toilets, vanities and more.
We can manage the process from end to end from demolishing the old bathroom, installing new plumbing or drainage and then preparing the room ready to build. For all the bathroom renovations that we construct in Sydney, we always recommend doing a full demolish of the existing room. It means we are stripping back every item from the furniture, fittings, tiling and even the waterproofing to be able to work with freshly prepared surfaces. Taking this approach can ensure everything is renovated to a high standard because any new renovation work is done from scratch compared to trying to make adjustments to pre-existing conditions in a building.
1. Rethinking The Plumbing:
Given the foundational concrete slab, we employed precision and expertise to reroute the plumbing. We used our skilled plumbers who meticulously planned and executed the task, ensuring the new layout's plumbing needs were met without compromising the structural integrity of the space. This included new plumbing that had to be installed under the driveway.
2. A Functional Layout:
The bathroom's original design offered limited space. We crafted a new layout that accentuates openness, incorporating bespoke solutions to enhance the room's flow and utility. Every inch was carefully considered, ensuring ample space for users to move and interact within the setting comfortably.
3. The Walk-In Shower:
An epitome of luxury and convenience, the walk-in shower became the bathroom's focal point as soon as you walk in. We opted for frameless glass panels to instill a sense of expansiveness. The choice of tiles, both aesthetic and functional, added a touch of serenity while ensuring safety and ease of maintenance.
4. Wall-Hung Vanity:
To augment the perception of space, a wall-hung vanity was installed. Floating above the floor, it not only offers a contemporary aesthetic but also contributes to the ease of cleaning and an illusion of a more expansive floor area.
5. Back-to-Wall Toilet:
Blending seamlessly with the revamped aesthetics, the back-to-wall toilet introduced an element of modernity and spatial efficiency. Its design ensures easy cleaning, optimal space utilisation, and a sleek appearance.
This Maroubra bathroom renovation is a testament to the harmonious blend of aesthetics, functionality, and spatial innovation. Each element, meticulously selected and placed, contributes to a sanctuary of relaxation, convenience, and visual delight. We overcame the initial challenges with innovative solutions and collaborative efforts, proving that even in the most complex scenarios, transformation is not just possible, but an opportunity to innovate and excel. Sydney bathroom renovation costs will vary a lot depending on the skills of the contractor and how much work is involved, for this project our scope of work included;
installing new plumbing and drainage pipes and connecting them to the existing lines running under the driveway
demolishing the old bathroom including the old concrete slab
reinstating the concrete slab
replacing the ceiling
relocating the drains and tap locations to create a new layout compared to the old bathroom
installing a new screed ready to be waterproofed
new waterproofing, floor and wall tiling
fitting all the new fixtures and fittings
The very general list of steps for renovating a bathroom in Sydney include the following;
1. Planning and Design: Helps in mapping out the vision for the bathroom, including the layout, materials, fixtures, and finishes. A well-thought-out plan ensures that the renovation meets your needs and stays within budget.
2. Budgeting: It's crucial to have a budget in place to manage costs effectively and avoid overspending. A budget includes labour, materials, permits, and unexpected expenses.
3. Permissions and Approvals: Depending on the extent of the renovation, you may need approvals from the local council in NSW or comply with the development standards. This is to ensure safety and legality.
4. Using Professionals: Contractors, plumbers, and electricians may be needed to ensure the job is done professionally, safely, and to code. Their expertise is crucial for a successful renovation.
5. Demolition: The old bathroom fixtures, finishes, and structures need to be removed to make way for the new design. This step must be done safely to avoid damage to existing structures.
6. Plumbing and Electrical Work: These are foundational elements of the bathroom. Getting the plumbing and electrical right is essential for the functionality of fixtures like sinks, tubs, and lights.
7. Installation of New Features: This involves installing new fixtures, cabinetry, flooring, etc. Proper installation ensures the bathroom is functional, aesthetic, and durable.
8. Tiling and Painting: These finishings are essential for the aesthetic appeal and water resistance of the bathroom. Quality workmanship ensures longevity and adds value to the home.
9. Final Inspection: Ensures all works are completed to the planned design, quality standards, and building codes. It's a critical step to address any issues before the finalisation of the project.
10. Clean Up: Post-renovation clean-up is essential to remove debris, dust, and leftover materials, making the space ready for use.
Bathroom renovation in Maroubra, Sydney with new plumbing and layout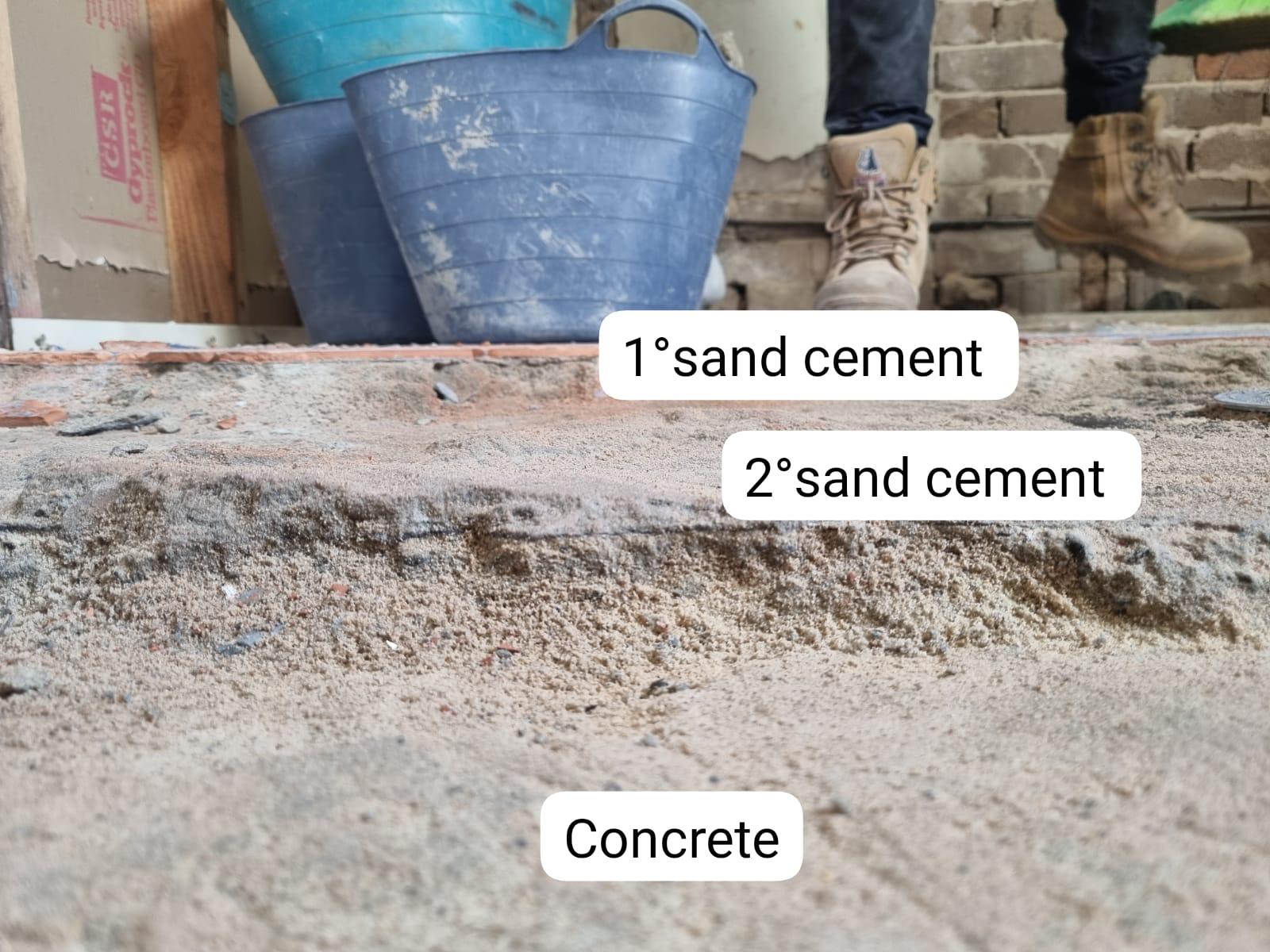 Embarking on a bathroom renovation offers more than just an opportunity to update old fixtures and aesthetics. It provides a blank canvas to reimagine, redesign, and revitalise the entire space. One of the most transformative approaches lies in the audacious act of repositioning plumbing fixtures. While it may require a higher initial investment, the dividends it pays in terms of functionality, aesthetics, and space optimisation are invaluable.
Changing the layout of the plumbing is akin to unlocking a world of untapped potential. Moving drains, tap placements, toilets, or showers breaks the chains of limitation. It opens up the bathroom space to a plethora of design possibilities, enabling architects and homeowners alike to breathe life into visions previously constrained.
Altering the plumbing orientation allows for a reevaluation of the spatial dynamics. It's not just about making room; it's about optimising the available space to create a harmonious blend of functionality and aesthetics. Every corner, every wall can be reimagined to serve a purpose, be it aesthetic enchantment or practical utility. The liberation of not being confined to existing plumbing positions means that each element, from the shower to the toilet, can be strategically placed. It ensures seamless movement within the space, enhances user experience, and ensures that every fixture is positioned for optimal performance and accessibility.
We knew the owners wanted to change the layout of their bathroom as part of this renovation. So to achieve this we had to make changes to their plumbing system to accomodate. Part of their line had collapsed and they also needed to move the drainage locations and tap locations which meant new pipes had to be installed and located within the room.
One of the things we discovered was there was lots of damage to their existing concrete slab which needed to be repaired. So this became additional work needed to be completed and is crucial for ensuring structural safety and preventing potential water damage. Some signs and methods to identify damage in a concrete slab might include;
Visual Inspection:
Cracks: These can be hairline cracks, which may not pose an immediate threat, or wider cracks that may indicate serious damage.
Spalling: This refers to flaking or chipping on the concrete's surface. Over time, water and moisture can cause the concrete's surface layer to deteriorate, resulting in spalling.
Discolouration: Stains or spots on the slab may indicate water penetration or other forms of damage.
Physical Inspection:
Unevenness: If the floor feels uneven underfoot, it could be a sign of the slab settling or heaving due to soil movement underneath.
Hollow sounds: Tapping on the slab in various locations using a mallet can reveal hollow areas beneath the concrete, which could be indicative of voids or delamination.
Water Damage:
Pooling: In a bathroom, if water is pooling in certain areas and not draining properly, it could be due to unevenness in the slab.
Efflorescence: This is a white, powdery residue that can appear on the surface of concrete. It's caused by soluble salts in the concrete being brought to the surface by moisture. This indicates the presence of moisture within the slab.
Functional Issues:
Door Misalignment: If doors near or within the bathroom are suddenly misaligned or difficult to open or close, it could indicate that the slab has moved or settled.
External Factors:
Plumbing Leaks: Persistent plumbing leaks can damage a concrete slab over time. If you suspect a leak, it's essential to address it promptly.
Tree Roots: In some cases, especially if the bathroom is on the ground floor and near large trees, roots can push up against the slab, causing it to crack or lift.
Professional Assessment:
Moisture Meter: A professional can use a moisture meter to detect excessive moisture in the slab, which might be indicative of damage.
Core Sampling: Taking a core sample of the concrete slab can help in assessing the internal health of the slab.
Ground Penetrating Radar (GPR): This tool can help detect voids or anomalies beneath the surface of the concrete slab.
If you suspect any damage, or your bathroom renovator discovers any, especially if it's extensive, it's always recommended to consult with a structural engineer or a specialist to assess the condition of the slab and recommend remedial actions.
Once this was completed it meant we could deliver the new layout they were after which included moving the shower to be on the far wall, moving the toilet next to the vanity and making more space to walk around once you enter the bathroom. This layout also meant more natural light came into the room with the larger windows and glass shower screen. Investing in plumbing redesign is not just an expenditure; it's a strategic asset building. A well-designed, functional, and aesthetically pleasing bathroom significantly boosts the overall property value. It becomes a selling point, a feature that distinguishes the property in the real estate market.
Design ideas for a bathroom renovation in Maroubra, Sydney
Vanity with storage
Storage in any bathroom is always an important consideration so when you are renovating your bathroom in Sydney we can install a wall mounted vanity that has a mirror and storage behind it. This unit also had a small open shelf for smaller items.
We can also place a power point inside the unit so you can charge appliances without messy cords on the sink.
Drain waste
To save money on renovations of a shower some people will choose to install a simple drain waste that you can buy from Bunnings or Reece. 
These are fine of course, but if you want a touch of luxury then, a custom made floor waste can be integrated into the floor tiling so that it becomes almost 'invisible' when you look into the room. The wider opening can also capture more water too.
What else did our company do in this bathroom renovation in Maroubra, Sydney?

#1 PROTECTED THE PROPERTY
Doing as many house renovation projects as we do, we understand how stressful they can be for people trying to live through them. Most tradies also make a big mess. We make sure we protect your property with floor and wall coverings to make sure nothing is damaged while we are renovating your house.
#2 PLUMBING & FLOORING INSPECTION
Nu-Trend is a licensed plumber which is an advantage when you are renovating a bathroom. For every project we inspect all the plumbing to make sure it is ready for use. We conduct a CCTV Camera Inspection of your piping and if required a high pressure jet blast to make sure everything is ready.
#3 TAKING CARE OF THE PROPERTY
It is the small things that count. We will check things like how your pets get into the house, if neighbours require access to driveways or other things that are important to how you live in your home to make sure everything goes smoothly during a renovation. 
Some renovation contractors will not include this in their service, they might leave the rubbish from the demolition in your backyard or on the street. Nu-Trend will make sure all the materials and rubbish that are not used are removed neatly ensuring your property isn't left in a mess and neighbours are happy.
#5 PRECISE MEASUREMENTS & PREPARATION
We make sure that each part of the renovation project is not only done in accordance to Australian Standards but is precise, measured and correctly prepared.
This includes things like doing a laser level check for the screed and tile height pre start off the plan to make sure the right falls are created.
For every bathroom renovation project we do we will typically have custom designed drain grates created so they fit your space perfectly. 
Same applies for most shower renovations that we do, rather than use off the shelf screens, in most cases we will recommend a custom cut shower screen so it can perfectly fit your room.  
At Nu Trend, we are not just renovators; we are your partners in transforming your bathroom spaces into havens of luxury, functionality, and aesthetic delight in Maroubra. Our holistic approach, which encompasses an array of services from conceptual design to final completion, caters to the diverse needs of apartments, units, townhouses, and houses. Our Diverse Suite of Services Includes:
1. Personalised Design Consultations:
We understand that every space has its unique attributes and every client, their distinct taste. Our team of seasoned architects and interior designers collaborates with you, turning your ideas into concrete plans that merge functionality and aesthetics seamlessly.
2. Plumbing and Layout Configuration:
Break free from the constraints of existing layouts. Our team of skilled plumbers and engineers are adept at reconfiguring plumbing systems, opening up a world of design possibilities and enhancing space utility and functionality.
3. Expert Demolition Services:
Safety and precision guide our demolition services. We meticulously deconstruct the old, making way for the new, while ensuring the integrity of the structure is unscathed and every regulation adhered to.
4. Professional Tiling and Waterproofing:
Our expertise extends to impeccable tiling services, offering a myriad of quality, durable, and aesthetically pleasing options. Coupled with state-of-the-art waterproofing, we ensure your bathroom is both stunning and structurally sound.
5. Electrical Installations:
Safety, efficiency, and innovation guide our electrical installations. We bring to life a bathroom that's not just visually appealing but is illuminated to perfection and functionally superior with new down lights, mood lighting, mirror lighting and more.
6. Precision Painting:
Every stroke of our paintbrush is guided by precision, adding the finishing touches that transform your bathroom into a masterpiece of artistry and craftsmanship. We can paint walls, ceilings, doors and even window frames as needed.
7. Fixture Fitting:
From walk-in showers to bespoke vanities, every fixture is fitted with precision, marrying functionality and style, and personalised to resonate with your distinct taste. Fittings for the shower, sink, bath or bidet can be expertly installed.
8. Final Clean and Hand Over:
We don't just renovate; we transform. Every project is a journey from the old to the new, culminating in a bathroom space that transcends the ordinary and epitomises personalised luxury and innovation, this includes a professional deep clean and every area in your home covered from dust and debris.
With Nu Trend, every bathroom renovation is a symphony of personalised service, professional craftsmanship, and innovative design.