It's easy to renovate your bathroom with a day spa design
When you decide to take on a bathroom renovation the first decision to make is the style you will create. For the majority of bathrooms that Nu-Trend builds it is all about creating a bathroom that is super functional with a touch of style considering that is what most families need. There are times though when the renovation budget allows for something a bit more extravagant and that's when it becomes possible to replicate ideas from places like a luxury hotel or a day spa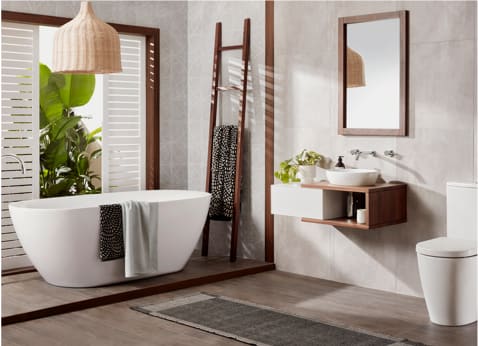 With the right space and planning it is absolutely possible to create a bathroom that literally feels like you are walking into a high end relaxation facility. It's the perfect way to feel like you are being spoilt, to help unwind and de-stress. Interior design elements can be replicated quite easily using inspiration from actual locations, magazines or websites.
Nu-Trend is a Sydney renovation contractor that can help with these types of builds from the initial planning, demolition & complete construction.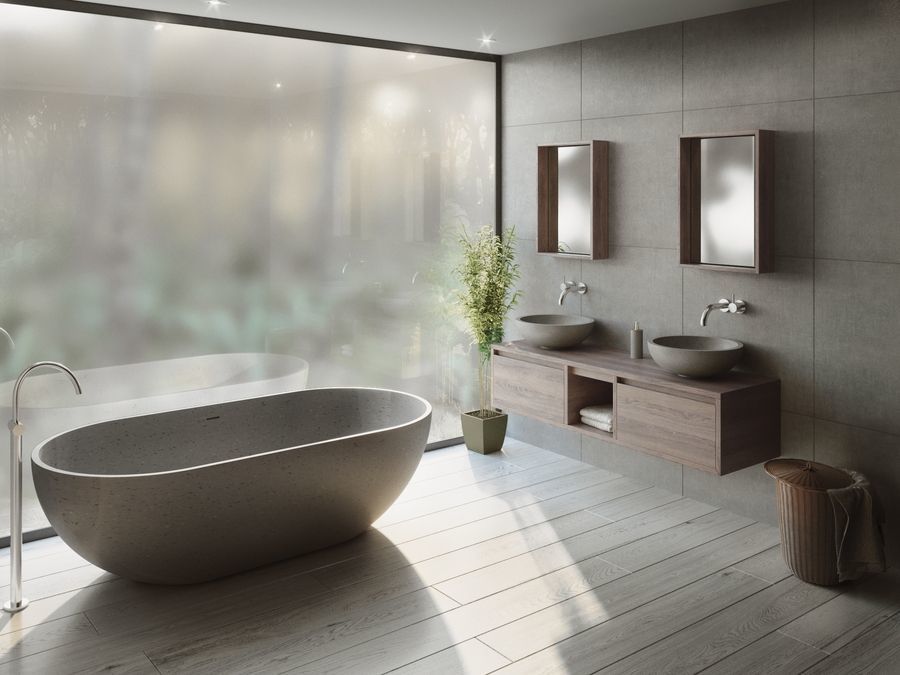 Building a bathroom with a day spa interior design
Obviously visiting a spa every week is expensive and not practical, especially for families who are busy keeping up with life. Plus let's consider the process of being half naked walking around with other strangers who have just used the same bath, shower or steam room.
For those who would prefer some privacy, it's possible to replicate the feeling of a day spa pampering in the comfort of our very own home. Creating your own luxury day spa bathroom allows you to indulge in the privacy of your own home for a fraction of the cost, plus it can add value to your home, therefore it becomes a win win situation. 
It is quite simple to create a day spa inspired look for a bathroom renovation as many of the interior design ideas are relatively easy to replicate from open space, large walk in shower or even a steam room. For the ultimate indulgence an adjoining bedroom could be converted into a bathroom to make a single, larger space available for use by removing the walls.
Natural stone
Your choice of materials can make all the difference and using natural stone makes nearly any room feel connected with the world around us and less 'man made'. The colour choices can create a dark and moody feeling or go to the other extreme with light sandy whites for a fresher vibe.
Inset bath tub
For every home or unit that has a bath it will be a typical back to wall unit or a free standing tub. Although featuring an inset bath tub can really create a completely different ambiance as soon as you walk into the room, just like a day spa.
Floor to ceiling windows
Most wellness retreats like day spas will use lots of natural light with views out to the surrounding forest or ocean. It is the ideal way to make you feel more connected with nature. Installing floor to ceiling windows can frame a view and also be the best location for a free standing bath tub to be placed. It creates drama & invites you to have a long soak while taking in the views.
Classic white or timber
Colour and texture choices are so important and there are lots of paths that you can take. A classic all white look can create a clean, fresh, pristine look for any bathroom with every surface sparkling, looking fresh and crisp. Using timber can create a different effect with light coloured wood giving a room warmth to break up the colder surfaces that tiles or vanity tops will create.
Common questions about day spa inspired bathroom designs
Here are some of our recent bathroom renovations in Sydney that Nu-Trend has completed. The majority of the projects we are contracted for are complete bathroom renovations where the room is completely stripped so that the flooring, walls, tiling and waterproofing is installed brand new.
Local | Licensed | Insured

Protection for home owners.
Local Sydney contractors.
A qualified and licensed renovator.
Public liability insurance for peace of mind.
Drainer | gas fitter | plumber | renovator
Nu-Trend is a Sydney company with more than 15 years experience completing bathroom renovations & solving plumbing problems. he Directors Rob and Rick are hands-on, and provide a personalised service.
STANDARDS AUSTRALIA AS/NZS3500:2018 Compliant
All the work carried out by Nu-Trend is AS/NZ3500:2018 compliant. It is the Australian Standard for Plumbing and Drainage in NSW as set down by Standards Australia and the Australian Building Codes Board. They give the plumbing industry technical direction to enable compliance with required regulatory frameworks.
15 years experience with a written commitment.
Rick and Rob are the hands-on directors for Nu-Trend. Rather than hire sub-contractors and manage their business from a distant office, they are on the tools, at your site & working towards delivering your bathroom renovation or plumbing service. It means you are talking directly to the owners of the business, the guys who are accountable and responsible rather than via email or through customer service teams.
It is why they are able to provide a written guarantee that demonstrates their confidence in standing by the quality of their workmanship and the service they deliver to every single client.
They have a very single minded commitment to deliver a high level of professionalism and quality, they've been doing renovation contracting in Sydney for 15+ years.