Renovating your bathroom with a day spa feel is easy to achieve.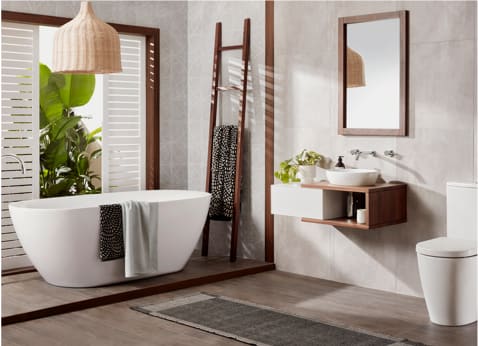 Day spa interior design for bathrooms
Bathroom renovations give you the opportunity to re-create either a super functional room or if you renovation budget allows, replicate ideas from luxury hotels or day spas so you can enjoy something similar in your own home. We've all experienced that feeling of being spoilt after a trip to a day spa to help unwind and de-stress. 
Although visiting a spa every week is expensive and not super practical, especially for families who are busy keeping up with life. Plus who wants to go through that whole process of being half naked walking around with other strangers who have just used the same bath, shower or steam room?
It's possible to replicate this feeling of pampering in the comfort of our very own home. Creating your own luxury spa bathroom allows you to indulge in the privacy of your own home for a fraction of the cost, plus it can add value to your home, so it is a double win situation. 
It is quite simple to create the "Spa" look for your bathroom renovation project. When adding luxury like this to your home, the bathroom should not be overlooked, so if you are considering renovating your bathroom, we have included some ideas to consider when planning your new bathroom
Learn more about bathroom renovation ideas
We have written a number of different educational articles about bathroom renovating in Sydney.