COMPLETE BATHROOM RENOVATIONS
Strip your room and get a complete bathroom renovation in Sydney.
Experienced bathroom renovator in Sydney
Nu-Trend is a local Sydney renovation contractor
We are an Australian owned company and with every complete bathroom renovation valued at over $10,000 we include a range of standard inclusions based on the scope of work for your project;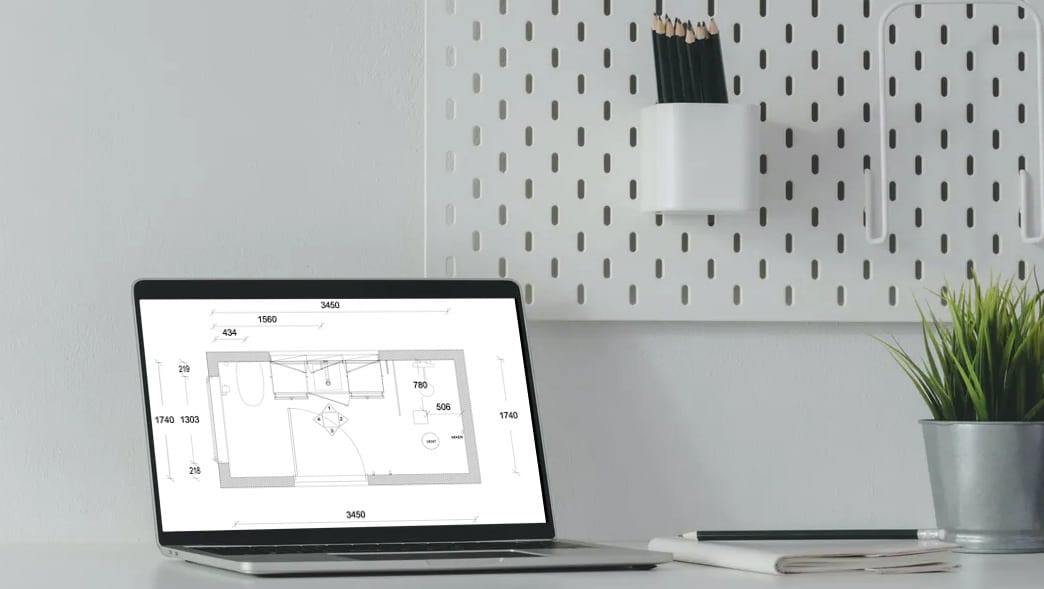 Do you remember the 'old days' when personal service was the way every business delivered its offerings? That is how Rick and Rob treat each client when Nu-Trend is contracted to do a complete bathroom renovation in Sydney. You deal directly with the owners of the business who have more than 10 years of experience, over 150 written reviews and provide written fixed price quotations.
They have a very single minded commitment to deliver a high level of professionalism and quality renovation projects. To deliver this they use industry leading brands to create complete bathroom renovations with Caroma, Grohe, Dorf, Kado, Blanco and others.
Nu-Trend is a company based in Hurstivlle, Sydney, that focusses on providing complete bathroom renovation projects. We build modern bathrooms to meet your budget; add value to your home, or improve your business or rental property.
Virtual visual design
for every renovation
A simple 2D & virtual 3D view of your bathroom design allows you to quickly visualise each project before its demolition
SIMPLE ROOM VISUALISATION
USES APPROXIMATE MEASUREMENTS
 
START A COMPLETE RENOVATION BY VISUALISING YOUR ROOM
We can take your bathroom renovation ideas and create a simple 2D and 3D virtual mock up of your room to help get things started quickly. By using your ideas we will create a simple visual interpretation of your room that we can use to do the initial planning and start your renovation project quickly & easily. While not as accurate or as detailed as an interior designer plan it does help plan smaller bathroom renovation projects or smaller renovations under $25,000.
Interior design for complete renovation projects
For every bathroom renovation project valued over $20,000 you will have an interior designer created plan.
CREATED BY A PROFESSIONAL INTERIOR DESIGNER
PRECISE MEASUREMENT & elevation plan of your room
A PRECISE 2D drawing to PLAN your floor plan
Initial product selection

.
START YOUR RENOVATION PROJECT THE RIGHT WAY
For those who want to get a little more serious about their bathroom design we include a specific plan that is created by our interior designer. Start your property renovation with an interior design plan that is hand crafted by an expert. Trying to work out your bathroom design can be a difficult task. Not only is Nu-Trend able to manage your bathroom plumbing and renovation work but we will help get your project started the right way by including an expertly interior design plan for all projects over $20,000. It means we can both work from a professionally drafted plan that uses the exact measurements of the room in your property & a precise list of materials or products. It creates the perfect base to work from to help make product selections and plan the project timelines.
WHAT IS THE BENEFIT OF INTERIOR DESIGN?
You get the inputs from an expert who has many years experience working with property construction, materials & design techniques to create something that meets your brief precisely. It creates a very defined plan that can be worked with to renovate your room to make sure there are no hidden surprises or budget blowouts. Most importantly you create a well designed room that is crafted by a professional.
Optional bathroom
interior design services
We will help you with any other bathroom design ideas you have
If our simple 2D/3D design or an interior designed plan doesn't quite suit, we can help you secure a range of optional design services. Interior design can be a broad and extensive area once you get started so we can make sure that any extra requirements are taken care of. Working together with the Nu-Trend team and our designer we can help provide upgrades to your design package for things like;
Further changes to the initial plans provided.
Consultation with a designer.
Floor plan variations drawn up.
Help with fixtures & colour variations.
A full 3D Virtual Model created.
Plumbing and electrical plans.
If needed we can help you organise these extra steps to plan your bathroom renovation and provide a quotation for each element to help with your budget planning.
SEE EXAMPLES OF INTERIOR DESIGNED COMPLETE RENOVATIONS WE HAVE COMPLETED
Nu-Trend has helped lots of property owners renovate their houses over the years with a mixture of design inputs.
Some prefer to do it themselves and others enjoy the benefit of using an expert interior designer to make the project easier to manage.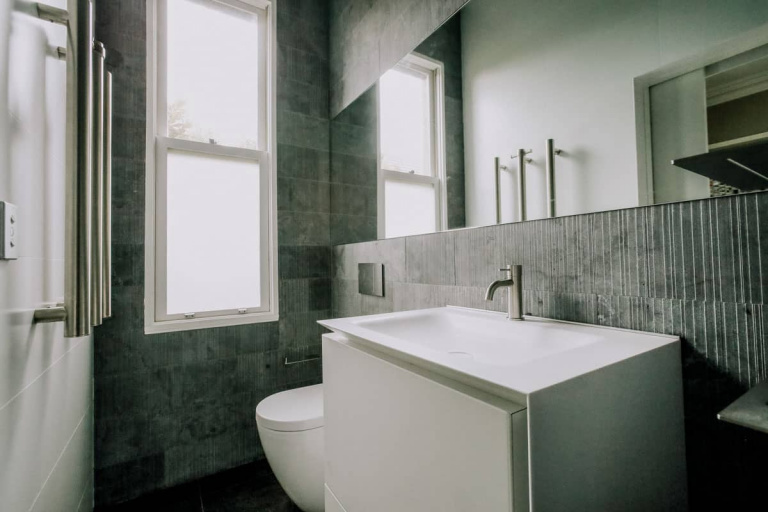 Every inch of this ensuite bathroom was a mastermind design from Boffi that had no expense spared.
SEE MORE >
Local | Licensed | Insured

Protection for home owners.
Local Sydney contractors.
A qualified and licensed renovator.
Public liability insurance for peace of mind.
Drainer | gas fitter | plumber | renovator
Nu-Trend is a Sydney company with more than 15 years experience completing bathroom renovations & solving plumbing problems. he Directors Rob and Rick are hands-on, and provide a personalised service.
STANDARDS AUSTRALIA AS/NZS3500:2018 Compliant
All the work carried out by Nu-Trend is AS/NZ3500:2018 compliant. It is the Australian Standard for Plumbing and Drainage in NSW as set down by Standards Australia and the Australian Building Codes Board. They give the plumbing industry technical direction to enable compliance with required regulatory frameworks.
Bathroom renovation before and after examples.
Bathroom renovation costs per square metre will vary greatly depending on the type of property being renovated.  These examples may help with your ideas for how to renovate a bathroom, ensuite or laundry. We have tried to capture some of our completed projects to give you an idea of the types of rooms, fixtures and fittings we have worked with previously.
Nu-Trend does apartment or commercial renovations in Hurstville, Bronte, Marrickville, Kyle Bay and other suburbs around Sydney & can provide a free bathroom renovation quote.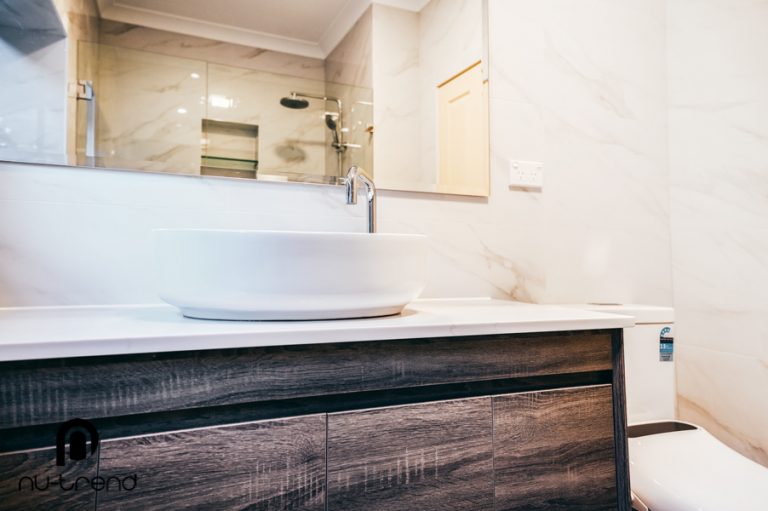 A small bathroom renovation that had a spa bath removed, door removed & concrete cancer repaired in Penshurst, Sydney
SEE MORE >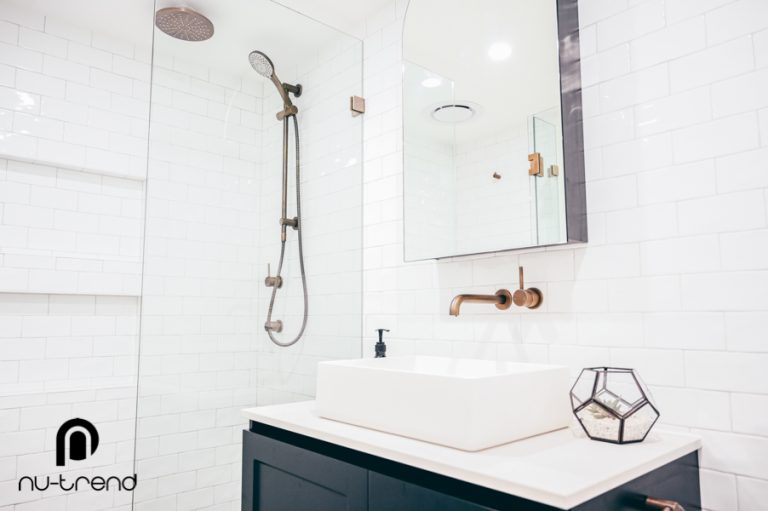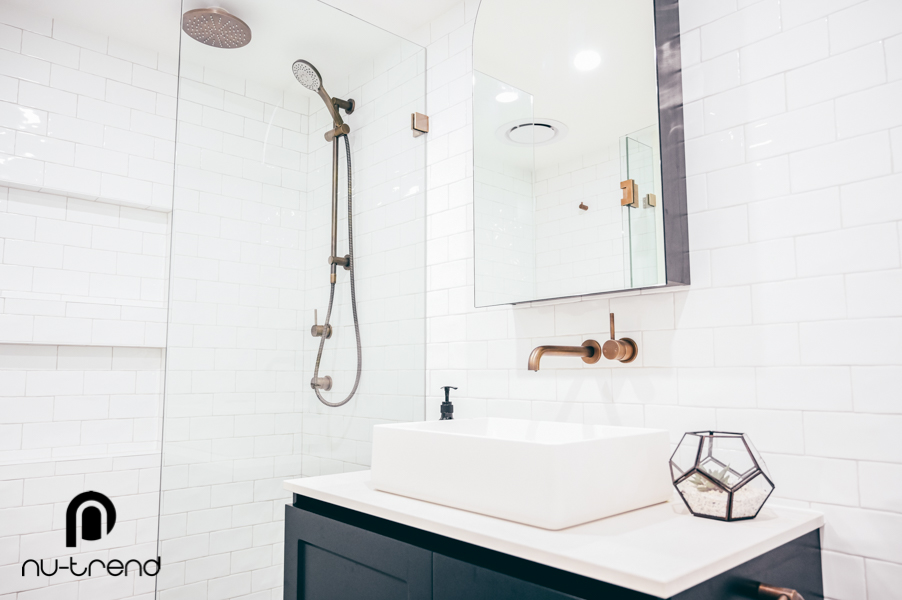 We completely renovated this unit to remove the bath and replace it with a new walk in shower, new tiling, vanity & toilet.
SEE MORE >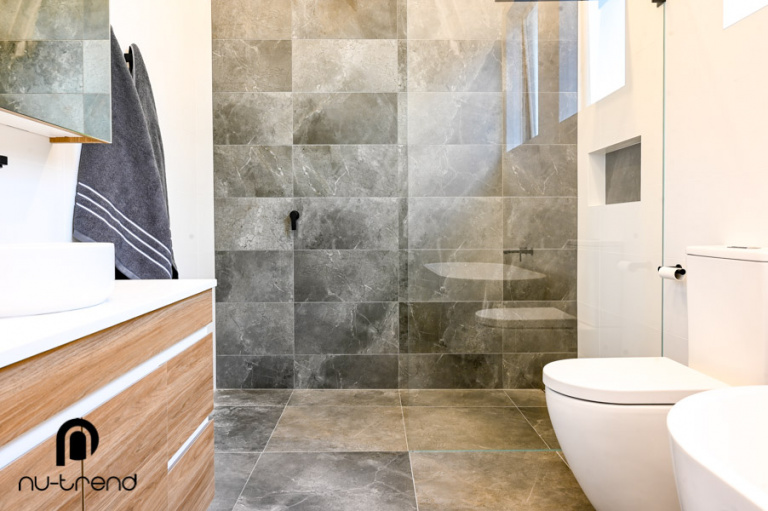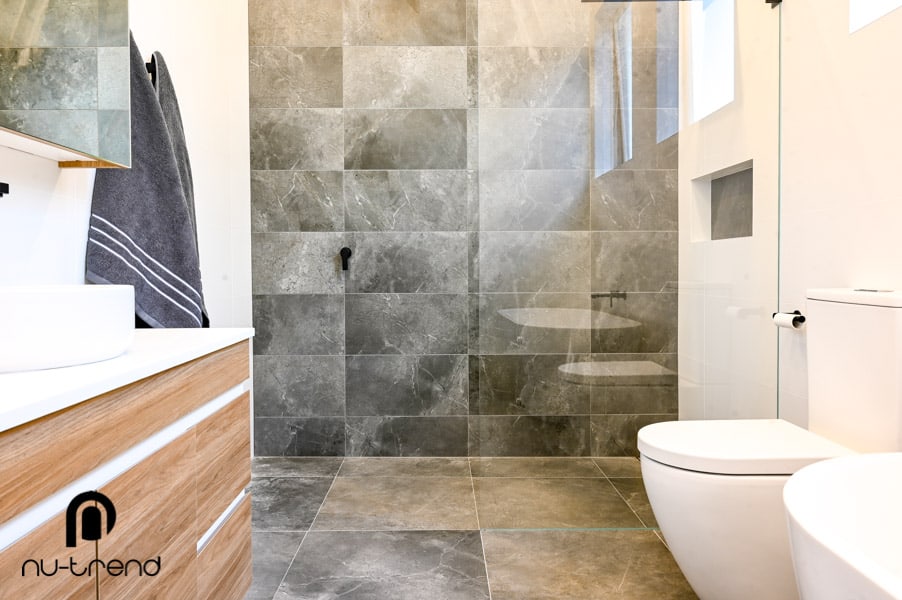 We made this bathroom bigger so that there was more space for the walk in shower and free standing bath to be installed
SEE MORE >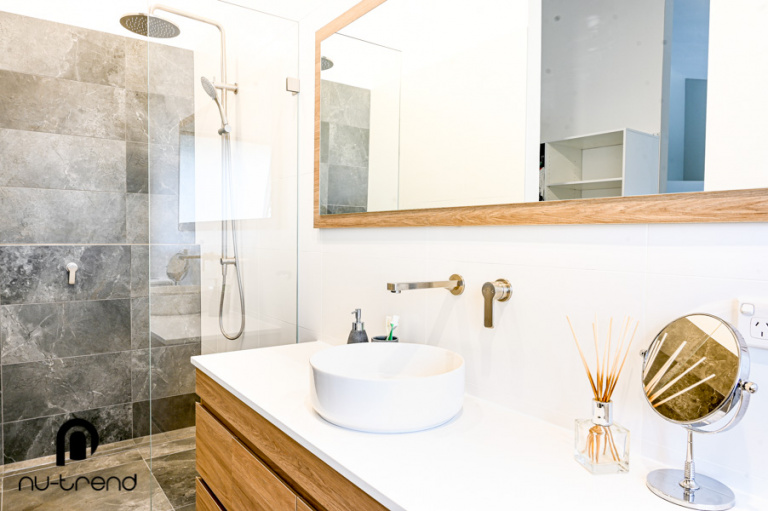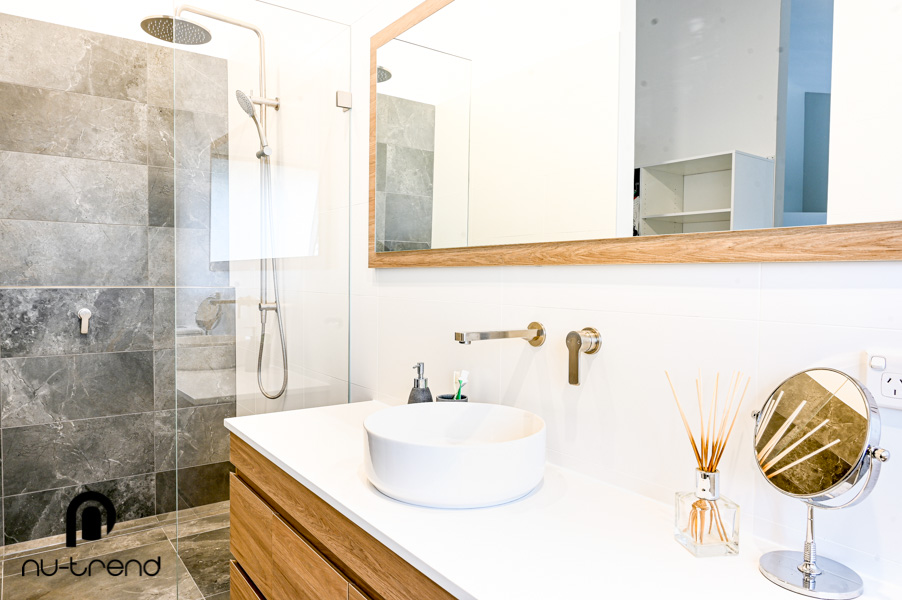 We converted a single toilet into a new bathroom with walk in shower & vanity to create an ensuite for this property in Silvania
SEE MORE >
Bathroom renovation quotes
What does a renovation typically cost?
Our most common question is 'how much does a bathroom renovation cost' and our response 'it depends'. We have created a guide to bathroom renovation costs in Sydney to help you plan and understand the budget required.
We have included a range of tips and hints to help you begin planning your bathroom renovation and to better understand why free bathroom quotations will vary in price. 
Nu-Trend is a local Sydney bathroom plumbing renovator specialist that works on residential or commercial projects for ensuites, apartments or even bathroom remodels. We provide bathroom supply and fitting 7 days a week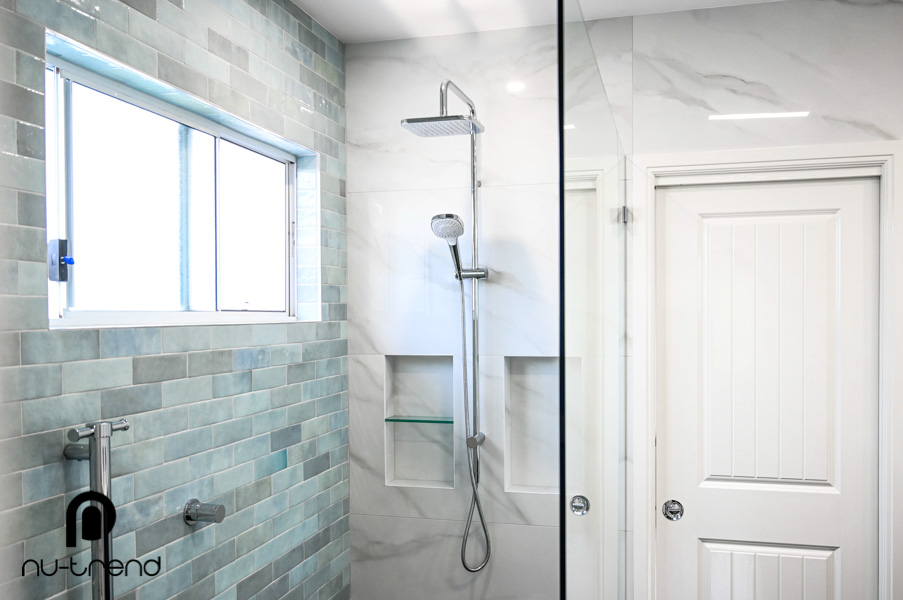 We take care of everything for you
Our most common question is 'what are the bathroom renovation steps' or 'how long does a bathroom renovation take' and our response is 'we'll take care of everything for you' to make things as easy and seamless as possible for your project. We work with you each step of the way;
Planning, layout and design.
Floor and wall demolition.
Rubbish removal.
New flooring, walls, waterproofing.
Floor or wall tiling installation.
Moving pipes or services.
Changing the floorplan.
Installing a new shower or bath.
Painting, electrical and windows.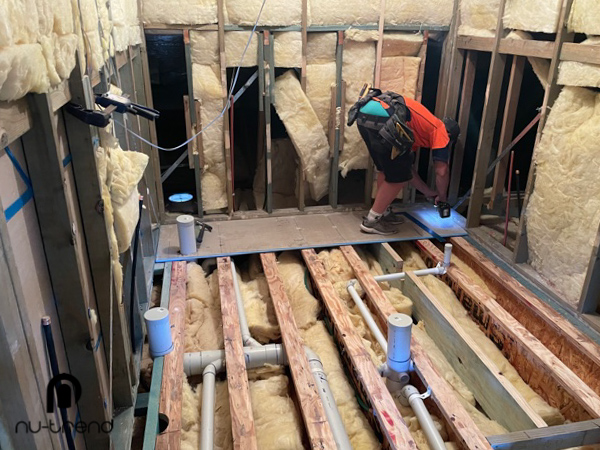 How do we do renovations?
What types of renovation projects can we work on?
We quite often get asked if we can do different types of bathroom renovation projects where there are other parties involved or to accomodate a certain situation. Being a nimble bathroom renovation company you are talking directly to the owners, so we can do everything on a bespoke and personalised basis to suit you or your scenario.
Working with Architects or Building Designers.
Working from building plans or designs.
Collaborating with other contractors.
Liasing with real estate agents or property developers.
Engaging with product suppliers.
Dealing with local council or authorities.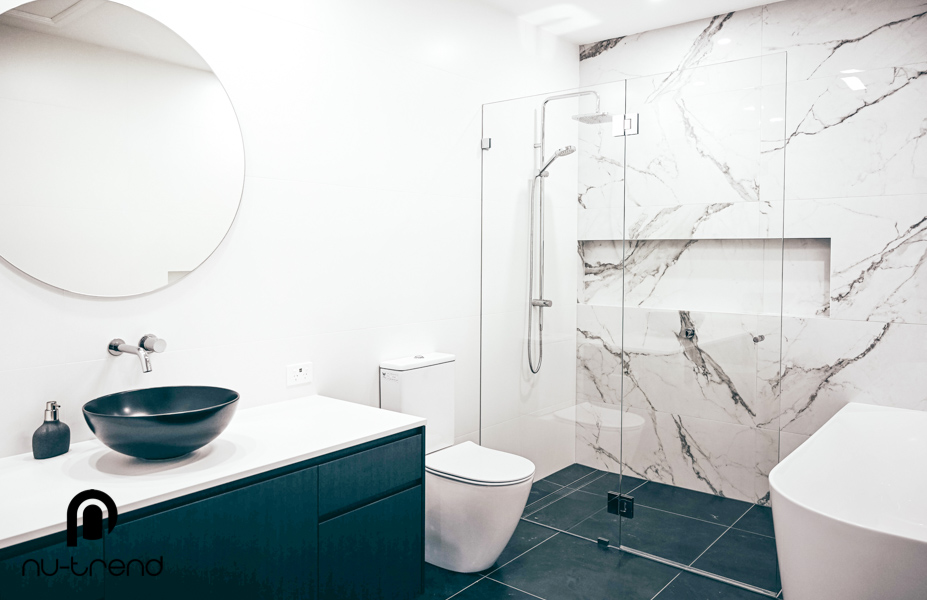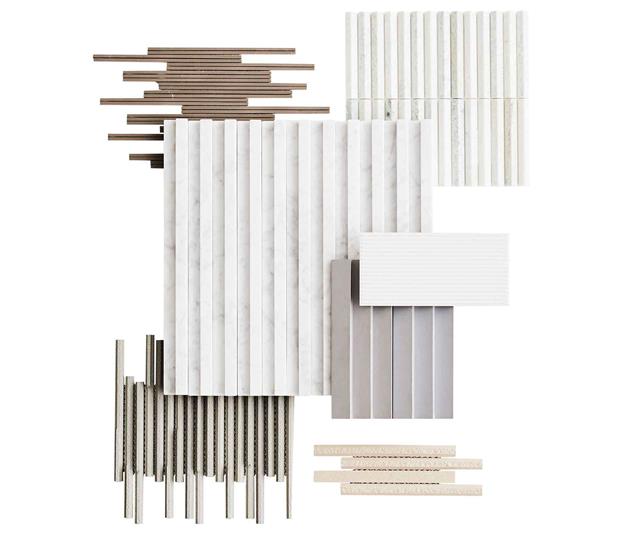 We explain the different types of tiling you can choose from (and the benefits) when you are renovating your bathroom.
SEE MORE >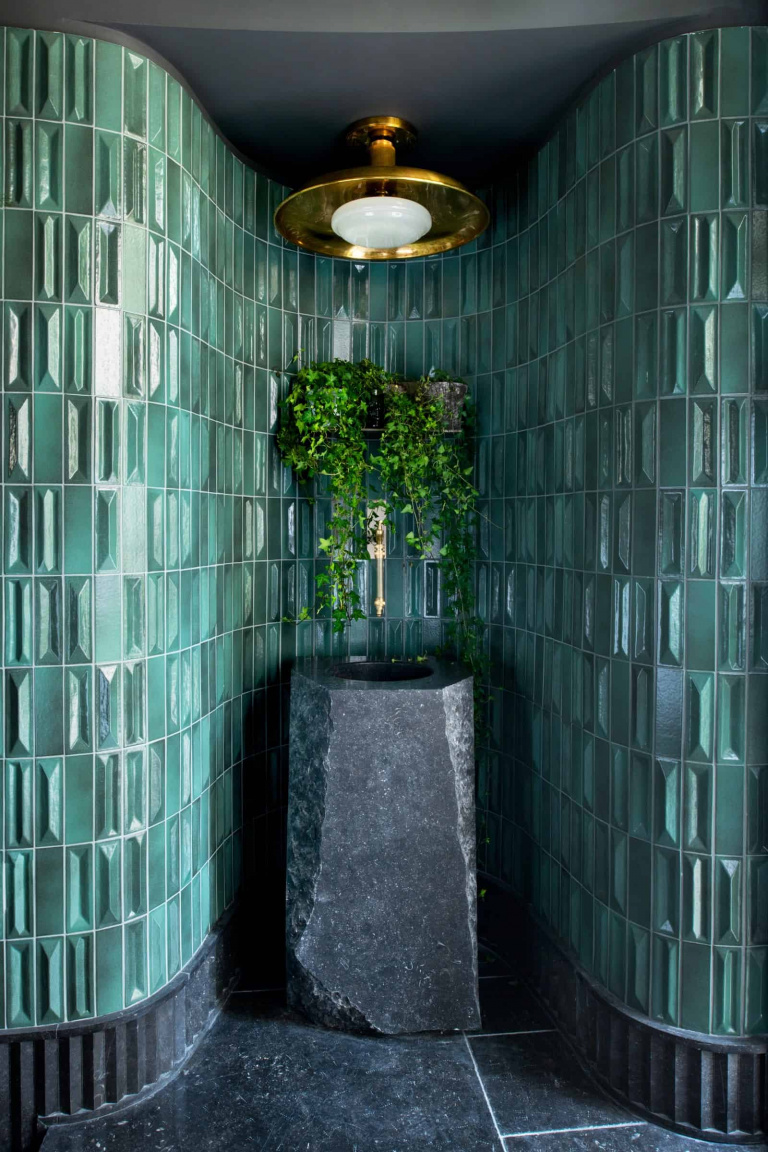 Using textured tiles can create a very unique look for a bathroom renovation. Here are some ideas that we can help install for you
SEE MORE >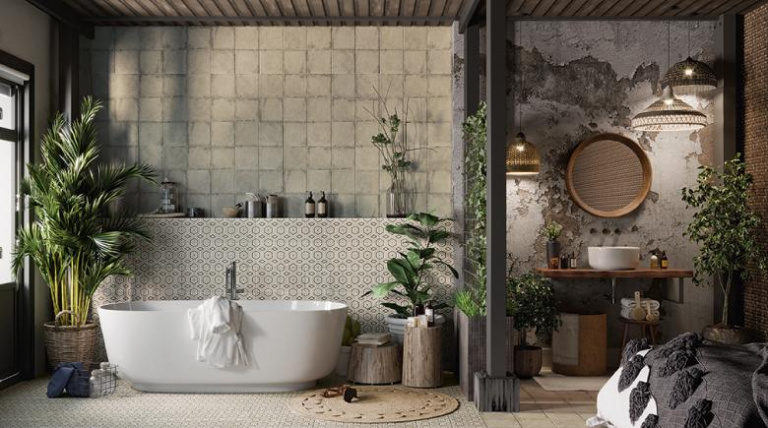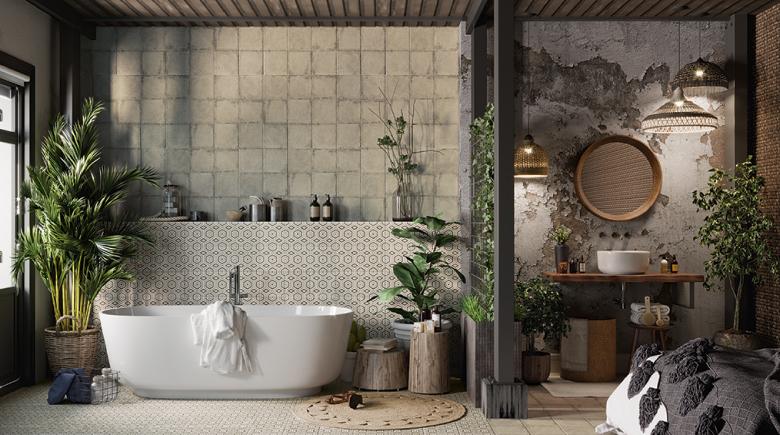 Bathrooms used to be just a place for your toileting needs, with very sterile, boring tiles – not any more.
SEE MORE >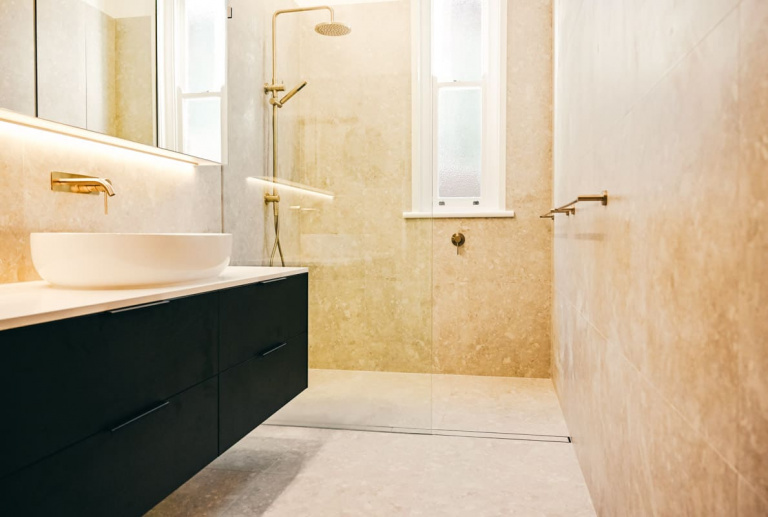 Learn more about the most important parts about bathroom renovations from the experience we have gained from 000's of projects.
SEE MORE >
It's all in the little details
Rick and Rob are involved with each step of each bathroom renovation they deal with. They are a bathroom renovation specialist that delivers a personal touch and concierge-like service. With so many years of experience between them they have encountered all the common bathroom renovation scenarios and developed a keen level of expertise to solve practically any situation. 
Although, its the little things they do that can make all the difference to a delivering a high quality project efficiently, quickly and with little disruption to daily life.
Property protection
We will make sure your property is protected with coverings from entrance to project site, even furniture to protect from dust or dirt.
Organised & prepared
All of Nu-Trend's equipment and tools are labelled, sorted and organised to deliver a quick, efficient and precise service each time.
Daily Updates
At the end of each day we will provide an update on the progress of your project. This ensures you know exactly what is happening at each step.
Tidy work site
If we need to leave the site at the end of a working day we make sure it is tidy, organised & everything in place to minimise disruption.
...I can't recommend the team strongly enough, they are professional, tidy, prompt and polite, and above all excellent craftsman...
Rick and Rob are the hands-on Directors for Nu-Trend Plumbing. Rather than hire sub-contractors and manage their business from a distant office, they are on the tools, at your site & working towards delivering your bathroom renovation or plumbing service. It means you are talking directly to the owners of the business, the guys who are accountable and responsible rather than via email or through customer service teams.
It is why they are able to provide a written guarantee that demonstrates their confidence in standing by the quality of their workmanship and the service they deliver to every single client.
They have a very single minded commitment to deliver a high level of professionalism and quality.
COMMON QUESTIONS ABOUT COMPLETE BATHROOM RENOVATIONS