How to avoid a costly leaking shower repair in Sydney.
Is a shower repair in Sydney always simple?
Getting a shower repair in Sydney to fix water leaking may sometimes seem like it is a simple thing to get done. Although in lots of cases there could be underlying problems that aren't obvious to someone who isn't trained or has the right experience dealing with bathroom renovations. That is why it becomes important to choose the right shower repair company.
Why a landlord shouldn't choose a cheap rental property repair
We often see rental property owners take cheaper shower repair options when trying to maintain their property. Either they choose the cheapest shower repair company quote or allow their property manager to decide. 
In lots of cases, they don't go to the effort to look at longer term solutions. This typically leads to higher costs over the life of the property that will require regular shower repairs, or worse, fixing water damage issues in other parts of the property.
You also have to think about whether any remedial work will effect things like the shower waterproofing or waste pipe services. These things can also lead to needing more leaky shower repairs.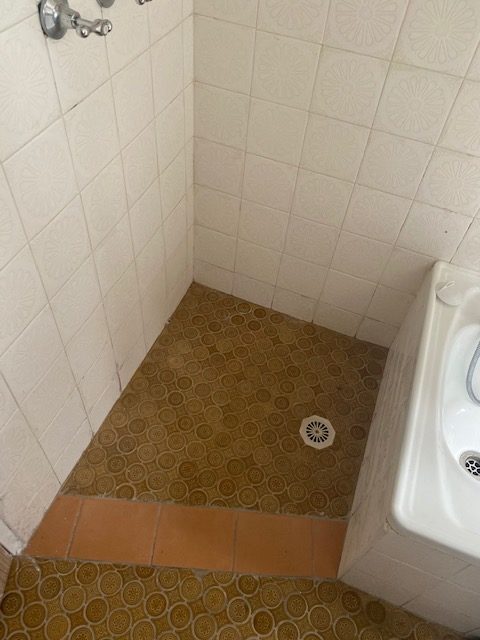 Nu-Trend is a shower repair company in Sydney
Experience shower repairs and renovation company in Sydney
Nu-Trend is a local shower repair company in Sydney that has been helping property owners since 2009 to fix blocked shower drains, repair a shower, repair shower drain plumbing and more. We are qualified plumbers and bathroom renovators so that means you only need to deal with a single contractor in most cases to fix your shower quickly & expertly. Nu-Trend has the latest shower repair equipment and tools to work out any leaking issues or failed waterproofing with leak detection tools, CCTV digital camera scanners and more.
How to save money on long term shower leak repairs in Sydney
The cause for the leaking shower repair
For this shower repair in Kogarah, the client ended up spending more than his initial quotes, but he will save money in the long term by not needing to repair short term fixes. Initially we were called to quote on a shower repair for this newly purchased rental property. The tiled brick hob in the shower cubical used to be the main water block for the floor area, but this was removed to accomodate an elderly lady that used to be live in the property. The hob was removed to enable her to have easier access in and out of the shower, although our client now needed the hob replaced to contain the water and improve the safety of the bathroom for the new tenants.
What issues should you consider before getting bathroom repairs
 For this repair there were quite a few things to consider;
We had to assess what was essentially a 20+ year old shower in old block of units.
Try to determine what had occurred with the partial demolition that was done previously.
Assess what risk there was to the current water proofing, tiling and surrounding area.
Estimate the length of time it would take to prepare the area, remove any rubbish and do the required work.
Understand any limitations with access to the building, tenants or the owner.
Take into consideration this was a top floor unit and potential risks for other units below it.
Could there be other ways to solve this for the property owner.
So it makes this type of scenario a little more complicated than normal as we could be creating further damage to the water proofing, tiling or other areas of the room by trying to come up with a quick fix solution. This may have been the cheaper option for the property owner although this property was a unit on the top floor of a building block. This means we had to be extra cautious to make sure any type of renovation or repair would reduce the chance of water flooding to downstairs units and causing major damage.
We already know from experience that sometimes a plumber may be forced to do a quick repair job without the property owner really understanding the potential risks. We typically avoid these situations as we don't believe it is good practice and while we love all our Clients we don't really want to be seeing you again because of poor choices being made to getting bathroom repairs done. 
What options were available to repair this old shower area?
As an experienced shower repair company in Sydney we realise that property owners are trying to maximise their rental returns. Although sometimes taking the cheapest repair option can be a false economy as you will be paying for further repairs later on. Our company in these situations will provide advice and expertise that includes a few options with different pricing to give a property owner the right choices when getting their shower repaired properly.
We do this with our 15 years experience that you can read about here and it is the secret behind the quality of service we provide that has generated over 100 written reviews you can read about here.
From our perspective, the scenario looks like
A possible short term fix of building things on top of what was there that has risks associated with damaging tiles or inefficient waterproofing.
A longer term solution (and better quality option) to this shower repair for this rental property would be to remove a few rows of tiles so that we could waterproof up the wall area. This would meet Australian Standards, enable a consistent retiling and grouting of the whole floor space while delivering a clean, safe finish that most likely won't need to repaired again.
Doing a bathroom remodel with new shower cubicle or screen
So we gave the property owner a couple of options to consider;
Option 1 – $1700-$2000
Build a makeshift shower hob;
Scratching the existing paver.
Priming the paver area.
Brick laying a hob (some of the existing paver will still be seen)
Render the brick hob.
Supply and install basic white tiles.
Return to grout
This option couldn't be warranted as we can't determine the condition of the existing waterproofing to know if it will be 100%.
Option 2 – $3500-$4000
Partial shower renovation;
Remove two layers of wall tiles around the shower.
Waterproof over the existing floor tiles.
Waterproof up the wall.
Retile over existing shower tiles on the floor.
Remove and throw away the old wall tiles.
Render the wall and newly built hob.
Supply and install new floor tiles over existing floor.
Supply and install new wall tiles.
Supply new floor drain.
Return to re-grout
This option is obviously more costly but is more thorough and would mean we wouldn't be trying to repair over existing elements. Instead, it is going back a few steps to do the repair properly, saving money in the long term while minimising the risk of water leaks.
How could this shower repair have been done differently?
In this situation the age of the unit and building meant it was near impossible to match the old tiles to try and keep the same look for the shower area repair compared to the rest of the bathroom. There are literally thousands of suppliers, shops, brands and sizes available so for this scope of work it wasn't a requirement to find a perfect fit.
It is possible to find older style tiles if time and effort is put in although typically these can be ten times as expensive as a current tile. So it really depends on the situation so for example if you are restoring a vintage or heritage property it would make sense, but for this simple rental property it didn't.
What other choices were there?
So as we outlined earlier the simplest choices were;
A 'patch' or short term fix which was to create something over the current tiles in place which had a higher risk and the potential need for repairs in the future.
Our recommended solution which was to essentially 'redo' the bottom floor area so it is waterproofed and sealed correctly.
The property owner could have also considered;
Applying a makeover to the shower cubicle area – we could have resurfaced the rest of the shower cubicle area to better blend the old tiles with the new ones. There are a range of modern tile paints that would have helped to achieve this and it could have been complimented with re-grouting all the times or even changing the tapware for a mini makeover. In this instance the owner wanted to minimise the money spent for this rental.




 

Renovating the shower cubicle area – striping back the cubicle area would mean all the tiles matched, it could give the room a fresh look, provide new tapware, showerhead or even storage space so that tenants would be happy, but means the shower is also getting basic maintenance done at the same time.




 

Renovating the shower cubicle & bathtub area – 

the next 'level' would mean giving all the bathing area a facelift. Apart from getting all the tiles matched, it could give the room more impact as well as new tapware, fittings etc maybe even more space in the room using modern design techniques.




 

Renovating the bathroom in the unit – depending on your plans for the rental property, renovating the whole bathroom could provide various financial benefits while also helping your property stand out from other rental listings in the area. People choose places to rent based on kitchens and bathrooms typically because we spend so much time in each of them. It would also mean everything is updated to modern standards, styles and with the latest design techniques.
What type of repair did the client choose?
Choosing the cheapest repair option isn't always the best
Nu-Trend provided a range of options for this property owner to consider and we are glad they chose our option 2 which was the slightly more expensive option but the one that would avoid costly shower repairs in the future.
He made the decision after reading the reviews other people have written about Nu-Trend, learning more about our Service Guarantee and being intrigued by our 'No Gimmicks' Policy
What is our 'No Gimmicks' Guarantee?
We don't use any silly sales gimmicks or tricks
With so many years in the trade, the Nu-Trend team has seen their fair share of sales tricks, special offers, promotions and other gimmicks to secure business. Rather than copy what everyone else is doing they decided a long time ago to avoid all the typical gimmicks and stick to clear, upfront information and pricing, including the provision of free quotes.
Here are the most common sales gimmicks you will see and how they work, keep in mind there is a reason most service industries don't disclose fixed prices.
$50 off if you mention this ad
This is the most common one you will see in local newspapers, online advertising or letterbox flyers. Although think about it, how can they provide a genuine discount when they haven't even visited your property or know the real extent of the work required?
They may show '$50 Discount' on their Invoice, but they have added that cost into either their labour, parts or another part of their work done. 
So you may think like you have received a discount, but you haven't really.
This is second most common gimmick you will see in local newspapers, online advertising or letterbox flyers. It's similar to the $50 off deal, how can they provide a genuine discount when they haven't even visited your property or know the real extent of the work required?
They may show a % Discount on their Invoice, but typically they have either over-quoted to create a perceived discount or found 'extra work required' that probably didn't need doing.  
The discount might get shown as a line item on the invoice but it has been accounted for in higher pricing or extra servicing. Either way it isn't a genuine offer in most cases.
FIX A BLOCKED DRAIN FOR $79
We love this one, it seems so simple right? Come and unblock a drain for less than $100. Although this hides what is really an opportunity to secure a job and get onto your property. They aren't going to know what is the cause of the blockage before inspecting it, it could be deep within your pipes, a sewer, tree roots or other things.
How could all these scenarios or deeper inspections possibly only cost $79? A blocked drain could actually be a repair worth thousands of dollars depending on the circumstances.
ON TIME OR WE PAY YOU $100
Being on time is one of the biggest issues Customers have with tradespeople. The perception is that a tradie doesn't care or isn't disciplined although sometimes there are so many unexpected variables that can occur from one job to another. We will always let you know immediately.
Getting $100 for being late sounds pretty attractive, but guess what, it's another trick where that amount is added elsewhere into the pricing of your service.
Call out fees are a tricky one. The vast majority of tradesman will do free site visits and quotations, so seeing the $0 fee isn't really unique or different, they are generally free anyway.
The ones that do charge a fee to cover their time may then give you the amount as a discount, but guess what, it's probably buried in their quotation anyway. One way or another any service business needs to charge or recover money for time spent.
SAVE $100 ON A NEW WATER HEATER
This one sounds like a typical retailer promotional offer. Unless you do your own research and select a make and model of water heater, then get price comparisons for 'supply only' then how will you know if you are getting a real discount or not?
You might get $100 off the unit, but then the labour component is higher than normal. So always best to ask for a quote for exact same model and labour quoted separately so you can compare.