How you can avoid costly leaking shower repairs in Sydney.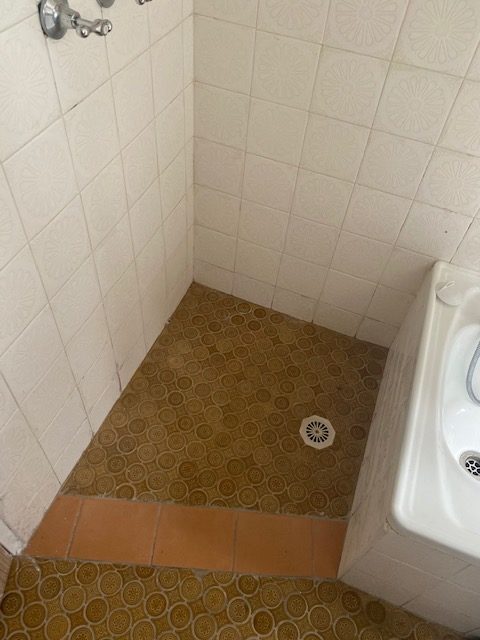 Nu-Trend deals with bathroom plumbing repairs in Sydney and one of the most common things we get asked to look at is a shower that is leaking. Sometimes it is simple like an old shower head that is dripping, a worn out tap & in more serious examples it could be water pooling on the floor or even moisture getting into the wall cavities.
For any property owner it might seem as though getting a leaking shower repair may be simple. Although in lots of cases there could be underlying problems that aren't obvious to a bathroom plumbing contractor who doesn't have the right level of experience. 
The benefit of choosing Nu-Trend is that we have a team of licensed plumbers and renovators that have broad, extensive experience. We explore beyond the most visible problem because we understand property construction.
In this example our expertise helped a landlord save lots of money from being wasted on regular repairs for a rental unit.
Why choosing a cheap repair isn't always the smartest choice
Whether you own a rental property or it is your own home there will always be situations where you have to choose between short term, cheap repairs or more extensive choices. Sometimes the quick fix can become a false economy, especially if long term damage is caused elsewhere.
For this property, the owner was doing what thousands of others do, they leave it up to the real estate agency to manage the problem. Although in most cases they will just opt for the quickest, cheapest repair choice. 
In a lot of cases it could be a local handyman that is chosen and most agents won't go to the trouble of seeking longer term repair solutions. This typically leads to higher management costs over the life of a property through a combination of regular shower repairs, or worse, repairing water damage that is caused to adjoining walls or flooring. The other aspect is that short term remedial work may effect things like the waterproofing or waste pipe services.
Using a shower repair company in Sydney
Nu-Trend is a licensed bathroom plumbing contractor in Sydney that has handled thousands of shower repairs. Blocked shower drains, replace a shower head, fix a leaking tap or even shower renovations – because we are licensed plumbers as well as bathroom renovator contractors you only need to deal with a single tradie team to solve any type of problem you might be having. 
Our staff have vehicles that carry the latest repair equipment and tools to solve any type of shower leak issues, find leaks or deal with failed waterproofing.
You can save money long term by getting shower leak repairs done properly
For the shower repair in Sydney that we completed, our client ended up spending more than the amounts estimated in the quotes he received. Although, we know that he will save money in the long term by not needing to repair it regularly with short term fixes. 
Initially we were called to quote on a shower repair for this newly purchased rental property. The tiled brick hob in the shower cubical used to be the main water block for the floor area, but this was removed to accomodate an elderly lady that used to be live in the property. 
The hob was removed to enable her to have easier access in and out of the shower, although our client now needed the hob replaced so that it could contain the water and improve the safety of the bathroom for the new tenants. 
What issues should you consider before getting bathroom repairs
 For this repair there were quite a few things to consider;
We had to assess what was essentially a 20+ year old shower in old block of units.
Try to determine what had occurred with the partial demolition that was done previously.
Assess what risk there was to the current water proofing, tiling and surrounding area.
Estimate the length of time it would take to prepare the area, remove any rubbish and do the required work.
Understand any limitations with access to the building, tenants or the owner.
Take into consideration this was a top floor unit and potential risks for other units below it.
Could there be other ways to solve this for the property owner.
So it makes this type of scenario a little more complicated than normal as we could be creating further damage to the water proofing, tiling or other areas of the room by trying to come up with a quick fix solution. This may have been the cheaper option for the property owner although this property was a unit on the top floor of a building block. This means we had to be extra cautious to make sure any type of renovation or repair would reduce the chance of water flooding to downstairs units and causing major damage.
We already know from experience that sometimes a plumber may be forced to do a quick repair job without the property owner really understanding the potential risks. We typically avoid these situations as we don't believe it is good practice and while we love all our Clients we don't really want to be seeing you again because of poor choices being made to getting bathroom repairs done. 
What options were available to repair this old shower area?
As an experienced shower repair company in Sydney we realise that property owners are trying to maximise their rental returns. Although sometimes taking the cheapest repair option can be a false economy as you will be paying for further repairs later on. Our company in these situations will provide advice and expertise that includes a few options with different pricing to give a property owner the right choices when getting their shower repaired properly.
We do this with our 15 years experience that you can read about here and it is the secret behind the quality of service we provide that has generated over 100 written reviews you can read about here.
From our perspective, the scenario looks like
A possible short term fix of building things on top of what was there that has risks associated with damaging tiles or inefficient waterproofing.
A longer term solution (and better quality option) to this shower repair for this rental property would be to remove a few rows of tiles so that we could waterproof up the wall area. This would meet Australian Standards, enable a consistent retiling and grouting of the whole floor space while delivering a clean, safe finish that most likely won't need to repaired again.
Doing a bathroom remodel with new shower cubicle or screen
So we gave the property owner a couple of options to consider;
Option 1 – $1700-$2000
Build a makeshift shower hob;
Scratching the existing paver.
Priming the paver area.
Brick laying a hob (some of the existing paver will still be seen)
Render the brick hob.
Supply and install basic white tiles.
Return to grout
This option couldn't be warranted as we can't determine the condition of the existing waterproofing to know if it will be 100%.
Option 2 – $3500-$4000
Partial shower renovation;
Remove two layers of wall tiles around the shower.
Waterproof over the existing floor tiles.
Waterproof up the wall.
Retile over existing shower tiles on the floor.
Remove and throw away the old wall tiles.
Render the wall and newly built hob.
Supply and install new floor tiles over existing floor.
Supply and install new wall tiles.
Supply new floor drain.
Return to re-grout
This option is obviously more costly but is more thorough and would mean we wouldn't be trying to repair over existing elements. Instead, it is going back a few steps to do the repair properly, saving money in the long term while minimising the risk of water leaks.
How could this shower repair have been done differently?
In this situation the age of the unit and building meant it was near impossible to match the old tiles to try and keep the same look for the shower area repair compared to the rest of the bathroom. There are literally thousands of suppliers, shops, brands and sizes available so for this scope of work it wasn't a requirement to find a perfect fit.
It is possible to find older style tiles if time and effort is put in although typically these can be ten times as expensive as a current tile. So it really depends on the situation so for example if you are restoring a vintage or heritage property it would make sense, but for this simple rental property it didn't.
What other choices were there?
So as we outlined earlier the simplest choices were;
A 'patch' or short term fix which was to create something over the current tiles in place which had a higher risk and the potential need for repairs in the future.
Our recommended solution which was to essentially 'redo' the bottom floor area so it is waterproofed and sealed correctly.
The property owner could have also considered;
Applying a makeover to the shower cubicle area – 

we could have resurfaced the rest of the shower cubicle area to better blend the old tiles with the new ones. There are a range of modern tile paints that would have helped to achieve this and it could have been complimented with re-grouting all the times or even changing the tapware for a mini makeover. In this instance the owner wanted to minimise the money spent for this rental.

 

Renovating the shower cubicle area – striping back the cubicle area would mean all the tiles matched, it could give the room a fresh look, provide new tapware, showerhead or even storage space so that tenants would be happy, but means the shower is also getting basic maintenance done at the same time.

 

Renovating the shower cubicle & bathtub area – the next 'level' would mean giving all the bathing area a facelift. Apart from getting all the tiles matched, it could give the room more impact as well as new tapware, fittings etc maybe even more space in the room using modern design techniques.

 

Renovating the bathroom in the unit – depending on your plans for the rental property, renovating the whole bathroom could provide various financial benefits while also helping your property stand out from other rental listings in the area. People choose places to rent based on kitchens and bathrooms typically because we spend so much time in each of them. It would also mean everything is updated to modern standards, styles and with the latest design techniques.
What type of repair did the client choose?
Nu-Trend provided a range of options for this property owner to consider and we are glad they chose our option 2 which was the slightly more expensive option but the one that would avoid costly shower repairs in the future.
He made the decision after reading the reviews other people have written about Nu-Trend, learning more about our Service Guarantee and being intrigued by our 'No Gimmicks' Policy
Here are some of our recent bathroom renovations in Sydney that Nu-Trend has completed. The majority of the projects we are contracted for are complete bathroom renovations where the room is completely stripped so that the flooring, walls, tiling and waterproofing is installed brand new.
Local | Licensed | Insured

Protection for home owners.
Local Sydney contractors.
A qualified and licensed renovator.
Public liability insurance for peace of mind.
Drainer | gas fitter | plumber | renovator
Nu-Trend is a Sydney company with more than 15 years experience completing bathroom renovations & solving plumbing problems. he Directors Rob and Rick are hands-on, and provide a personalised service.
STANDARDS AUSTRALIA AS/NZS3500:2018 Compliant
All the work carried out by Nu-Trend is AS/NZ3500:2018 compliant. It is the Australian Standard for Plumbing and Drainage in NSW as set down by Standards Australia and the Australian Building Codes Board. They give the plumbing industry technical direction to enable compliance with required regulatory frameworks.
15 years experience with a written commitment.
Rick and Rob are the hands-on directors for Nu-Trend. Rather than hire sub-contractors and manage their business from a distant office, they are on the tools, at your site & working towards delivering your bathroom renovation or plumbing service. It means you are talking directly to the owners of the business, the guys who are accountable and responsible rather than via email or through customer service teams.
It is why they are able to provide a written guarantee that demonstrates their confidence in standing by the quality of their workmanship and the service they deliver to every single client.
They have a very single minded commitment to deliver a high level of professionalism and quality, they've been doing renovation contracting in Sydney for 15+ years.