A plumber in Sydney can repair your leaking bathroom tap
Old taps don't have to be replaced


Save money by servicing your old taps using a licensed plumber in Sydney


Use high quality components so that taps work for a long time
This home owner in Epping, Sydney had an unusual problem, water was leaking from under the tap handle. They thought they might have to replace their bathroom taps, we explain why you don't need to & it is cheaper to get them repaired. 
A plumber that does bathroom tap repairs in Sydney
You don't have to replace old taps, they can be repaired
Nu-Trend is a bathroom plumber in Sydney that can repair leaking taps. In most cases you don't have to replace your tap hardware. That's right, we know there might be plumbers in Sydney who suggest it is faster and cheaper to replace your whole tap, but they might be doing this to save time & also install a cheap tap that fails a few months later.
Most existing taps can have their internals replaced with new items so that the tap works as it should. Leaking tap repairs is one of the most common plumbing requests we are asked to work on because they are high use items for any home.
Where was the tap leaking?
For this home owner they had an unusual leaking tap problem in the bathroom. When they turned the hot water tap on, there would be cold water leaking from under the handle of the cold water tap. It wasn't a small drip, there was lots of water leaking onto the vanity as long as the hot water tap was running.
There weren't any other leaks inside the bathroom cupboard or from the service pipes. So this made it relatively easy to diagnose the problem being isolated to the taps themselves.
Why was the tap leaking?
The cause of the leaking tap in the bathroom was most likely due to aged internal components. The washers, o-rings, cartridge or other parts can deteriorate with age & constant use. This is pretty common, especially when cheap nylon or plastic parts are used. The constant forces exerted on these elements will lead to eventual failure. Using polyurethane can be a better choice for a tap to last longer and work correctly.

When the hot water tap was opened the pressure build up between the two taps was too much, therefore some water came out of the cold tap from under the handle. Both taps were also a little bit notchy and hard to turn off completely.
So we knew immediately that they needed to be serviced rather than replaced.
What gets replaced to repair a leaking bathroom tap?
Repairing a tap
When a licensed plumber has worked out the taps can be repaired the next step is to work out which parts need to be changed. In most cases it is the ceramic disc cartridge, o-ring, washers or the flexible hoses that get replaced.
Although this will just depend on what elements are not working as they should. We always recommend to service the whole tap so that all the main working elements have the same age, meaning the perishable parts are all replaced together.
This makes sense considering the plumber already has your tap in pieces and is on site, this can reduce your costs by avoiding the need for repeat visits.
What is inside a tap that can be repaired?
There are many different types of taps so the parts that can be repaired or replaced will depend on the model, its age & what has failed. Generally we will assess;
Handle – this controls the hot and cold temperature and flow (single mixer tap) by manipulating the cartridge inside.

Button Hole Cover/Indices/Grub Screws – this is a cover for the grub screw which loosens/tightens the handle to the cartridge. 
Decorative Shroud – this covers the retaining nut that holds the cartridge in place normally.
Cartridge Retaining Nut – holds the cartridge in place inside the tap.
Ceramic Disc Cartridge – this valve controls both the temperature by mixing the hot and cold inputs and also the flow. When the handle is moved, it moves two ceramic discs relative to each other in this cartridge. This is the main element of the tap.
Tap Body – This is the main body/housing of the tap.
Seal, aerator and nozzle – This is where the mixed water exits the tap. It goes through an aerator, which is housed in a nozzle and screwed into the tap body. The nozzle is made water tight using a seal. 
O-ring – these will seal the tap to the basin so no water can leak through the basin hole.
Threaded Bar – this is screwed into the tap body and used to mount the tap to the basin.
Threaded washers – the washers protect the basin and ensure the load is spread evenly.
Flexible Hoses – will connect the tap body to the water supply. 
Valve – controls the flow of water.
Old taps will be different to modern ones, but the general principles will apply.
Why is using polyurethane washers & tap valves a good idea?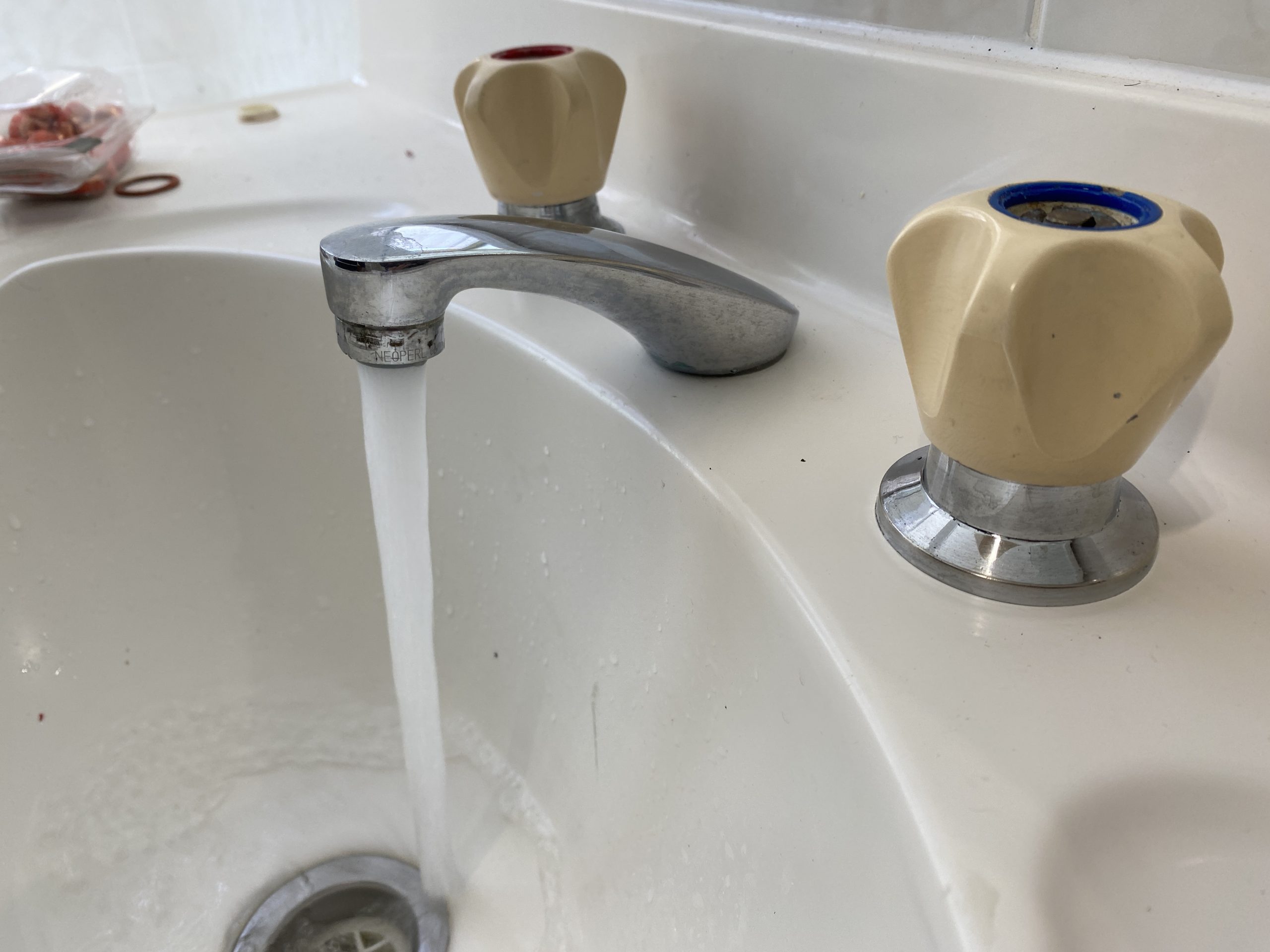 Sometimes to save money a plumber in Sydney might use cheap rubber or nylon washers or tap valves when repairing a leaking bathroom tap. At Nu-Trend we always avoid taking shortcuts like this, for the sake of a few dollars we would rather the tap is repaired correctly rather than be called out again in a few months time.
You can ask your plumber what they will be using to service the taps. Using polyurethane based components has advantages over both metal, nylon or rubber parts as they will generally not go brittle over long durations, as well as being no
n-conductive
. Polyurethane washers also have better tear resistance qualities vs general grades of rubber washer
s. This means they are more durable in the moving elements of your ta
p.
The whole point of these components is to prevent leakage of water while under pressure. You have to fill the space between two or more surfaces that are in contact. Using high quality components to repair leaking taps will give you the following benefits;
Better flexibility in a different temperature range – polyurethane can withstand higher temperature extremities compared to standard rubber. It is more resistant to abrasion and can cope with lots of friction, better than rubber. It has a higher load bearing capacity and can handle constant pressures exerted on it. The tough physical properties of polyurethanes enable this type of gasket to resist degradation which is in sharp contrast to what you will get with other materials.
That is why you can see in the video there is very little effort now required to open and close the taps.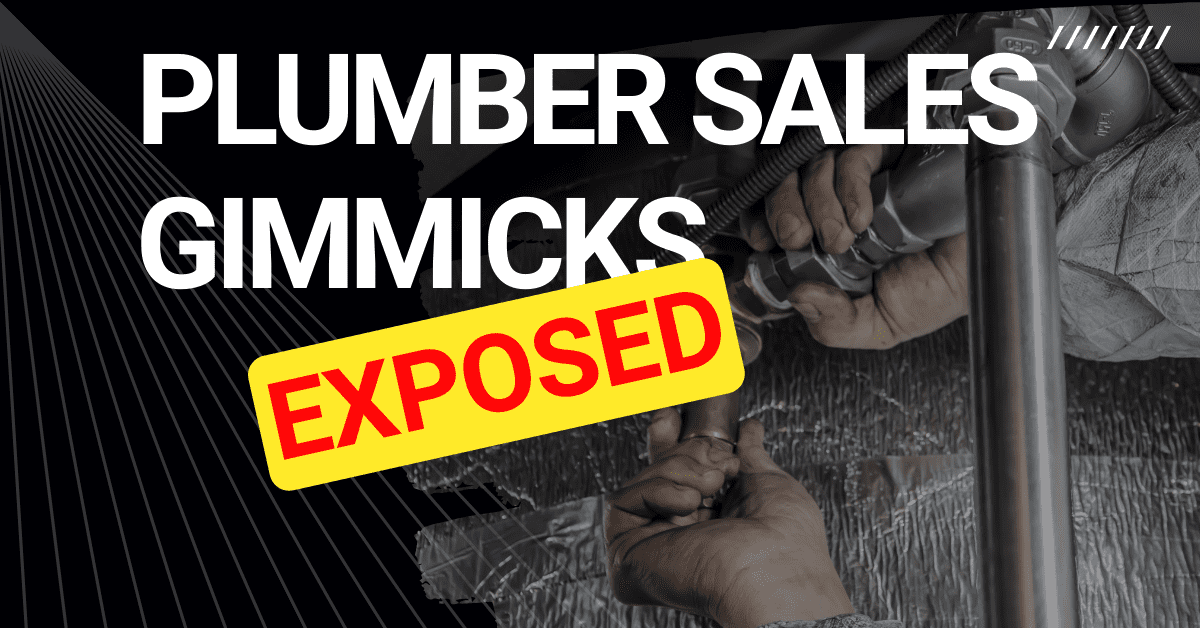 We uncover some of the most common sales gimmicks used by Sydney plumbers & explain how you can avoid getting ripped off when getting quotes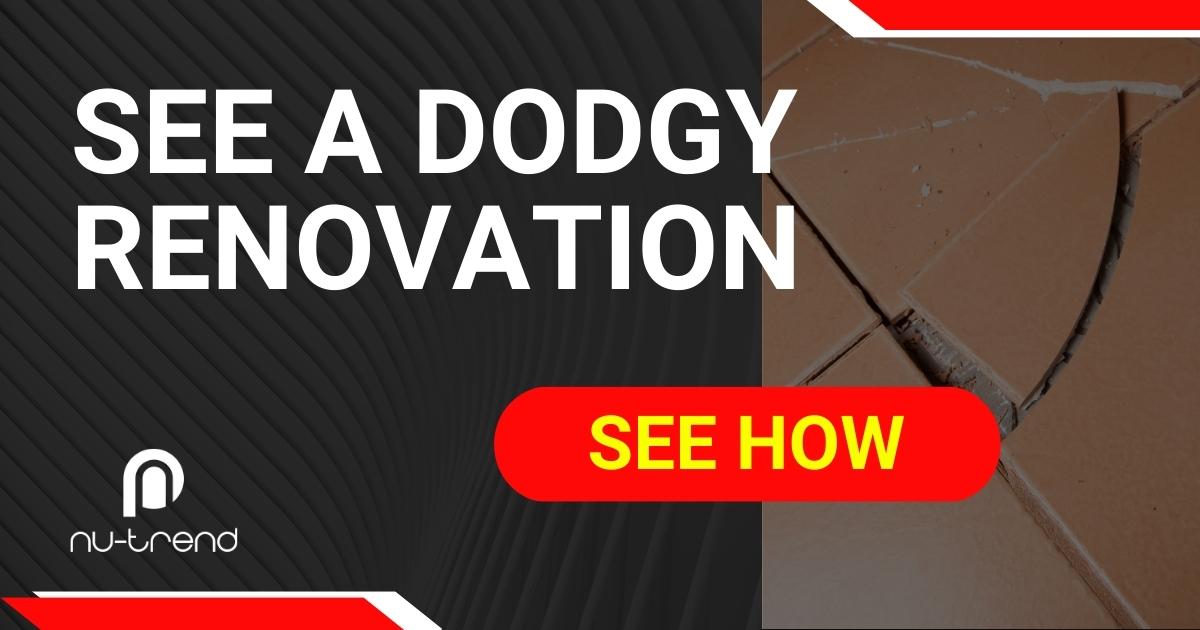 Nice uniforms, stylish work truck, fancy iPads & perfect photos can hide low cost bathroom renovations that are poor quality, see these examples for proof
Local | Licensed | Insured

Protection for home owners.
Local Sydney contractors.
A qualified and licensed renovator.
Public liability insurance for peace of mind.
Drainer | gas fitter | plumber | renovator
Nu-Trend is a Sydney company with more than 15 years experience completing bathroom renovations & solving plumbing problems. he Directors Rob and Rick are hands-on, and provide a personalised service.
STANDARDS AUSTRALIA AS/NZS3500:2018 Compliant
All the work carried out by Nu-Trend is AS/NZ3500:2018 compliant. It is the Australian Standard for Plumbing and Drainage in NSW as set down by Standards Australia and the Australian Building Codes Board. They give the plumbing industry technical direction to enable compliance with required regulatory frameworks.
15 years experience with a written commitment.
Rick and Rob are the hands-on directors for Nu-Trend. Rather than hire sub-contractors and manage their business from a distant office, they are on the tools, at your site & working towards delivering your bathroom renovation or plumbing service. It means you are talking directly to the owners of the business, the guys who are accountable and responsible rather than via email or through customer service teams.
It is why they are able to provide a written guarantee that demonstrates their confidence in standing by the quality of their workmanship and the service they deliver to every single client.
They have a very single minded commitment to deliver a high level of professionalism and quality, they've been doing renovation contracting in Sydney for 15+ years.