Don't hire a plumber if they don't have water leak detection equipment


If a leak isn't fixed properly it can cause water damage that you can't see
Nu-Trend's plumber found the cause of water leaking within 60 minutes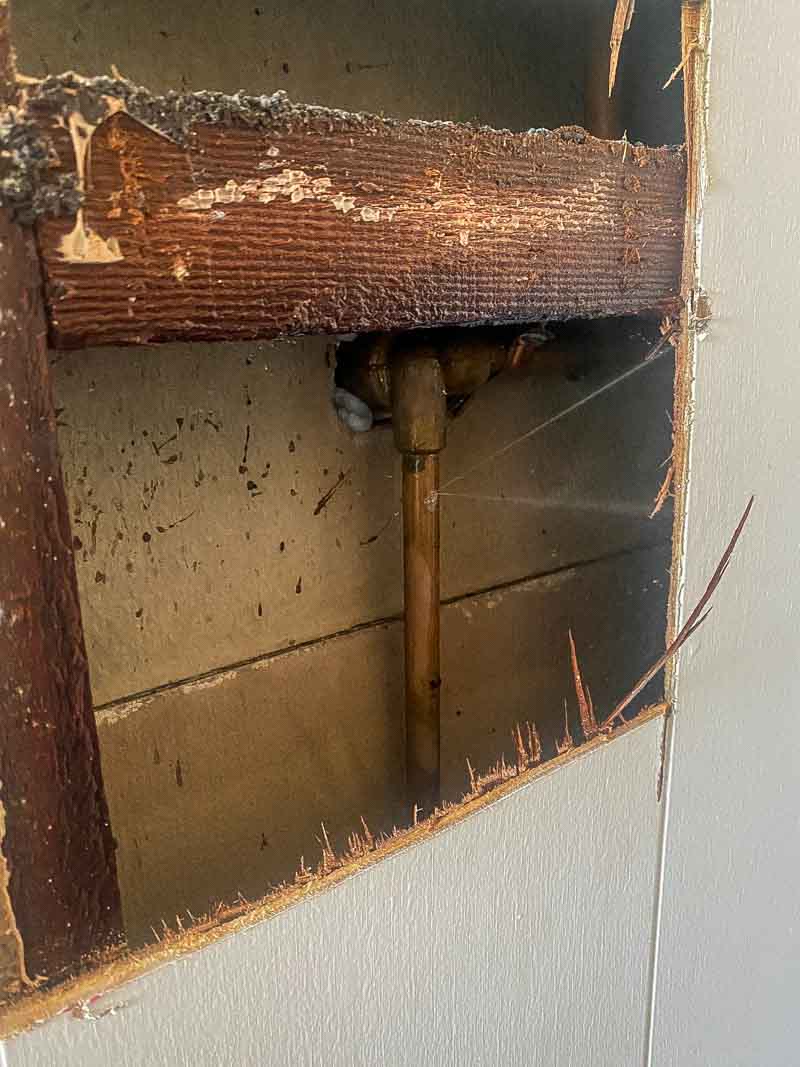 We get so frustrated by the dodgy tradespeople that operate in Sydney. We have invested thousands of dollars to equip our plumbing vans with all the tools needed to solve all kinds of plumbing problems. For this property owner they chose a local plumber who didn't have the right equipment.
Guess what happened?
They didn't find or repair the source of the leak correctly and it led to further water damage of their property.
Nu-Trend is a local, licensed plumber in Sydney that has a range of professional equipment that are used to repair all household plumbing problems, including the ability to find water leaks. While our workshop is located in Hurstville we are able to visit any suburb in Sydney to repair bathroom plumbing problems, rectify a blocked drain or even help to complete a renovation project.
Let us example what happened

Not all plumbers in Sydney have professional water leak detection equipment.
As we touched on in our introduction,  we were called out by a Client who had water gushing into the garage under their bathroom which was tenanted to someone else. That's right, their water was leaking into someone else's property. They had a bathroom directly above the garage and there was also a kitchen, but there wasn't any obvious signs of water leaks in either of the rooms directly. 
They had contacted another plumber in Sydney in the hope they could find the water leak. They even went so far as removing the tiling under the bath but couldn't find it. Can you believe they left the property damaged & the owner still had a leak!
Yes, the person had to pay for a plumbing contractor to come out, look around, damage their property and walk away without finding a solution. This is what drives us crazy when we hear these types of stories.

Why couldn't the plumber find the water leak?
Sadly the plumber they hired was basically hoping it was something obvious that they could see from a visual inspection. In a lot of cases this might be true & therefore it becomes a relatively easy thing to repair.
Although the problem with that is the plumber who takes that approach is also deciding to take a big risk that they won't be able to find anything. If they don't have the right level of professional water leak detection equipment they have no chance of finding leaks when they are inside walls or floors. See Nu-Trend has 20 years of experience working as plumbers and bathroom renovators and we have developed a unique process over the years to find leaks quickly & efficiently. We have also invested to have all the right tools & equipment to cater to different situations.
Using a mixture of our experience and our leak detection equipment we found the source of the leak in this bathroom by tracing the source to within millimetres of where it was happening. We cut a whole in the wall to discover a tiny pin hole in the copper piping that was spraying water into the wall cavity. This was then draining to the lower floors of the building which was causing all sorts of water damage to the property.
Guess what? It took us less than 60 minutes to achieve this & the owner could clearly see the cause of the problem rather than us providing a few 'maybes'
We repaired the leaking pipe and the owner didn't want us to repair the wall so we replaced the piece that was cut out. Unfortunately it was a hard lesson for the property owner as they had chosen a cheap plumber who didn't have the right equipment and couldn't solve their problem. It meant their bathroom was damaged and they had paid for multiple contractors to visit.
That is why you should always ask what equipment a plumber has, ask to see some proof & check that they are licensed, qualified & experienced to complete the actual work. Unfortunately there are too many plumbers in Sydney who will accept a job hoping they can resolve it easily.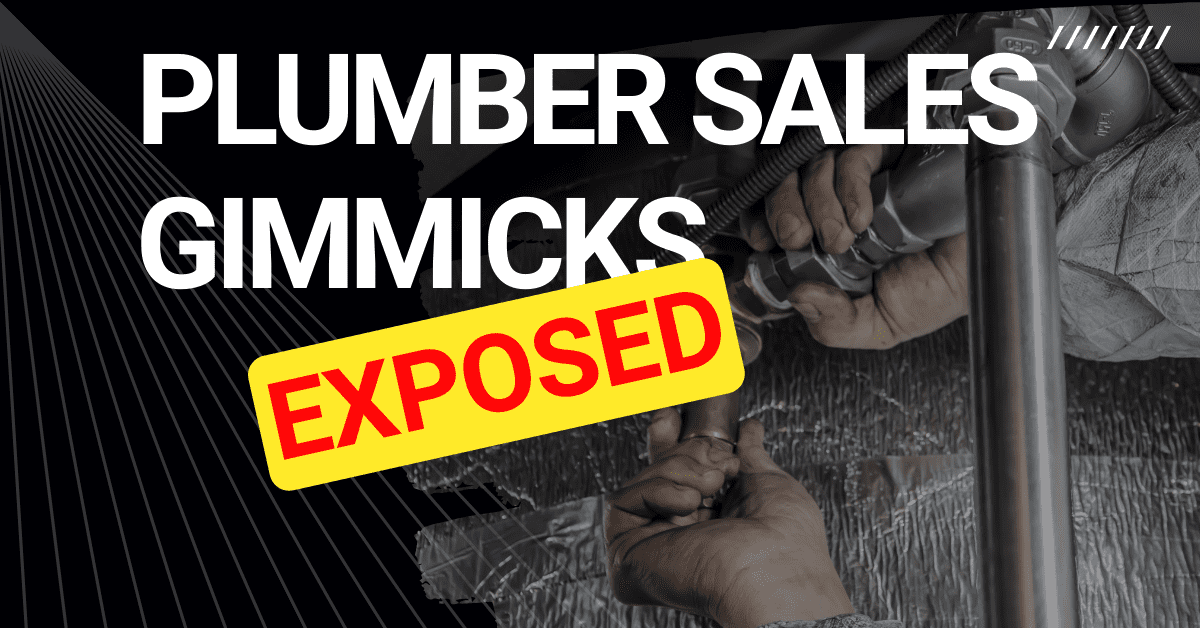 We uncover some of the most common sales gimmicks used by Sydney plumbers & explain how you can avoid getting ripped off when getting quotes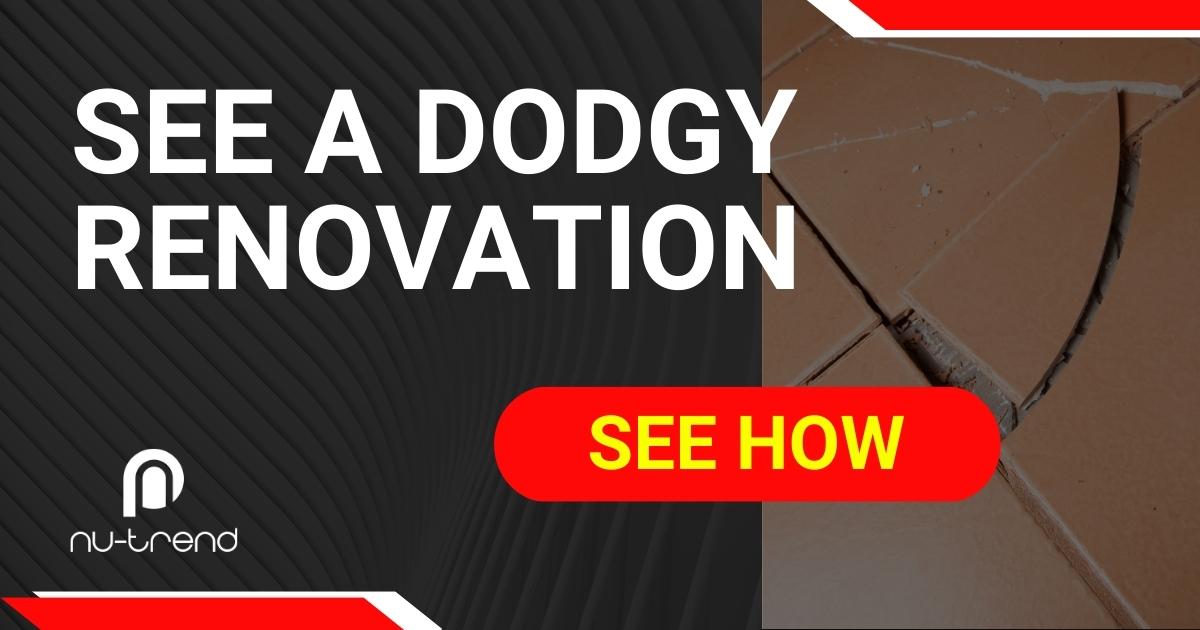 Nice uniforms, stylish work truck, fancy iPads & perfect photos can hide low cost bathroom renovations that are poor quality, see these examples for proof
Local | Licensed | Insured

Protection for home owners.
Local Sydney contractors.
A qualified and licensed renovator.
Public liability insurance for peace of mind.
Drainer | gas fitter | plumber | renovator
Nu-Trend is a Sydney company with more than 15 years experience completing bathroom renovations & solving plumbing problems. he Directors Rob and Rick are hands-on, and provide a personalised service.
STANDARDS AUSTRALIA AS/NZS3500:2018 Compliant
All the work carried out by Nu-Trend is AS/NZ3500:2018 compliant. It is the Australian Standard for Plumbing and Drainage in NSW as set down by Standards Australia and the Australian Building Codes Board. They give the plumbing industry technical direction to enable compliance with required regulatory frameworks.
15 years experience with a written commitment.
Rick and Rob are the hands-on directors for Nu-Trend. Rather than hire sub-contractors and manage their business from a distant office, they are on the tools, at your site & working towards delivering your bathroom renovation or plumbing service. It means you are talking directly to the owners of the business, the guys who are accountable and responsible rather than via email or through customer service teams.
It is why they are able to provide a written guarantee that demonstrates their confidence in standing by the quality of their workmanship and the service they deliver to every single client.
They have a very single minded commitment to deliver a high level of professionalism and quality, they've been doing renovation contracting in Sydney for 15+ years.