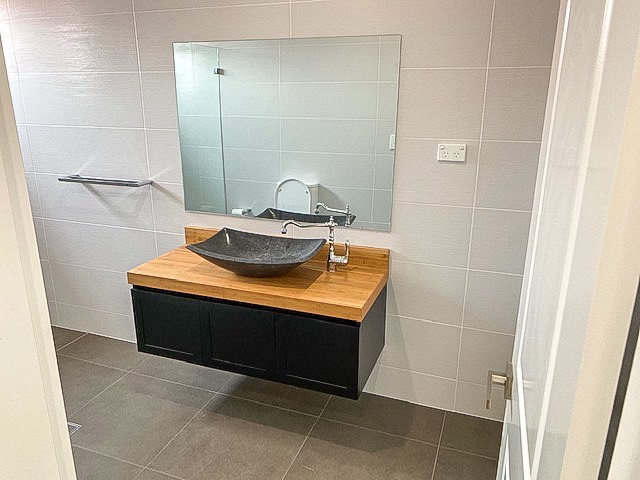 A master bathroom renovation in Bankstown with Parisi products
The project site for this master bathroom renovation was in house in Bankstown, Sydney. The Client was a window fabricator and loved the way we work, appreciating the attention to detail we put into our renovation projects. He chose Nu-Trend for this master bathroom renovation project as well as all the plumbing he needed for the other rooms, gas lines, pool heating and kitchen plumbing.
The only slight delay was due to not having been provided all the tap ware specifications before we started work. Getting this information is a crucial step to minimise the time taken to do the rough in work to place each item correctly. Without this information there are too many things that are being estimated or guessed. This could lead to taps or pipes being placed in the wrong location or things like tiles, shower heads or other items not installed correctly.
The house was getting rebuilt so we started with lots of the new plumbing with drainage as well as hot or cold water needing to be run into the new rooms. We also took care of all the waterproofing as we are licensed, trained and qualified to do this as part of all our plumbing or bathroom renovation work.
By doing a complete renovation you get to start from scratch and make sure the room is stripped bare to avoid any unforeseen surprises. Fortunately, that was the case for this project, although read our story about the issues another property owner faced where we had to replace their bathroom flooring because the wrong materials had been used –  read about it here
Our typical scope of work for master bathroom renovations.
Our scope of work for this bathroom renovation in Bankstown was extensive and included the following items;
Managing the strip and demolition of the existing bathroom & removing all the rubbish.
Re-instate plumbing hot and cold water with the drainage staying as is via the concrete slab.

Waterproofing and certification processes.

Remove render and re-render all walls

Prime and waterproof bathroom with waterproofing to be applied below and under the screed with 3 days drying time in between.

Tile all the walls and floors

Grout all the floors and walls
Paint the existing ceiling
Run new drainage for 4 x new bathrooms
Run new hot and cold water 4 x new bathrooms
Run new drainage and water for kitchen and out door kitchen
Run new gas line for gas bayonets and pool heating
Fit off the items such as taps, accessories, pc fixtures, bath, mirror etc.
Test and commission
Professional industrial clean of the room at completion.
A couple of clever ideas for bathroom renovations.
A shower wall niche has become a modern trend for new bathroom renovations. It utilises empty space in the wall to turn it into a shelf for storing common shower items. It means you don't need to use hanging baskets or other ugly items in your shower but have an easy to reach shelf.
A feature wall can add impact and style to any bathroom size whether it is for a house, unit or apartment. It gives you that wow factor that can transform a bathroom.
A floating vanity unit can help make a room feel larger. Visually what happens is your eye can see more of the floor and naturally the room or space feels larger because you can see further. By placing a vanity unit, cupboard or other furniture on the walls in a floating style you can make any small bathroom feel larger.
A complete clean up from street to bathroom. We don't leave mess anywhere and make sure every element has been cleaned to return it to normal.
We also take care of the little things like making sure the rubbish removal bin is covered so that dirt, debris etc doesn't fly out on the street and it makes it easier to be taken away.
What have our clients said?
"I recently employed Rick Karagiannis and the team from Nu-Trend. From the moment they agreed to come and quote on the job, I knew I had a good team. They were on time, efficient, realistic and keen. This sadly is unusual when attempting to get tradesman to your house.

The process of renovation was clearly mapped out and appropriately costed. This is not my first renovation or build and so I was ready with an armful of questions. Both Rick and Robby were able to promptly answer any queries I had. They made the effort to travel to the company I had chosen to use for bathroom products and therefore had a good understanding of what was ahead of them. I have no hesitation in recommending Rick, Robby and their team."
"Called nu trend as we needed urgent works to our bathroom. They came and installed our new toilet suite in a timely matter and even cleaned up after they finished. Easy to deal with and very responsive. Would definitely use again for future renovations and bathroom fixes! Thanks guys"
"The boys were referred to me by a good friend of mine. They completed two upstairs bathroom renovations for us which look IMMACULATE. We were not the easiest clients to work with however the boys went to extreme lengths to please us daily! They are everything from respectful, super clean, perfectionists and beyond. We were so happy we have decided to use them downstairs to renew all of our plumbing, renovate two old bathrooms downstairs and create a complete new bathroom and balcony area!! Anyone who would like to see the works please contact the boys and we can organise a site visit! A plus plus plus"
Photos of the completed bathroom renovation in Bankstown.
* Please note these photos are not professional property images. They have been taken using a mobile phone making it quick and easy to show off some of our work without gimmicks or photoshop trickery.
5 tips for a bathroom renovation in Bankstown
1. Light, lots of bright, fresh light
These days modern bathrooms are being renovated with a focus on creating as much light as possible in the room. This creates a very open, spacious feeling and can help lift the mood as soon as you enter the room. It also helps reduce mould and typically helps with ventilation.
There are other ways to maximise light in a bathroom if the available window is very small. You can;

Install a skylight to avoid loosing wall space and have free, natural light.
Use shower screens that are 100% clear rather than frosted so that you can see the whole room and light can fill each corner perfectly.
Use a frameless shower screen with clear glass, this not only makes the room feel larger but there are less elements for light to be absorbed.
Use bright colours so that any available light is then bouncing around the room
Use gloss tiles to help reflect light in the room
A glass door
You can install a glass door which is a unique idea for a bathroom but if it is frosted it will maintain privacy, but let lots of light into the room. 
Use a sliding door to save space in a bathroom as it opens and closes into a wall cavity rather than going into the room. Saving space is really important for Sydney bathroom renovations as so many of the rooms are quite small and less than 12m2.  
Consider a feature wall



Some people consider a feature all a little old fashioned. Although you are probably thinking of bright bold colours or something really weird that you hate the site of. These days there are some incredible tile designs available that can create truly unique feature walls for a bathroom, ensuite or master bathroom.
A bathroom feature wall is a great way to make a statement and give your room wow factor to make it feel like a luxury day spa or hotel room. 
If you do it correctly the feature wall can visually tie the whole bathroom together and give it a sense of unity with incredible bathroom design by professional renovators. 
Feature walls can be great for spall spaces as it can create a visual illusion of more space in the room. You could even run the same tiles from the floor up a wall to create the illusion of height.
Large feature wall tiles can be easier to clean and maintain compared to smaller ones.
Although be careful, if it isn't done right a feature wall in a bathroom renovation can be distracting, date easily and hard to change because it isn't like re-painting over a wall or grabbing some new wallpaper.
Here are some 2020 trends in bathroom renovations
Wall-mounted bathroom vanity units
If you install your bathroom vanity onto a wall it can make a room feel larger. 
This bathroom we renovated in Clovelly required additional storage, so we placed a towel cupboard in a floating position in the far corner of the room. It enables your eye to see the floor tiles go all the way to the wall, thus creating an illusion of space and size.
An open wet area
An open wet area is for those who are a little more adventourous with their bathroom designs and rather than having a large wall or shower screen the room is designed to have a shower but with a large open area. Normally the drainage will be along the edge of the wall and taps in a corner. You can have a shower with complete freedom.

A shower that is an open wet area makes the room feel larger instantly as there are no visual distractions and are very bold.
Large tiles
Using large format tiles for your bathroom renovation can make a room feel larger. With big single surface areas and very few grout lines the room is less busy or crowded to the eye. Larger tiles are also easier to keep clean.
Lots of mirrors
Using mirrors the right way can really get the light bouncing around in a bathroom to make it feel brighter and larger. It can also be done in a way to show off key features as people walk into the bathroom. 
Nu-Trend have 20 years experience delivering all types of bathroom renovations in Sydney. We are professional renovators who are licensed, qualified and local. Using clever design techniques you can make even a small bathroom feel like a luxurious space that you will love to have a shower in every day.