Bathroom renovation styles that you can get inspo from
Woah we wish we were given a dollar every time someone asked us 'what is the best style to use in my bathroom renovation' The crew at Nu-Trend love building things and renovating rooms, but we'll freely admit we aren't interior designers. Plus you have to remember you are the one that has to live with the bathroom day in day out, easy for us to like the look of something but personal taste is so unique.
For large renovation projects we will include a session with an interior designer who can help plan your styling, materials, colours and products to make the whole process easier. Although, once you decide it is time for a change the first thing you need to do is begin looking at the current bathroom renovation trends in design, materials, fixtures and fittings to get some inspiration for your project. This can be either daunting or exciting depending on your expectations, there are literally millions of variations and choices you can make although it is easy to narrow these down.
Step 2: Make the decision about whether you are complimenting the existing styling of your property or starting a new one. This will eliminate lots of potential choices immediately.
Step 3:

Begin creating a 'mood board' with examples of the colours, textures and styles you have in mind.
The simplest thing to then do is jump on Pinterest, Instagram or buy some of the latest renovating or interior design magazines to pull together your ideas. It is possible to literally replicate anything that you see in a photo – it just comes down to time and budget available.
#1 - Hotel Inspired Bathroom Renovation Styles
It's possible to renovate using 5-star hotel luxury styling for you bathroom at home. By selecting the right materials with textures and finishes that are similar to those used by the large hotel chains you can replicate the look in your home fairly easily. It is a bathroom renovation trend that probably won't go out of style unless it is extremely unique because hotel styling is typically aimed at appealing to a wide cross section of people in a way that won't date.
The reason the hotels do this is to minimise refurbishment costs over the life of the rooms. So it becomes a good source for inspiration as they use interior designers paid lots of money to help make these decisions.
It also gives you the opportunity to re-create your favourite hotel room style and feel like you are on holidays every day.
Colour palette; colours that make you feel good, that remind you of places of luxury and relaxation.
Textures; a tactile paradise with a rich array of layers and shapes. Don't be afraid to mix and match.
Tiling; tiles that make a statement in both look and feel. Consider bevelled tiles for depth.
Finishes; Stick with the classics like chrome or black.
#2 - Natural Material Bathroom Renovation Styles

The natural materials we walk past everyday can provide incredible sources of inspiration to design the style of a new bathroom for your home. Natural timbers, granite, metallics or stone can all be used to create stunning results and opulent bathroom designs. 
It is a bathroom renovation trend that probably won't go out of style and by introducing elements like wood you can give the room a feeling of warmth to break up the tile surfaces.
Colour palette; start with a base of grey, white or natural timber, then layer over with rich patterns, textures, finishes and materials.
Textures; smooth, rough, raw and gloss, it's all about contrast. Use three distinct textures for a dynamic look
Tiling; stone finishes, veined marble tiles, granite, colour and patterns. Create a lush look by tiling the whole space.
Finishes; timber bowls, glass candle holders and metallics
#3 - Day Spa Inspired Bathroom Renovation Styles

You can create that relaxing ambience of a high end Day Spa for your bathroom at home. It could even include an indoor / outdoor element with bi-fold doors. Simplicity and space are key elements of this type of design and a free standing bath tub. 
It is a bathroom renovation trend that has been growing in popularity as people become more confident about indoor / outdoor living spaces. An old storage cupboard, small bedroom or even a laundry can be converted so that the space can have a bathroom installed.
Colour palette; keep it simple and add greenery to give it a really tranquil feel.
Textures; a tactile paradise with a rich array of textures and materials.
Tiling; for the walls choose a pattern with a little movement and then pick something solid for the floor
Finishes; materials that feel organic to touch; timber, stone and porcelain.
#4 - Black and White Bathroom Renovation Styles
Using the simplicity of black and white as your theme, this style can be easily applied to small or large bathrooms whether it is a unit, apartment or house. It creates a simpler styling exercise to manage and can fit a wider range of house decore. 
Such simplicity is perfect if you are thinking of selling your house in the near future or renting it for profit. The simplicity just makes it easier to market to a wide array of people and by limiting your colour choices there is less complexity to deal with. 
Colour palette; layer varying shades of black and white to create a bold monochrome look. Don't be afraid to introduce colour accents with plants for extra vibrancy and life.
Textures; add interest with patterns like stripes, checks and spots, and have fun with intricate patterns.
Tiling; try alternating black and white tiles in a checkerboard effect, white subway tiles with black grout, or for something unique – try faceted tiles.
Finishes; invest in unique black tapware, then carry the look through with accessories like black-framed mirrors, dark timber cabinets and coordinating towel rails and hooks.
#5 - Traditional Style Bathroom Renovation Styles
With so many houses and apartment blocks in Sydney built between the 1950's and 1980's there is a plethora of old style bathrooms just waiting to be updated. Although to keep with the style of the rest of the property it becomes necessary to renovate using traditionally styled elements and colours.
Colour palette; the beauty is in the detail of ornate features and an uncluttered aesthetic. Lean toward curved tapware, claw-footed baths and simple accessories.
Textures; a subtle, neutral palette with warm tones is the key to traditional design.
Tiling; lush textures from yesteryear complete a traditional space. Embrace simple woven towels, rich timbers and soft florals.
Finishes; simple is best. Stick to floor tiles and partial wall decorations in a gloss or matte. Add an accent with trimming or feature tiles around the edge of the bathroom.
Here is more free advice about renovating your bathroom in Sydney that Nu-Trend has created. We enjoy sharing our knowledge and experience to help people avoid the common problems caused by dodgy contractors.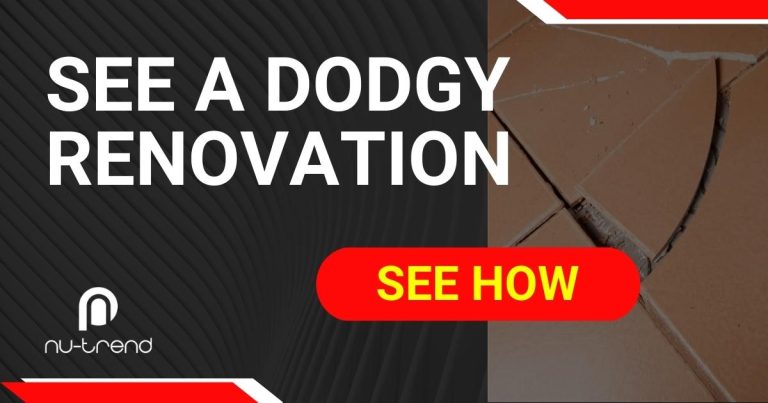 Nice uniforms, stylish work truck, fancy iPads & perfect photos can hide low cost bathroom renovations that are poor quality, see these examples for proof
READ MORE >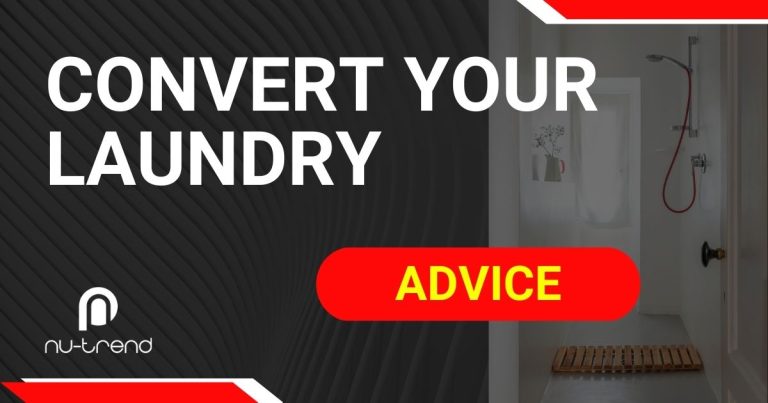 We can convert your existing laundry or powder room into a complete bathroom. See how much it costs and what is required to get this renovation work done.
READ MORE >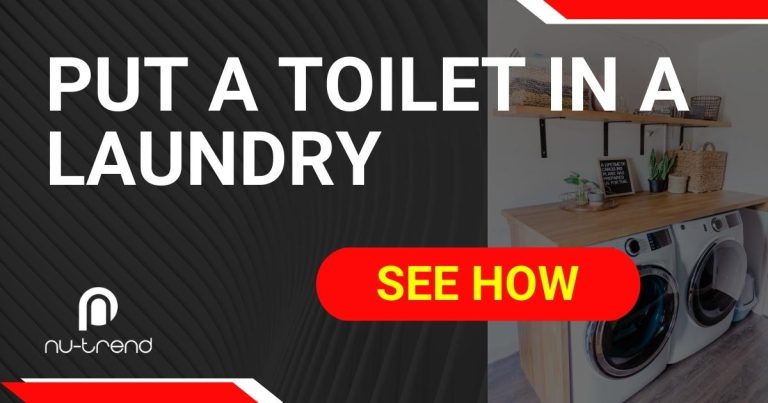 You can add a toilet into an existing laundry to give it more functionality. We explain how much it costs and what is involved.
READ MORE >
Local | Licensed | Insured

Protection for home owners.
Local Sydney contractors.
A qualified and licensed renovator.
Public liability insurance for peace of mind.
Drainer | gas fitter | plumber | renovator
Nu-Trend is a Sydney company with more than 15 years experience completing bathroom renovations & solving plumbing problems. he Directors Rob and Rick are hands-on, and provide a personalised service.
STANDARDS AUSTRALIA AS/NZS3500:2018 Compliant
All the work carried out by Nu-Trend is AS/NZ3500:2018 compliant. It is the Australian Standard for Plumbing and Drainage in NSW as set down by Standards Australia and the Australian Building Codes Board. They give the plumbing industry technical direction to enable compliance with required regulatory frameworks.
15 years experience with a written commitment.
Rick and Rob are the hands-on directors for Nu-Trend. Rather than hire sub-contractors and manage their business from a distant office, they are on the tools, at your site & working towards delivering your bathroom renovation or plumbing service. It means you are talking directly to the owners of the business, the guys who are accountable and responsible rather than via email or through customer service teams.
It is why they are able to provide a written guarantee that demonstrates their confidence in standing by the quality of their workmanship and the service they deliver to every single client.
They have a very single minded commitment to deliver a high level of professionalism and quality, they've been doing renovation contracting in Sydney for 15+ years.