Small bathroom renovations with a freestanding bath.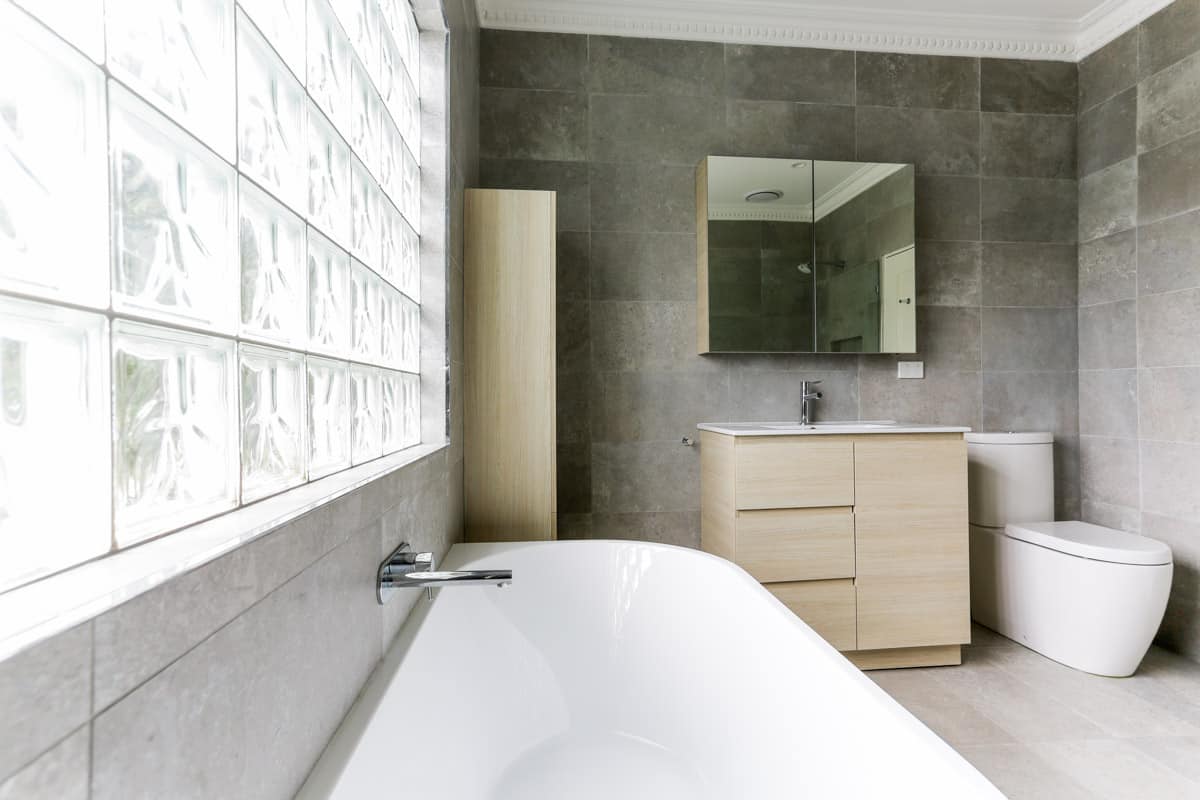 This bathroom renovation in Sydney was completed in Clovelly. The Client had looked at quite a few bathroom renovation companies and chose Nu-Trend as their bathroom renovation specialist after seeing our our reviews and previous work. 
The brief, like many small bathroom renovations, was to completely strip the room and replace everything with fresh, new bathroom accessories to give the room a softer, on trend look. This project was for the master bathroom in the house which was used by the whole family so it needed to be child friendly, have plenty of space and also needed to improve the available storage by replacing the current sink, vanity and install items with better practicality. 
For most houses the bathroom generally falls into three types;
Small bathroom – this would normally contain a combined shower and bathtub, vanity, mirror and window situated off the hallway. These rooms would typically be 3 metres square and need a renovation budget from $15,000 or more depending on size, fixtures, fittings etc.
Master bathroom

 – these rooms would typically be 4 metres square or more and need a renovation budget from $20,000 depending on the actual size, fixtures, fittings etc and in quite a few cases may include installing a new bath or moving existing services to create a more functional space.

 
Ensuite bathroom

 – in a number of larger homes in Sydney there will be an ensuite off the main bedroom or maybe from a downstairs guest bedroom. They will feature much smaller items for the toilet, shower and vanity aimed at maximising the available space.
By doing a complete renovation you get to start from scratch and make sure the room is stripped bare to avoid any unforeseen surprises. In this situation that was the case, once we had stripped the room we showed the Client the sub-standard floor that had been installed previously. It used the wrong materials and would cause issues if we did the renovation over the top of it –  read about it here
Can you install a bath into a small bathroom?
The simple answer is you can install a bath tub into a small bathroom whether you have a house, unit, townhouse or apartment. Obviously it is going to depend on just how small the room is of course, but by using clever design it is possible to have bath tub in nearly any type of bathroom renovation – they key is planning.
Some bathrooms may be 4 x 4 metres in size or larger which makes it much easier to work with the floor plan to include a bath tub in the design layout. In other situations the room might have a slightly different shape or size but by moving some of the water and waste service piping you might be able to change the floor plan to suit.
You can also use clever products that are slimline and take up less space to be able to create the area needed to fit a bath tub. Of course there are also a number of shower & bath combination products available which can provide dual purposes in a renovation.
Our typical scope of work for small bathroom renovations.
Our scope of work for this small bathroom renovation was extensive and included the following items;
Managing the strip and demolition of the existing bathroom & removing all the rubbish.
Re-instate plumbing hot and cold water with the drainage staying as is via the concrete slab.

Waterproofing and certification processes.

Remove render and re-render all walls

Prime and waterproof bathroom with waterproofing to be applied below and under the screed with 3 days drying time in between.
Re-screed, sand and cement the new floor and allow 7 days to completely dry.
Tile all the walls and floors
Grout all the floors and walls
Paint the existing ceiling
Fit off the items such as taps, accessories, pc fixtures, bath, mirror etc.
Test and commission
Professional industrial clean of the room at completion.
A couple of clever ideas for small bathroom renovations.
What products did we use in this bathroom renovation?
These are some of the products we used in this bathroom that were sourced from Reece valued at just over $7,000 excluding fitting. These are all the essential items for a bathroom ie taps, mixers, bath, vanity etc;
Caroma Forma Close Coupled Back To Wall Rimless Toilet Suite with Soft Close Quick Release Seat.
Posh Domaine Back to Wall Freestanding Bath
Posh Bristol MK2 Mirror Cabinet 2 Door
Posh Domaine Plus Floor Mount Vanity Unit Conventional Left Hand Basin Acrylic Top
Mizu Drift Hi-Rise Shower Chrome
Mizu Drift MK2 Wall Bath Mixer Tap Set 200mm Chrome
Mizu Drift Square Guest Towel Holder Chrome
Mizu Drift Robe Hook Chrome
Mizu Drift MK2 Basin Mixer Tap Chrome
Mizu Drift Towel Rack Chrome
Phoenix Gen X Non Heated Towel Ladder Chrome
This is what the small bathroom looked like before.
This bathroom felt quite dated and had a cold feeling to it with very grey, glossy surfaces that felt a little bit like an office. There was little storage space with the simple pedestal sink providing little practicality and a tiny shaving mirror cabinet.
How we protected the property during renovations.
These are the things you don't often see or read about, but even when we do our small bathroom renovations we take extra steps to make sure your property is protected. We purchase extra materials to protect floors, seal other doors of the property from dust and keep carpets or floorboards clean. We also make sure our tools are kept tidy and in place during the project.  
These are a few photos during our renovation project.
Some of our renovation reviews
"I recently employed Rick Karagiannis and the team from Nu-Trend. From the moment they agreed to come and quote on the job, I knew I had a good team. They were on time, efficient, realistic and keen. This sadly is unusual when attempting to get tradesman to your house.

The process of renovation was clearly mapped out and appropriately costed. This is not my first renovation or build and so I was ready with an armful of questions. Both Rick and Robby were able to promptly answer any queries I had. They made the effort to travel to the company I had chosen to use for bathroom products and therefore had a good understanding of what was ahead of them. I have no hesitation in recommending Rick, Robby and their team."
"Called nu trend as we needed urgent works to our bathroom. They came and installed our new toilet suite in a timely matter and even cleaned up after they finished. Easy to deal with and very responsive. Would definitely use again for future renovations and bathroom fixes! Thanks guys"
"The boys were referred to me by a good friend of mine. They completed two upstairs bathroom renovations for us which look IMMACULATE. We were not the easiest clients to work with however the boys went to extreme lengths to please us daily! They are everything from respectful, super clean, perfectionists and beyond. We were so happy we have decided to use them downstairs to renew all of our plumbing, renovate two old bathrooms downstairs and create a complete new bathroom and balcony area!! Anyone who would like to see the works please contact the boys and we can organise a site visit! A plus plus plus"