Why floor preparation is crucial for a bathroom renovation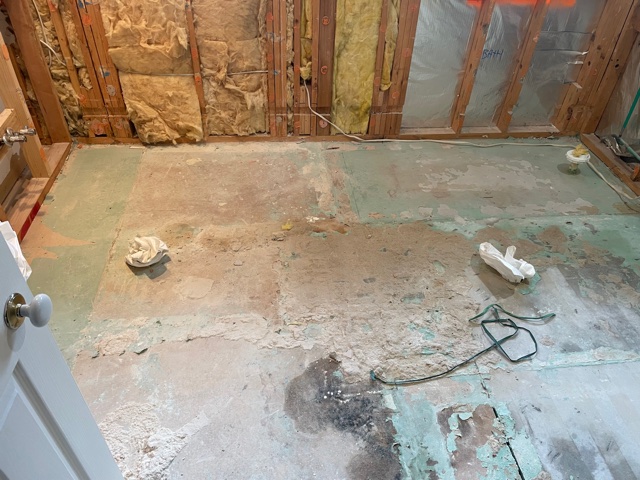 We are actually thinking about starting a new YouTube Channel or even a TV Show that shows all the dodgy renovation work that we discover when we get involved in different projects. Unfortunately most home owners simply don't know what they don't know. It would be like us pretending to do electrical work, we just don't have the knowledge or expertise.
Unfortunately what can happen is that renovation contractors can take advantage of that & not complete work correctly. For this site the flooring was installed incorrectly, in fact, it was illegal & not to Australian Building Standards. In some situations renovating contractors might ignore these things and get on with the job, but we don't.
To us, it is important to do things correctly so that they are safe, will last a long time & meet the standards required.
Why is completely stripping the floor a good idea in a bathroom renovation?
Stripping a floor
A lot of home owners will ask us if it is necessary to trip the floor when preparing a room for renovation. In most cases, it is the smartest choice because it means the whole room is getting updated. Some owners will ask if we can tile over the existing flooring, but not only do we refuse to do that, but it can create all types of problems later on.
The benefit
The benefit of stripping the floor is that we can see the condition of the subfloor before any work is completed in the room as well as completely re-doing the waterproofing.
For a couple of our recent renovation projects in Clovelly and Frenchs Forest our scope of work included a full strip back of the existing bathroom. Unfortunately for both building sites we couldn't predict the state of the walls or floors before everything was removed. 
Hidden surprises that are illegal
What we found was the previous renovation companies had installed Yellow Tongue and Groove flooring instead of Fibro Cement Sheeting. Bathrooms, toilet, laundries and even kitchens need to have the floor fully waterproofed and you can't 'seal' or waterproof directly onto Yellow Tongue & Groove flooring. 
Using this material is illegal and frowned upon within the industry. 
It is not to Australian building standards to use this method for flooring material in a bathroom. So we always make sure to check and then warn a home owner before proceeding. We will refuse to tile over it because we cannot warrant the job and it is illegal. 
Be careful of dodgy operators
Although be wary – some bathroom renovation contractors will tile over it. Keep in mind this is a form of timber that isn't water resistant in a room that is constantly damp. If the waterproofing fails you run the risk of the flooring failing as well as it will collapse. 
For other areas of a house it is structurally sound and commonly used. 
Why is Yellow Tongue used in bathrooms?
Well when it comes to bathroom renovations it is used to reduce costs and get a project finished quickly. This is another example of home owners not understanding what is needed for a renovation or why the quotes they are getting will vary so much.
There is a risk when using Yellow Tongue & Groove flooring for a bathroom renovation because if the existing water proofing starts to leak it can potentially damage the timber underneath. This can lead to rotting, tiles lifting and if its on the second storey the floor could collapse on people below.
So for this renovation we had a choice to make;
a) Turn a blind eye and continue with the renovation and hope nothing would go wrong.
b) Present the findings to the owner to decide how they wanted to proceed.
We present all the possible scenarios to our Client to make sure they were fully aware of the potential issues depending on how we proceeded. This included providing a quotation to remove and replace the Yellow Tongue Flooring with the correct Fibro Cement Sheeting.
Thankfully most Clients will decide to take this approach and we quickly completed the demolition, removal and replacement in a day so that it doesn't slow down the progress of the renovation project.
It has also means we are working with a framework that we have corrected to meet Australian Standards. It meant we could get the room repaired and prepped with;
a) Puddle Leak Control Flanges
b) Finished Electrical rough in
c) Plumbing rough in 
this meant the room is then ready for wall sheeting and then water proofing 
For an average room size the extra floor preparation cost could be between $3,000 and $6,000 depending on the actual size and access of bathroom which would include;
a) Removing the existing flooring
b) Re-bracing the timber structure
c) Supplying new Fibro Cement Flooring
d) Installing the new flooring.
When doing the initial obligation free quote for this bathroom renovation we didn't allow for this because in 95% of cases the bathroom flooring has had the correct materials used and hence this type of correction isn't required.
As this is a very high risk safety aspect it becomes more important than normal to have it corrected.
In some cases there could be bathroom renovators who would continue with their work without the property owner being aware of the issue. So this becomes an area where the property owner should be engaged with the renovation and ask questions.
Here are some of our recent bathroom renovations in Sydney that Nu-Trend has completed. The majority of the projects we are contracted for are complete bathroom renovations where the room is completely stripped so that the flooring, walls, tiling and waterproofing is installed brand new.
Local | Licensed | Insured

Protection for home owners.
Local Sydney contractors.
A qualified and licensed renovator.
Public liability insurance for peace of mind.
Drainer | gas fitter | plumber | renovator
Nu-Trend is a Sydney company with more than 15 years experience completing bathroom renovations & solving plumbing problems. he Directors Rob and Rick are hands-on, and provide a personalised service.
STANDARDS AUSTRALIA AS/NZS3500:2018 Compliant
All the work carried out by Nu-Trend is AS/NZ3500:2018 compliant. It is the Australian Standard for Plumbing and Drainage in NSW as set down by Standards Australia and the Australian Building Codes Board. They give the plumbing industry technical direction to enable compliance with required regulatory frameworks.
15 years experience with a written commitment.
Rick and Rob are the hands-on directors for Nu-Trend. Rather than hire sub-contractors and manage their business from a distant office, they are on the tools, at your site & working towards delivering your bathroom renovation or plumbing service. It means you are talking directly to the owners of the business, the guys who are accountable and responsible rather than via email or through customer service teams.
It is why they are able to provide a written guarantee that demonstrates their confidence in standing by the quality of their workmanship and the service they deliver to every single client.
They have a very single minded commitment to deliver a high level of professionalism and quality, they've been doing renovation contracting in Sydney for 15+ years.