Where do you have a shower if your bathroom is getting renovated?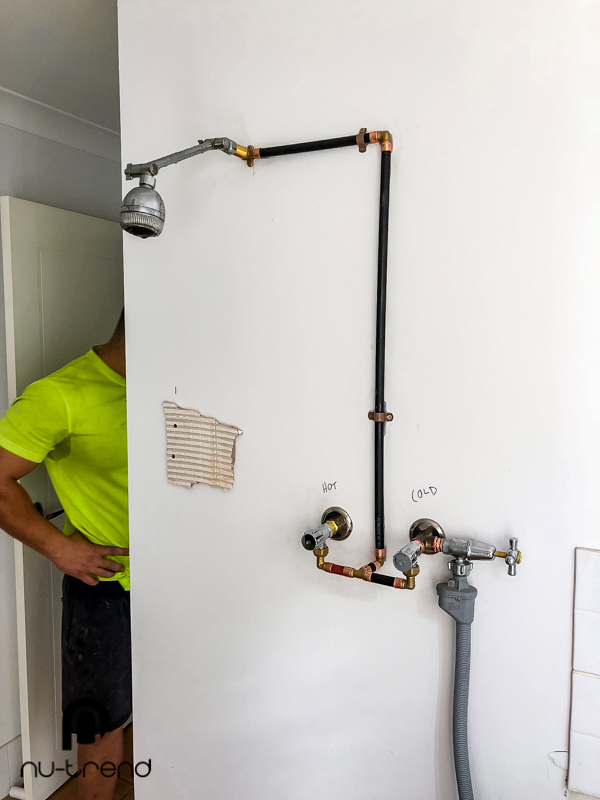 Once you have made the decision to renovate your bathroom you have to begin planning how you will live in the home during the renovation. Where you go to the toilet, have a shower or wash your hands may have to change depending on the layout of your home.
Our bathroom building company can explain some of the options to think about when it comes to working out where to have something simple (like a shower) shower while renovating.
1. Use your other bathroom
Fine, this is just common sense right, if you have two bathrooms in the house just use the other one. Although it might not be as simple as that if you have many people living in the home or if that other bathroom is an ensuite to a bedroom. It will take some co-ordination to ensure the shower is available at the times people need it either before going to work or getting home.
2. Attach a portable shower head to the laundry tap
This is a bit rough, but your laundry is a wet room as well so it means water can be spilt on the floor. It is possible to plug in a portable shower head into your laundry tap to have short bursts of water that are enough to get cleaned with. If you stand over the floor waste most of the water will drain away. To be safe you can place a timber or bamboo floor mat so that you don't slip.
3. Use an outdoor shower connected to the hose tap
If you plan the timing of your bathroom renovation to be during the warmer months of summer it might be possible to buy an outdoor shower and use this temporarily. Most of them will connect to an existing hose tap outlet and run cold water without any other modifications. Alternatively we can set up temporary plumbing connections to provide hot and cold water outside. Having a shower outside is quite refreshing especially in the warmer weather, you might like it so much you leave it outside after the bathroom renovation is completed. 
4. Get a plumber to set up a temporary shower
A licensed plumber in Sydney can actually set up a temporary shower in another location in your home if there is available access to the piping in a suitable location. If it is near or on a floor waste then the water can drain and to avoid it splashing everywhere you can use a portable shower curtain like the ones used for camping.
5. Hire a motorhome with a shower and park it outside
Most motorhomes or camper vans have a toilet and shower on board. They can be connected to mains power and even a water supply to then become an extra living space. It means you will have a 'normal' bathroom that you can use temporarily. The only downside is you need to empty the toilet cassette every couple of days and the grey water tank. The other benefit of this solution is you can sleep, cook and live in it while your home is getting renovated so that you have a clean space to enjoy as the tradesman work inside the home.
6. Get a gym membership that includes showers & pool usage
There are gyms in Sydney that offer shower & swimming pool access as part of their inclusions. So in the morning or night you could visit the location to have a shower, get changed etc and not worry about the mess at your home while it is being renovated. 
7. Stay at a local Airbnb while your bathroom is getting renovated
Airbnb has properties that offer long term rentals in Sydney which could be suitable instead of staying at a hotel. You get the use of a typical home that might be close to yours & you avoid all the mess and hassle of a home renovation. It means you can have a shower like you normally would. The only downside is the added cost if you are staying for a couple of weeks but the convenience is probably worth it vs the other options.
8. Buy a camping shower that can be used outdoors
If you start thinking like a 4WD owner who loves camping the first thing that will spring to mind is buying an outdoor camping shower. There are lots of choices available that will suit different use cases either for homes or even apartments that have balconies.
9. Rent a portable shower
There are quite a few companies in Sydney that rent portable shower systems. Most of these are on trailers so they can be moved around and delivered to most types of locations. There are even disabled access versions that can help if the bathroom is getting built for people in a wheelchair or other mobility challenges.
10. Go back in time and shower like the Romans did
If you are keen on learning about human history you can find different ways they used to have a shower before there was running water or even bathrooms. There are lots of websites that explain how people used to have a shower before running water (or even hot water for that matter) that you can get ideas from.
Thinking about renovating your bathroom?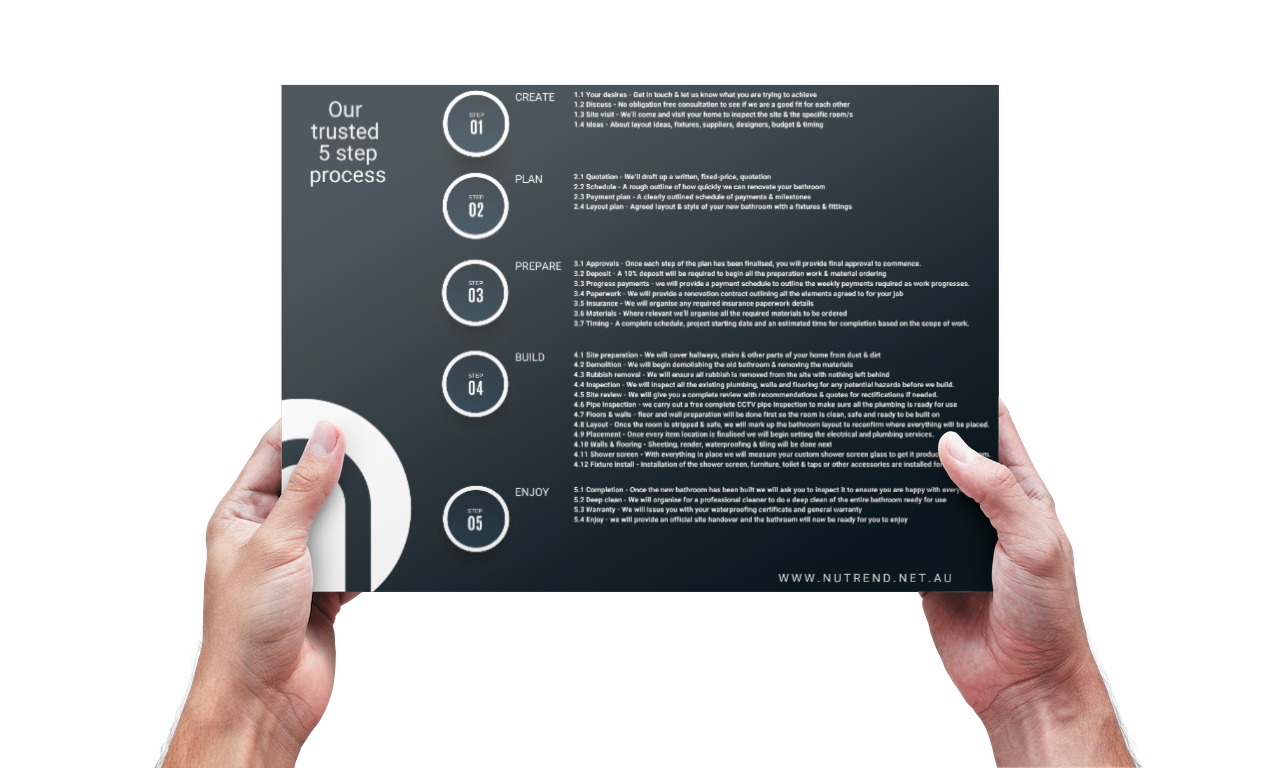 You can get lots of quotes from bathroom renovation companies that have a list of prices, but if you dig into the detail, what are they actually offering? Not all quotations are very detailed and most companies won't even put in writing the steps they follow or their process.
At Nu Trend we provided you with a very clear, written outline of how we carry out any type of renovation in Sydney.
You can even download it
Here are some of our recent bathroom renovations in Sydney that Nu-Trend has completed. The majority of the projects we are contracted for are complete bathroom renovations where the room is completely stripped so that the flooring, walls, tiling and waterproofing is installed brand new.
Local | Licensed | Insured

Protection for home owners.
Local Sydney contractors.
A qualified and licensed renovator.
Public liability insurance for peace of mind.
Drainer | gas fitter | plumber | renovator
Nu-Trend is a Sydney company with more than 15 years experience completing bathroom renovations & solving plumbing problems. he Directors Rob and Rick are hands-on, and provide a personalised service.
STANDARDS AUSTRALIA AS/NZS3500:2018 Compliant
All the work carried out by Nu-Trend is AS/NZ3500:2018 compliant. It is the Australian Standard for Plumbing and Drainage in NSW as set down by Standards Australia and the Australian Building Codes Board. They give the plumbing industry technical direction to enable compliance with required regulatory frameworks.
15 years experience with a written commitment.
Rick and Rob are the hands-on directors for Nu-Trend. Rather than hire sub-contractors and manage their business from a distant office, they are on the tools, at your site & working towards delivering your bathroom renovation or plumbing service. It means you are talking directly to the owners of the business, the guys who are accountable and responsible rather than via email or through customer service teams.
It is why they are able to provide a written guarantee that demonstrates their confidence in standing by the quality of their workmanship and the service they deliver to every single client.
They have a very single minded commitment to deliver a high level of professionalism and quality, they've been doing renovation contracting in Sydney for 15+ years.