New bathroom interior design trends in Syndey to give you renovation ideas.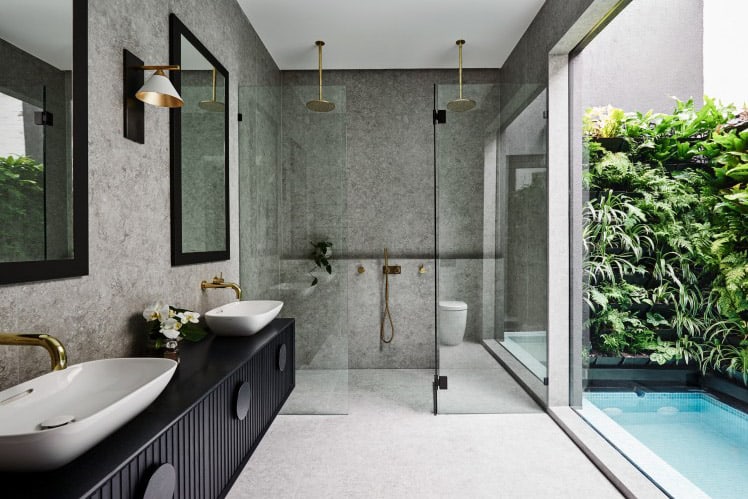 Nu-Trend is a bathroom renovation company in Sydney that gets to see lots of amazing interior designs being applied to all types of rooms. The range of materials, products, textures and finishes is amazing, there is just so much choice available. With the power of the internet you can quickly create idea boards to plan the style and type of bathroom you want to create.
A bathroom and kitchen has become the absolute focus of interior design in recent years. These are the places we spend most of our time and the rooms that add most value if you are looking to sell your property. They become great opportunities for people to express their creativity and taste. The best thing of all is that we are a Sydney bathroom renovation contractor that can help bring these types of ideas to life. We can demolish your old bathroom to do a full renovation from top to bottom.
All of these design trends put a focus on creating relaxed, pared-back spaces that feel like sanctuaries.
This is something relatively new but people are starting to turn their bathroom into an artwork statement piece. Instead of keeping artwork just for entry or living rooms, they can be used on feature walls in a bathroom. 
It can create a big statement piece using framed photographic prints or even wallpaper prints to create a room that is totally unique and bold. 
It makes it much easier to then introduce colour into the room and it is cheaper than exotic wall tiling as well.
Touch free bathroom products
It's easy it is to pass germs from one person to another via things we touch. So it is no surprise to see a huge increased in the number of people asking us for touch free taps and other products that can be used in a bathroom.
It means you & house guests don't need to spread germs with handsfree operation of common items in any room.
The ideal of hybrid interior design and styling for bathrooms has become a more recent trend where there are different styles mixed & matched together to. 
This can create very unique looks, although it is difficult to pull off as either colours, textures or fittings can become too fussy & not match well.
A traditional coastal style for example can be mixed to form a hybrid by using more modern products and fixtures. We are also starting to see a little more industrial, boho and Nordic influences in different designs.
In the example here you can see this idea in action with this Scandinavian look that has a simple colour scheme but includes soft pinks as well.
In lots of bathrooms you will see the boring, common, round floor drain in the shower. It becomes a visual element in your shower that can draw the wrong attention, plus they are hard to keep clean or stop debris from getting clogged in the pipes.
A custom made hidden floor drain is an elegant way to improve drainage, as they can cover a larger area, while blending into the floor to make it a less obvious design element of the shower and bathroom floor plan.
Combined bathroom and laundry
In Sydney a lot of bathroom renovators are starting to combine the bathroom and laundry, we explain the benefits of doing this in an article here. This creates more space together with better room functionality.
These days people use their laundry to hide clutter and the standard metal deep sink is just wasted space. By removing all of that and replacing it with quality cabinetry you can create a functional room that can either hide or conceal your laundry appliances easily.
Some people are getting rid of the laundry room completely & making a larger single room with combined bathroom and laundry together.
The use of kit kat style wall tiling isn't really new, it is derived from the idea of mosaics and patterns used on walls or floors from Roman & Egyptian design. 
In a modern context the use of kit kat wall tiles in small spaces can create unique features or interest areas to give your bathroom a touch of class vs standard flat wall tiles.
New South Wales has so much of its population based around the coast, so it's no surprise to see coastal, beach themes be used for bathroom interior design. 
It's probably not really a new design trend but it continues to be popular amongst renovators. A coastal or resort style is all about creating a beachy, breezy and cool, soothing look. 
Terrazzo or stone finish tiles, soft timber, chrome tap ware, rain showers and freestanding baths styled with bright white weatherboards, inset or butler sinks tend to be the popular choices for this type of renovation.
The minimalist bathroom look we think will always be a trend that will have variations in colours and materials, but the simple design idea makes it easy to apply to all types of bathrooms in either houses or units.
Minimalism continues its reign as a sought-after look, with the handle-less cabinetry, sleek tap ware and muted colour palettes that stick to simple colours with accents are very popular. 
This uncluttered, streamlined look makes any home easier to sell and also match the interior design of the rest of a property. It can appeal to a wide range of buyers if the owner is considering to sell the house. 
Exposed bathroom plumbing
If you look at bathrooms from the early 1900's you will see lots of old rooms with exposed plumbing, so this idea isn't new. Although the range of materials to use for piping these days makes the possibilities for exposed plumbing so much more attractive.
A bold statement piece can be created that is pseudo industrial where all the various tap, toilet or shower pipes can be seen from all angles in the room. By not using bulky furniture in the room you can create a sense of more space but then use the exposed plumbing as a visual feature.
There are also lots of new light fittings and bulbs that make it easy to create a very industrial feel to the bathroom for something totally unique and different.
Eco friendly bathroom design
Using products that have come from sustainable sources or are friendly to the environment are becoming more popular. Concerns about the environment remain top of mind for Australians with things like water efficiency high on the priority list. 
Although you can go a step further and choose renovation materials that are eco friendly from tiles to vanities and more. To create more sustainable homes you have to use high WELS rated tap fittings or toilets as well as vanities made from recycled or sustainably sourced materials
Bathrooms with 100% functionality
Ok when you first look at this photo you see this amazing hotel inspired bathroom with plunge pool, open shower and lots of space. Although look a little closer at the details.
The shower has space and an extendable shower hose fitting to wash a pet or kids, the open sliding door to the plunge pool makes it easy to have a quick shower after a swim, the bathroom is easy to clean with a wall hung vanity, the shower screens are custom made with few joining edges that won't collect debris.
So thinking about practicality over style has become a very important consideration for many bathroom designers.
Ceiling skylights for bathrooms
In the old days most bathrooms had a tiny window placed high on the wall to let a bit of steam out. These days people are understanding the benefit of great natural light and ventilation. From a practical point of view it makes it easier to do your hair, shave or put make up on.
From a styling perspective you can create a visual statement for a feature peace and even centralise the viewing angles of a room by using a skylight in the ceiling.
Depending on the model chosen these can be opened to allow for better ventilation but also a sense of having an indoor/outdoor bathroom.
Even though there has been a huge shift to using matt black fixtures in bathrooms, Australians are still playing it relatively safe with the majority still choosing chrome or or steel finishes as their preferred colours choice. 
Brushed gold or brass is catching on and these are becoming easier to use in lots of bathrooms because of the wide choice of tile colours and textures.
Here are some of our recent bathroom renovations in Sydney that Nu-Trend has completed. The majority of the projects we are contracted for are complete bathroom renovations where the room is completely stripped so that the flooring, walls, tiling and waterproofing is installed brand new.
Local | Licensed | Insured

Protection for home owners.
Local Sydney contractors.
A qualified and licensed renovator.
Public liability insurance for peace of mind.
Drainer | gas fitter | plumber | renovator
Nu-Trend is a Sydney company with more than 15 years experience completing bathroom renovations & solving plumbing problems. he Directors Rob and Rick are hands-on, and provide a personalised service.
STANDARDS AUSTRALIA AS/NZS3500:2018 Compliant
All the work carried out by Nu-Trend is AS/NZ3500:2018 compliant. It is the Australian Standard for Plumbing and Drainage in NSW as set down by Standards Australia and the Australian Building Codes Board. They give the plumbing industry technical direction to enable compliance with required regulatory frameworks.
15 years experience with a written commitment.
Rick and Rob are the hands-on directors for Nu-Trend. Rather than hire sub-contractors and manage their business from a distant office, they are on the tools, at your site & working towards delivering your bathroom renovation or plumbing service. It means you are talking directly to the owners of the business, the guys who are accountable and responsible rather than via email or through customer service teams.
It is why they are able to provide a written guarantee that demonstrates their confidence in standing by the quality of their workmanship and the service they deliver to every single client.
They have a very single minded commitment to deliver a high level of professionalism and quality, they've been doing renovation contracting in Sydney for 15+ years.