A bathroom and laundry combined is a clever renovation idea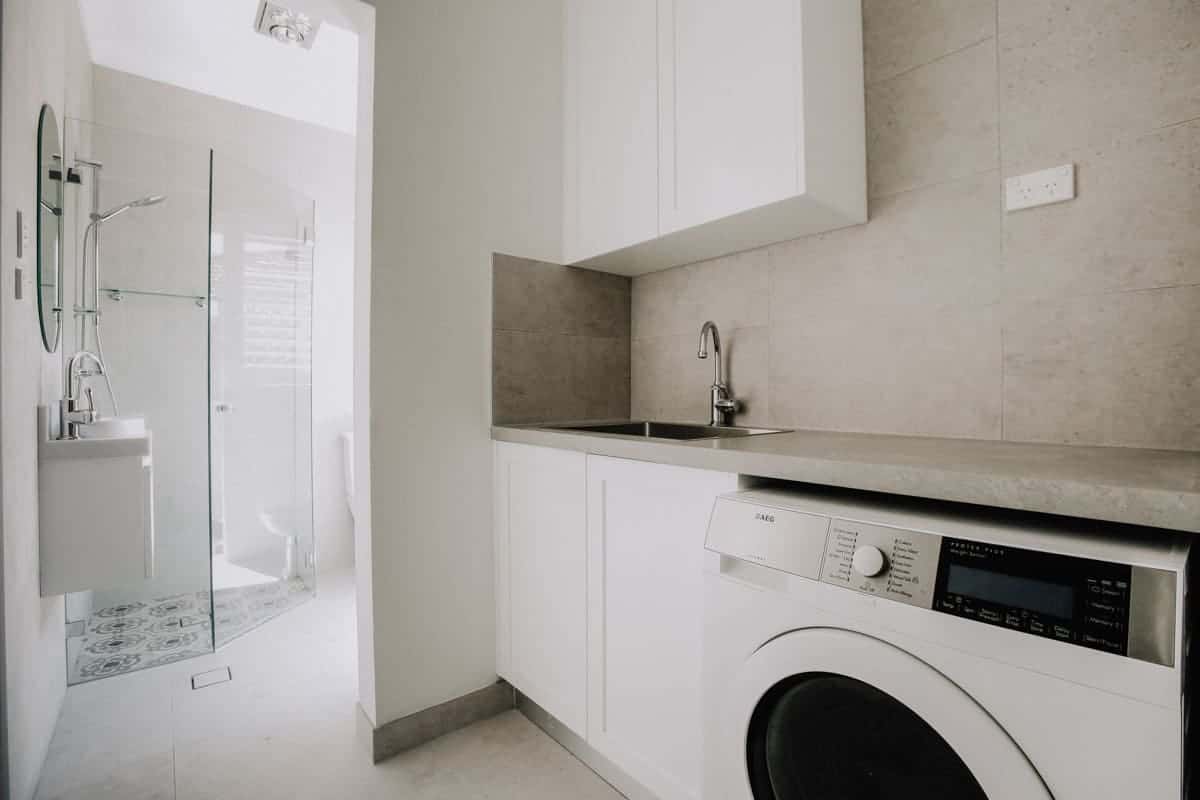 Nu-Trend is a renovation contractor in Sydney that can remodel your bathroom and laundry into a single combined room space. There are many benefits to taking this approach to renovating your property which we will explain below.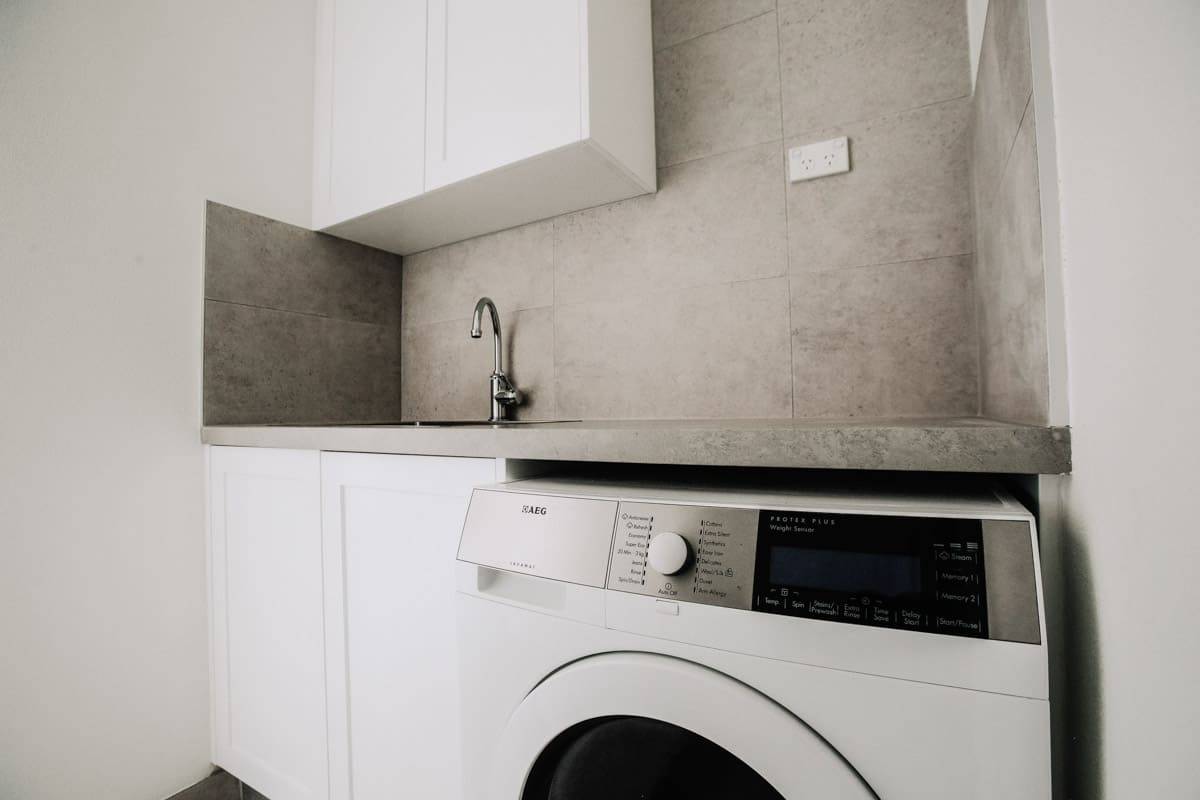 #1 Better laundry storage space
A lot of traditional laundry rooms in Sydney have a stand alone metal sink that is generally used to run the washing machine outlet hose. Most laundry designs in Sydney have very little practical cupboard storage space and the rooms are very small.

Their main purpose is to house the washing machine, maybe some linen storage & provide access to the back yard. Combining your bathroom and laundry by renovating can solve this problem. Modern laundry cabinetry provides lots of practical storage space that can fill a room to make it more useful.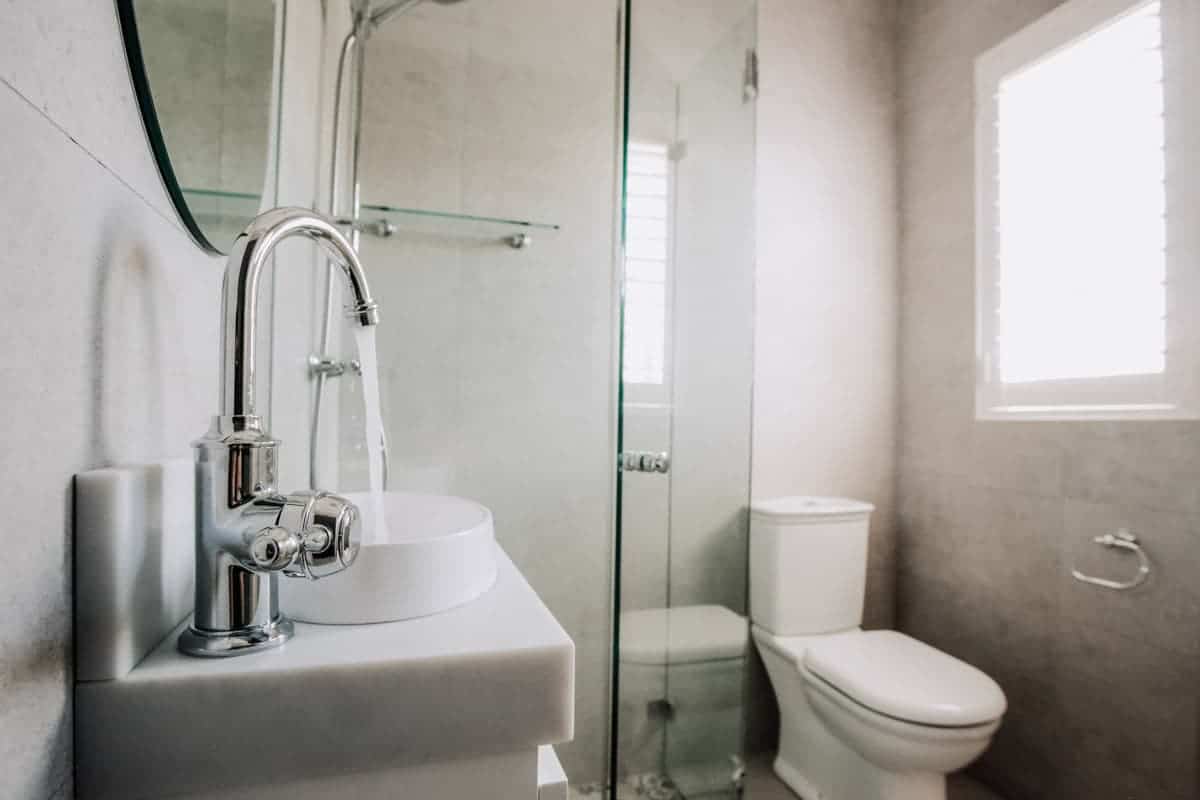 #2 Improved lighting and ventilation in a laundry
By opening up the bathroom and laundry you can can improve the light coming into the room via windows or doors (or the ceiling with a skylight). Ventilation can be improved as well because there is more space for air to move around the room compared to two separate smaller rooms. This immediately makes the space feel more comfortable as well as practical.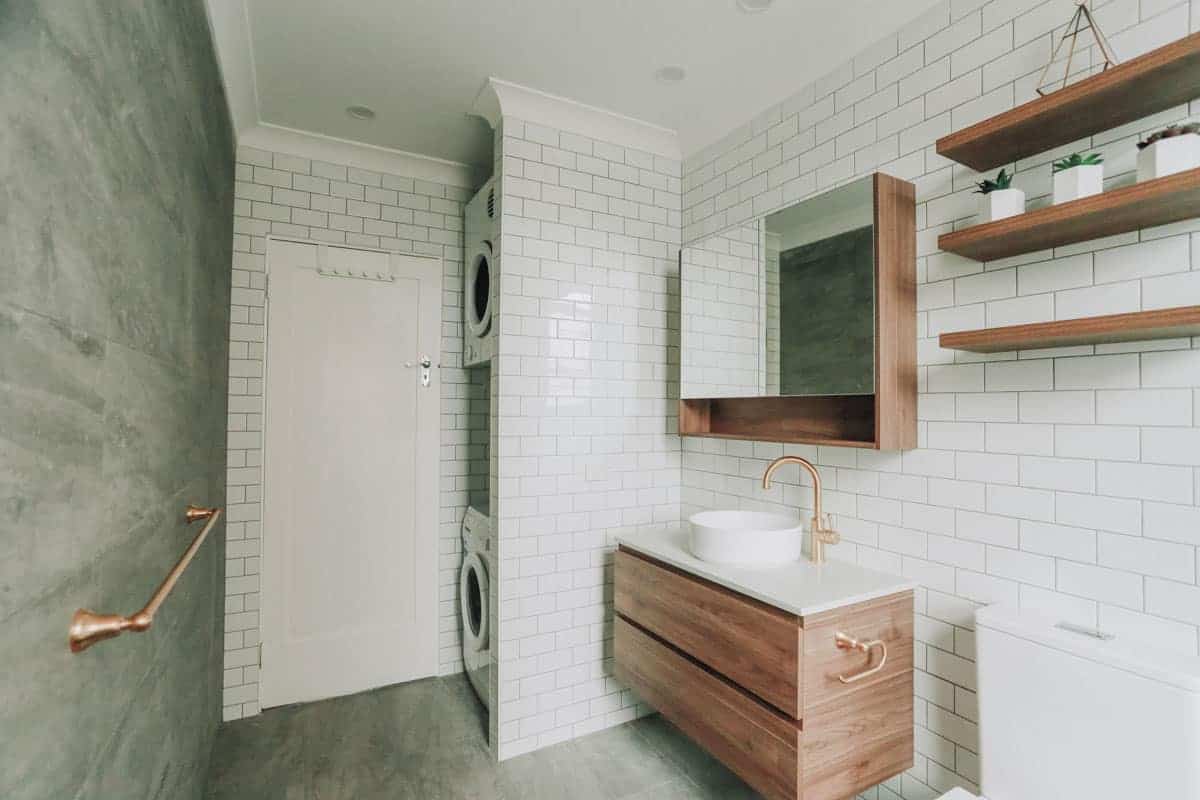 #3 You can hide your washer and dryer
For many property owners they want to hide the washing machine and dryer to create a more visually appealing space. So with clever interior renovation design this can be achieved by creating a wall niche or using different types of laundry cabinetry. The space saved can then accomodate a larger bathroom space to install things like a bath tub or larger walk in shower.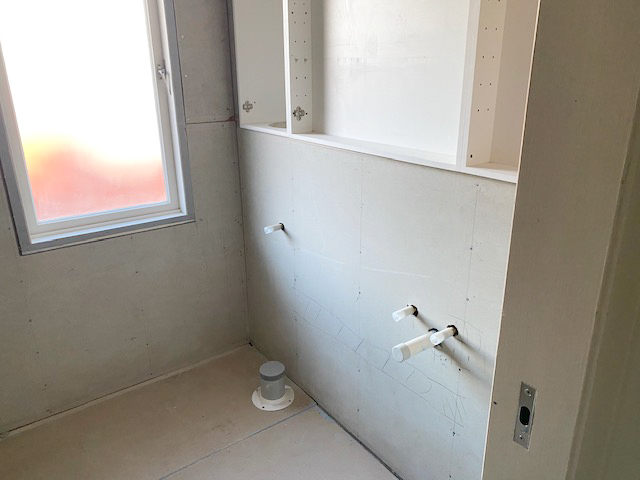 #4 New waterproofing for the wet areas
When you renovate both your laundry and bathroom together, all the piping and waterproofing can be updated as well for these wet areas of the property. It means you will be making sure that everything is renovated to current Australian standards and protecting your home from potential water leaks.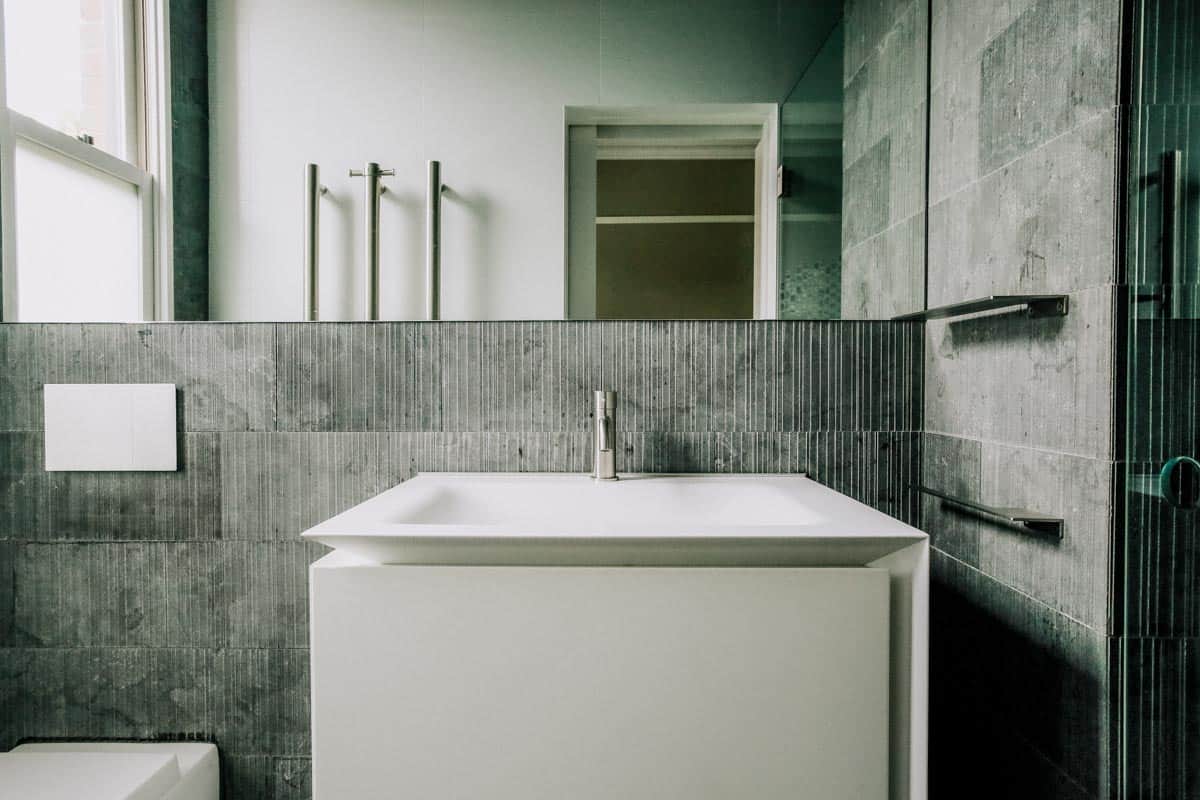 #5 Consistent interior design
When you renovate rooms separately it can lead to slight differences in the interior design approach that is used or access to materials like tiling. In other cases the property might not have a very good flow from one room to the other. When you do a laundry and bathroom combined renovation you solve this problem as the room is treated with a single interior design idea and style.
To create the right floor plan for a bathroom and laundry combined layout it might require moving the toilet, shower or plumbing in the bathroom. Nu-Trend is a renovation contractor that can help with these requirements whether it is a house, unit, townhouse and hi-rise apartment block. We can take care of everything from the initial interior design, sourcing products all the way through to laundry demolition, laundry tiling in Sydney & the final clean up. 
You can maximise the value from a laundry room renovation cost when the work is combined with renovating your bathroom. Both of these rooms are treated as 'wet' areas in a property and typically are next to each other or share a common wall. One of the best cheap laundry renovation ideas is to combine the laundry & bathroom into a single space in the home which can improve ventilation, storage space, lighting and usability with a shower, toilet, washing machine, dryer and vanity all within easy reach. 
So it is very common for property owners in Sydney have their laundry in the bathroom where you can use a washer and dryer housed in modern cabinets with great storage options vs the older standalone metal sinks. We can easily help any property owner create a combined bathroom laundry floor plan even if it is on a concrete slab. Nu-Trend only uses the latest modern laundry ideas in Australia including modern cupboards, laundry tiling or even laundry door and window combination installations.
Washer and dryer installed in a combined bathroom and laundry in Sydney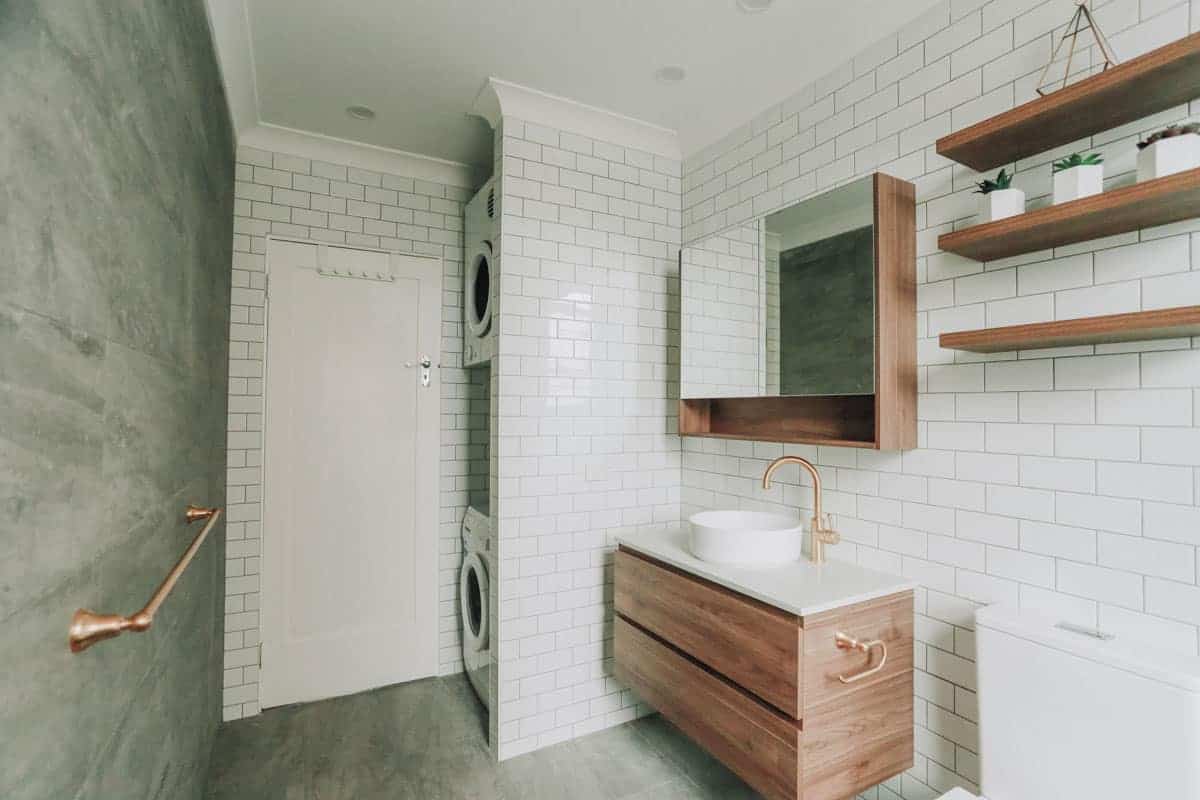 If you have a small bathroom and laundry you can renovate this to be a single room which has a hidden washer and dryer installed in the bathroom. In the example pictured above we created a small wall divider in the bathroom to segment the washer and dryer from the rest of the room. 
The entry doorway was left as is, but this could have been reversed so that when you walked into the bathroom the door would conceal the washer and dryer, this could have created a more pleasing visual when entering the room.
The alternative could have been to have a rolling slider door or soft curtain covering over the washer and dryer, it just depends how important it is to hide the laundry appliances in a room or the space available.
If the room is going to have a dryer installed it is also important to consider the ventilation available in the room to make sure that if someone is having a shower or bath while the dryer is also working that there is plenty of air moving in the room. If this doesn't happen then moisture can build up which can lead to mould forming. When renovating a combined bathroom and laundry you have to consider installing a new ceiling ventilation fan to cope with the extra use the room will get.
This is one of the many different considerations to think about when trying to come up with bathroom laundry combo layouts, it isn't just about the floor plan, you have to also think about entry, exit, windows, ceiling and ventilation.
Renovating a combined bathroom and laundry combined on a concrete slab
Nu-Trend is a Sydney laundry and bathroom renovation specialist and we love sharing our shares lots of renovating advice, explore some of the articles here; Bathroom Renovation Advice
What we have found over the years is that people don't realise you can renovate a bathroom and laundry even if it is on a concrete slab. Making a change to a laundry floor plan is possible for most properties and the work required will depend on exactly where the existing waste and water supply locations are. Sometimes it might be necessary to move the toilet on a concrete slab or move the shower plumbing in the wall, it just depends on the situation. 

Either way because Nu-Trend are qualified plumbers and bathroom renovators we can take care of both tasks to make sure you deal with less trades & ensure it is done to Australian Standards.
Can an interior designer help with a laundry renovation?
In many cases the laundry is a very small room to start with so this can limit the design decisions that can be made. Sometimes using an interior designer can help you to utilise the space better as they can custom design the room to suit your needs specifically. An interior designer will look at the overall living arrangements and other spaces in the house to work out clever laundry renovation solutions to maximise space usage, light, ventilation and storage.
Why do laundry renovation quotes vary so much between renovation companies?
Some people might compare quotes from their friends from a similar sized laundry renovation and wonder why there is maybe a $5,000 or $10,000 difference. Although many different factors come into play;
– What was the access like for the renovation?
– Are existing building materials being used?
– Will a Gyprock renderer be required?
– Is their stair case or single level access?
– Are there noise restrictions that limit the times we are able to work?
– What is parking like around the location?
– Are the existing depths and heights being used?
– What is the condition of the existing room & does it need repairs?
– Will the plumbing need to be moved?
You can save money on a laundry renovation if things like the access is easy, you are using existing fixture locations and time is saved on labour from getting into and out of the room faster or using an existing floor plan.
Can you add a bathroom to a laundry room for a renovation?
In some situations you might have a laundry room that is large enough to add a bathroom into it. Most of the services might be shared between walls of adjoining rooms which might make this type of renovation even easier to complete than normal. 
Either way with the right interior design it is perfectly possible, and logical, to turn your laundry into a bathroom to improve the functionality of the space. This can be the simplest way to convert a one bathroom house to have a master & secondary bathroom. 
We would probably remove the existing cabinets to create the space for a small shower cubicle, toilet and location for a washing machine with dryer so that you have the full functionality of a laundry together with typical bathroom facilities.
Is it a good idea to put a washer and dryer in a bathroom?
It can be a great idea to put a washer and dryer into a bathroom. When you think about it these rooms are all about cleanliness and hygiene so they are normally the cleanest rooms in the house & have waterproofing.
The biggest thing to consider is space available in the room and ventilation as you need to make sure moisture, condensation and heat can escape the room quickly and efficiently.
From an aesthetics point of view you can hide a washer or dryer using cabinets or other methods so that you only see them when you need them.
Combining these two utilitarian spaces is convenient as both the bathroom and laundry are considered wet rooms and require waterproofing. Therefore, adding a bathroom area in a laundry is a cost effective two for one. Additionally, plumbing is simpler to accommodate as both rooms have existing plumbing. Perhaps most convenient, is clothes can be placed straight into the laundry basket for washing straight after showering rather than piling on the bathroom floor.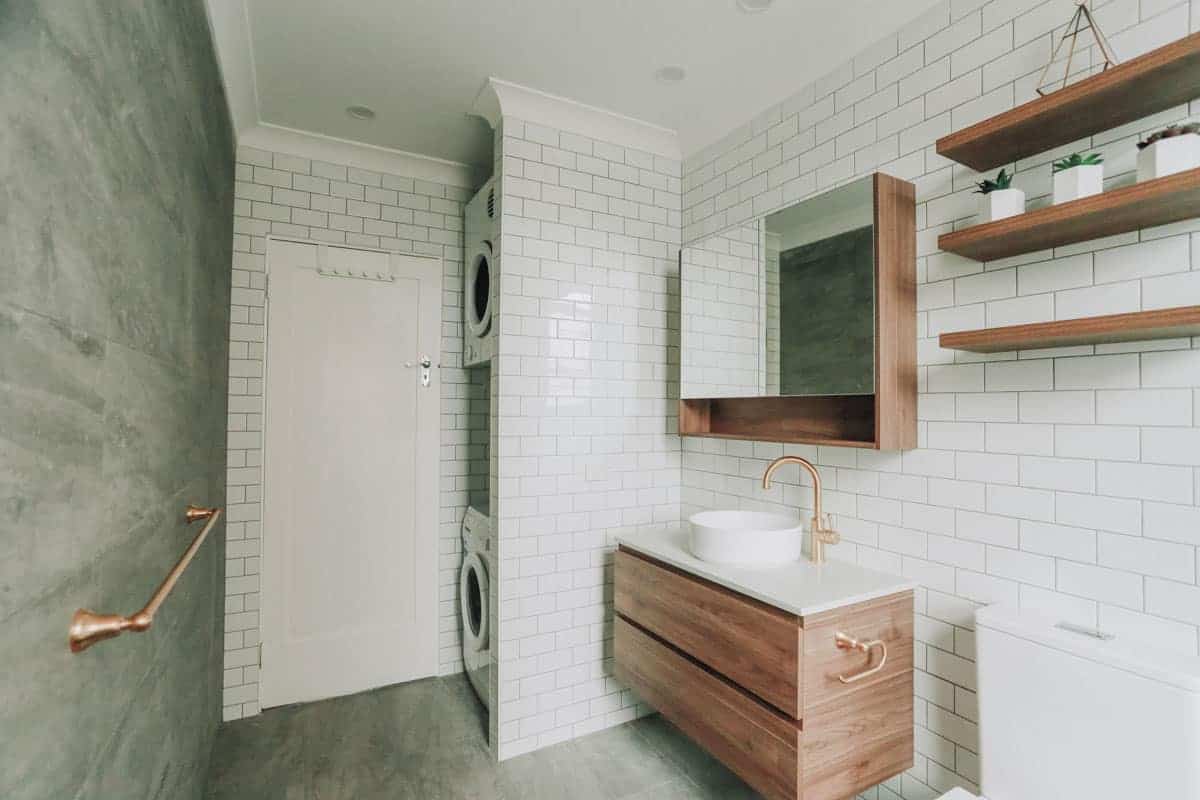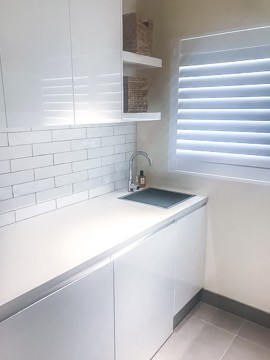 Renovation contractors for combined bathroom laundry floor plans in Sydney
Nu-Trend can help you work out a floor plan for a bathroom and laundry combined in Sydney. We have many years of experience working with home owners who might do their own floor plans using pen & paper, online software or we can work with interior designers who can create 2D drawings or 3D visual models.
The benefit of creating a floor plan is that every element can be worked out with precision, even the specific materials needed. This can save a lot of time, money & avoid the need to do variation work if the measurements aren't accurate. By working with a floor plan every service item can be considered from electrical power points to pipe placement. It means all the guesswork is removed and each trade can simply execute to the plan that is agreed to.
Using an interior designer to work out your floor plan can create benefits around solving problems with how to best use the available space, how to change the floor plan to be more usable & choosing the right materials. An ideal way to create a cohesive interior design between the bathroom and laundry areas is to utilise custom cabinetry for both the laundry and vanity cabinets. Using the same door fronts and handles for both instantly blends the two areas into one. The same approach should be taken with the vanity and laundry bench top. A durable top is engineered stone, which is non porous and comes in a great variety of colours. If budget is an issue simply ensuring that both vanity top and laundry bench top are of the same colour (such as white) is sufficient and tiling can be done to match as well.
Combined bathroom and laundry with a shower, bath, washing machine & dryer
The photos above are a great example of how clever interior bathroom design ideas can combine a laundry and bathroom to include;
Modern bathroom tub shower combination
Toilet
Vanity with sink
Vanity cupboard with mirror
Washing machine
Dryer
For this renovation it meant the space being taken up by the laundry could get used for other purposes while the bathroom becomes a multi functional space that has everything needed in the one room. 
Bathroom and laundry renovation design idea considerations
1. Bench space
Washer and dryers are typically deeper than a standard oven so if you have the space available then increase the depth of your bench top to a minimum of 650mm so these appliances don't stick out into the room. By using a front loader washing machine it gives you the opportunity to have more bench space above the unit and you can use that to sort and fold clean clothes after they are washed. It can also mean you can install wall hung cabinets for more storage.
2. Lots of powerpoints
Ensure you have enough power points allowed for in your floor plan design to plug in appliances or even charge mobile phones or bluetooth speakers. Some ideas would be;
Above the bench top for additional phone charging stations, ironing etc
Under the bench located for the washer and dryer appliances
Inside a cupboard for battery powered stick vacuum cleaner charging.
If using a pull-out ironing board or ironing station include a power point located for ease of use.
3. A deep sink
Ensure the sink is large enough to soak items as needed; bed sheets, cushion covers as well as clothing items. Locate it close to the washing machine so you can quickly throw pre-rinsed items into the drum without water splashing on the floor. This can also reduce the length of piping needed to plumb the machine into the water services.
For some home owners that have a dog the sink might be large enough to wash the dog!
4. Mixer tap with pull-out hoses
We can install mixer taps with pull-out hose to make rinsing large items easier.
5. Deep drawers instead of cupboards
This can make it easier to access and using all of the space available.


6. Pull-out laundry baskets
These can be integrated into your cabinetry and allow you to sort whites from darks or just store other household items that you need to find quickly.
7. Storage for wash basket
You know that big basket you use to take your washing to the line or to move clothes to your room? Make sure you allocate a cupboard or shelf large enough to store this out of sight when not in use.
8. Built-in ironing board or ironing station
There are many options out there now to integrate an ironing board into your cabinetry or even build into your walls in a flush cabinet. We can help install this into a room during the renovation. 
9. Laundry Chute
Double storey home, what about a laundry chute that deposits clothes directly into the laundry. Make sure the size and access adheres to building standards and restricts children from climbing into it.
10. Hanging Rails + Clothes Airers
Hanging rails are becoming very popular for good reason as they offers you extra drying space when the weather is not ideal, and they are also fabulously useful for drying swimmers or a school shirt that was forgotten overnight. Make sure you locate them ideally over the laundry sink for drips, and ensure the rail is high enough above your bench top to hang work shirts (60cm minimum).
11. Storage for brooms, mops + vacuums
Allocate space for tall bulky items in your tall cabinet. Measure the width of your mop head so you know it can easily fit along with your broom, vacuum and any other tall bulky items.
12. Spot for the kitty litter tray
One of the most clever interior design ideas we have seen recently is a low slide out draw with false cupboard door above with cutout that was used to place a cat litter tray so it is not in sight
13. Direct external access
Depending on the property, having external access can make it easy to get your clothes to the washing line or to use the bathroom to have a shower after doing the gardening or swimming in the pool.
Combination bathroom and laundry renovation frequently asked questions