Imagine your brand new bathroom has waterproofing problems
The owners of this home in Blakehurst called our team of plumbers in Sydney to help identify a potential water leak as they had noticed paint bubbling on the walls. What we discovered next was horrifying as they had just spent \$15,000 to have their bathroom completely renovated. Although within a few minutes we were able to identify a number of faults, poor quality workmanship and bad renovation practices as well as discovering the waterproofing of the room had completely failed. 
This is a great example of why choosing cheap bathroom renovation contractors is not the most sensible idea. Let us show you in detail what was wrong with this bathroom renovation in Blakehurst and the possible repair solutions. Here is a quick list of what we found; 
Every tile had small cracks in it. The client was told this was a feature of the tile so it looks like stone, but it is literally small hairline cracks from poor installation.


There is uneven grout and silicone joints all around the bathroom


There are no cover plates on the toilet water connection


Terrible door and frame patching on entry into the bathroom


The pre-pack shower screen didn't fit the bathroom properly so they built a ramp to close the gap between the screen and the floor


There was an incorrect gradient on the floor tiling which can cause water to pool or not disperse in the case of a flood


One of the three light switches wasn't functioning, if we pushed it hard enough it could electrocute someone.


The wall switch was located next to the vanity, so you have to walk into the bathroom before you can turn the lights on


The tiles in the shower floor were split instead of cut correctly around the floor waste drain



The

toilet sewer pipe was blocked and the cistern was not flushing adequately considering it was a brand new toilet
How do you know if your bathroom waterproofing has failed?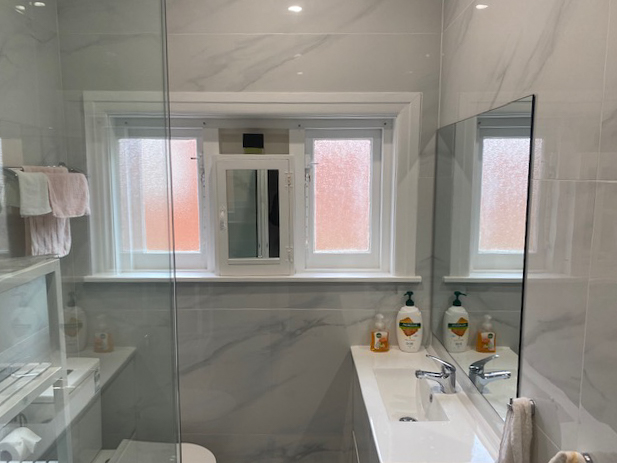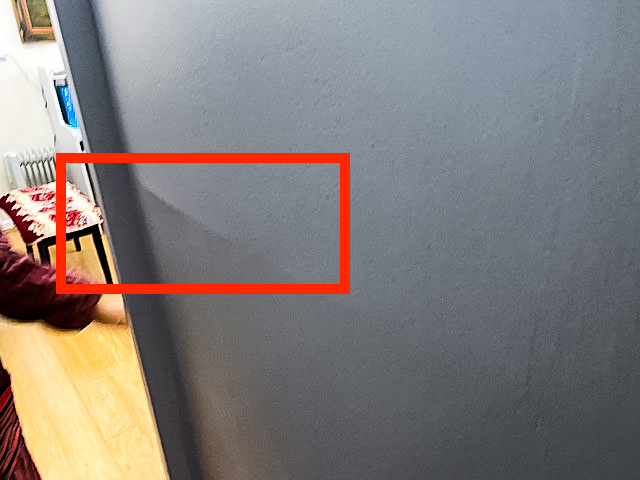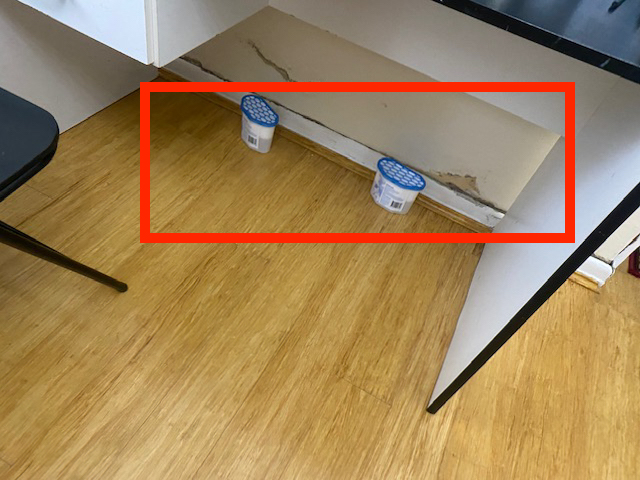 We were called by this lovely family in Blakehurst because they were worried about a water leak in their home. They read our article about why paint starts bubbling on a wall and also noticed large areas of their wall 'swelling' as well. We stuck our head in the bathroom very briefly and at first glance it looks rather nice.
Although, with trained eye of our bathroom plumbing renovating team we see a completely different view.
Our team of bathroom plumbers can inspect a bathroom if you think you have a leak somewhere in the room. This will normally be a worn or aged tap that needs replacing. Although sometimes the plumbing may have a leak inside the wall cavity, under the floorboards or even in the concrete slab. This doesn't necessarily mean your waterproofing has failed but our qualified staff can help determine if that is the case or not.
Nu-Trend has a range of tools or water leak detection techniques to identify where and how the water is escaping from a bathroom, shower, laundry or kitchen area. In this home in Blakehurst they had just had a brand new bathroom fully renovated. Although the wall in the living room was beginning to swell, the paint was beginning to peel and the render falling off the wall. Guess what was on the other side of this wall? The shower.
This was a very early indicator that the waterproofing of this bathroom had failed – that's right – failed waterproofing in a brand new bathroom that had just been renovated in Blakehurst in Sydney. How is this possible we can hear you thinking. It is simply due to poor workmanship and when you look at the rest of the bathroom there are lots of other examples that can demonstrate this.
What repairs or remedial work should be included in a bathroom renovation?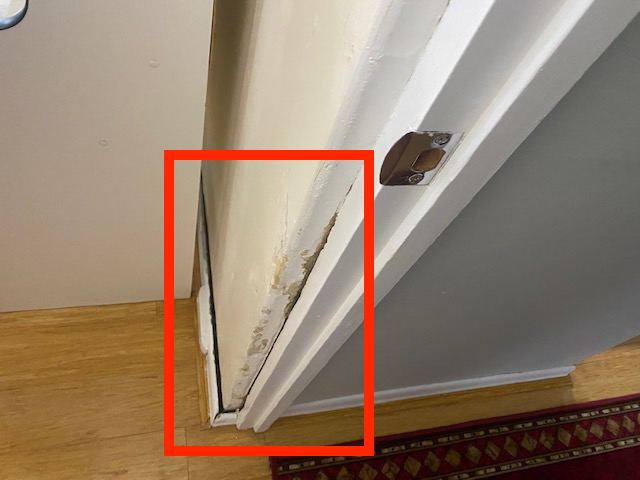 When Nu-Trend provides a quotation for a bathroom renovation in Sydney we follow a 30-point checklist to cover every single detail of your renovation requirements. Quite often we will spot things that a property owner hasn't considered or even thought of when it comes to renovating. So many people focus on the vanity, toilet or shower they forget about all the other details like lighting, switches, painting, doors, doorways or even windows. 
In this bathroom renovation it looks like the contractors didn't even bother considering the doorway at all, it had been given a paint touch up but wasn't repaired correctly. So straight away this indicates poor attention to detail and you can imagine creates a bad impression before you even walk into the bathroom area itself.
If you'd like to see the detail we go to when quoting for renovating a bathroom in Sydney take a look at our quote checklist or renovation brochure.
Is a pre-fabricated shower screen a good idea?
How they installed the shower screen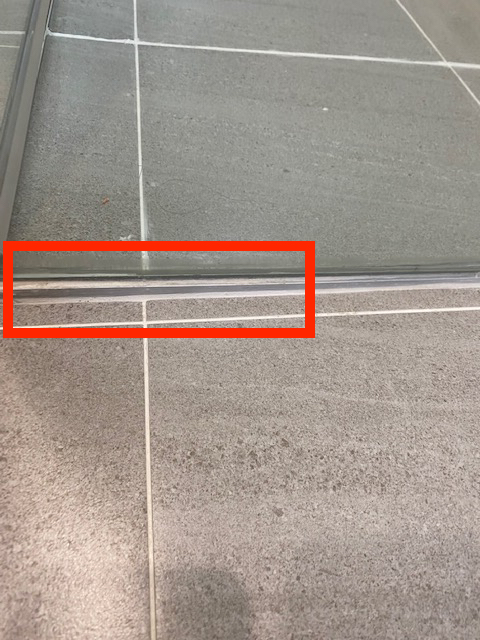 How we install shower screens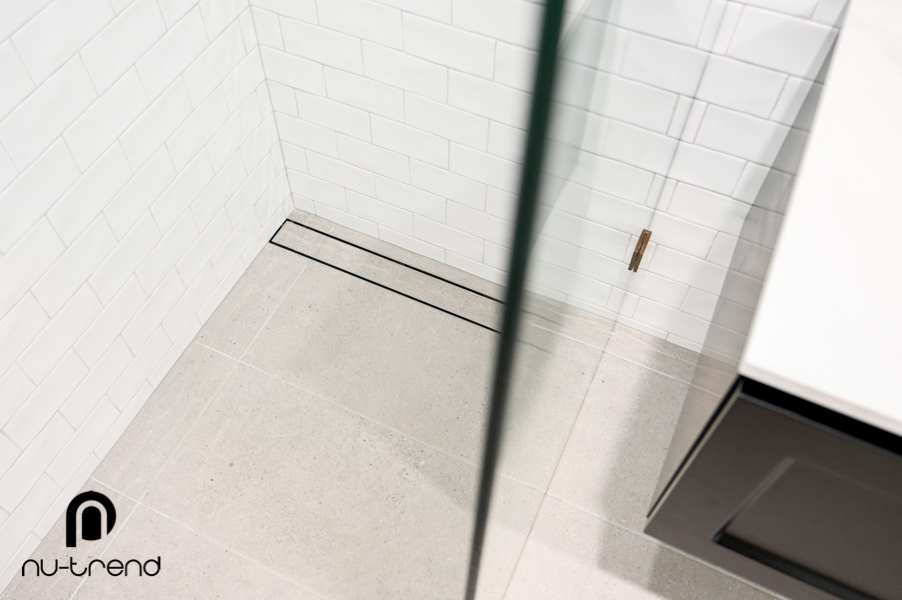 I picture tells a thousand words right? One of the best cliches in the world but these two photos can perfectly illustrate the difference between cheap bathroom renovators in Sydney and the high quality work that Nu-Trend can deliver. This is the difference between someone who quotes a bathroom renovation to only cost between $10,000 and $15,000 – it simply means corners are being cut somewhere.
– Cheaper labour
– Pre fabricated items rather than custom made
– Cheaper materials
– Poor attention to detail for things like applying adhesive
– Poor interior design techniques
Here you can see how they created a 'ramp' or a slope in the tiles to try and accomodate the pre-fabricated shower recess and screen they purchased. Instead of getting a custom made glass shower screen they chose the cheaper option and bought it from a hardware store, but it didn't fit quite right, so they adapted the floor to suit. Not only is it poor workmanship but the extra edges, joins and surfaces means over time that dirt, debris and other things like moisture can collect in these areas.
It is potentially a trip hazzard for anyone walking in or out of the shower.
What Nu-Trend will typically do when renovating a new bathroom or shower area is to have a beautifully seamless floor with a gradient that falls to the waste drain. We will make sure there are minimal joins and a perfectly flat floor so make it easy to walk in and out of.
Can you conceal a floor waste into floor tiling for a bathroom?
How they installed floor tiling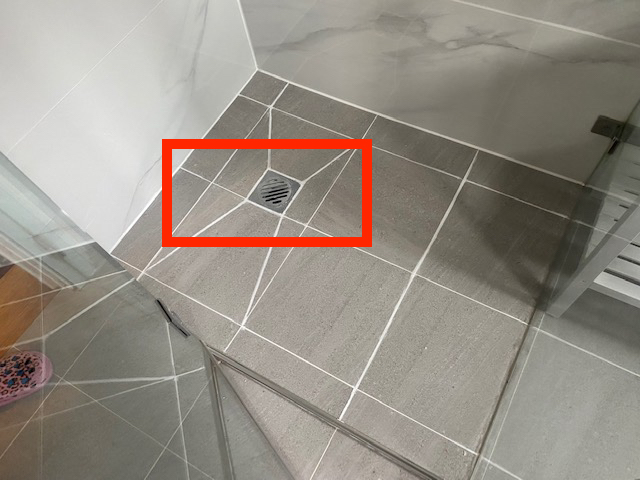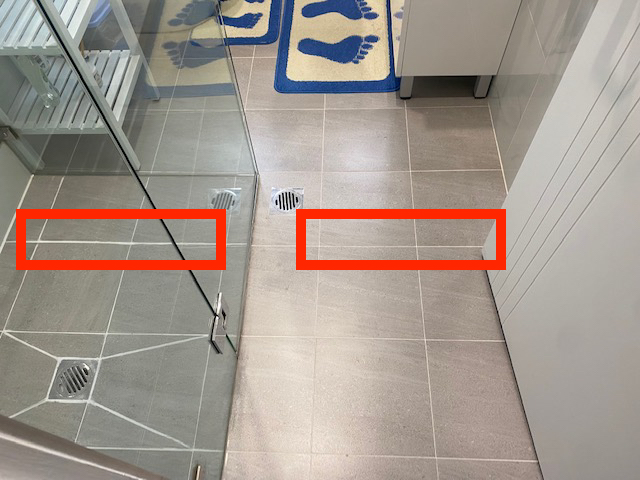 How we install floor tiling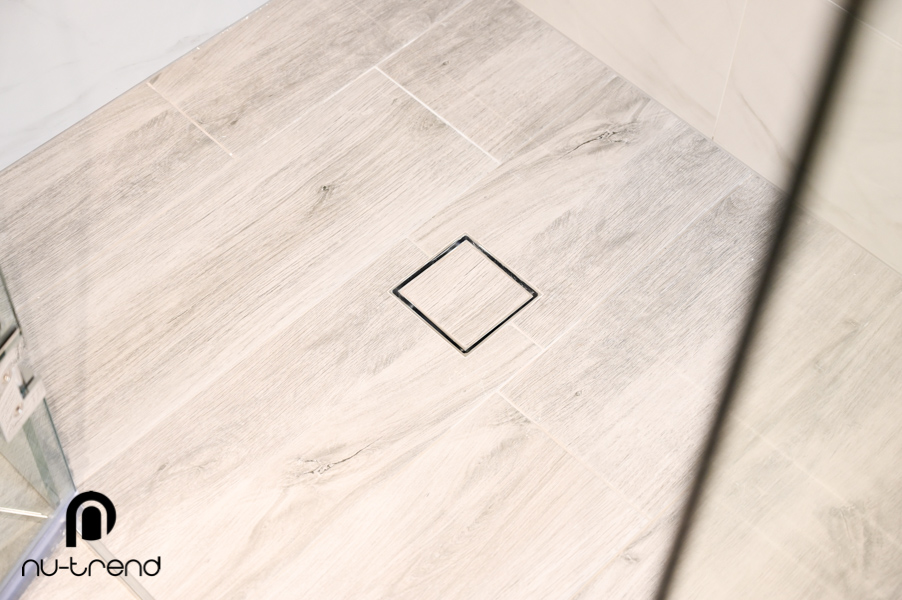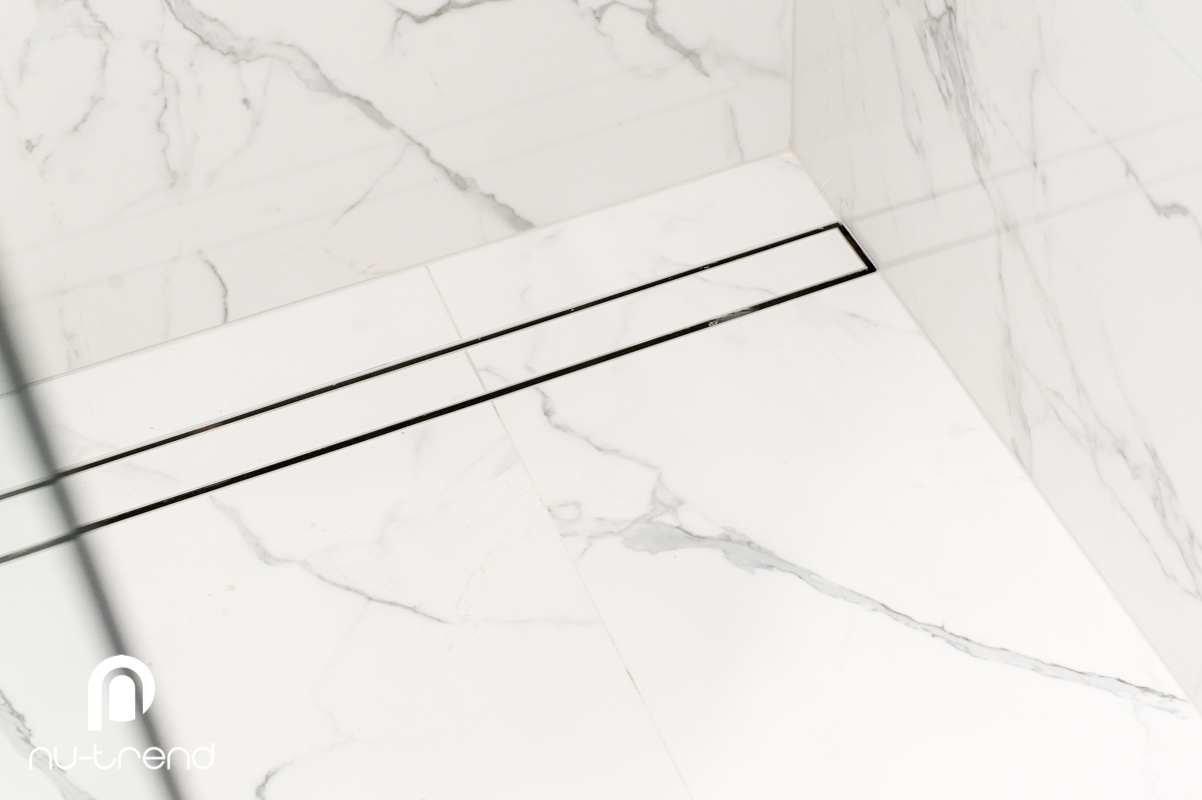 Here is another example of poor workmanship where the tiler has taken an unusual approach and split the tiles to accomodate the location of the floor waste. As you can see in the photos the floor waste drain isn't even in the centre of the shower, so the tile cut splits aren't even. So visually you see it straight away and it just looks terrible.
Bathroom renovation interior design isn't just about the colour or style you choose – it is also about the execution. When Nu-Trend renovates a new bathroom where it is practical we will re-locate the floor waste or in other situations we will install a full width drain. Either way we go the extra step and integrate this element into the floor tiling so it isn't too obvious.
The other big thing we do is to make sure all the joins between the floor or wall tiles are consistent. Here you can see the grout lines are not consistent between the general floor area and the shower. It looks like two different people have done the tiling. Visually it isn't noticeable at first, but once you have 'seen' it you can't stop looking at it.
Should wall and floor tiling have consistent grout line gaps?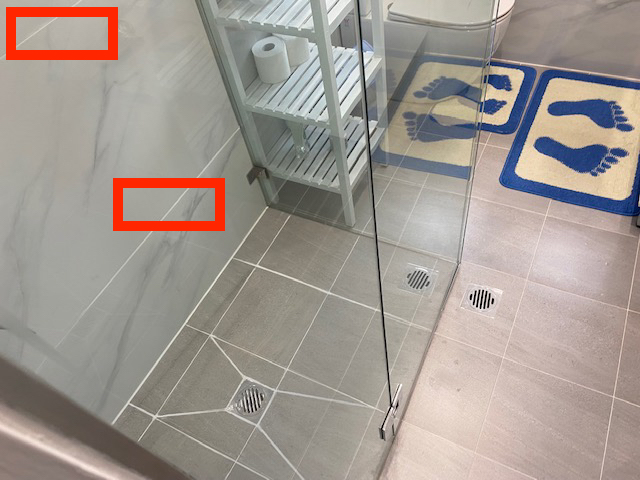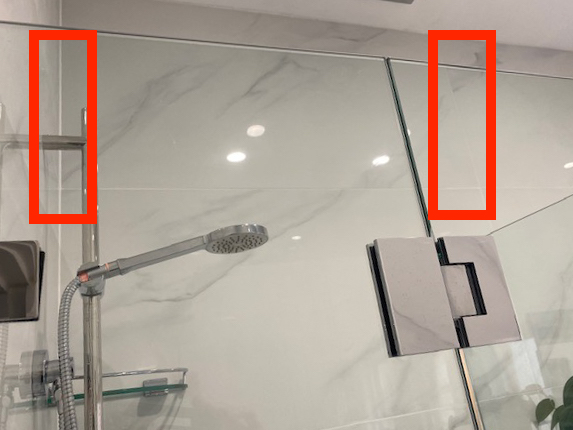 Here is another example of the poor workmanship in this bathroom renovation. You can see that even for the wall tiling the gaps in the grout aren't consistent. In fact you can see the tiling on the wall hasn't been set perfectly where the lower tile is protruding slightly. It just means that the room may not have been perfectly square when they began the renovation, maybe the walls weren't prepared correctly or the tiles not laid consistently. 
Either way it is another example of how poorly this bathroom was renovated.
Can you relocate switches and powerpoints in a bathroom?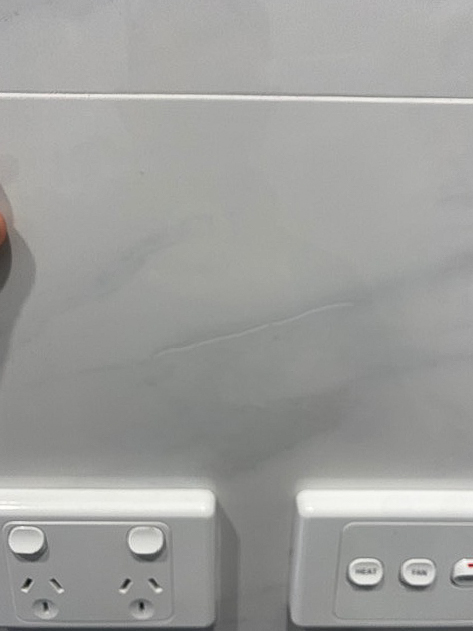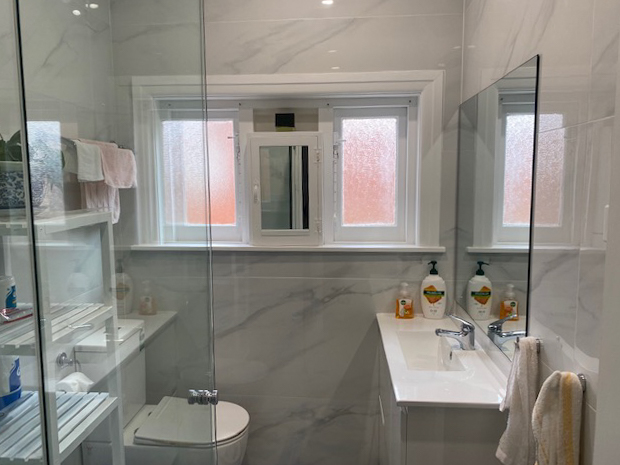 Another area that bathroom renovators cut corners is to leave switches or powerpoints in the same location as the old bathroom. This should be something that is discussed during the planning stages. Old bathrooms might have switches in silly locations that are not practical, so when the room is demolished the electricals can get relocated to make it easier to use the room.
In this bathroom one of the buttons didn't even work, so it presented an electrocution safety hazzard. Although what was even more stupid was the light switch was placed inside the room, yes, you had to walk into the room before you can turn the lights on instead of being able to do it at the doorway.
How can this bathroom with failed waterproofing be repaired?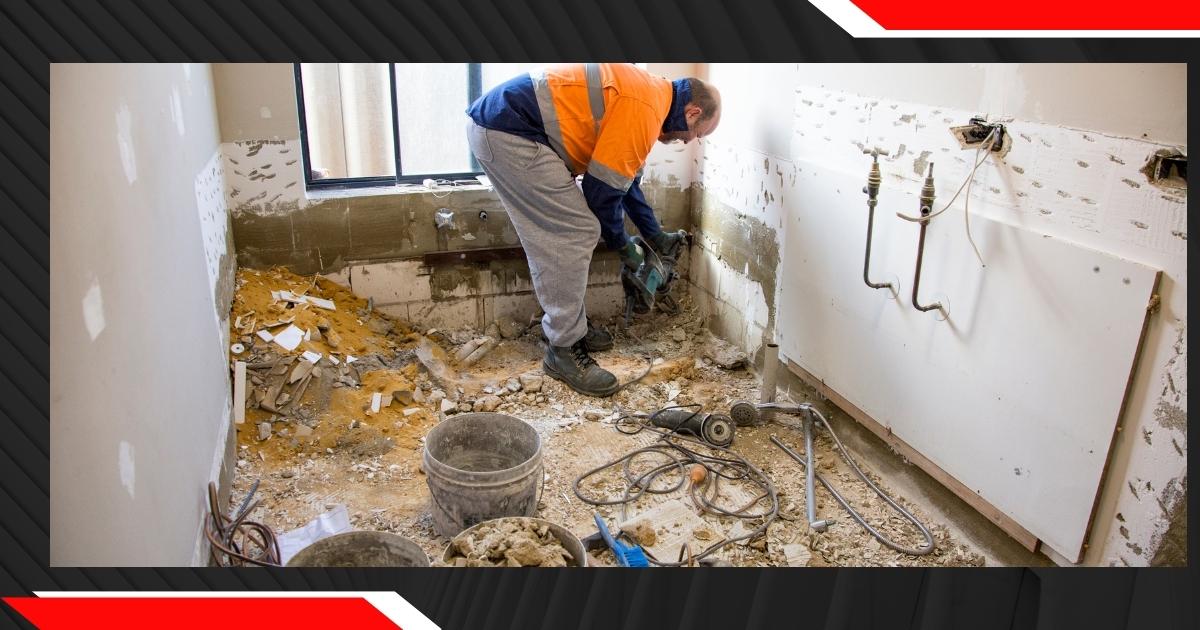 The cost
Unfortunately there isn't a simple answer to repairing this bathroom. Our advice is to strip it and do it all again because you can see so many examples of poor workmanship that there might not be one single fault or underlying issue. There are problems with the waterproofing, tiling and plumbing so there isn't a single, quick fix.
If it was stripped it might be possible to save things like tapware, the vanity, toilet or shower screen although it all depends how easily they can be removed without being damaged.
For this couple in Blakehurst we provided a quote to completely renovate their bathroom again, they are hesitant to spend that money which is understandable, but their home is now getting water damage to the walls and floors. They will have ongoing problems which can lead to mould or even floorboards failing.
Safety
What they (or we) can't see is how bad is the existing plumbing, is there something wrong with the electricals, will the wall need to be repaired or what other things have been covered up by the previous renovation contractor?
The wall can literally be a safety hazzard and could potentially collapse depending on how bad the water damage is. The fact that the Gyprock is already swelling is a bad sign.
Who is to blame?
We empathise with home owners. They were promised a lovely bathroom for $15,000 and thought that it was an amazing offer after visiting a beautiful showroom, meeting staff in nice uniforms and with vehicles that had nice signage. All that cosmetic stuff can hide the use of contractors with poor work ethics and a lack of detail when it comes to the agreed scope of work
How can you avoid this issue? 
Do your research and choose at least two renovation companies who can demonstrate their level of detail and quality of work. Follow these steps;
Check if their license is current

Who is the person doing the work, the actual license holder or sub contractors

Do their reviews look genuine or does it feel like they were written by friends and family

Ask to see proof of previous jobs completed, be careful of photos taken from the internet

Ask to see warranty details and a copy of a renovation contract 
Ask if you can go see a physical finished job site
Are you comparing the exact same thing between contractors
Yes you could get ten quotations but that may just confuse things even more for you & take many months to complete. Yes you will always find someone that has a really cheap quotation but that should sound alarm bells because that old saying of ' you get what you pay for' is very, very true.
Here are some of our recent bathroom renovations in Sydney that Nu-Trend has completed. The majority of the projects we are contracted for are complete bathroom renovations where the room is completely stripped so that the flooring, walls, tiling and waterproofing is installed brand new.
Local | Licensed | Insured

Protection for home owners.
Local Sydney contractors.
A qualified and licensed renovator.
Public liability insurance for peace of mind.
Drainer | gas fitter | plumber | renovator
Nu-Trend is a Sydney company with more than 15 years experience completing bathroom renovations & solving plumbing problems. he Directors Rob and Rick are hands-on, and provide a personalised service.
STANDARDS AUSTRALIA AS/NZS3500:2018 Compliant
All the work carried out by Nu-Trend is AS/NZ3500:2018 compliant. It is the Australian Standard for Plumbing and Drainage in NSW as set down by Standards Australia and the Australian Building Codes Board. They give the plumbing industry technical direction to enable compliance with required regulatory frameworks.
15 years experience with a written commitment.
Rick and Rob are the hands-on directors for Nu-Trend. Rather than hire sub-contractors and manage their business from a distant office, they are on the tools, at your site & working towards delivering your bathroom renovation or plumbing service. It means you are talking directly to the owners of the business, the guys who are accountable and responsible rather than via email or through customer service teams.
It is why they are able to provide a written guarantee that demonstrates their confidence in standing by the quality of their workmanship and the service they deliver to every single client.
They have a very single minded commitment to deliver a high level of professionalism and quality, they've been doing renovation contracting in Sydney for 15+ years.