What a cheap bathroom renovation looks like
You might be reading this and thinking we are writing about this to try and protect our business. To an extent you are right, although look at the very first photo below, it is exposed copper piping that is visible in a newly renovated bathroom, apart from the poor installation, there's been no attempt to present the bathroom professionally.
This is just one small example of how bathroom renovation contractors will cut corners to get a job completed quickly and cheaply. They will avoid the extra time and labour involved to make sure all the right installations are set up, or finishes are delivered to things like tiling or painting.
You won't see this in a quote, can't really tell beforehand, sadly you discover it afterwards and this is why it pays to take your time and question why some quotations for renovations in Sydney are cheaper than all the others.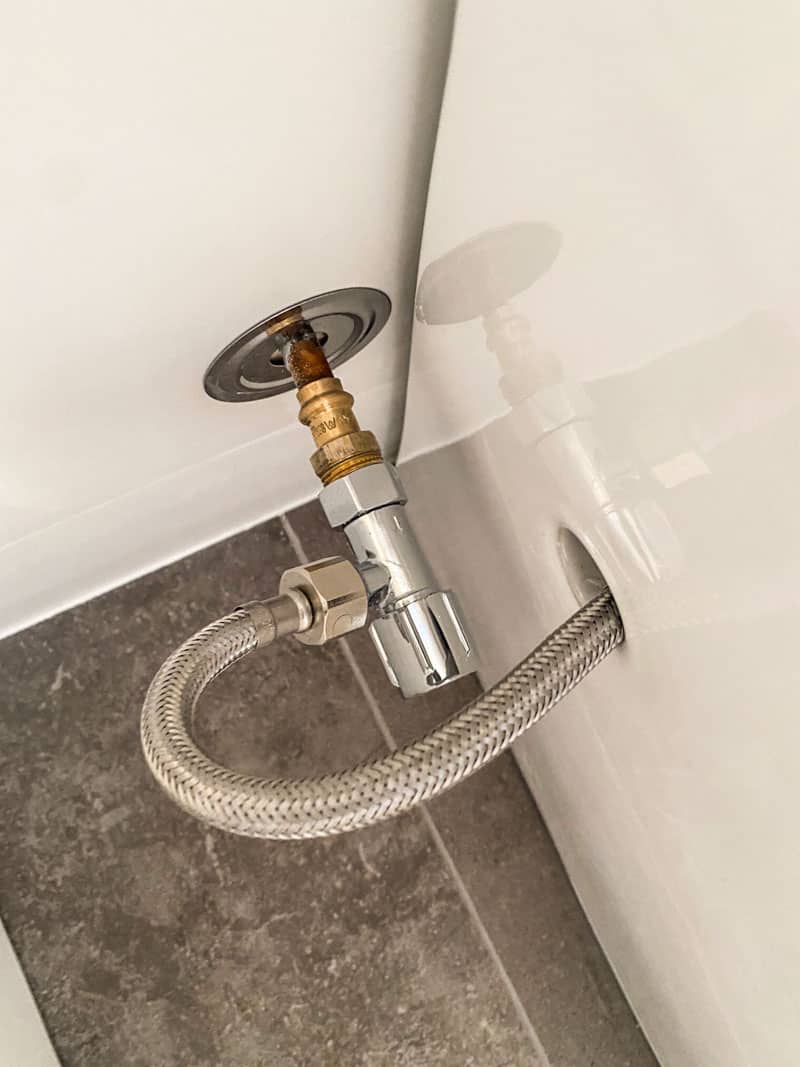 Cheap bathroom renovation quotes normally mean shortcuts are being taken.
The example we explained above is just one of many examples we found in this bathroom renovation that the property owner asked us to inspect. We missed out on this renovation contract and the owner chose another service provider that was a lot cheaper. Now they are paying the price for poor quality work that was completed. 
Nu-Trend is proud to be a leading small bathroom renovation company in Sydney with a reputation that is supported by more than 100 reviews that have been written by residential, commercial and real estate clients who have contracted us over the years.
We weren't sure whether to cry out of frustration or laugh at the property owner for making a decision on their bathroom renovation project that was purely down to pricing.
We've learnt the hard way when it comes to proving quotes or estimates on bathroom renovation projects in Sydney when we have underestimated the time needed, the difference quality materials can make or even hiring the right tradespeople to work with us when specialist skills might be needed.
It means we know exactly how other bathroom renovation companies in Sydney can provide cheap renovation quotes because it they will be using low quality materials, inexperienced labour or rushing jobs to flip them quickly and get onto the next one.
A cheap renovation quote should be a red flag for any home owner and for this project we were under-quoted by around $5,000. That's right, another company were that much cheaper than our estimates and there wasn't any way possible for us to match that.
Now we can see why though. The owner called us to come and inspect their renovated bathroom and we were utterly shocked at what we found. Something so simple like a wall pipe fitting was left exposed from the wall rather than being located correctly to only expose the fittings, but the list went on as we explain what else we discovered below.
What other aspects of this cheap bathroom renovation weren't renovated correctly?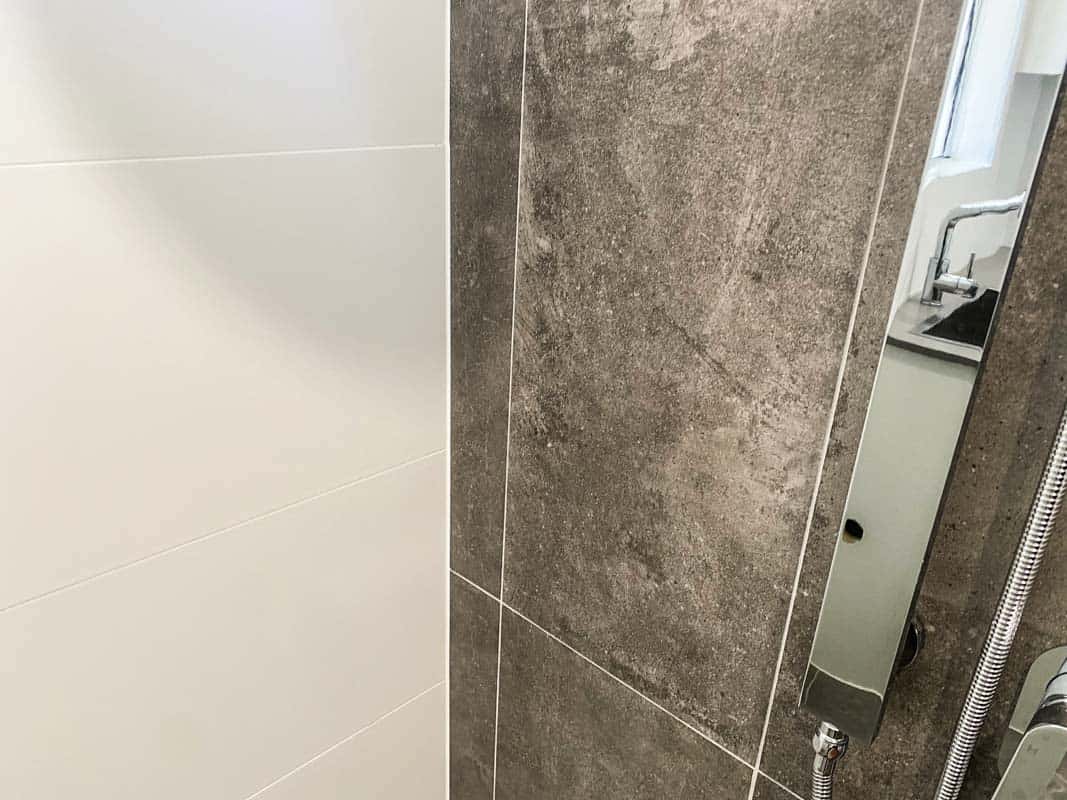 For the sake of transparency we had quoted on this project at $20,000 in labor although ultimately we had lost the job to another small bathroom renovation company in Sydney who had quoted just $15,000. 
The difference in pricing was too attractive for the owner to refuse, but they already had to have the bathroom re-tiled twice to try and rectify the issues. Although we did a closer inspection and discovered;
1. The walls weren't level – this makes installing anything in the room even more of a challenge vs making sure the walls are absolutely perfect before starting any renovation work. It adds time to the project when you have to make allowances for walls out of square to the floor, ceiling or other walls.
2. Fixtures were installed at the wrong heights – for example the shower head is installed at head height rather than above. Nobody that we know of enjoys a shower when the water is going straight into their face. It means there wasn't time taken to think about the bathroom design and functionality. Even worse, they didn't even place the fixtures and mark them out so the owner could test and 'see' where they were going to be placed before installation.
3. There is exposed copper plumbing – this means the time wasn't taken to measure the piping layout and fittings correctly to ensure each element would meet the wall faces correctly. While it is a simple mistake it shows a lack of care and attention to detail and contributes to cheap bathroom renovation quotes.
4. The tiles start and finish at uneven lengths – when you first walk into the room this isn't obvious, but like a recent episode of the Block 2020 where the tiling wasn't even from top to bottom you soon notice these things. 

A professional tiler will ensure that all the joints are even and the edges of each tile are nice and level. When two tiles are not level and the edge of one is higher than the next, it is referred to a 'lipping.'

If a tiler leaves the project with excessive lipping tiles, he should be asked to fix them. The same applies for tiles being the same width or lining up to match other lines or edges in the room. It is an attention to detail aspect that takes time and effort to get right.
5. The floor gradients were incorrect – this has potential issues when it comes to where or how overflow water might run (or pool). So together with the uneven walls and poor tiling you can see there was very little preparation done to the room to ensure everything could be renovated correctly.

Now you start to see how a cheap renovation quote isn't such a good idea.
6. The paint finishes are patchy – this was pretty obvious and easy to spot, again if a professional painter isn't used then the chances of a high quality room finish are diminished. It's true that anyone can pick up a paint brush, but you can see the patchy corners and edges in this room straight away, so any money saved is then lost through a poor quality finished project.
7. The is exposed PVC piping under the vanity – some people might not care about this because they throw cleaning products or spare bits and pieces in the bottom of the vanity. Although it's another example of how a cheap bathroom renovation quote is created and shortcuts are taken with little attention to detail to deliver a high quality finish. 
8. The towel rail wasn't installed level – well this one just topped it all and was just another example in this bathroom of the poor quality of workmanship delivered.
How can you repair cheap bathroom renovation problems?
The list above were some of the defects we could see from our visual bathroom inspection. There could be others behind the walls that we can't see & this could include issues with the plumbing or even the waterproofing.
From our perspective, it highlights the difference that comes from selecting bathroom renovation specialists & in the case of Nu-Trend, we are also plumbers, so it means you get the best of both worlds when we renovate your bathroom. We can manage all the renovation works and the plumbing requirements with our team.
To correct the issues in this room would cost around $20,000 because you would really need to start again to make sure everything was done correctly. It is the only way the property owner will have a new bathroom that can add value to their home in the long term. 
Here are some of our recent bathroom renovations in Sydney that Nu-Trend has completed. The majority of the projects we are contracted for are complete bathroom renovations where the room is completely stripped so that the flooring, walls, tiling and waterproofing is installed brand new.
Local | Licensed | Insured

Protection for home owners.
Local Sydney contractors.
A qualified and licensed renovator.
Public liability insurance for peace of mind.
Drainer | gas fitter | plumber | renovator
Nu-Trend is a Sydney company with more than 15 years experience completing bathroom renovations & solving plumbing problems. he Directors Rob and Rick are hands-on, and provide a personalised service.
STANDARDS AUSTRALIA AS/NZS3500:2018 Compliant
All the work carried out by Nu-Trend is AS/NZ3500:2018 compliant. It is the Australian Standard for Plumbing and Drainage in NSW as set down by Standards Australia and the Australian Building Codes Board. They give the plumbing industry technical direction to enable compliance with required regulatory frameworks.
15 years experience with a written commitment.
Rick and Rob are the hands-on directors for Nu-Trend. Rather than hire sub-contractors and manage their business from a distant office, they are on the tools, at your site & working towards delivering your bathroom renovation or plumbing service. It means you are talking directly to the owners of the business, the guys who are accountable and responsible rather than via email or through customer service teams.
It is why they are able to provide a written guarantee that demonstrates their confidence in standing by the quality of their workmanship and the service they deliver to every single client.
They have a very single minded commitment to deliver a high level of professionalism and quality, they've been doing renovation contracting in Sydney for 15+ years.