Choosing colours for your bathroom renovation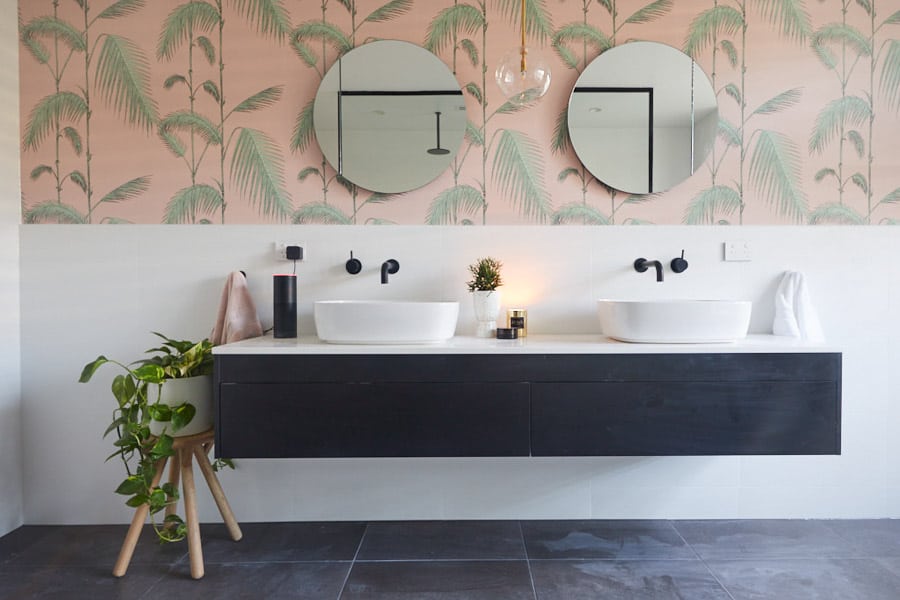 We love helping home owners plan their bathroom renovations in Sydney. Most of the time every person has their own ideas about the style, colour and textures they will put into the room. In other cases people will ask our opinion based on the experience we have renovating so many different properties.
At the end of the day there is no real right or wrong answer because your decisions will come back to the goals you have for renovating – is it your 'forever' home, is it a quick renovation for profit or is the property about to get rented to earn an income stream.
Choosing the colour palette is one of the primary decision to make because it then dictates the materials you will use like tiling and the products you buy.
Bathroom colour trends in Sydney since the 1950's
Bathrooms and colours have only really been a 'thing' in the last 20 years. In most homes built in Sydney before 2000 the bathroom was usually pretty small, it was treated as a very functional space rather than a retreat that many use them for today. So it was all about satisfying basic daily hygiene routines. 
This isn't surprising because it wasn't until the 1950's that homes had toilets under the same roof as the rest of the house. The old outdoor Aussie dunny is part of Australian folklore now. Imagine those days trudging out to the toilet in the middle of the night in the cold or rain, then fighting off spiders or other creepies hiding under the tin roof, behind the door or even worse, under the toilet seat.
Thankfully, that situation is history now and most homes have an indoor bathroom. In the 1950's it was pastels galore, you know the ones, lime greens, purples, pinks and lots of patterns or mosaics. The stuff we'd call 'daggy' these days.
How the advent of indoor bathrooms changed renovating choices
Today, the indoor bathroom is not only considered standard, but lots of homes have a master bathroom and also have an ensuite to the main bedroom of the property. This is happening even in more modern luxury apartments or high rise unit blocks. The bathroom has become a room in which we can show off our individual style, increase the value of our home and be a place to escape to.
The bathroom can be the room that you use to judge the date of a property or how well the owners have kept it fresh and updated. How often have you seen a purple or green hue and realised it was 'old'. Nu-Trend are bathroom renovators in Sydney and our team often uses the colours of a bathroom to help determine a property's age and the common issues we might need to deal with.
One of the big ones is working out if the home was built using "asbestos" sheeting. There are other ways to test this but the approximate age of when a home was built is a quick way to tell. 
We keep all these elements in mind, when we renovate or remodel a bathroom, we want to help the property owner to keep it looking new, fresh and relevant for as long as possible. For most property owners you aren't going to renovate a bathroom twice so it is important to get things like colours, textures and styling done as well as possible.
Is it good to use the latest fashion and colours in a bathroom?
We have all witnessed fashion come in and out of style. Flared jeans, platform heels and fluorescents have all come and gone and come back again just in my lifetime and many good old songs have been remixed to suit the new generation. 
"What was once old is new again" is no different when it comes to interior design.
Once upon a time mosaic tiles were considered "old" before making a huge comeback, though this time not as a floor tile, but as a decorative wall tile. We have even started renovating bathrooms that use kit kat wall tiles to create features in the rooms.
The old "Mission Brown" colour fifteen years ago soon became considered old and drab, and we all went to great pains to be rid of it, repainting and retiling our homes with the more fashionable "apricots" and "pastels" that were the trend again for a while only to have pastels date for a long a painful twenty years and then more recently become on trend, again.
Keeping in "fashion" when it comes to renovating, is way more expensive than replacing a few cushions, throws or even repainting a wall. Removing and replacing tiles in a bathroom creates somewhat of a snowball effect, damaging areas that did not need to be replaced and requiring more work to be done than was budgeted for.
Blacks, whites and neutrals never go out of style, and they have the most stunning outcomes. They are a complete design on their own but create the perfect blank canvas so to speak that can have any of the latest colours added with towels and decor for a splash of the latest colour. You only need to look at our website, Facebook or Instagram page to see the proof.
In the fashion industry there are those certain items that have never gone out of style. The "little black dress", the "A-line skirt", the blazer and the ever classic "bootleg denim jean". These never went out of style quite simply because they are "classic".
Think classic and timeless whilst you're out shopping for your tiles and PC items for your bathroom. It is easy and inexpensive to add a vase, candle, towels or even a new blind in the latest "chic" colours to blend in with whatever you've recently decorated your home in and replace when the colour becomes old. However, getting rid of that pink tiled wall is no easier to change than sea shell border tiles that were on trend as they were 20 years ago.
What colour combinations in bathrooms won't date?
Black and White – this is probably the safest and simplest colour combination that you can work with. It is also the easiest way to ensure the design remains fresh for many years without needing to make more changes to it. It is easy to match taps and other fixtures as well.
Shades of grey – when you see shows like 'The Block' you will notice they use very soft colour palettes to appeal to a wide range of buyers. Using soft greys can be a timeless colour scheme that is a great base to work from where either timber or coloured tiles can add interest without over-powering the room.

Navy and White – can be another base to work from that makes it easy to add simple accent colours like pink, red or even orange depending on how confident you are with your design.

Neutrals with light tones – white will always looks fresh, but a light neutral like beige with grey or black can add warmth to a dark bathroom. Lighter neutrals will also make a small bathroom look bigger. These can be a bit easier to add light timber colours using things like vanity units, drawers or storage cupboards.
Is using an interior designer very expensive to help with colour choices?
If you are really stuck and can't decide what colours and textures to use for your bathroom renovation then working with an interior designer can be the answer. In fact, for larger projects we include a consultation as part of our scope of work to help you create an amazing bathroom. Learn more about this here.
The reason we do this is that it ensures every little detail is organised from start to finish, from the layout, colours, fixtures & fittings to the products that get installed. An interior designer will take into consideration your lifestyle, needs for the bathroom & the rest of the house to get it to all fit seamlessly.
Here are some of our recent bathroom renovations in Sydney that Nu-Trend has completed. The majority of the projects we are contracted for are complete bathroom renovations where the room is completely stripped so that the flooring, walls, tiling and waterproofing is installed brand new.
Local | Licensed | Insured

Protection for home owners.
Local Sydney contractors.
A qualified and licensed renovator.
Public liability insurance for peace of mind.
Drainer | gas fitter | plumber | renovator
Nu-Trend is a Sydney company with more than 15 years experience completing bathroom renovations & solving plumbing problems. he Directors Rob and Rick are hands-on, and provide a personalised service.
STANDARDS AUSTRALIA AS/NZS3500:2018 Compliant
All the work carried out by Nu-Trend is AS/NZ3500:2018 compliant. It is the Australian Standard for Plumbing and Drainage in NSW as set down by Standards Australia and the Australian Building Codes Board. They give the plumbing industry technical direction to enable compliance with required regulatory frameworks.
15 years experience with a written commitment.
Rick and Rob are the hands-on directors for Nu-Trend. Rather than hire sub-contractors and manage their business from a distant office, they are on the tools, at your site & working towards delivering your bathroom renovation or plumbing service. It means you are talking directly to the owners of the business, the guys who are accountable and responsible rather than via email or through customer service teams.
It is why they are able to provide a written guarantee that demonstrates their confidence in standing by the quality of their workmanship and the service they deliver to every single client.
They have a very single minded commitment to deliver a high level of professionalism and quality, they've been doing renovation contracting in Sydney for 15+ years.