Want to convert old shower taps to a mixer in Sydney?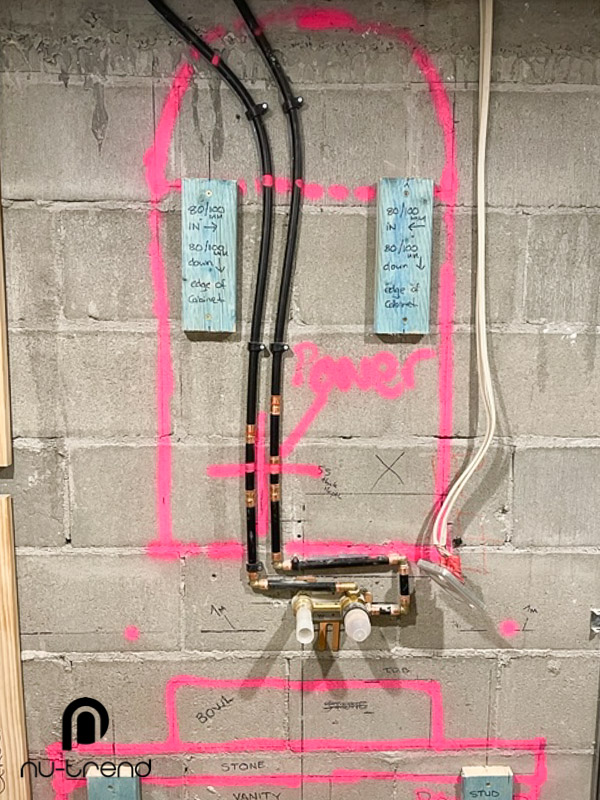 If you are thinking about converting your old hot and cold shower taps to be a single mixer then you really have to hire a local, licensed, plumber in Sydney to get it done for you. Think about it, behind your tiles are two separate pipes for hot and cold water connected to your separate taps. These have to be combined so that they can be controlled by a single mixer without damaging your bathroom plumbing, waterproofing or wall tiles. 
Converting taps in your shower or vanity is not a standard DIY job for a handyman. 
If the pipes aren't adjusted properly, the mixer not connected correctly, the waterproofing damaged or tiles are cracked then any of these things can lead to water getting into the wall cavity to cause long term damage. In absolute worse case scenarios it could mean a bathroom with failed waterproofing.
Why take the risk when for the cost of a local plumber you can convert your taps for between $500 to $2,000 depending on the amount of work involved. Repairing a shower or bathroom with failed waterproofing or water damage to the floors or walls could cost $20,000 or more to get fixed. 
A bathroom plumber in Sydney like Nu-Trend can convert an existing two way mixer in your shower and remove it so that it can be replaced with a single mixer tap on the wall. We can do replacements, conversions or installations for any type of tap for your bathroom, kitchen or laundry in Sydney. The reason so many people are choosing to convert from old taps to a single mixer is you just use one handle to adjust the temperature and the flow of the water, it is so easy.  A mixer is convenient to use and also takes up less space on a shower wall too.
There is no right or wrong when it comes to the choice of tap system you use, it is really down to personal preference. For most of the bathrooms we renovate in Sydney, people will choose to install single mixer set ups but there are still people who prefer to have separate hot and cold taps. 
For new shower installations most people will tend to choose for a single tap mixer that is installed on the wall. Quite a few people find that old style shower taps are difficult to use especially for older people who have weak hands. Using a single mixer is easier as there is more leverage via the tap compared to turning a small plastic or steel knob. Some people will try and repair or rejuvenate old taps, but generally don't know what they are doing so they don't end up being any better. Either getting your taps serviced by a local plumber or converting to a new single flick mixer is the solution.
Is converting dual taps to a single mixer in the shower a DIY job?
It might be. 
In our opinion converting dual taps to a single mixer is not a DIY job because to perform this type of bathroom plumbing renovation you normally have to cut and alter your water supply piping in your wall behind the existing taps. Once that is done you also have to re-tile the area you exposed to be able to get to the pipes in the first place. This also means all the connections have to be checked properly & the waterproofing inspected as well. The risk of a DIY handyman making a small mistake is quite high, especially if they are not experienced and you may not realise they caused a water leak until months later. Getting a bathroom plumber is a smarter idea & less risky.
The only DIY option that some people might be consider is getting an external set like the Quoss Reno Transformer Freestyle Shower Mixer that you can buy from The Bathroom Collective for around $400 inc gst. What this product can do is transform your old two tap set up into an exposed single flick mixer system. The benefit is it may fit over your existing taps if they are at the right distance without breaking the tiles, drilling holes in the wall, adjusting the plumbing, or piping. 
There are different combinations available to suit different shower set ups including bundles that include the tap fitting and shower head with costs going up to around $1,000. The only other consideration is the unit sits off the wall so you will lose a bit of space in the shower cubicle area once it is installed. Even if a conversion kit like this is not installed correctly there is a chance that water can leak from the connections so we'd still advise getting a plumber to install it for you.
Is getting a single mixer tap installed a good idea?
Choosing to get a single mixer tap installed is a great idea and here are the top benefits;
Cost effective – Mixer taps are typically equipped with a flow restrictor to prevent simultaneous overuse of the hot and cold water pipes. The single tap can better manage the flow of water that might help reduce hot water usage and save money on energy bills. 
Ease of use – trying to get the right temperature with two separate taps can be painful and lots of water wasted trying to get it right. A single mixer tap is much easier to control and the flow of water changes much quicker in terms of the temperature as well as the flow. A mixer tap allows you to change how hot or cold the water is as it comes out of the tap. This makes it far simpler to set and control the temperature of the water coming out of the tap, whether you're taking a bath, washing your hands, or shaving.
Aesthetics – lots of people simply prefer the look of a single mixer tap vs a two tap set up for hot and cold water. There are different kinds of mixer taps to choose from in Sydney with straight, modern lines or curved designs available to buy. 
Versatility – you can install mixer taps on a bath, the sink or basin in a bathroom, your laundry sink, the kitchen sink or even for an outdoor shower. You can easily switch between flow from your taps and a shower attachment if you add a shower mixer to a set of mixer taps. This can be held in your hand or attached to the wall to make a shower bath.
How much does it cost to replace taps in Sydney?
The cost to remove, convert or replace taps in Sydney can vary between $150 ex gst and $800 ex gst as a rough guide. Why such a big variance in the cost? Well it depends on so many different factors;
What exactly is getting replaced e.g is it a like for like replacement.

Do the taps need to be moved or relocated to another location.

Does the plumbing need to be adjusted to suit the new tap system.

Does the kitchen bench, vanity or laundry sink have to get removed, replaced or repaired to suit the new tap system?

How quickly does it need to get done.

How old is the property and what is access like.
Depending on the answers to these questions the price will vary but w can provide a free quote over the phone to help you work out your tap replacement costs.
Here are some of our recent bathroom renovations in Sydney that Nu-Trend has completed. The majority of the projects we are contracted for are complete bathroom renovations where the room is completely stripped so that the flooring, walls, tiling and waterproofing is installed brand new.
Local | Licensed | Insured

Protection for home owners.
Local Sydney contractors.
A qualified and licensed renovator.
Public liability insurance for peace of mind.
Drainer | gas fitter | plumber | renovator
Nu-Trend is a Sydney company with more than 15 years experience completing bathroom renovations & solving plumbing problems. he Directors Rob and Rick are hands-on, and provide a personalised service.
STANDARDS AUSTRALIA AS/NZS3500:2018 Compliant
All the work carried out by Nu-Trend is AS/NZ3500:2018 compliant. It is the Australian Standard for Plumbing and Drainage in NSW as set down by Standards Australia and the Australian Building Codes Board. They give the plumbing industry technical direction to enable compliance with required regulatory frameworks.
15 years experience with a written commitment.
Rick and Rob are the hands-on directors for Nu-Trend. Rather than hire sub-contractors and manage their business from a distant office, they are on the tools, at your site & working towards delivering your bathroom renovation or plumbing service. It means you are talking directly to the owners of the business, the guys who are accountable and responsible rather than via email or through customer service teams.
It is why they are able to provide a written guarantee that demonstrates their confidence in standing by the quality of their workmanship and the service they deliver to every single client.
They have a very single minded commitment to deliver a high level of professionalism and quality, they've been doing renovation contracting in Sydney for 15+ years.