Renovating small bathrooms in Marrickville
In Marrickville, 66.2% of the dwellings are medium or high density, compared to 44% in the greater Sydney area. This greater concentration of higher density dwellings typically attracts young adults and smaller households, often renting. Most of the properties are older homes in this area with many of them double storey.
Nu Trend was contracted to renovate two bathrooms in this house in Marrickville;
Small upstairs bathroom – toilet, shower & vanity
Master bathroom downstairs – toilet, bath tub & vanity
To save money renovating the Client chose not to demolish both rooms and they wanted us to keep as much of the existing structure as possible e.g ceiling, windows, walls etc. We typically will do complete renovations, but doing a remodel or a makeover like this is also possible sometimes depending on the existing conditions of the site. We will normally recommend to strip everything back to a bare room framework so that we can avoid any surprises during construction. Sometimes a room might not be fully square, the flooring not 100% level and things like this can lead to compromises during a build process. For this bathroom renovation it was a delicate process because we were not building something from scratch. Here we were working with an existing floor plan, the old plumbing and the existing wall structures to try to renovate the rooms to make them look like new. 
The interior design choices made by the Client meant that one one bathroom would have a bath & the other one would have a new walk in shower. A bath always comes in handy for families that have kids as it is easier to manage them when getting washed. This can widen the appeal to potential buyers or renters if the owner ever decides to sell or lease the property.
So in the end we agreed on the scope of work which included both vanities getting installed as wall hung units to create a sense of space with the timber finishes adding some softness to the rooms. Single lever flick mixers were used which are great in a bathroom because they look good, are easy to use and normally require less maintenance with no washer replacement needed. To compliment the vanity units the Client chose a slim mirror in the smaller room to conserve space with a mirror cabinet in the larger room to create provide storage space.
We were fortunate and didn't run into any unforeseen issues as we worked with all the existing services in place. This renovation in Marrickville was a classic case of transforming the rooms from a 70's style that had mauve decore, to a fresh, modern and practical design. The goal was to create fresh new living spaces that wouldn't age and improved the brightness of each room. We can complete bathroom renovations in Sydney for a house, unit or townhouse. We are able to work with all types of room shapes and sizes creating a design in collaboration with a designer or working with your ideas.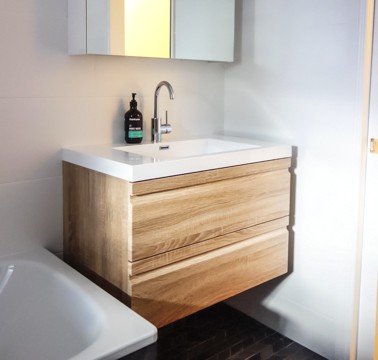 What was the scope of work for this renovation in Marrickville?
Our scope of work for this renovation was extensive and included the following items while the Client supplied all their own products;
Managing the demolition of the existing bathroom.
Removing all the rubbish.
Concreting and slab preparation.
Some of the electrical work.

Minor carpentry work for the existing door and skirting.

Waterproofing and certification processes.
All the tiling.
Connecting the existing plumbing services.
Painting the room.
The sleek stylish finishes created a sense of space and added much needed light to the rooms. We loved the choice of tiles on the floor and large oversized walk in shower. This bathroom remodel was a delight to work on and proves that no matter the size of the space there are always ways to add value to your home by being clever about the materials and choices made.
Our Client's review of the work we completed
"We had Robbie, Ricky and the team completely gut and renovate our two bathrooms. They were professional, prompt and amiable throughout the whole process - even with two young kids running around! Exceptional work by Anthony on the tiling - we had hand-cut slate chevron tiles and he did a brilliant job getting everything absolutely perfect. Thanks Anth. They were on our doorstep at 7am each day and swept and mopped the place before leaving, which made it all more bearable (we lived on-site throughout). Highly recommend the team for your next reno."
What were some of the interior design elements?
The client sourced and supplied all the items that went into the two bathrooms like;
Large format floor tiles.
Single piece, free standing bathtub.

Shower mixers and head.

Vanity unit with wooden touches.
Both bathrooms were completed in about 5 weeks with a similar room makeover costing between $35,000 – $40,000. An in-wall cistern was considered to create even more space in both rooms, but that added cost was beyond the budget and would have required changes to the existing walls.
We introduced a few design features in this room to improve its functionality like;
An in-wall nice which created extra storage space for things like soap bottles and accessories in the shower. So no bending down or hanging things off the shower head or walls. 


The shower tapware were all chrome single lever flick mixers which are durable and reliable.


The shower heads were fixed goose neck units with no shower rail which gives nice strong shower volume with plenty of water flow and power. The only disadvantage to this design is you can't take the shower head off the rail and clean your body with it.


Both toilets were slick looking close coupled toilet suites hidden with a soft close toilet suite.


The floor drains were tile inserts as opposed to wedge wire grates, these are floor drains that are tiled so it appears the floor pattern continues, you can barely see the outskirt of the drain helping to make the room feel less cluttered.


We always use customised shower screens and stainless steel floor drains because pre fabricated shower screens are not designed to fit specifically in each bathroom. We always do this after everything else is done to then choose shower screen technology, sizing, legalities, discuss sizes, legalities, colours etc so that it is then cut & placed exactly to suit your bathroom.


We also installed customised stainless steel floor drains so if there is ever a blockage you can remove the drain easily and clear your obstructions. If you use a cheap, non stainless steel, units they typically corrode and you will have major trouble trying to remove your drain access and may end up chipping tiles trying to do so.


We used the existing electricals in their current positions however we added some wall pendant lights to improve the mood and look of the bathroom


Photos of the completed bathrooms in Marrickville.
* Please note these before and after photos are not professional property images. They have been taken using a mobile phone making it quick and easy to show off some of our work without gimmicks or photoshop trickery.
Find out the costs of bathroom renovations in Marrickville
Nu Trend can provide a free on-site inspection and quotation to get your bathroom renovated. One of our experienced team will come to your site to have a look at the existing conditions, what you would like to achieve & talk to you about the various options available. We then provide a free, fixed price, quotation for your project so you can calculate your renovation costs.
If you aren't ready to get a quote, you can learn about how much it costs by reading our free guide or looking at some of our other renovations.