Putting a toilet into an existing laundry can create another bathroom in your property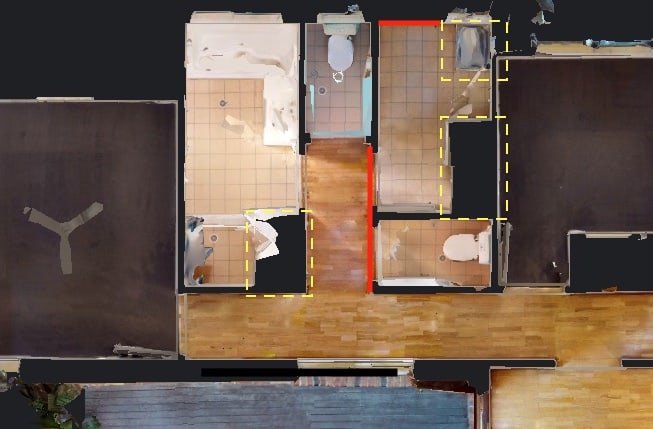 Changing the floor plan of the laundry can make it easy to install a toilet into the same room
Nu-Trend is a renovation specialist in Sydney that can help property owners install a toilet into their laundry. By changing the possible uses for your laundry you can create a more functional space & a room that provides even greater use. In some cases there might even be enough space to install a shower and a toilet to turn your laundry into a second bathroom.
These clever interior design ideas can add value to your home and also be cheaper than doing a house extension or adding another level to your property. If it is for a unit or an apartment it means you can maximise every possible amount of space available which is critical to small living quarters in Sydney. 
Getting creative with interior design to renovate your laundry into a bathroom
In the example in the photos above this property has three bedrooms with a single bathroom and two toilets with a laundry in between. It is quite an unusual floor plan for a small three bedroom house. On one hand it is practical because both toilets can be used while someone is either in the shower or the laundry doing the washing. Although on the other hand it is wasted space because the % of time when those activities would be done at exactly the same time are extremely low.
The other thing to consider when you look at the layout is there are five doors plus the hallway entry space which collectively is a very large surface area that isn't being used for anything. It means there is all this potential wall space not being used and when when you consider the overall space available it is actually wasted space.
For this property it would be possible to install a toilet in the laundry room as the space is available, but you could go a step further;
Remove the rear exit door and replace this with a single large window for light and ventilation.

 

Remove the wall between the existing toilet and laundry to make the room larger.

 

Relocate the entry door & remove the two side entry doors so there is more wall space.

 

Install new cabinets that can house the sink, appliances and extra storage cupboards.

 

Install a small shower cubicle.
Not only does it mean you can have a toilet in your laundry but you create a second bathroom in the house which can increase the property's value.
By changing the floor plan and interior design layout of the laundry you create a more usable, practical space. This can also open other opportunities to make the master bathroom even larger or turn it into an ensuite for the main bedroom. By moving doors you can create more usable wall space that changes the flow of how rooms are used but without reducing the practicality.
How do you change the floor plan to install a toilet in the laundry?
Nu-Trend is a plumber and renovation company in Sydney that can make changes to your room floor plans
Nu-Trend can help you create new room spaces and change your floor plan by moving a toilet on a concrete slab or even changing the location of piping. By moving the fixtures or furniture in the room you can create a different floor plan that can make better use of the available space. 
Sometimes it might be necessary to move the toilet on a concrete slab or move the shower plumbing in the wall, it just depends on the situation. Either way because Nu-Trend are qualified plumbers and bathroom renovators we can take care of both tasks to make sure you deal with less trades & we can make sure it is done to Australian Standards.
Can an interior designer help with a laundry renovation?
In many cases the laundry is a very small room to start with so this can limit the design decisions that can be made. Sometimes using an interior designer can help you to utilise the space better as they can custom design the room to suit your needs better. An interior designer will look at the overall living arrangements and other spaces in the house to work out clever laundry renovation solutions to maximise space usage, light, ventilation and storage.
Why do laundry renovation quotes vary so much between renovation companies?
Some people might compare quotes from their friends from a similar sized laundry renovation and wonder why there is maybe a $5,000 or $10,000 difference. Although many different factors come into play;
– What was the access like for the renovation?
– Are existing building materials being used?
– Will a Gyprock or renderer be required?
– Is their stair case or single level access?
– Are there noise restrictions that limit the times we are able to work?
– What is parking like around the location?
– Are the existing depths and heights being used?
– What is the condition of the existing room & does it need repairs?
– Will the plumbing need to be moved?
You can save money on a laundry renovation if things like the access is easy, you are using existing fixture locations and time is saved on labour from getting into and out of the room faster or using an existing floor plan.
Removing or adding doors and windows
Sometimes changing what is on the walls can create more space
When you change the floor plan of a bathroom or laundry it might be necessary to not only move the existing plumbing but change doors, windows, ventilation or even the electrical wiring. For non-structural walls, Nu-Trend can help you move doors, windows or remove internal walls. This can create completely different room spaces or sizes to work with. 
With the right planning you can install a toilet into a laundry then even create more storage space by being able to use a large surface area of the walls inside the room. The loss of light from say replacing a window can be made up with a skylight instead or a smaller window.
In the example we showed at the beginning of this story you can see that the owner could remove three doors to create more wall space to have cupboards, storage or put appliances into the room to make it more functional. By removing the wall from the existing toilet you effectively place the toilet in the laundry as well.
Can the laundry and bathroom be a single room?
Make your bathroom and laundry into a single room
Nu-Trend can work with your cabinet maker to renovate either your laundry or bathroom to make it into one room. It could be a nice open space for both areas that flow together or it could be a case of concealing the laundry appliances within the bathroom. Anything is possible. 
Sydney laundry renovation common questions