Add a toilet in your existing laundry in Sydney.
Nu-Trend is a bathroom renovation company in Sydney that can provide a free, fixed price quotation to add a toilet to your existing laundry. Our licensed renovation contractors can make changes to the plumbing, walls or flooring so that a toilet can be added to your laundry which can effectively turn it into another bathroom. 
We can even give you a quote to install a toilet plus a shower to convert your laundry into a bathroom for even more functionality. Adding a toilet into a home is a great renovation idea for homes in Sydney as it can increase your home's value by creating a more functional house. Depending on the space you have available in your existing laundry we can also quote to build a new walk in shower while we are adding the toilet. This can save on material and labour costs in some situations. This can easily create a second bathroom or a new ensuite for an adjoining bedroom.
If you convert your laundry into a bathroom this is a cost effective way to add more functionality to a house without going to the expense of building an extension or adding another storey to your home.  
Working with a licensed renovation contractor in Sydney means you can build clever space saving reno ideas that can add value to your home. It is much more cost effective to renovate compared to doing a room extension or adding another level to your property. 
Adding a toilet might also be possible for a unit or apartment to maximise the amount of space being used, a great ideal for small living spaces in Sydney. This can also help maximise rental returns too. 
Our company does
complete bathroom renovations
like this all year round and a laundry with a toilet is a good idea for any home to have especially when it can be added to existing plumbing.
Add, move or install a new toilet in Sydney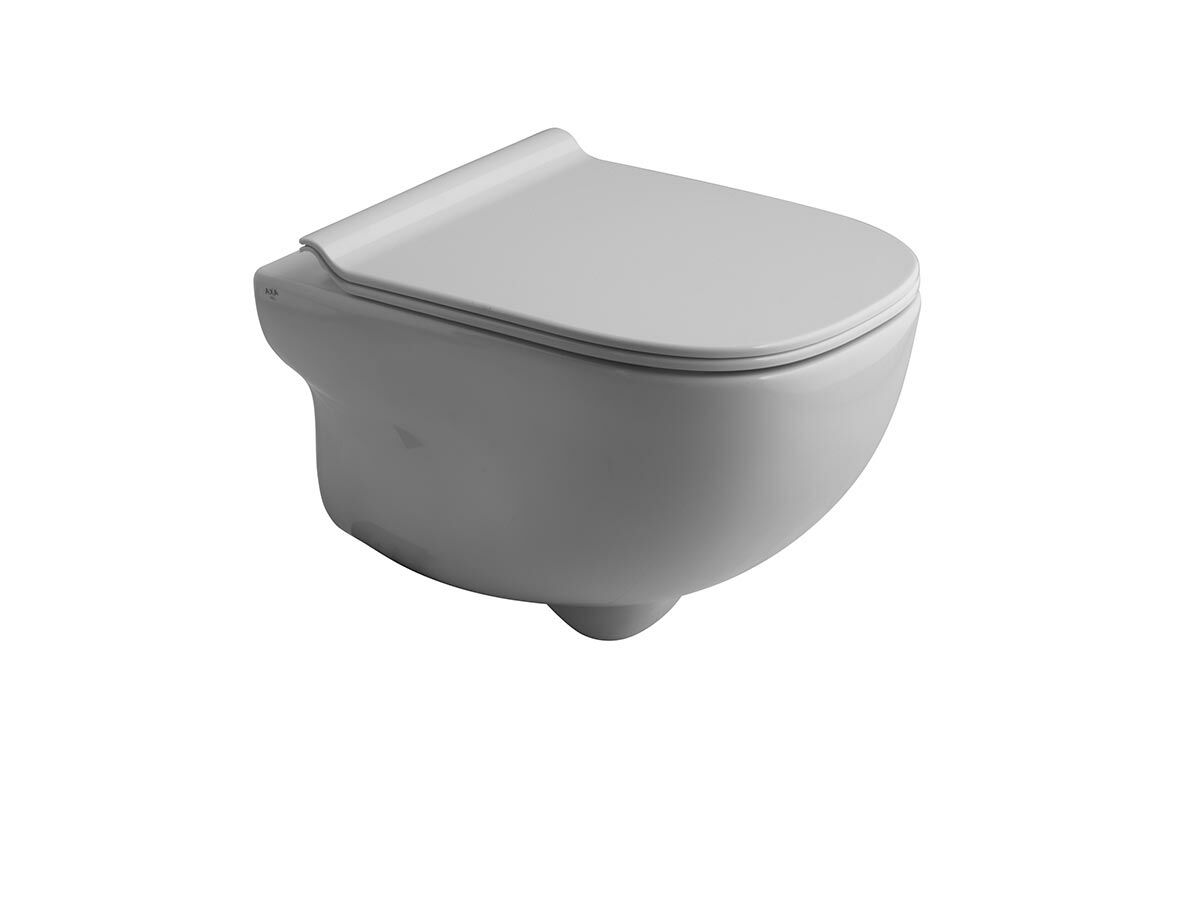 Nu-Trend has a team of licensed plumbers in Sydney that can add, move or install a toilet for you. Our plumbers can;
a) Disconnect the old toilet.
b) Remove the base footings
c) Get the new services ready including either refitting the old toilet or installing a new one.
d) Test all the water service and sewage lines to ensure it is working correctly. 
If you find a bathroom plumber in Sydney like Nu-Trend it means you will be contracting a local specialist that is also qualified as a bathroom renovator. So we can add or even move a toilet but also address any remedial work that may be required afterwards including putting new tiles on the floor or wall, repairing the waterproofing, painting or even relocating taps. Contracting a bathroom plumber in Sydney becomes much easier as you are dealing with one contractor who can manage everything from end to end for you.
If space is a concern then the clever choice of products being used can address this pretty easily. Instead of a normal toilet suite you can opt for a wall hung unit from companies like Reece who have a range of wall hung toilets in Sydney that we can install for you. This type of design takes up less space in the room with the flushing mechanism concealed in the wall. Other space saving ideas can be a frameless glass shower screen, wall hung vanity and using large format tiles. 
Our plumbers can also work out if your existing plumbing needs to be adjusted, moved or even new lines added so that your toilet can be placed in the exact location you'd like to use it. Obviously it is cheaper adding a toilet to existing plumbing so if you are lucky the lines run underneath the location you want to use, we can inspect under the floor or in the walls to work out what is required. Once you do this though, you are well on your way to converting the laundry into a bathroom.
Adding a shower or toilet to a laundry room in Sydney
Nu-Trend can help you renovate your home in Sydney which includes changing the floor plan by adding a toilet (even if it is on a concrete slab), adding a shower or moving the plumbing locations. By moving the tap fitting locations or furniture in the room you can create a different floor plan that can make better use of the available space. 
Sometimes it might be necessary to move the toilet on a concrete slab or move the shower plumbing in the wall, it just depends on the situation. Either way, Nu-Trend are licensed plumbers and bathroom renovators in Sydney that can take care of both tasks which means you deal with less trades while being completed to Australian Standards.
We can provide a free, written, quotation that gives you some options to renovate with everything in the existing locations or the option to move things to different places in the room. In many cases the laundry is a very small room to start with so this can limit the design decisions that can be made. Sometimes using an interior designer can help you to utilise the space better as they can custom design the room to suit your needs better. An interior designer will look at the overall living arrangements and other spaces in the house to work out clever laundry renovation solutions to maximise space usage, light, ventilation and storage.
What is the cost to add a toilet or shower to a laundry in Sydney
Some people might compare quotes from their friends from a similar sized laundry renovation and wonder why there is maybe a $5,000 or $10,000 difference. Although many different factors come into play;
– What was the access like for the renovation?
– Are existing building materials being used?
– Will a Gyprock or renderer be required?
– Is their stair case or single level access?
– Are there noise restrictions that limit the times we are able to work?
– What is parking like around the location?
– Are the existing depths and heights being used?
– What is the condition of the existing room & does it need repairs?
– Will the plumbing need to be moved?
You can save money on a laundry renovation if things like the access is easy, you are using existing fixture locations and time is saved on labour from getting into and out of the room faster or using an existing floor plan. A guide for the overall costs would look something like this;
Up to $3,000 – add a toilet to an existing laundry that has the space & plumbing already available
$5,000 – $15,000 – 

add a toilet and shower to an existing laundry with no changes to existing plumbing
$25,000 – $35,000 –

a complete laundry conversion to turn it into a bathroom with toilet, shower, vanity, lighting etc
$35,000 – $75,000 – 

change the layout of a home to add or remove walls, move plumbing locations and make other structural adjustments to create multiple bathrooms in the home.
all of this is a rough guide because every home will differ based on size, complexity & the actual scope of work required. Converting a laundry into a brand new bathroom is the most extensive type of renovation work, especially if walls need to be adjusted that may require an engineer to get involved.
Combine a laundry & a bathroom to make a big bathroom in Sydney
Nu-Trend can work with your cabinet maker to renovate either your laundry or bathroom to convert it into a single room. It could be a nice open space for both areas that flow together or it could be a case of concealing the laundry appliances within the bathroom. 
Anything is possible when it comes to renovating bathrooms and laundries in Sydney.
We can also work closely with a builder, architect or interior designer if walls need to be removed, roof bracing has to be put in place or other structural work is required. We can make sure that everything is done safely to completely renovate the rooms as required.
The reason that many people are converting their laundry into a bathroom or combining their small laundry with their existing bathroom is to better use the space in the home. People don't use laundry rooms like they did in the old days so for many homes it is just wasted space.
Converting a laundry to a main bathroom in Sydney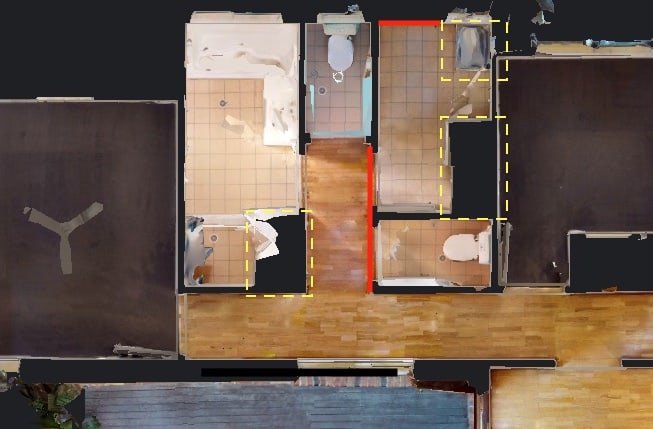 In the photo above, the home has three bedrooms with a single bathroom then two separate powder rooms with toilets and a separate laundry in between. This three way bathroom layout can be renovated so that the laundry is converted into a full bathroom with toilet and shower. There is enough space to renovate the home so that it has a master bathroom for the main bedroom then a second bathroom for the rest of the house to use. Laundry to bathroom conversions in Sydney are the smartest way to create more usable living space in your home. It also means you can rent out a bedroom on Airbnb, Flatmates or Realestate.com.au and let the people use the second bathroom.
A three way bathroom layout on one hand it is practical because both toilets can be used while someone is either in the shower or in the laundry organising clothes to be washed. Although on the other hand, it is wasted space because the % of time when those activities would be done at exactly the same time are extremely rare.
The other thing to consider when you look at the layout is there are five doors plus the hallway entry space which collectively is a very large surface area that isn't being used for anything. It means there is all this potential wall space not being used and when you consider the overall space available in this property it is actually wasted space.
So for this home it would be possible to convert the laundry into a bathroom by adding a toilet and walk in shower, but you could actually go a step further;
Remove the rear exit door and replace this with a single large window for light and ventilation or brick it to create a wall for a shower or narrow window.

 

Remove the wall between the existing toilet and laundry to make the room larger.

 

Relocate the entry door & remove the two side entry doors so there is more wall space.

 

Install new cabinets that can house the sink, appliances and extra storage cupboards.

 

Install a small shower cubicle.
Not only does it mean you can add a toilet in your laundry but you create a second bathroom by also adding a shower which can increase the property's value. 
By renovating the floor plan layout and interior design of the laundry you create a more usable, practical living space. This can also open other opportunities to make the master bathroom larger or turn this space into an ensuite for the main bedroom. By moving the doors you can create more usable wall space that changes the flow for how each room is used but without reducing the practicality.
Adding an extra door or window to a laundry renovation
When you change the floor plan of a bathroom or laundry it might be necessary to not only move the existing plumbing but change doors, windows, ventilation or even the electrical wiring. For non-structural walls, Nu-Trend can help you move doors, windows or remove internal walls. This can create completely different room spaces or sizes to work with. 
With the right planning you can install a toilet into a laundry then even create more storage space by being able to use a large surface area of the walls inside the room. The loss of light from say replacing a window can be made up with a skylight instead or a smaller window.
In the example we showed at the beginning of this story you can see that the owner could remove three doors to create more wall space to have cupboards, storage or put appliances into the room to make it more functional. By removing the wall from the existing toilet you effectively place the toilet in the laundry as well.
Thinking about renovating your bathroom?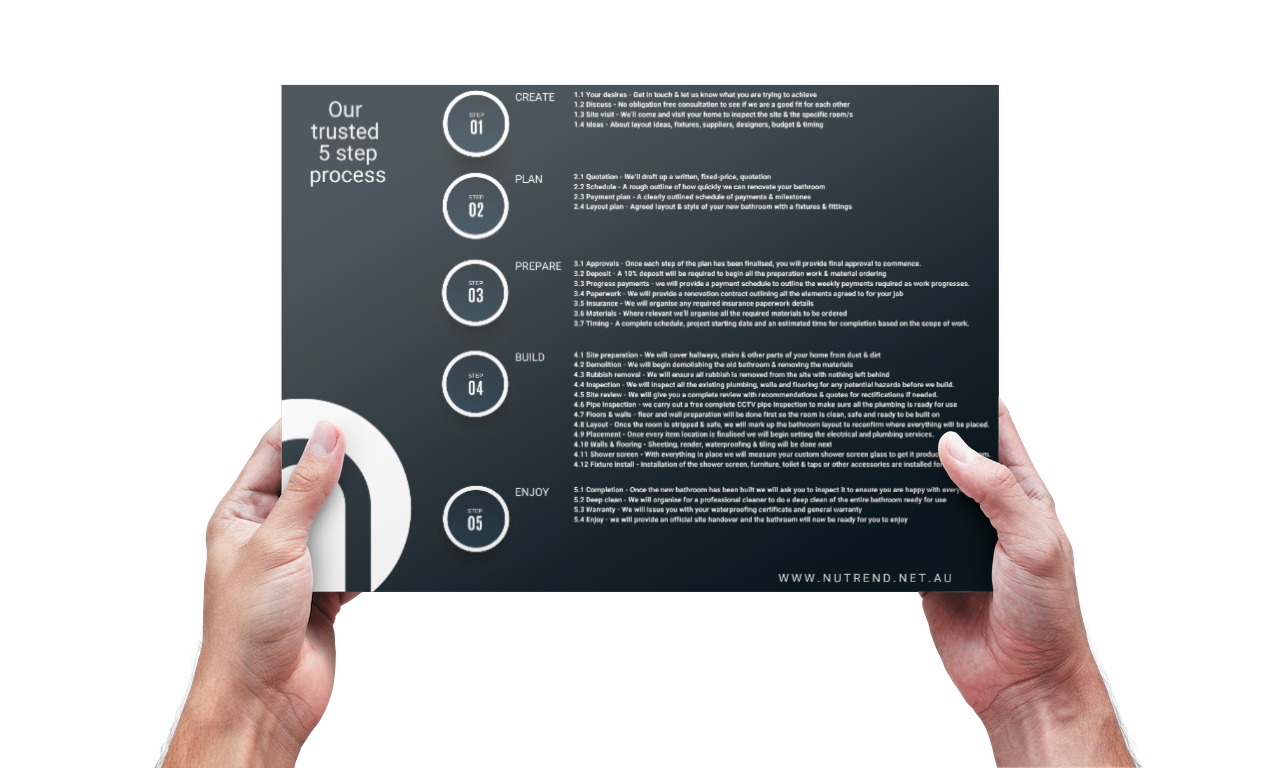 You can get lots of quotes from bathroom renovation companies that have a list of prices, but if you dig into the detail, what are they actually offering? Not all quotations are very detailed and most companies won't even put in writing the steps they follow or their process.
At Nu Trend we provided you with a very clear, written outline of how we carry out any type of renovation in Sydney.
You can even download it
Common questions about laundry renovations in Sydney
Here are some of our recent bathroom renovations in Sydney that Nu-Trend has completed. The majority of the projects we are contracted for are complete bathroom renovations where the room is completely stripped so that the flooring, walls, tiling and waterproofing is installed brand new.
Local | Licensed | Insured

Protection for home owners.
Local Sydney contractors.
A qualified and licensed renovator.
Public liability insurance for peace of mind.
Drainer | gas fitter | plumber | renovator
Nu-Trend is a Sydney company with more than 15 years experience completing bathroom renovations & solving plumbing problems. he Directors Rob and Rick are hands-on, and provide a personalised service.
STANDARDS AUSTRALIA AS/NZS3500:2018 Compliant
All the work carried out by Nu-Trend is AS/NZ3500:2018 compliant. It is the Australian Standard for Plumbing and Drainage in NSW as set down by Standards Australia and the Australian Building Codes Board. They give the plumbing industry technical direction to enable compliance with required regulatory frameworks.
15 years experience with a written commitment.
Rick and Rob are the hands-on directors for Nu-Trend. Rather than hire sub-contractors and manage their business from a distant office, they are on the tools, at your site & working towards delivering your bathroom renovation or plumbing service. It means you are talking directly to the owners of the business, the guys who are accountable and responsible rather than via email or through customer service teams.
It is why they are able to provide a written guarantee that demonstrates their confidence in standing by the quality of their workmanship and the service they deliver to every single client.
They have a very single minded commitment to deliver a high level of professionalism and quality, they've been doing renovation contracting in Sydney for 15+ years.