Converting a 3 way bathroom to a separate bathroom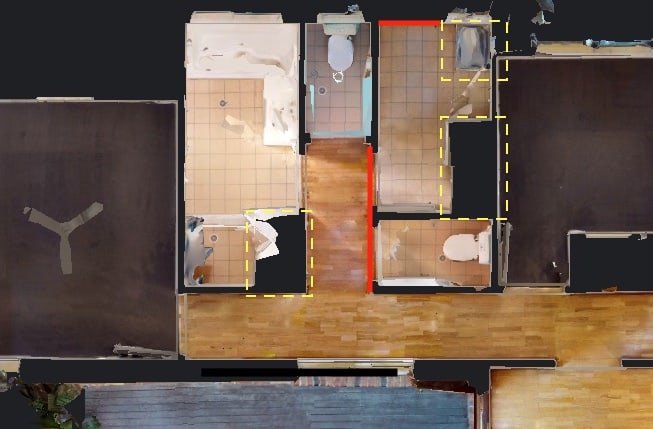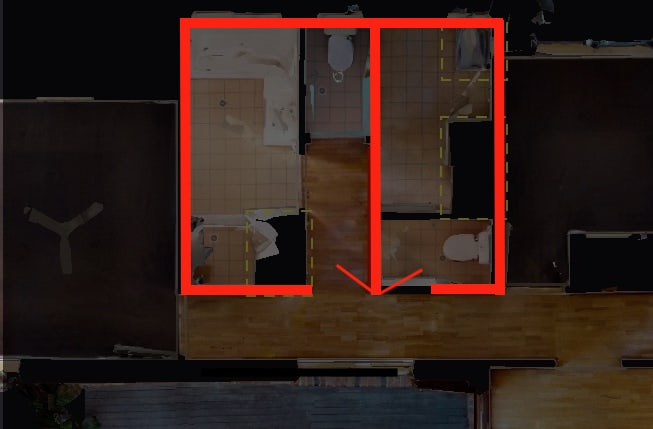 For many people living in New South Wales buying a home in the Sydney metropolitan area has now become a dream with median house prices reaching more than $1.410,000 according to Domain.  It has now become more sensible to renovate your existing property to create more usable living spaces. It has become the preferred choice compared to doing a house extension, adding a second storey or building a granny flat.
Nu-Trend is getting more and more quotation requests to convert 3 way bathrooms into a separate bathroom or laundry. It is very possible to do and it can add value to a property because it may go from a one bathroom dwelling to a 3 bedroom / 2 bathroom combination which is more practical & better for long term resale value.
In the example above the floor plan is of a 3 bedroom townhouse that has 2 living areas plus a study. Although it only has a 3 way bathroom with two toilets, bath, shower and single vanity servicing all the living spaces. By changing the configuration of the walls this layout could be configured to create separate bathrooms;
Master bathroom with bath, shower and double vanity.
Small bathroom & combined laundry with shower, toilet, sink & storage cupboards.
Master bedroom ensuite & then seperate small bathroom & laundry combined.
Every renovation normally includes compromises so that it can satisfy a brief, budget or the space limitations. Choosing to convert your 3 way bathroom layout has some considerations;
Walls may need to be moved, added or changed to accomodate the new layout.
Flooring & waterproofing may need to be redone as well as walls, ceiling, door trims, doors etc.
Extra fittings will be needed ie extra switches, taps, tiles, sinks etc
How much does a 3 Way bathroom conversion cost?
The cost of converting a 3 way bathroom will vary depending on the scope of work required. If the existing plumbing can be used & there is no other major structural work required other than adding a wall area or door then, it may cost between $10,000 and $25,000 to renovate the existing layout. 
All of this depends on whether it can be considered a remodel or if it is a complete room demolition to then construct everything as new. The other big variable will be the tiles & products chosen for each of the rooms.
If new plumbing has to be installed, new walls, structural engineering checks or other renovation work variations then the cost could be from $10,000 to $80,000 depending on the site, building type & how extensive the required work is.
For many properties in Sydney they are valued at $800,000 or more, spending less than 10% of the value of the property on a renovation can be justified when it adds long term value & more living spaces to the home. Nu-Trend provides free quotations for converting 3 way bathroom layouts in Sydney.
Why would you change a 3 Way bathroom into separate rooms?
Increasingly, we are seeing a trend where kids are not moving out of home because housing is so expensive or owners are renting out rooms for added income because of Sydney's high living costs.
For many Sydney homes they only have one bathroom and while a 3 way can be practical and allow more than one person to use either the toilet, bath or shower – having completely separate bathrooms is a much better solution.
Separate rooms make better use of the available space & can separate the living spaces for use of guests or tenants for example. Creating separate rooms can add value to a house property price because it can be presented for sale differently.
Nu-Trend can provide a bathroom renovation quotation in Sydney to change the floor plan of your bathroom to convert a 3 way layout. We have the expertise to also move pipes or other services even if the bathroom is on an existing concrete slab.
Can a wall, toilet or shower be moved to convert a 3 way bathroom?
For some houses it may be necessary to move a wall or even relocate the toilet so that the right layout can be created. This is possible in many situations depending on the structural requirements of the property itself. So for example moving walls in a free standing house will have more options compared to trying to do this in a high rise apartment block.
Nu-Trend can help you assess this & if required recommend a builder in the case that load bearing structural work is required.
Can a powder room be converted to a bathroom?
Your floor plan layout might have a small powder room or separate toilet with sink in a small room cavity. Next to this room might be a storage cupboard, laundry, pantry or even a rear entry into the back yard. These spaces can be converted by removing walls or changing the layout so the whole space is unified to be used as a bathroom.
By opening up the spaces it can improve the practicality of the property and even improve the flow from room to room.
How can you create a bathroom floor plan layout?
The simplest way to work out your floor plan is to measure the room area then use pencil and paper to come up with some ideas. Although the more accurate way is to use a free online floor planning tool like the one that Caroma provides.
A lot of online examples exist and you can find many to choose from when looking for ideas to use in your new layout. It is the perfect way to find inspiration. The other great benefit of the Caroma tool is it enables you to place their products so that everything is done using the dimensions of the space you have available.
This can save a lot of time when planning to renovate & help to put things into perspective in relation to sizing and dimensions. By starting with a 2D floor plan you can easily convert that to a 3D model with the click of a button to see how things are orientated in the room & if there is enough space to walk between things – critical if you are renovating a small bathroom.
Here is more free advice about renovating your bathroom in Sydney that Nu-Trend has created. We enjoy sharing our knowledge and experience to help people avoid the common problems caused by dodgy contractors.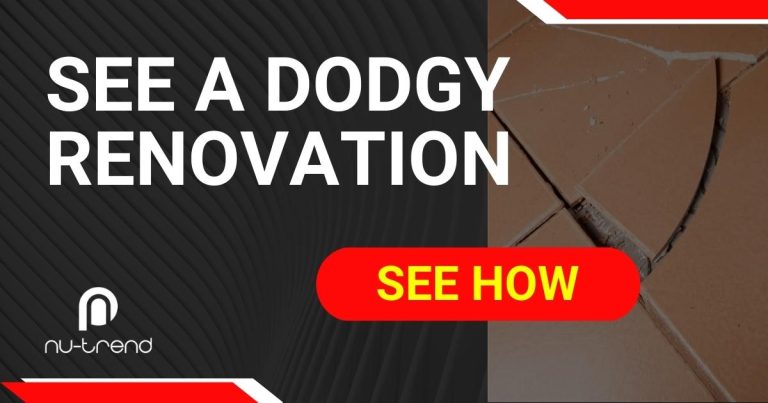 Nice uniforms, stylish work truck, fancy iPads & perfect photos can hide low cost bathroom renovations that are poor quality, see these examples for proof
READ MORE >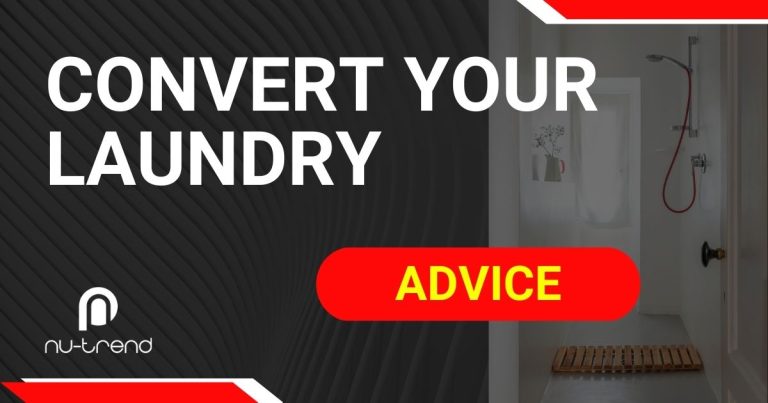 We can convert your existing laundry or powder room into a complete bathroom. See how much it costs and what is required to get this renovation work done.
READ MORE >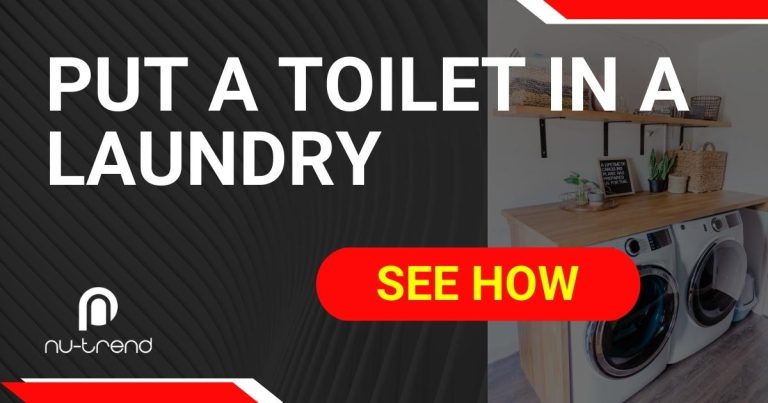 You can add a toilet into an existing laundry to give it more functionality. We explain how much it costs and what is involved.
READ MORE >
Local | Licensed | Insured

Protection for home owners.
Local Sydney contractors.
A qualified and licensed renovator.
Public liability insurance for peace of mind.
Drainer | gas fitter | plumber | renovator
Nu-Trend is a Sydney company with more than 15 years experience completing bathroom renovations & solving plumbing problems. he Directors Rob and Rick are hands-on, and provide a personalised service.
STANDARDS AUSTRALIA AS/NZS3500:2018 Compliant
All the work carried out by Nu-Trend is AS/NZ3500:2018 compliant. It is the Australian Standard for Plumbing and Drainage in NSW as set down by Standards Australia and the Australian Building Codes Board. They give the plumbing industry technical direction to enable compliance with required regulatory frameworks.
15 years experience with a written commitment.
Rick and Rob are the hands-on directors for Nu-Trend. Rather than hire sub-contractors and manage their business from a distant office, they are on the tools, at your site & working towards delivering your bathroom renovation or plumbing service. It means you are talking directly to the owners of the business, the guys who are accountable and responsible rather than via email or through customer service teams.
It is why they are able to provide a written guarantee that demonstrates their confidence in standing by the quality of their workmanship and the service they deliver to every single client.
They have a very single minded commitment to deliver a high level of professionalism and quality, they've been doing renovation contracting in Sydney for 15+ years.