The top 5 reasons people add a bathroom in their garage
It is possible to convert the space in a garage into a bathroom because many Sydney homes have large garages that are meant only for parking cars or storing stuff. Some garages are completely walled in with a lockable door, while others have side or rear entrances.
There is no difference whether the garage is attached to the main building or a standalone structure when it comes to renovating either type of structure for a bathroom.
Nu-Trend can provide a bathroom renovation quotation to add a one to your garage which can include new plumbing, waterproofing, fitting of new fixtures like a sink, toilet, mirror or shower. We have the expertise to also move pipes or other services even if the garage is on an existing concrete slab.
The top five reasons that people want to add a bathroom to a garage include;
Adding a bathroom to the home that can be used when entertaining guests or having parties outside in the backyard.
Creating an additional living space at the property which can be rented on Airbnb or for short term lease accomodation.
Building an outdoor office or study in the garage that has a desk area plus bathroom.
Provide outdoor shower facilities that can be used after using a swimming pool to reduce the need for people to go inside to shower off.
Develop more practical spaces in the property but retaining all the rooms already inside the house.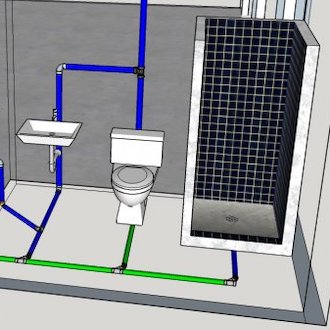 Thinking about renovating your bathroom?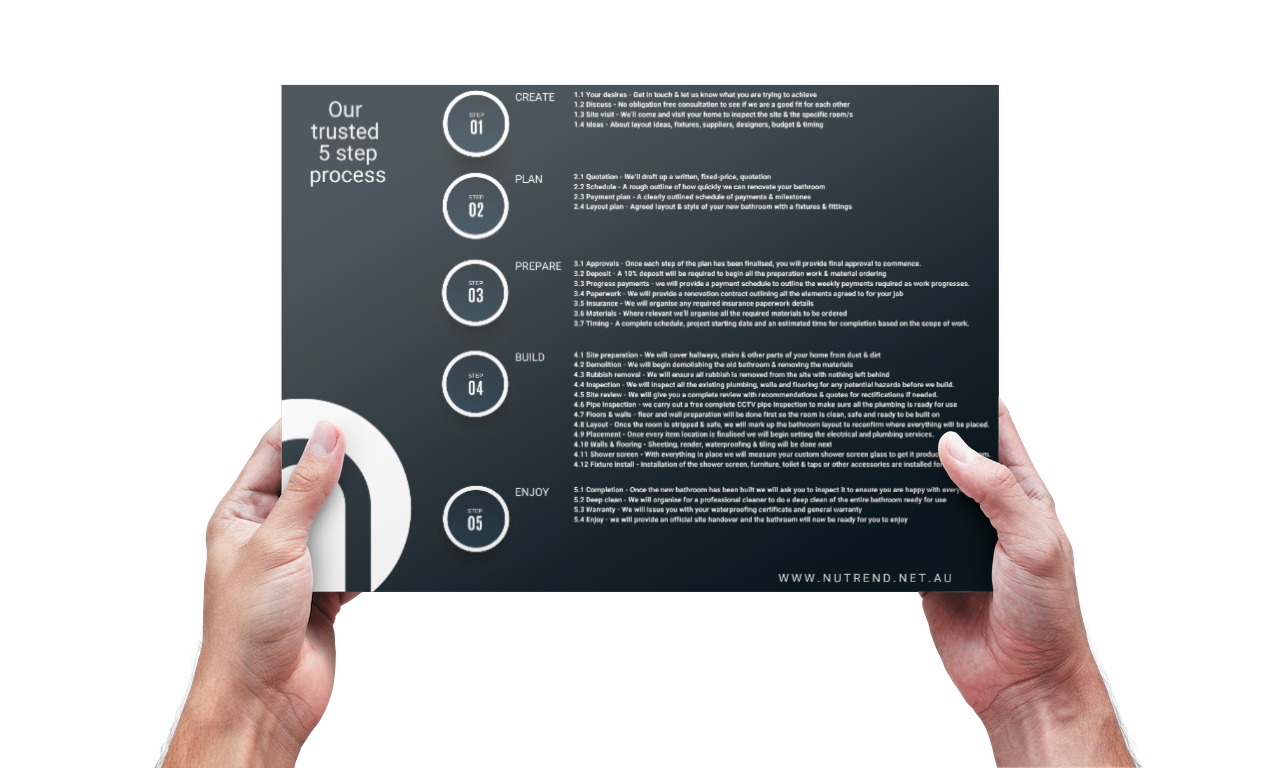 You can get lots of quotes from bathroom renovation companies that have a list of prices, but if you dig into the detail, what are they actually offering? Not all quotations are very detailed and most companies won't even put in writing the steps they follow or their process.
At Nu Trend we provided you with a very clear, written outline of how we carry out any type of renovation in Sydney.
You can even download it
The cost to add a bathroom to a garage in Sydney?
The hardest part to adding a bathroom into a garage is having the right plumbing available for supplying water and managing the waste from a sink, toilet or shower.
In some situations the garage may have been built over some of the existing services for the property which means it is a case of getting access to them. We can assess this & advise whether cutting into the concrete may be required.
In other situations new plumbing might need to be installed to create the necessary services for the new room which can be done by digging new trenches & installing new plumbing.
In either scenario it still makes it possible to put a bathroom in the garage, it just means the steps required will vary based on the existing conditions of the site. 
Nu-Trend can provide a free quote to install plumbing into your garage by doing a site inspection and exploring your available options
Can you build a bathroom in your garage?
There may be a possibility of building a bathroom in your garage, but the cost and complexity of such a renovation project depends on the existing conditions. 
Some garages have been built under the house and already have plumbing that runs along the roof which might make the task relatively easy. A lot will also depend on exactly what you want in the bathroom ie just a sink and shower or do you also need a toilet.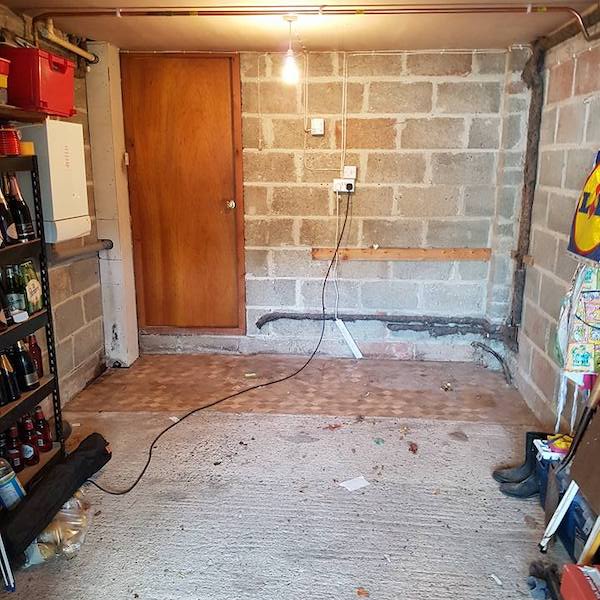 Can you install a toilet or shower in a garage?
Nu-Trend can give you a free quotation to install a toilet, shower or even a laundry into your garage in Sydney. 
We have seen many renovation conversions in the last few years that have involved home owners installing toilets, showers, sinks and even creating outdoor laundry or entertainment rooms from their garage.
Many older Sydney houses feature an outside laundry room or even a toilet. These can be converted into a single bathroom space with lots of storage and can add value to a home.
Depending on the floor plan it may be possible to give this room internal access and the existing internal laundry could be used for something else.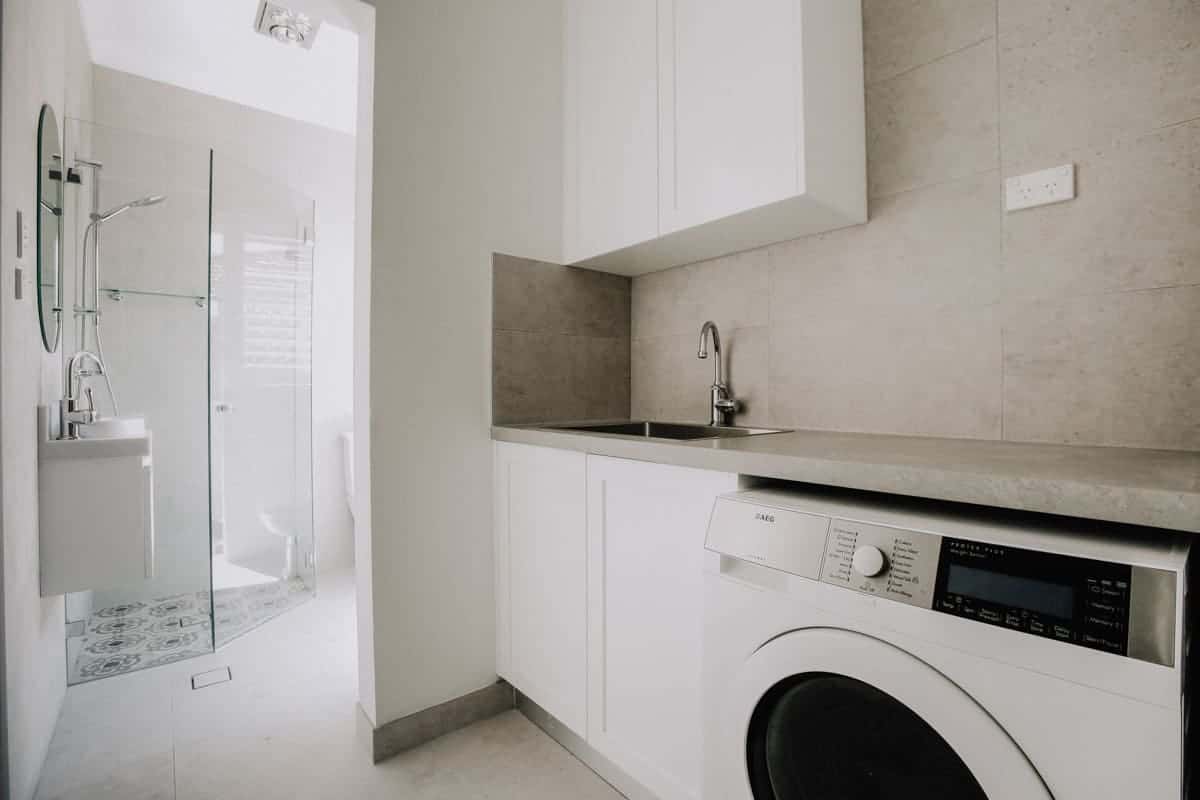 Can floors and walls be added to garage conversions in Sydney?
Your garage may need to have the floor prepared to be suitable to install a bathroom, especially if plumbing needs to be run to the building. Walls, doors or windows may also need to be added for access and ventilation. This can be constructed, prepared, waterproofed & then tiled from floor to ceiling.
In the case of a typical two car garage, the length could be shortened by adding a new wall to then create a new room to install a bathroom. All of this can be determined during the planning stages of the renovation project.
Can a detached garage have a bathroom added?
If you have a detached garage that is at the end of a driveway or at the rear of the property in the back yard it is still possible to add a bathroom. 
What some property owners consider doing in these situations is adding a car port on the driveway next to the house or in the front yard. 
Then, the existing garage can be converted to have a bathroom but also turned into an outdoor studio, office or entertainment area. This can create more living space, extra rental income or accomodate working from home situations.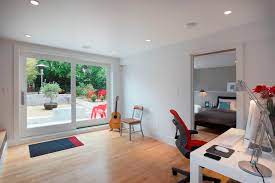 Can you put a toilet or shower in your shed?
Some home owners might have a shed or workshop on the property that have electricity and water services. It's possible to add a toilet, shower or even a laundry into a shed depending on its size and where the existing services are located.
Just like a garage conversion, getting a new toilet added to your shed will depend on the site and how difficult it is to get plumbing connected.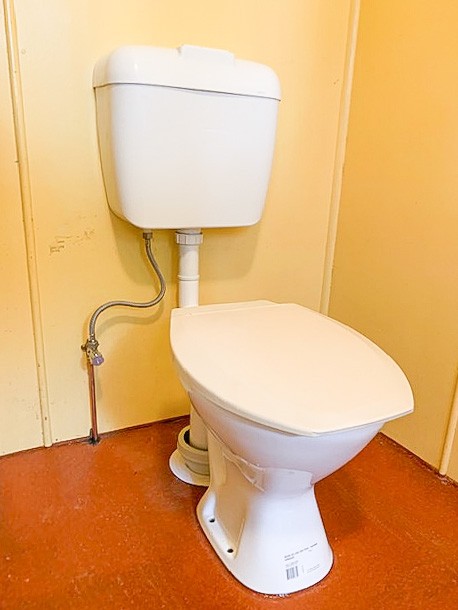 What is the cost of adding plumbing to a garage conversion in Sydney?
The cost to add plumbing to your garage conversion in Sydney will depend on your property & the site. The cost will vary based on how difficult the site is to access, the distance that has to be covered & what method needs to be used to install the plumbing.
You could be fortunate and the existing services run under the garage so the work required is focussed around creating access to them through the existing flooring.
In other situations, we may need to dig trenches to connect the garage plumbing to your existing services. Obviously, every property will be different and that is why costs can vary from $1,000 up to $30,000 as there is no set price or fee for this type of plumbing service. The time required will add to the labour cost needed to complete this type of job.
Nu-Trend can provide a quote for the cost of adding plumbing to your garage as well as adding a new bathroom to it as well.
Pre fabricated bathrooms vs custom built
One of the options available to convert a garage is to use a pre fabricated bathroom which is essentially a usually fiberglass or acrylic kit that is created in a factory then delivered to your location for installation. Normally you can choose between single piece or multi piece designs that can accomodate different situations.
The drawbacks of using a pre fabricated bathroom are;
Limited design options and choices.
Inability to adjust or resize the pre fab unit to fit your available space.
Potential long term reliability and durability of the plastic cracks or breaks.
Perceived value – ie there is that feeling of standing or using plastic in a bathroom vs solind, high quality tiled finish.
Difficulty in accessing the location ie a single piece may not fit through a doorway or opening to be installed.
Difficulty in matching interior textiles, colours and design styling.
More difficult to repair if a pipe or water leak occurs.
Flooring options for garage conversions
Modern garage conversions or renovations in Sydney can also include a choice of flooring finishes to help make space feel connected to the home instead of being a cold, bare, space. For some property owners it can make a great space for a vehicle collection or the 'man cave' so it doesn't take up space in the house. Three of the most common flooring options in a garage can include;
Porcelain tiles; most of the time people associate this type of tiling for kitchens or bathrooms. Although this hard wearing tile can be used as a flooring choice for a garage. It can add colour to a room & give it a premium feel. They can be matched to the bathroom to give the whole garage a feeling of unity.
Foam or AVA flooring tiles; these are really easy to install and can be removed if you need to. Normally they come in squares and connect to each other to create a soft surface. Similar to what race teams will use in motorsport & a simple way to give your garage a facelift.
Epoxy floor coverings; this chemical is a family of basic components or cured end products of epoxy resins. Epoxy resins, also known as polyepoxides, are a class of reactive prepolymers and polymers which contain epoxide groups. The epoxide functional group is also collectively called epoxy and is commonly used to treat concrete floors to give them a softer finish that is durable and tough.
Polished concrete; nearly all garages have a concrete floor and generally they are left in their raw state. Over time the surface becomes rough and you do get a build up of concrete dust and any liquid spills can be hard to remove. Polishing the floor can help protect the concrete surface and give the space a premium look. The same treatment could be done in the bathroom.
Other floor applications can include things like underfloor heating. If the bathroom being installed in the garage isn't complimented with roof or wall insulation then it could make it uncomfortable to use in winter months. Underfloor heating can address this by heating the floor & the air in the room.
Here are some of our recent bathroom renovations in Sydney that Nu-Trend has completed. The majority of the projects we are contracted for are complete bathroom renovations where the room is completely stripped so that the flooring, walls, tiling and waterproofing is installed brand new.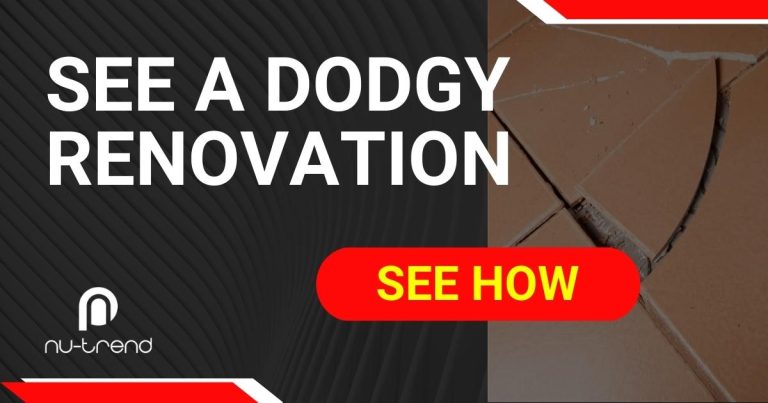 Nice uniforms, stylish work truck, fancy iPads & perfect photos can hide low cost bathroom renovations that are poor quality, see these examples for proof
READ MORE >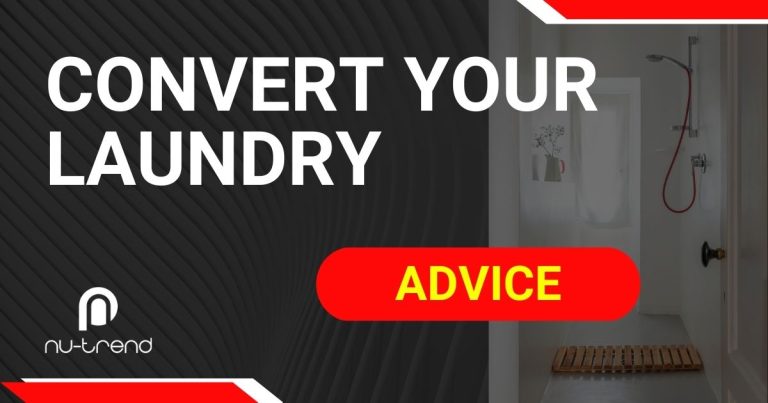 We can convert your existing laundry or powder room into a complete bathroom. See how much it costs and what is required to get this renovation work done.
READ MORE >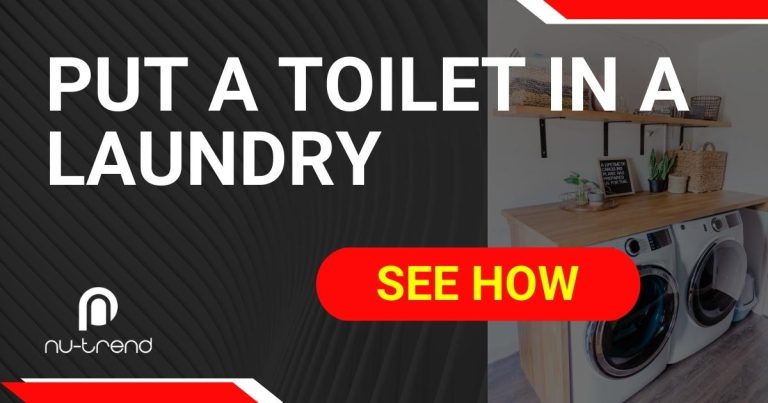 You can add a toilet into an existing laundry to give it more functionality. We explain how much it costs and what is involved.
READ MORE >
Local | Licensed | Insured

Protection for home owners.
Local Sydney contractors.
A qualified and licensed renovator.
Public liability insurance for peace of mind.
Drainer | gas fitter | plumber | renovator
Nu-Trend is a Sydney company with more than 15 years experience completing bathroom renovations & solving plumbing problems. he Directors Rob and Rick are hands-on, and provide a personalised service.
STANDARDS AUSTRALIA AS/NZS3500:2018 Compliant
All the work carried out by Nu-Trend is AS/NZ3500:2018 compliant. It is the Australian Standard for Plumbing and Drainage in NSW as set down by Standards Australia and the Australian Building Codes Board. They give the plumbing industry technical direction to enable compliance with required regulatory frameworks.
15 years experience with a written commitment.
Rick and Rob are the hands-on directors for Nu-Trend. Rather than hire sub-contractors and manage their business from a distant office, they are on the tools, at your site & working towards delivering your bathroom renovation or plumbing service. It means you are talking directly to the owners of the business, the guys who are accountable and responsible rather than via email or through customer service teams.
It is why they are able to provide a written guarantee that demonstrates their confidence in standing by the quality of their workmanship and the service they deliver to every single client.
They have a very single minded commitment to deliver a high level of professionalism and quality, they've been doing renovation contracting in Sydney for 15+ years.