A complete bathroom renovation in Ashbury that included floor repairs
We love renovating old homes in the inner west, especially when the owners want to try and preserve some of the character and charm with their interior design.
For the owners of this house in Ashbury their bathroom renovation brief was to give the bathroom a modern look, but keep the styling consistent with the rest of the home. So they wanted a balance between modern materials, colours and finishes that could work with the period look of the home.
They chose Nu-Trend as their bathroom renovation contractor in Sydney because they had seen how much detail we put int our renovating work and impressed by the fact we don't cut corners.
Fortunately this meant we were able to help them discover and repair their water damaged subfloor that was so badly damaged it would have been unsafe to renovate on. This is common if your property is positioned low to the ground where standing water may accumulate or the underfloor area is not well ventilated. As a result, moisture can seep through and damage the subfloor and even the floorboards over time.
A subfloor's lifespan depends mostly on the materials used and the amount of moisture that it gets exposed to. If it is protected correctly then it can last for the lifespan of the home. Although there are lots of examples where it is consistently exposed to moisture, thus requiring replacement after twenty years or so.
Renovating old bathrooms in the Inner West
Recent decades have seen the greatest decline in the protection of the built environment, with political control overseen by greed and vested interests where historic or heritage buildings are being removed or significantly changed.
Attempts have been made with the Development Control Plan (DCP) for Ashbury to maintain aesthetic character by enforcing rulings which dictate that new work and additions be located to the rear of the dwelling, although failure to dictate aesthetic compatibility, has resulted in a smorgasbord of unusual variations to this idea.
There was a campaign in the 2000's to protect the suburb's period housing. Federation, Californian Bungalow and Art Deco style dwellings were built mainly during a period that spanned four decades, from the beginning of the Twentieth Century, into the 1940s. Californian Bungalow and Art Deco style houses are referred to as Inter-War Period Housing.
The owners of this house wanted to retain a lot of that character and style. Their brief was to refresh their existing bathroom to make it modern, but not too modern. Retaining the same layout was important to help reduce costs, although the damaged subfloor was an unfortunate surprise in the 2.5 m x 1.7 m x 2.5 x 1.7 sized room.
With an older style federation home this can be a common issue to deal with when renovating. We had to be careful of things like the old render on adjoining walls which were bedrooms. 
We also tried to manage things with the small baby located in the bedroom nearby. Our timeline would be organised so that when toxic chemicals are to be used like waterproofing, they will go away for a few days so the baby is kept safe. 
The most complex part of this renovation job was to clear out the subfloor to then install new floor joists and new floor boards to tile over.
Bathroom plumbing and waterproofing
Once all the major floor repair work was completed we could turn our attention to preparing the room with new bathroom plumbing, waterproofing, wall preparation and tiling.
This was relatively straight forward because all the existing locations were going to be used so we didn't have to move the toilet, shower or sink placements. 
Quite literally this was makeover but at the same time a complete renovation because the room was totally gutted.
The one feature that was retained was the lovely stain glass window in its timber frame. This would ensure it matched the other rooms while giving the exterior a consistent look as well.
Renovating a federation style bathroom
Most of the heritage listed properties in Sydney will have various restrictions to deal with depending on the style of house, age & location. It's important to consult with your local council on what might be required and they may even refer you to a Heritage Consultant to help manage your project. This will be especially important if you are considering changing the street frontal areas of your home, although for most internal renovations it is much easier to manage.
Fortunately for this home in Ashbury even though it had an older heritage style the decisions the owners were making was all about adding a modern touch that was in keeping with the original features. There are so many bathroom products available on the market that make this possible from taps to shower heads or even bath tubs that are styled to look like something from the 50's, 60's or 70's if needed.
How do you know your subfloor is damaged or worn
1. Your floors are uneven or sunken in parts.
If you notice a soft spot under carpet or wood flooring, it could mean that the panels below have weakened. While replacing the entire subfloor may not be necessary, you will have to replace the damaged pieces to prevent the rot from spreading to a larger area.
2. Your floorboards squeak – loudly.
Subfloors squeak when the nails connecting them to the joists are pulled loose. As you walk across the floor, the nails move in and out of the wooden joists, causing the awful, familiar sound of creaky floorboards. If you notice squeaking throughout the entire room, this could be a sign that the material has warped.
3. The room smells musty.
The smell of mould or mildew is a huge sign of water damage, but the tricky part is finding where. If your carpet or wood floor smells musty, you almost certainly are dealing with a water damaged subfloor. Moisture is the most common cause of failed subfloors and a plumber in Sydney can help you locate the source of any potential leak or water build up.
4. Your floors shift or bounce when you walk on them.
If the floor begins to feel spongy, springy or bouncy, or if you notice the floorboards around you shifting when you walk on them, it could mean that it's time to replace the subfloor.
5. Your toilet is rocking or loose.
If you notice your toilet moves it could mean the subfloor has become so decayed that it no longer securely anchors the fasteners that hold the toilet to the floor,. It could even be from a slow leak in your toilet's plumbing.
6. Your floor tiles are cracking.
Tiles are rigid and need a firm, solid surface. If you start to see cracks it can mean that everything below them is beginning to move and can't hold it up. 
Our renovating scope of work
for this renovation
Nu-Trend has renovated lots of properties in the Inner West suburbs in Sydney with lots of experience working with terrace houses, apartments & units in the area. Our scope of work for this renovation in Ashbury was extensive and included the following items;
Management of all trades working on the project from initial demolition
Plumbing and flooring inspections
Strip and demolition of the existing bathroom
Removing all the rubbish.
Replacing the existing sub floor

Waterproofing and certification processes.

Prime and waterproof bathroom with waterproofing to be applied below and under the screed with 3 days drying time in between.
Re-screed, sand and cement the new floor and allow to dry.
Tile all the walls and floors
Grout all the floors and walls
Paint the existing ceiling with shadow line cornice
Fit off the items such as taps, accessories, pc fixtures, mirror etc.
Test and commission 
Highlights from this bathroom renovation?
#1 PROTECTED THE PROPERTY
All the internal areas of the home from the front door entry to the bathroom were completely covered to reduce dust or debris spreading through the home.
#2 PLUMBING & FLOORING INSPECTION
Nu-Trend is a licensed plumber which is an advantage when you are renovating a bathroom. For every project we inspect all the bathroom plumbing and sub flooring to make sure it is ready for use. When you combine this with our renovation expertise you get total peace of mind.
Some renovation contractors will not include this in their service, they might leave the rubbish from the demolition in your backyard or on the street. Nu-Trend will make sure all the materials and rubbish that are not used are removed neatly ensuring your property isn't left in a mess and neighbours are happy.
#4 NEW FLOOR INSTALLATION
Dealing with less contractors makes renovating easier. So for this project we also ensured the new sub flooring was installed and ready to be used for the bathroom and plumbing.
Examples of our bathroom renovations in Sydney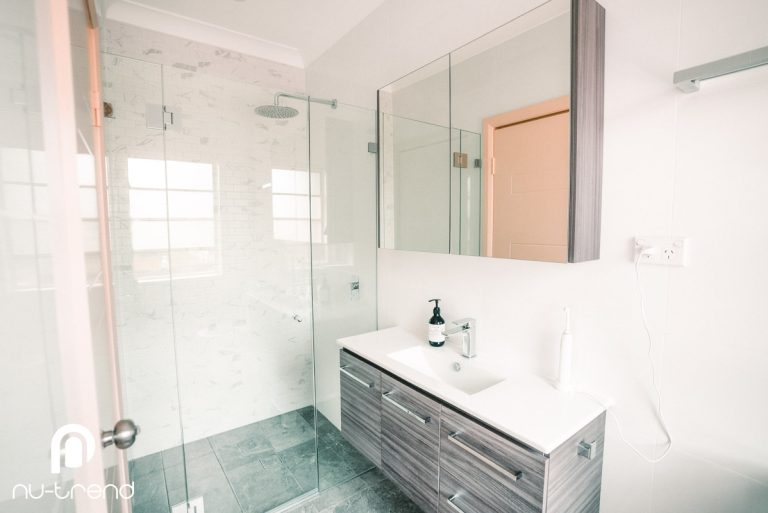 The ensuite bathroom in Mortdale needed an renovation to look and feel more modern, have more storage and more natural light.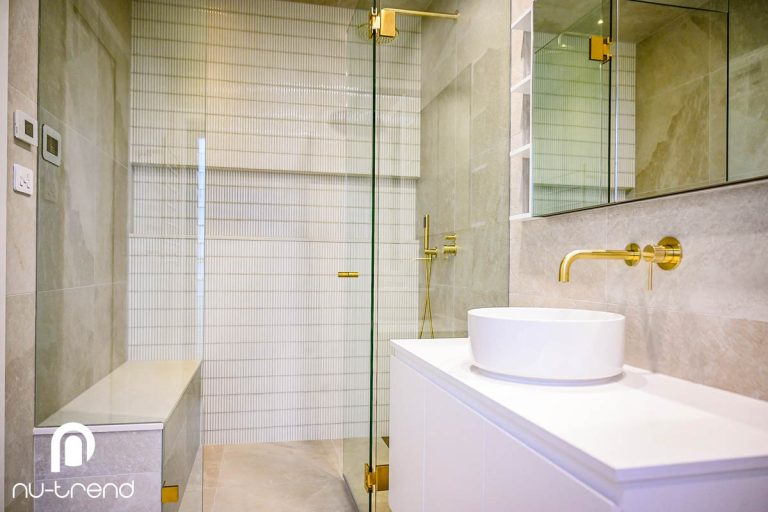 We converted this old bathroom to have a brand new steam shower room installed complete with custom hardware storage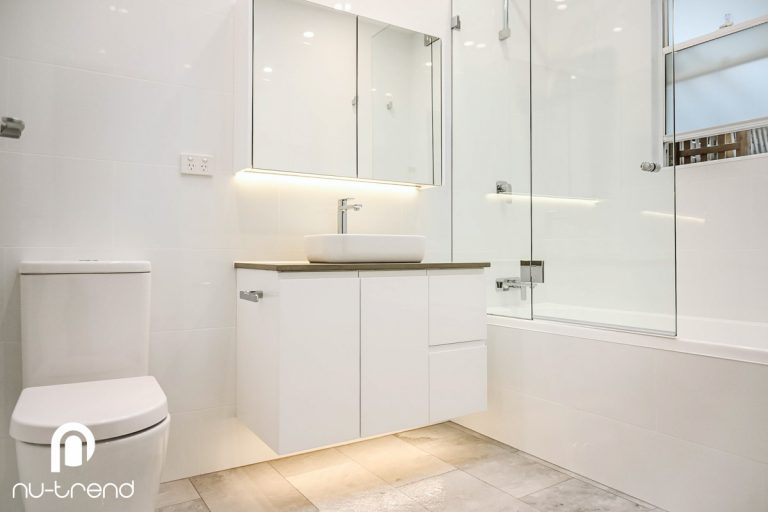 We renovated this bathroom in Leichhardt to install a new bathtub, tiling, vanity, toilet and repair the flooring that had asbestos in it, then built a new subfloor.