What is a 3 Way bathroom?
Increasingly, we are seeing the trend of houses with only one bathroom in Sydney, and owners want to renovate the bathroom so that more than one person can use the same bath at the same time – a 3 way layout is the solution
In order to achieve a 3 way bathroom layout, there needs to be separation between the toilet, shower, bath, and vanity area.  Upon entering the bathroom, you're likely to see the vanity first, but most of the rest of the bathroom is hidden behind hinged doors or sliding doors. By designing the floor plan in this way, each amenity can be shared by several people at the same time, which makes the remodel a practical bathroom renovation solution for a house with three or four bedrooms and one bathroom.
Nu-Trend can provide a bathroom renovation quotation in Sydney to change the floor plan of your bathroom to convert it into a 3 way layout. We have the expertise to also move pipes or other services even if the bathroom is on an existing concrete slab.
How much does a 3 Way bathroom renovation cost?
The cost of adding a 3 way bathroom to a property will vary depending on the scope of work required. If the existing plumbing can be used & there is no other major structural work required then it may cost between $10,000 and $25,000 to renovate the layout. 
All of this depends on whether this is just a remodel or if it is a complete room demolition to then install everything completely as new. The other big variable will be the tiles & products chosen for the new bathroom.
If new plumbing has to be installed, new walls, structural engineering checks or other renovation work variations then the cost could be from $10,000 to $80,000 depending on the site, building type & how extensive the required work is.
For many properties in Sydney they are valued at $800,000 or more, spending less than 10% of the value of the property on a renovation can be justified when it adds long term value & more living spaces to the home.
Nu-Trend provides free quotations for renovating 3 way bathroom layouts in Sydney.
Why would you build a 3 way bathroom?
When compared with a simple single room bathroom, a 3 way floor plan can make it easier for different people to utilise the toilet, shower, bath and vanity area at the same time during busy times.
This can be extremely useful for a family with children when everyone is trying to get ready for work or school because one person can be showering, another going to the toilet & someone else can be shaving or doing their makeup.
By having doors closing off different areas each person will have their own privacy without the need for a second bathroom. While it isn't ideal a 3 way layout solution is a great choice when you aren't able to add a second bathroom to the property.
What are the downsides to a 3 way bathroom layout?
Every renovation normally includes compromises so that it can satisfy a brief, budget or the space limitations. Choosing to install a new 3 way bathroom layout has some downsides to consider;


It requires extra space because there are more walls, separations and doors that need to be included in the layout.
This layout needs more materials because there are more surfaces being created for walls, floors, ceiling, door trims, doors etc.
More tiling may be needed if each room will have floor and wall tiling installed.
Extra labour may be involved due to the greater amount of work required to build the individual spaces, prepare and complete them.
Can you install a bath in a 3 way bathroom?
A bath, shower, double vanity or even windows could be installed in a 3 way bathroom floor plan depending on the overall space available to work with.
If the bathroom shares a common wall with the laundry or a storage cupboard some of that space could be used to create a larger room, then combine those amenities into the space. This can create the necessary floor space to install a new bath or other items needed for the renovation.
How can you create a 3 way floor plan layout?
The simplest way to work out your floor plan is to measure the room area then use pencil and paper to come up with some ideas. Although the more accurate way is to use a free online floor planning tool like the one that Caroma provides.
A lot of online examples exist and you can find many to choose from when looking for ideas to use in your new layout. It is the perfect way to find inspiration. The other great benefit of the Caroma tool is it enables you to place their products so that everything is done using the dimensions of the space you have available.
This can save a lot of time when planning to renovate & help to put things into perspective in relation to sizing and dimensions. By starting with a 2D floor plan you can easily convert that to a 3D model with the click of a button to see how things are orientated in the room & if there is enough space to walk between things – critical if you are renovating a small bathroom.
Can a wall or toilet be moved to create a 3 way bathroom?
For some houses it may be necessary to move a wall or even relocate the toilet so that the right layout can be created. This is possible in many situations depending on the structural requirements of the property itself. So for example moving walls in a free standing house will have more options compared to trying to do this in a high rise apartment block.
Nu-Trend can help you assess this & if required recommend a builder in the case that load bearing structural work is required.
Sydney bathroom conversions before & after examples
Nu-Trend has converted or added bathrooms to lots of different property types, here are some examples of our renovation projects completed in Sydney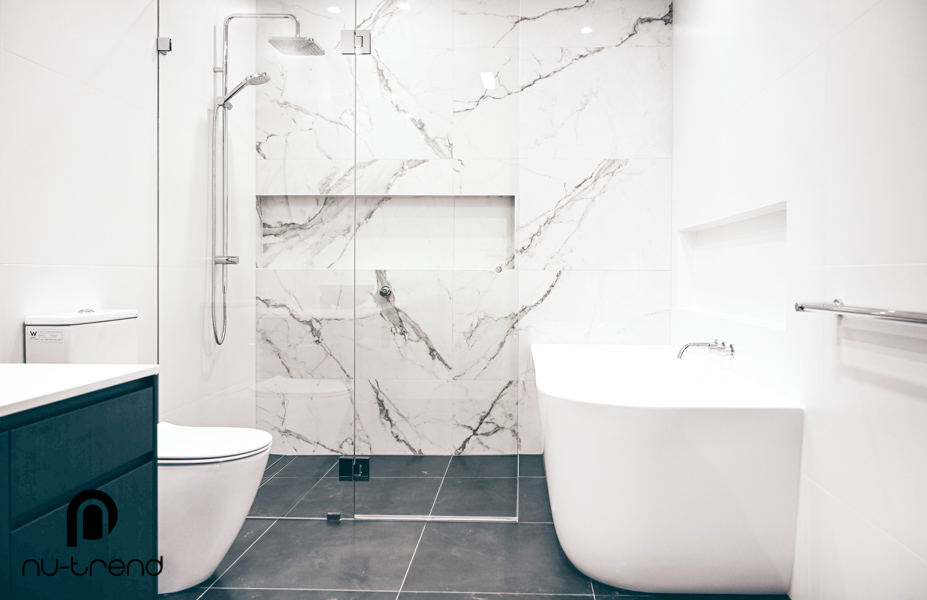 For this double renovation, we converted a powder room into a new bathroom & completely renovated the master as well with the ThinkDzine Interior Design team.
READ MORE >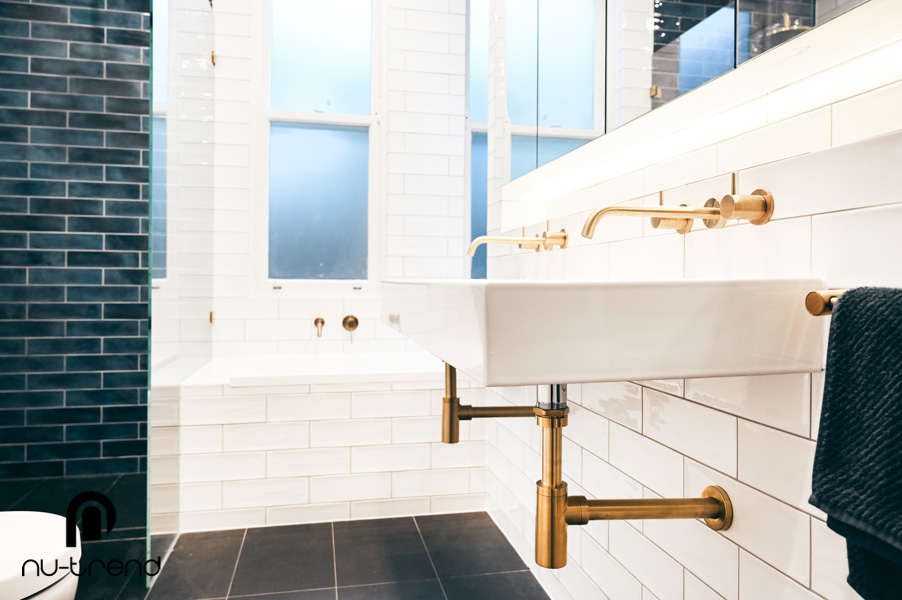 We removed the concealed laundry in this bathroom to create a separate powder room & new floor plan.
READ MORE >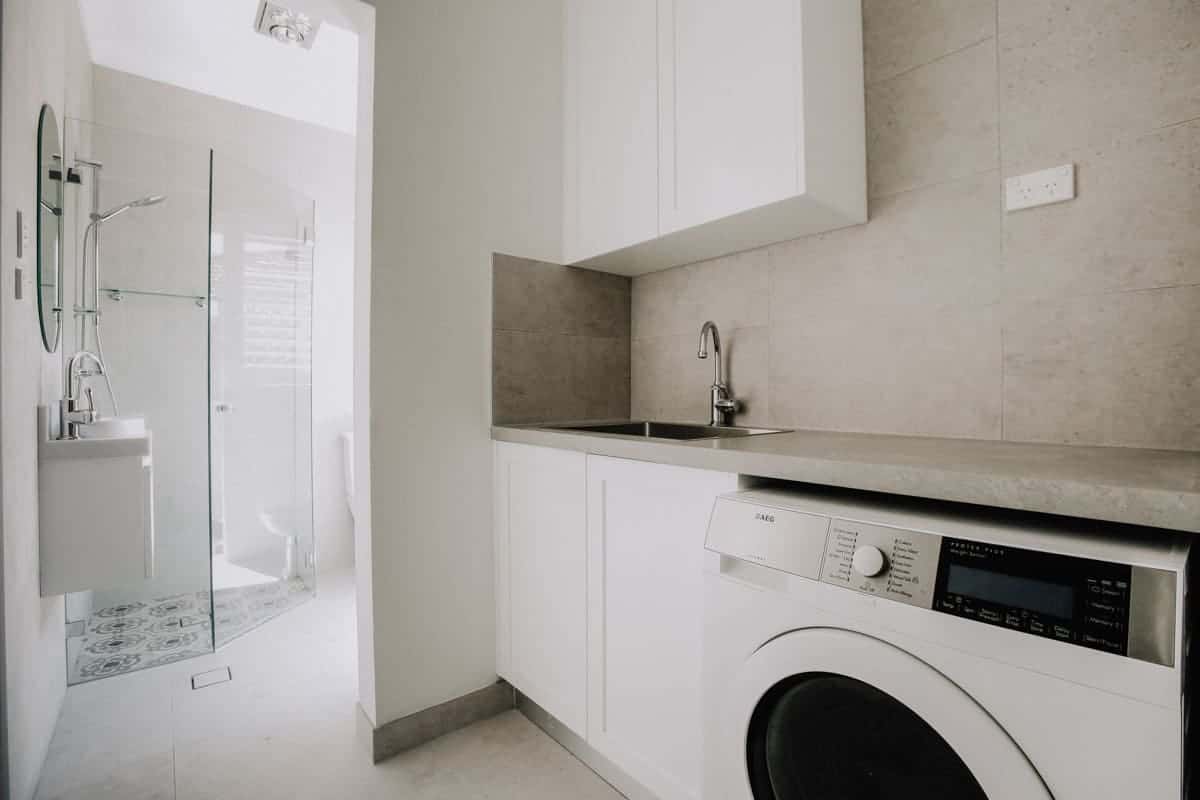 We moved the toilet and shower on this concrete slab combined bathroom and laundry renovation project
READ MORE >