Renovating bathrooms in Sydney to create more space
The clients that select Nu-Trend as their local renovation contractor in Sydney quickly find out that we think about every little detail when it comes to bathroom renovations. One of the first things we do is check with the Client if they have pets (read our article about pets) or what are the local council restrictions when it comes to parking or even rubbish removal. 
Using our experience working in different types of houses in Sydney we can spot potential opportunities & ideas that can help home owners get better value from a renovation project. Sometimes home owners don't realise how easy it can be to move a window, wall or door to then create different layout opportunities for their bathroom renovation.
Moving or changing doors to create more usable wall space in a bathroom
We spend the time to understand the needs you have for your renovation project and this includes how you are going to use the space provided. This is one of the little details that other renovation companies might not consider and it is the type of attention to detail that isn't included in a renovation quotation. What most renovation contractors will do is just take your list of requirements and try to start the work as quickly as possible.
What the team of licensed renovation contractors at Nu-Trend does will be to provide suggestions or ideas on how you can create more usable space in your bathroom. By making clever decisions when it comes to how you use your floor plan or things like the use of available wall space can create totally new ways of using a room. 
Sometimes this might require moving pipes on a concrete slab (read our article about this) or selecting different products or just being clever with creating more walls that you can use.
How did we create more space for this bathroom renovation in Sydney?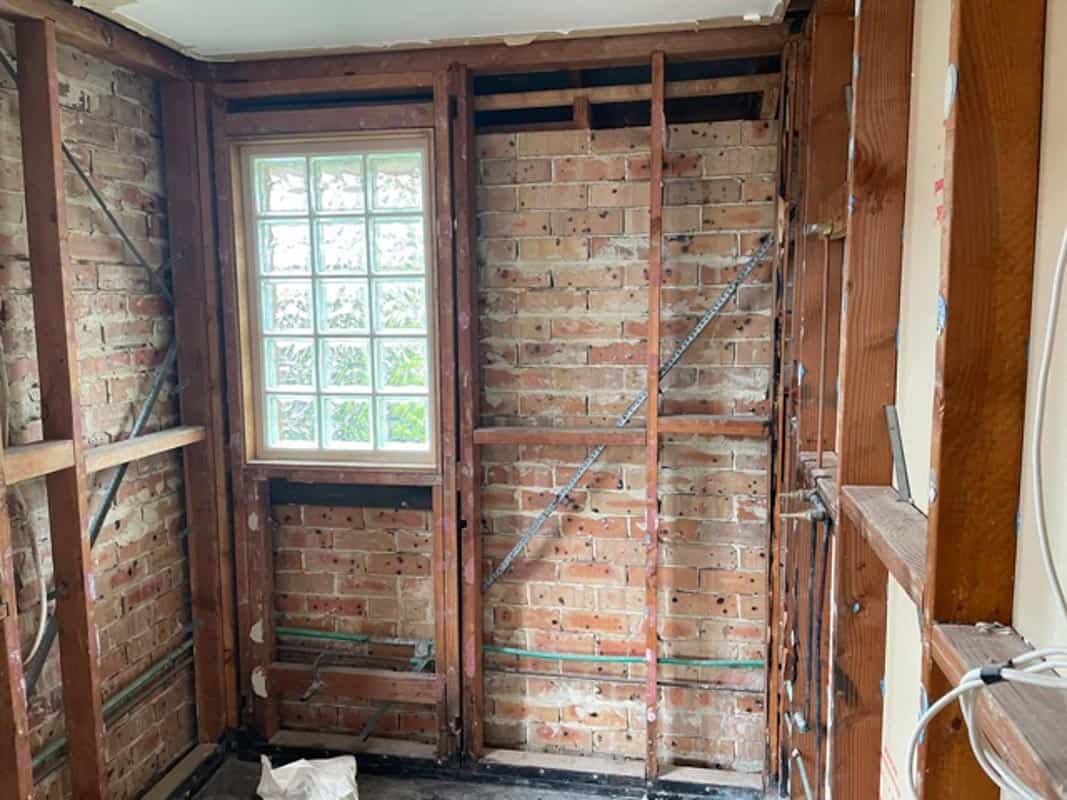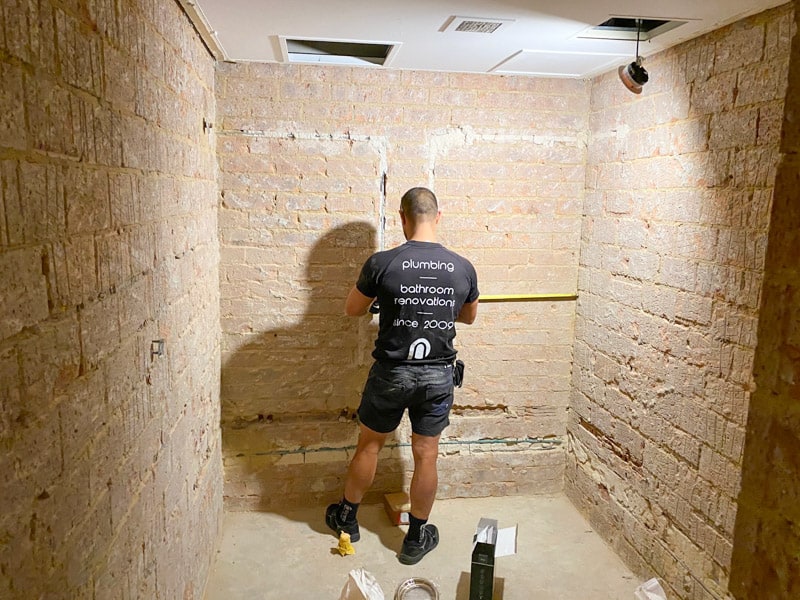 Most home owners in Sydney are trying to figure out how to renovate their house instead of buying a new property. So with that comes the decisions about how to create more space within the existing structure. When you do a complete bathroom renovation it gives you the freedom to create a completely new floor plan that uses space in very clever ways.
Sometimes people will try and take shortcuts or choose for a cheap bathroom renovator but it just means you are paying for someone to install new products rather than designing a new, functional bathroom. Nu-Trend works with lots of interior designers in Sydney who can help this whole process easier (read about it here) it also means the designer takes into consideration your needs and their knowledge of construction and materials. 
Sometimes though it can be the simplest solutions that can solve a problem and in this example it was. We used fibro cement sheeting to remove, or delete, an existing door which helped to maximise the space of the bathroom internally. This meant the floor plan was changed in a way that created more usable wall space & still retained the access from the rest of the house.
This means the Client could install larger fixtures like a bigger vanity, larger shower space area and better space around the toilet. It added to the renovation cost but this was in the budget and meant the end product will be much better and maximise resale value of the property too.
How much does it cost to move a bathroom door in Sydney?
Ok sure, all of this sounds amazing in theory doesn't it – move a door, move a window, maybe even knock down a wall so that your bathroom can be bigger. Every single thing is possible when you are renovating, it just all comes down to budget, time & the structure of your property.
Nu-Trend provides obligation free quotations to renovate homes in Sydney. We will inspect the site, listen to your requirements & then make suggestions on how we can best fulfil your needs.
Moving a door might cost $200-$300 while knocking down a wall might require an engineer & might cost $5,000 or more. We can explore all of these options with you so that you can figure out the potential costs for renovating and the steps that will need to be taken to get the work done safely & professionally.
Nu-Trend are bathroom plumbing renovation specialists so we can handle most of the work for you – that's right – deal with one contractor. If there is something we can't do we will help you manage that with another specialist trade, nice and easy.
What are the best ways to create more space in a bathroom renovation?
Here are some of our recent bathroom renovations in Sydney that Nu-Trend has completed. The majority of the projects we are contracted for are complete bathroom renovations where the room is completely stripped so that the flooring, walls, tiling and waterproofing is installed brand new.
Local | Licensed | Insured

Protection for home owners.
Local Sydney contractors.
A qualified and licensed renovator.
Public liability insurance for peace of mind.
Drainer | gas fitter | plumber | renovator
Nu-Trend is a Sydney company with more than 15 years experience completing bathroom renovations & solving plumbing problems. he Directors Rob and Rick are hands-on, and provide a personalised service.
STANDARDS AUSTRALIA AS/NZS3500:2018 Compliant
All the work carried out by Nu-Trend is AS/NZ3500:2018 compliant. It is the Australian Standard for Plumbing and Drainage in NSW as set down by Standards Australia and the Australian Building Codes Board. They give the plumbing industry technical direction to enable compliance with required regulatory frameworks.
15 years experience with a written commitment.
Rick and Rob are the hands-on directors for Nu-Trend. Rather than hire sub-contractors and manage their business from a distant office, they are on the tools, at your site & working towards delivering your bathroom renovation or plumbing service. It means you are talking directly to the owners of the business, the guys who are accountable and responsible rather than via email or through customer service teams.
It is why they are able to provide a written guarantee that demonstrates their confidence in standing by the quality of their workmanship and the service they deliver to every single client.
They have a very single minded commitment to deliver a high level of professionalism and quality, they've been doing renovation contracting in Sydney for 15+ years.