The cost to replace a toilet in Sydney is roughly $400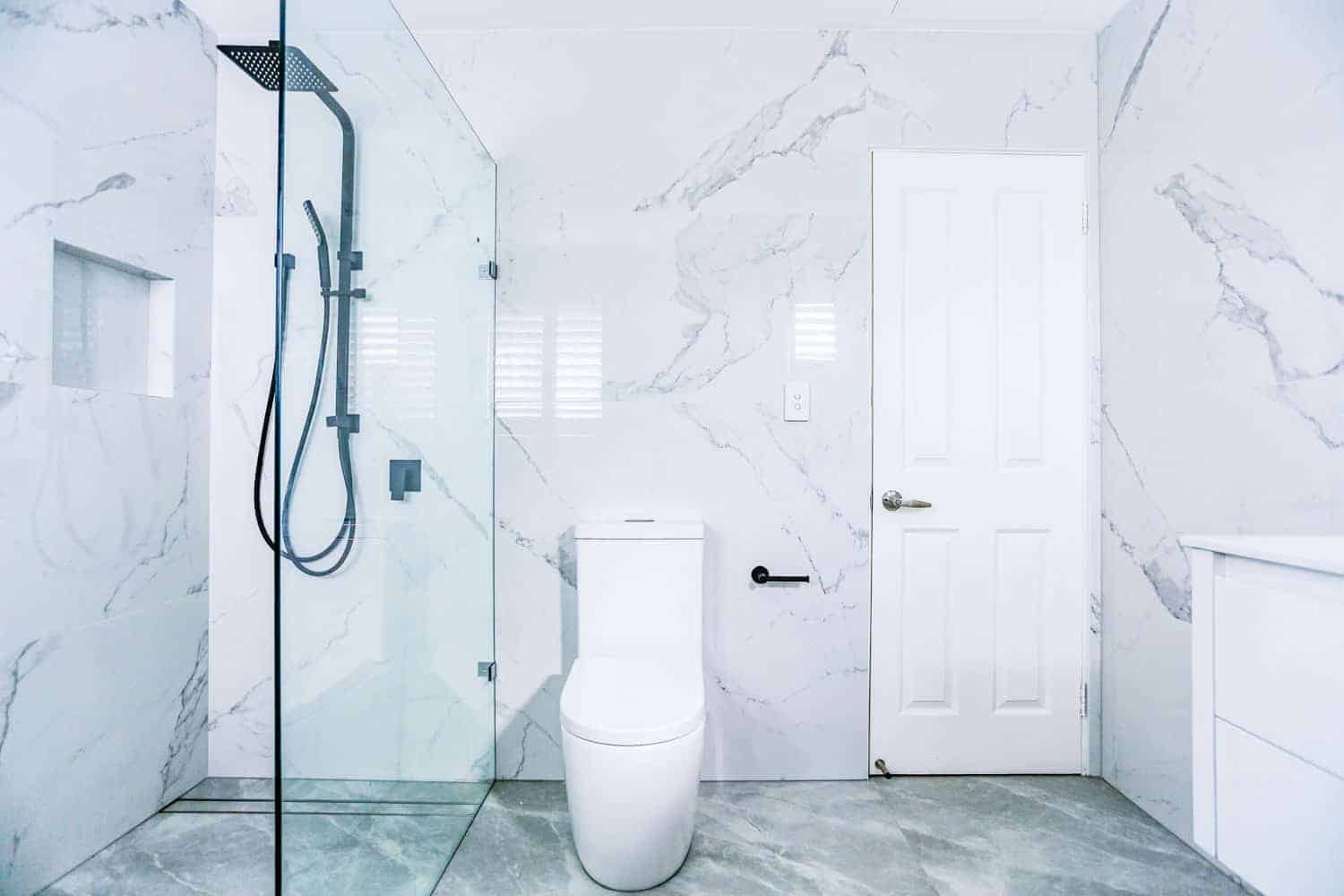 Whether you are living in your own home or have a rental property in Sydney, there could be a time when you start thinking about replacing your toilet. The average cost to have a toilet replaced in Sydney is around $400 depending on the extent of the work required.
Nu-Trend has a team of licensed plumbers & bathroom renovation contractors that can complete this type of work. We can even provide an obligation free quotation over the phone so you can work out the potential costs for your situation.
These are the top five reasons why people will replace a toilet;
The old toilet has broken and it may be cheaper to replace it with a new one rather than repair it
The old toilet may not be very water-efficient, so a newer one can help reduce water usage.
You are changing the style of the bathroom so a new toilet might enhance the look of the room.
You want to move the toilet to change the floor plan in the room and make better use of space.
Your toilet is stained or damanged.
Some people consider a toilet renovation cost to be the entire bathroom including the shower, vanity, toilet etc For this style of complete bathroom renovation the cost can be anywhere between $10,000 and $40,000 for standard types of renovations.
If you are wanting to renovate the toilet in your existing bathroom the cost to remove and replace it is between $400 and $600 depending on how much work needs to be done to the piping, flooring or wall tiles. 
In other situations you might want to renovate the space where a bidet is, have that removed & replace it with a new toilet. Maybe you want to remove the old toilet and renovate the floor so that a new toilet can be installed but a few inches to the left or right.
Each of these scenarios are possible to achieve and the cost to renovate will vary based on the breadth, complexity & actual agreed scope of work involved.
There are a few steps that need to be taken to correctly replace your toilet in Sydney. It is recommended you use a qualified plumber as you will be interfering with the public sewerage systems.
Remove the existing toilet.
Set up new toilet suite ready for the installation.
Ensure that the new toilet will work with the existing plumbing lay out
Sit the toilet in position to make sure it is the right style and locatoin.
Prepare the correct plumbing pan collar and water connections.
Install, connect and seal the toilet to the floor.
Test and commission the toilet
Seal vanity with appropriate colour silicone and dispose of the old toilet suite from the site
Clean the site.
So the steps to replace a toilet sound quite straight forward and generally they are, although this assumes it is a straight replacement and there is no other work required to do things like relocate water services, move the toilet on a concrete slab, repair wall or floor tiling etc. For every bathroom the situation will be different, so the ease of which you can replace your toilet will vary depending on its age, the condition of the room and how it was originally installed. 
To replace your existing toilet with a new one you first need to check what outlet you have. We can help you work this out, but a 'P Trap' toilet's pipes exit via the wall, whereas a 'S Trap' toilet's pipes exit via the floor, this should be easy enough to figure out by just looking at your toilet outlet.
Yes we can help you move a toilet that is installed in a bathroom that is sitting on a concrete slab. In this situation we would have to determine how far the toilet needs to be moved so that we can check the required services piping. How hard it is to move the toilet will depend on how far the toilet needs to move and what the flooring or piping is like. 
Read our article about changing the floor plan on a concrete slab
The toilet waste pipe might be sitting in the concrete slab of the property's foundation. So the path may need to be moved slightly and this can be done by wet sawing into the concrete to create a new channel for new piping.
It isn't too hard to move a toilet, it all comes down to planning the bathroom floor plan & working with the existing services placements.
You can install your toilet in a different location in the bathroom to change your floor plan. Sometimes this will be done during a renovation project to create more space, make the room easier to access or even install a new bath or shower. For nearly any type of property it is possible to achieve, it just depends on the flooring and services available as to how difficult it may be to complete. Moving a toilet is one of the best ways to create more space in your bathroom.
Generally there are four main types of toilet suits you can buy and install. These include close coupled toilet, wall faced toilet, back to wall toilet and wall hung toilet. Then for those types there are obviously hundreds of brands and different styles you can choose from to suit your interior design.
A close coupled toilet is a the most common option where the cistern sits directly above the toilet pan. There are no protruding pipes to deal with and the flush button is located on top of the toilet or on the wall. A simple and visually appealing design for most bathrooms or laundries.
Wall faced toilets are another great option because the cistern is hidden and they have a wall mounted flush button. So it makes the room feel larger and a bit more luxurious.
A back to wall toilet attaches the toilet suite and cistern up against the bathroom wall. There are no pipes visible making this is a popular toilet suite option for those who are trying to create a unique, clean design.
A wall hung toilet is exactly that, fixed on the wall, it gives the appearance of a floating toilet and is regarded as extremely stylish. The other benefit is it can make the room feel larger and be easier to clean because of the better access around the toilet.
A bidet toilet can also be installed as some of these now come in all-in-one styles that have a special seat with water or heating functions.
Here are some of our recent bathroom renovations in Sydney that Nu-Trend has completed. The majority of the projects we are contracted for are complete bathroom renovations where the room is completely stripped so that the flooring, walls, tiling and waterproofing is installed brand new.
Local | Licensed | Insured

Protection for home owners.
Local Sydney contractors.
A qualified and licensed renovator.
Public liability insurance for peace of mind.
Drainer | gas fitter | plumber | renovator
Nu-Trend is a Sydney company with more than 15 years experience completing bathroom renovations & solving plumbing problems. he Directors Rob and Rick are hands-on, and provide a personalised service.
STANDARDS AUSTRALIA AS/NZS3500:2018 Compliant
All the work carried out by Nu-Trend is AS/NZ3500:2018 compliant. It is the Australian Standard for Plumbing and Drainage in NSW as set down by Standards Australia and the Australian Building Codes Board. They give the plumbing industry technical direction to enable compliance with required regulatory frameworks.
15 years experience with a written commitment.
Rick and Rob are the hands-on directors for Nu-Trend. Rather than hire sub-contractors and manage their business from a distant office, they are on the tools, at your site & working towards delivering your bathroom renovation or plumbing service. It means you are talking directly to the owners of the business, the guys who are accountable and responsible rather than via email or through customer service teams.
It is why they are able to provide a written guarantee that demonstrates their confidence in standing by the quality of their workmanship and the service they deliver to every single client.
They have a very single minded commitment to deliver a high level of professionalism and quality, they've been doing renovation contracting in Sydney for 15+ years.