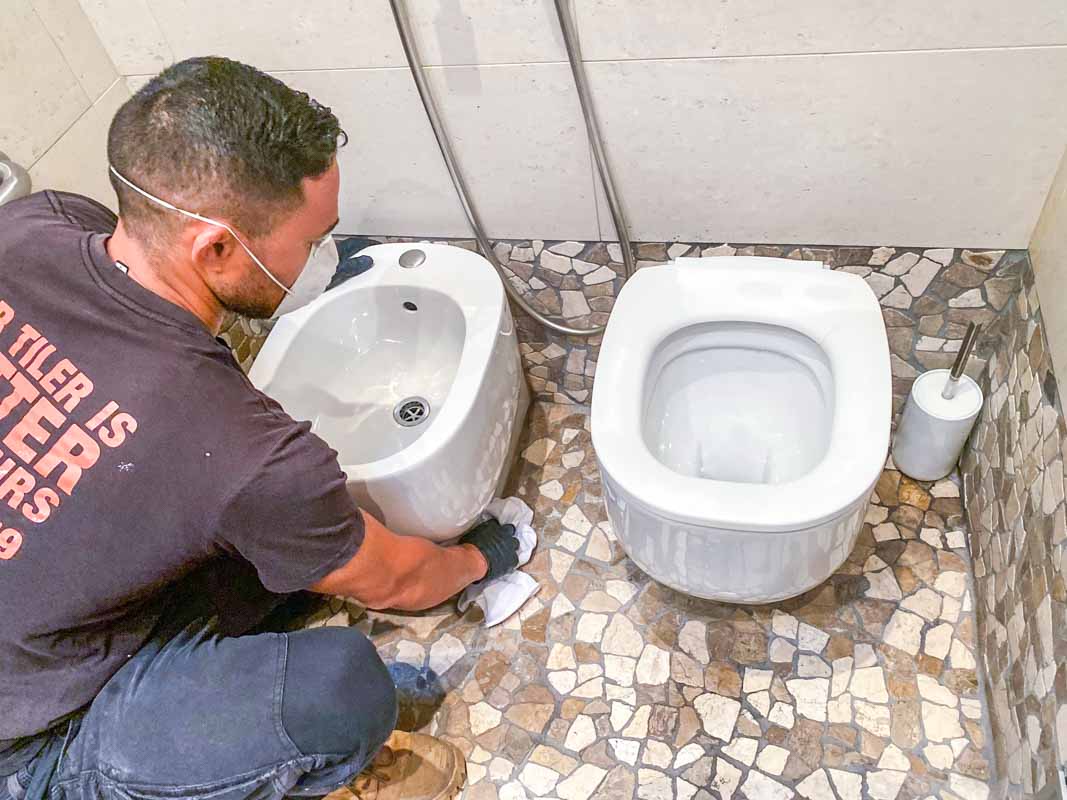 Bathroom plumbing for a Pozzi Ginori Bidet
The Nu-Trend team was called out to help with a Sydney small bathroom renovation for a Pozzi Ginori Bidet. Installing a bidet isn't the most common bathroom renovation idea although it is a common plumbing question we get asked about.
The brand has been around since 1735 when the Marquis Carlo Ginori started in Florence and then in Doccia with the activity of his famous Manifattura on of the first and prestigious in Europe. Their focus has always been ceramic sanitary ware with production in Italy and today the group is one of the largest in the world. In 2015 Geberit AG acquired the Sanitec Group and today it is considered to be one of the best manufacturers of washbasins, mirrors, bathroom sets and other accessories for bathrooms – all made in Italy.
This Pozzi Ginori Bidet is a bowl or receptacle designed to be sat on for the purpose of washing your genitalia, perineum, inner buttocks and around your anus. Not everyone enjoys the sensation that this can give you and will prefer traditional methods like using toilet paper. Although modern bidets include a plumbed-in water supply, drainage opening and comply with all the modern plumbing regulations. There are even bidet seats that go on top of your existing toilet.
How was this Pozzi Ginori Bidet installed?
 There wouldn't be too many bathroom renovation companies in Sydney that couldn't install Pozzi Ginori Bidet as the process is very similar to putting in a toilet. So generally you will require a local plumber who can give you a free quotation and work out if there would be any renovation costs required to install a bidet.
In this scenario we didn't do a small bathroom renovation but the Client wanted to have a Pozzi Ginori Bidet installed in their existing small bathroom. Luckily there were lots of spare tiles from the original bathroom renovation so it meant we could remove the shower waste area and utilise that with altered drainage to install the Pozzi Ginori Bidet. We had to wet saw cut the floor and chased the wall to provide the appropriate water and drainage outlets needed. We managed to waterproof, render and tile it all back to a great condition to the point the client couldn't tell what was new and old. So for this room there was the loss of a shower, but there were other bathrooms in the house so it didn't matter.
Nu-Trend can provide all types of bathroom plumbing services to install a Bidet, new shower mixers, vanity units, toilets or even shower screens.
What types of bidet are there?
1. Toilet seat bidets
A toilet seat bidet comes in different models with the most popular ones the newer electric models. Pricing for one of these can vary with cheaper models available from around $700 to all-in-one units around $1,500.
While these are relatively cheap to other options it is important to consider that because the bidet seats attach to your existing toilet, the mess stays in the bowl and there could potentially be spillage around the edges making it a little harder to clean later. You can use a bidet to clean your butt with water after you poop and while traditional bidets are separate from your toilet these more modern ones attach to any standard toilet quickly.
Installation for a toilet seat bidet can vary from $400 up to $4,000 it just really depends on the situation in your bathroom in relation to plumbing, electricals and sewage.
2. Bidet spray kits
A bidet spray kit is a quicker alternative to get installed as it is adapted to the existing water supply. The spray kits are available from $80 depending on the brand, design and material used and installation will vary between $50 and $500 depending on the complexity of your bathroom set up.
3. Traditional bidets
A traditional bidet is what we call 'old skool' and is a permanent solution that involves a small renovation to your bathroom. Getting one of these installed can vary between $800 and $4,000 depending on the situation and type of unit chosen. You must have a licensed plumber install this type of unit and we have the added benefit of 20 years bathroom renovation experience to get the job done properly.
We can provide bidet installation quotations via video call to provide a contact less end to end plumber service in Sydney
Photos of a Pozzi Ginori Bidet installation.
* Please note these photos are not professional property images. They have been taken using a mobile phone making it quick and easy to show off some of our work without gimmicks or photoshop trickery.
How we make bathroom plumbing stress free.
We make sure everyone knows what areas of the house can or cannot be used. So for example we make sure there are warnings on the toilet or sinks to make sure someone doesn't use them be accident before they have finished being installed.
A shower wall niche has become a modern trend for new bathroom renovations. For this room it was a full length niche spanning the wall which made it a design feature and practical element for the shower area. It utilises empty space in the wall to turn it into a shelf for storing common shower items. No more ugly hanging baskets or other ugly items in your shower but have an easy to reach shelf.
A feature wall can add impact and style to any bathroom size whether it is for a house, unit or apartment. It gives you that wow factor that can transform a bathroom.
A floating vanity unit can help make a room feel larger. Visually what happens is your eye can see more of the floor and naturally the room or space feels larger because you can see further. By placing a vanity unit, cupboard or other furniture on the walls in a floating style you can make any small bathroom feel larger.
A complete clean up from street to bathroom. We don't leave mess anywhere and make sure every element has been cleaned to return it to normal.
We also take care of the little things like making sure the rubbish removal bin is covered so that dirt, debris etc doesn't fly out on the street and it makes it easier to be taken away.
"I recently employed Rick Karagiannis and the team from Nu-Trend. From the moment they agreed to come and quote on the job, I knew I had a good team. They were on time, efficient, realistic and keen. This sadly is unusual when attempting to get tradesman to your house.

The process of renovation was clearly mapped out and appropriately costed. This is not my first renovation or build and so I was ready with an armful of questions. Both Rick and Robby were able to promptly answer any queries I had. They made the effort to travel to the company I had chosen to use for bathroom products and therefore had a good understanding of what was ahead of them. I have no hesitation in recommending Rick, Robby and their team."
"Called nu trend as we needed urgent works to our bathroom. They came and installed our new toilet suite in a timely matter and even cleaned up after they finished. Easy to deal with and very responsive. Would definitely use again for future renovations and bathroom fixes! Thanks guys"
"The boys were referred to me by a good friend of mine. They completed two upstairs bathroom renovations for us which look IMMACULATE. We were not the easiest clients to work with however the boys went to extreme lengths to please us daily! They are everything from respectful, super clean, perfectionists and beyond. We were so happy we have decided to use them downstairs to renew all of our plumbing, renovate two old bathrooms downstairs and create a complete new bathroom and balcony area!! Anyone who would like to see the works please contact the boys and we can organise a site visit! A plus plus plus"