A small bathroom with walk in shower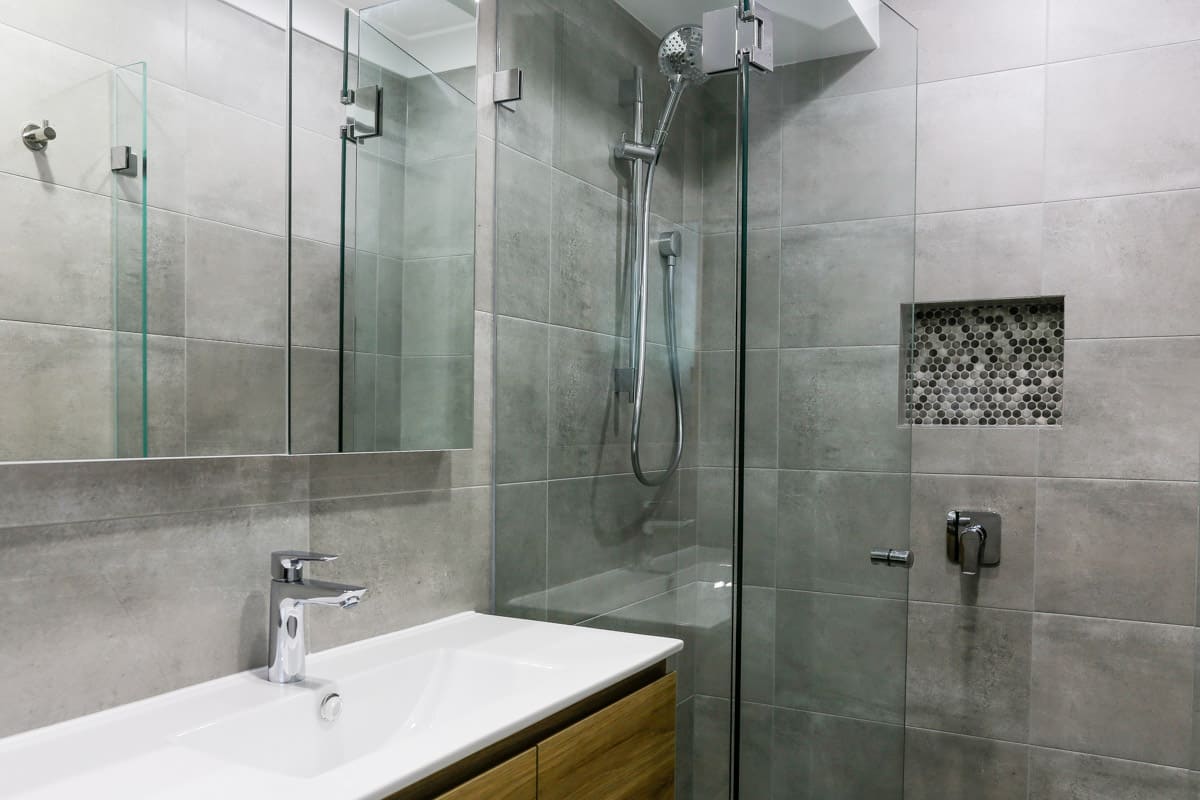 We transformed a 1980's style small bathroom with a walk in shower to give it some wow factor.
Most 1980's style small bathrooms had a very similar design to minimise costs during construction. A small bathroom would typically have a single vanity cabinet for storage, glass mirror fixed to the wall, floor tiles with a single tile height around the edges then gyprock walls that were left bare and just painted. The old walk in shower would have a small wall and then large sliding door that would be frosted or have a pattern in the glass. 
It was a very typical style used for lots of bathrooms in Sydney & while it served its purpose and was functional, it would make the room feel quite small & the materials used felt cheap with things like plastic handles, daggy taps and cheap shower head mixers. 
The owner of this property wanted to use a small bathroom renovation specialist in Sydney and chose Nu-Trend as their preferred renovation contracting company. They had used another company to renovate one of their other bathrooms, but they weren't happy with the results. They had been reading some of our renovating advice articles and decided to choose Nu-Trend.
Nu-Trend is one of the leading specialist bathroom contractors in Sydney that can help design a room that adds visual impact & value to your property.  We can use all types of materials to renovate bathrooms like marble, timber, glass or porcelain & use these in interior designs that can create functional spaces that kids or adults can use. Nu-Trend is a Sydney renovation specialist that take care of everything from the initial interior design, demolishing your existing bathroom, sourcing hardware products all the way through to the final clean up & rubbish removal. Have a look at our bathroom trends tips and hints. 
Timeframe: The time to complete this type of bathroom renovation is around 2-3 weeks and what can create a variance in the timing is access to the property, delivery of products or any changes made to the design during the build. 
Budget: For this complete bathroom renovation which included stripping back the walls etc it was $15,000-$20,000 in labour. The final budget depends on the products chosen for the room, the type of tiles etc.
Our scope of work for this renovation included;
Protection of the property
Demolition of the old bathroom

Custom made shower screen

Bulk head wall fabrication

Exterior wall repairs & relocation of the entrance door

Replacing the vanity

Floor to ceiling tiling

Hot and cold water rough in

Fit off fixtures and fittings 

Screeding gradients to correct falls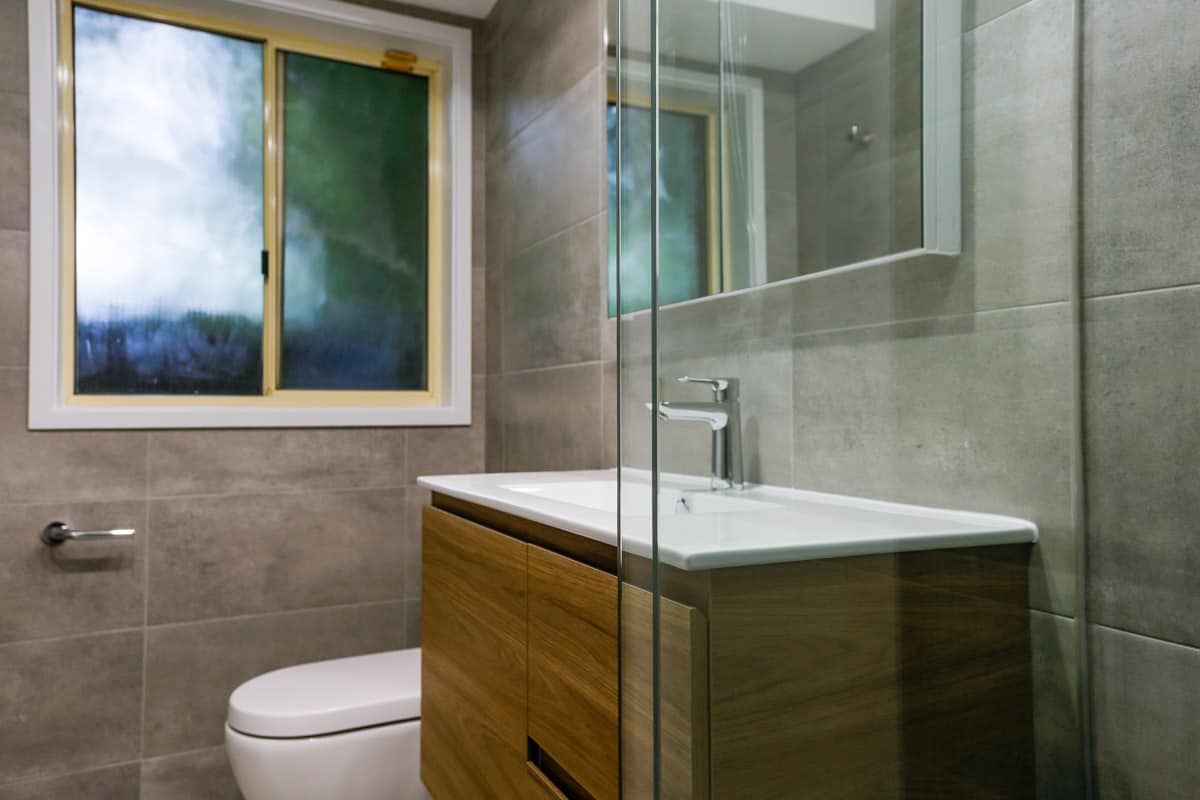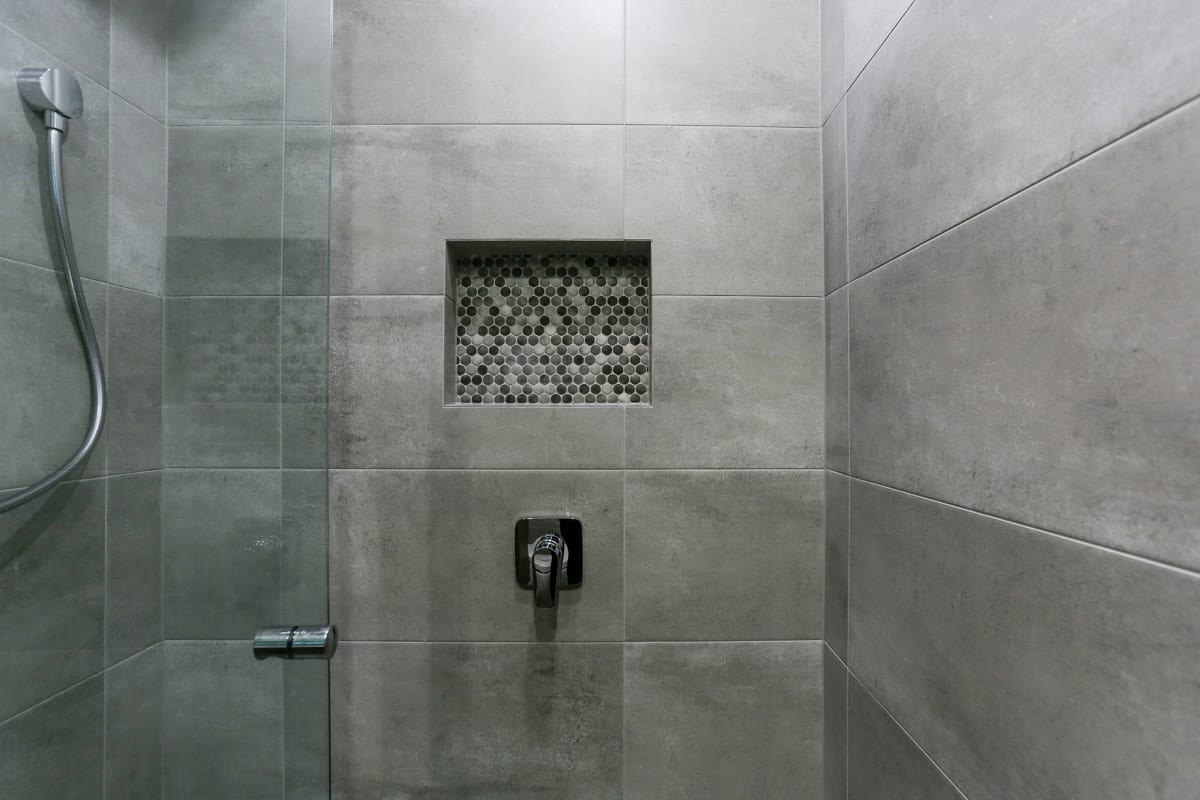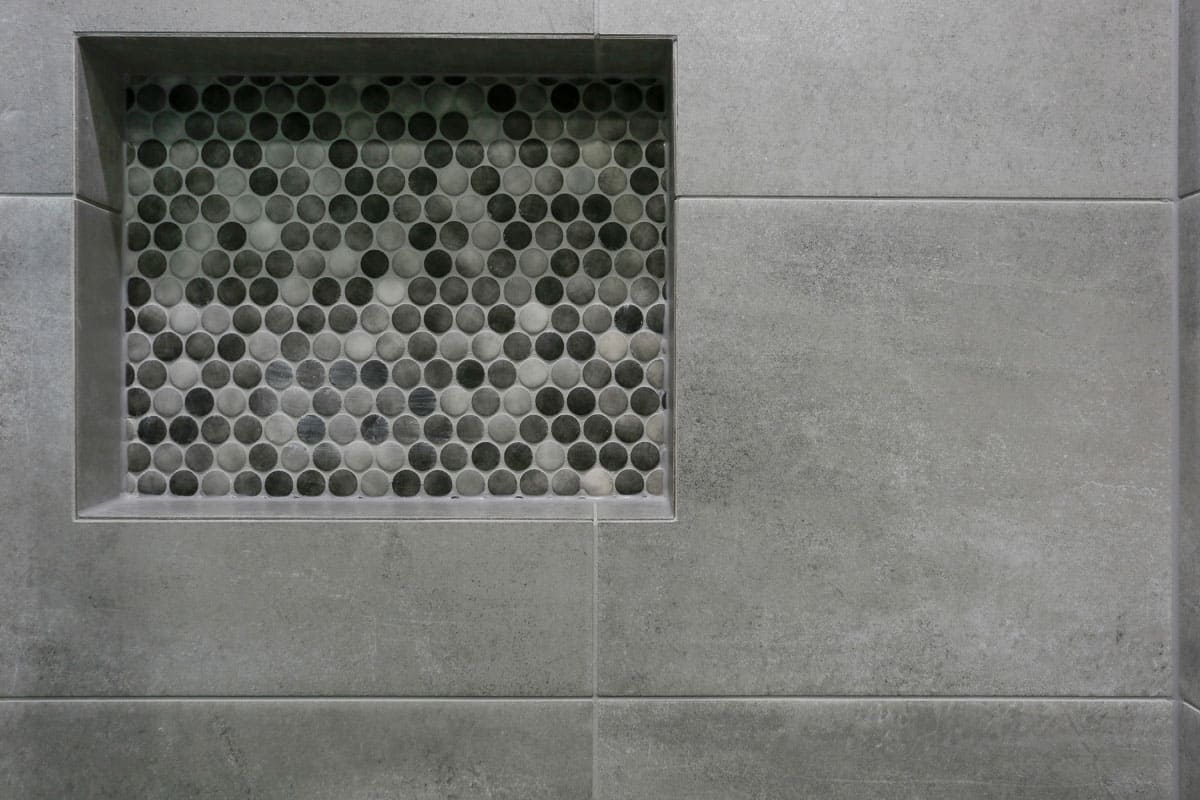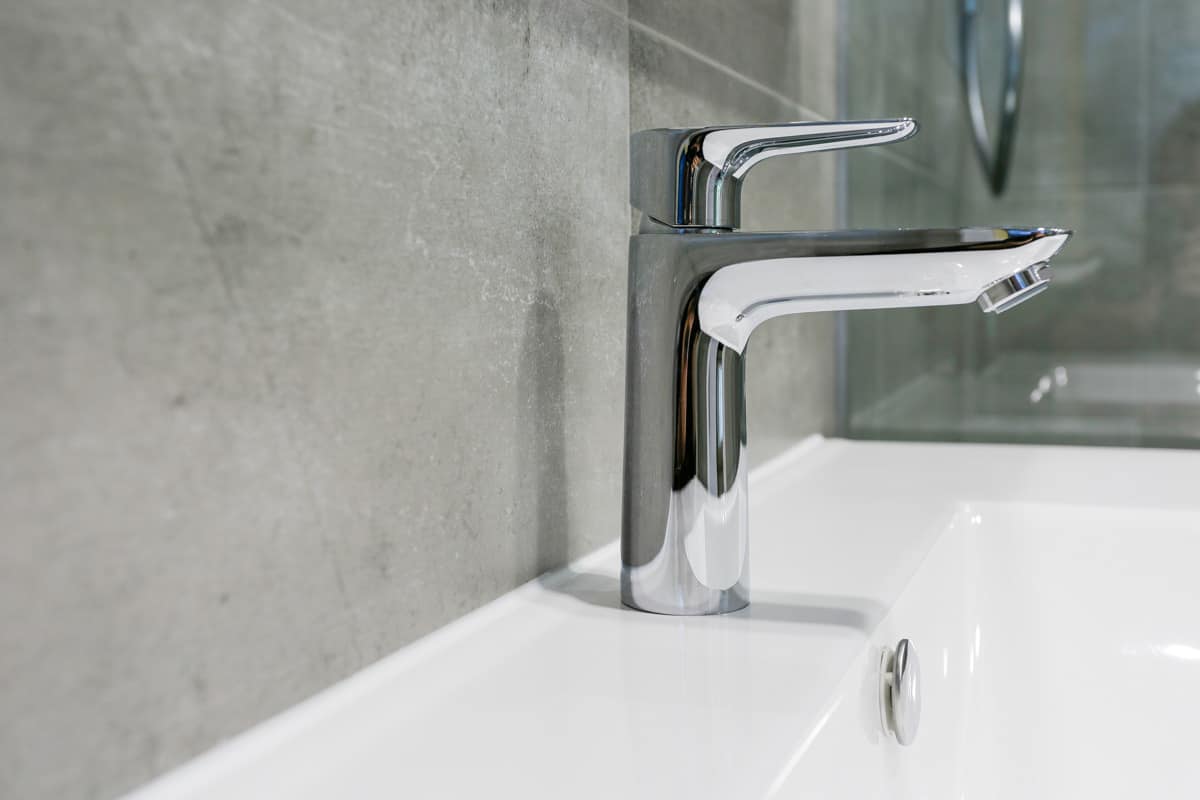 Changing the layout of a small bathroom with walk in shower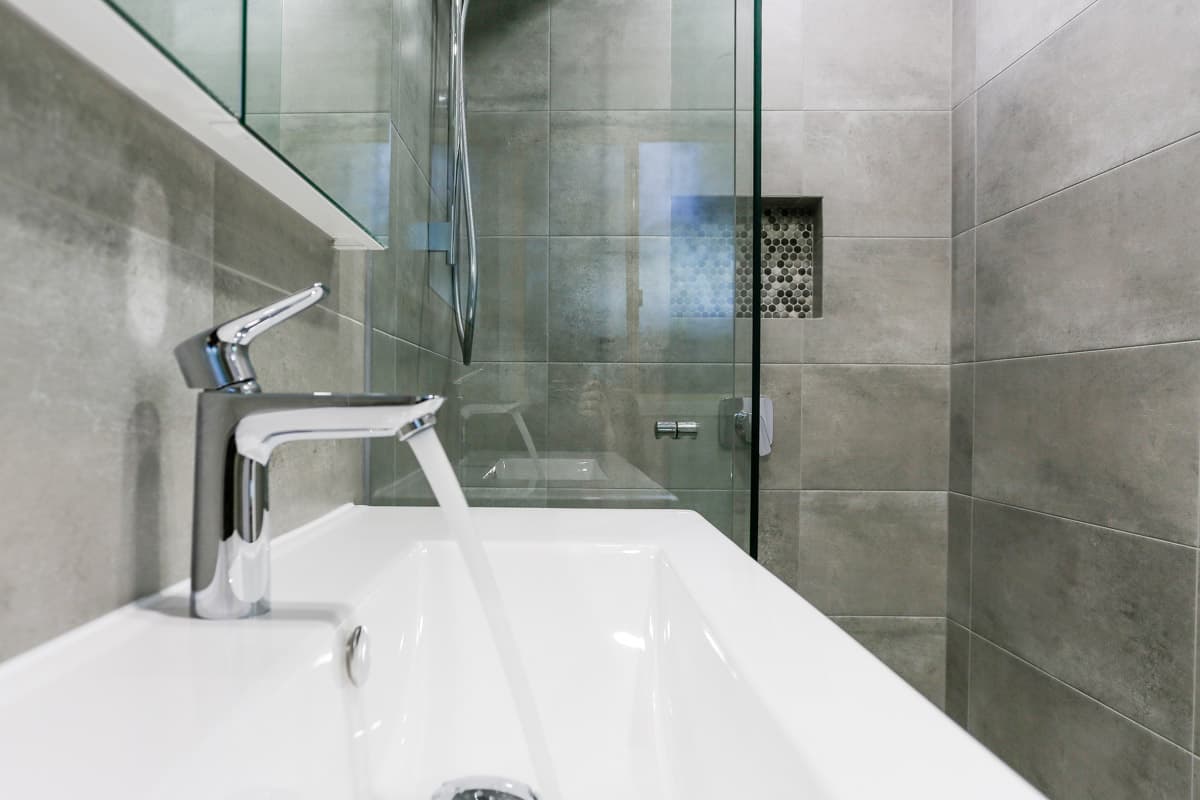 1. Relocating the door can change the layout of the room.
To create a better sense of space in the room the owner agreed to move the existing entry door to be at the end of the bathroom. Visually this created a single viewpoint as you entered the room and combined with the custom made, frameless, shower screen it felt like a larger room instantly. 
2. Slimline single piece toilet
Choosing products for your renovation can make all the difference when it comes to interior design. The Caroma Luna clean flush toilet has a nice, minimalist design that looks great and gives the room an open feeling.
3. Floor to ceiling tiles
Using a single floor to ceiling tile can reduce the visual clutter in a small bathroom renovation design while given it a feeling of luxury. Tiling can be done on the floors and walls as high as the ceiling to give the room a solid, hotel spa-like feeling. This also makes cleaning easier and for this room we used large format tiles which reduces the number of visual lines.
4. Walk in shower niche
The shower area is completely open and includes a handy wall niche to store shampoo, soap and other toiletries. This becomes very functional and in this bathroom it was used to create a small feature with the pebble looking tiles used in the niche. The custom made glass shower screen is almost invisible when you walk in the room so it instantly feels larger than it is. This shower screen is also very easy to clean and maintain. 
What products did we use?
ADP Glacier Ensuite Twin 900 wall hung vanity with ceramic top, 395mm , centre bowl, right hand drawers, Prime Oak cabinet
ADP wall mounted shaving cabinet 750×800 in silk gloss
Hansgrohe Talis E 110 basin mixer without a waste
Hansgrohe Talis E Shower mixer slimline concealed unit 
Hansgrohe Shower basic set DN15
Comfort toilet paper holder & comfort Towel Ring
Stella Robe Hooks
As you can see the main products from The Bathroom Collective came from Hansgrohe who make premium products for showers, bathrooms and kitchens. They do everything from taps and mixers for wash basins, showers and bath tubs. Showers such as hand showers and overhead showers, shower pipes and shower systems and more
What did we do in this ensuite bathroom renovation?
#1 PROTECTED THE PROPERTY
Doing as many unit renovation projects as we do, we understand how stressful they can be for people trying to live through them. Most tradies also make a big mess. We make sure we protect your property with floor and wall coverings to make sure nothing is damaged while we are renovating your house.
#2 PLUMBING & FLOORING INSPECTION
Nu-Trend is a licensed plumber which is an advantage when you are renovating a bathroom. For every project we inspect all the plumbing to make sure it is ready for use. When you combine this with our renovation expertise you get piece of mind.
#3 BULK HEAD PLASTERBOARD
Some properties will have their roof structures protrude into a room which is just how the property was designed in some cases. Our team can work with these limitations and design around them to complete a renovation.
#4 WALL OR DOOR MOVEMENTS
In some situations moving a door from the left to right can create a different floor plan layout that is more suitable to create more space, light and ventilation. For non structural walls we can create these changes for you.
Some renovation contractors will not include this in their service, they might leave the rubbish from the demolition in your backyard or on the street. Nu-Trend will make sure all the materials and rubbish that are not used are removed neatly ensuring your property isn't left in a mess and neighbours are happy.