What are the best tiles for bathroom renovations in Sydney?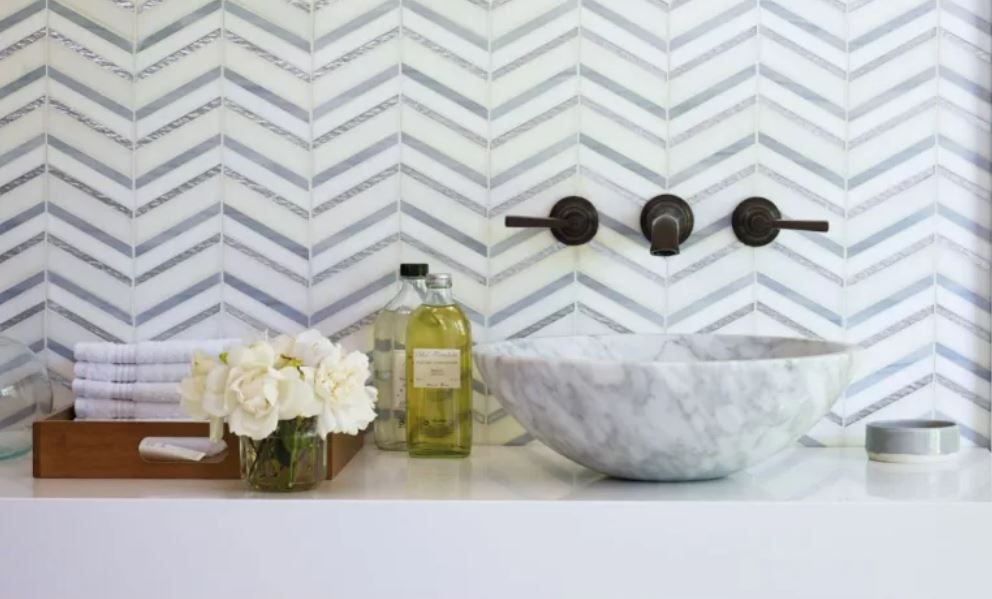 Once you start researching for bathroom renovation inspiration you will discover the different types of tiles available. Porcelain or ceramic tiles get many people confused as to which is the better option and exactly what the difference is between the two. 
Sadly, the terms porcelain and ceramic are at times used interchangeably.
"Ceramic" tile is used to refer to a wide range of tiles. All types of tiles that are made from clay with, or without, a mixture of different materials that are then kiln fired are considered to fall under the larger classification of "Ceramic" tiles. This classification is then broken down into Porcelain and Non-Porcelain tile.
Get new ceramic tiling for a bathroom
The typical Ceramic non-porcelain tile has a ceramic body that is baked in a kiln, and as ceramic material is porous, most are then glazed which makes it impervious to stain and increases its water resistance. Ceramic tiles can also withstand high levels of humidity. These characteristics make these type of ceramic tiles perfect for wall tiling, particularly in the bathroom. 
A downside however is as its glazed surface contains the colour, design and texture of the tile, it does not go all the way through the tile. So any chips that may occur in the future, will reveal the ceramic layer making it quite noticeable. That said, chips are likely to occur only on floor tiles from drops, so ceramic is a perfect option for wall tiles.
Go for porcelain tiling for your new bathroom
Porcelain tiles are also ceramic tiles, but a specific form of ceramic tile with a big difference. Porcelain tiles are made from a finer, denser clay and fired at much higher temperatures than ceramic tiles. This process results in porcelain tiles having a water absorption rate of less than 0.5% making them the ultimate option for wet areas. Unlike ceramic tiles, porcelain tiles also carry the colour/design through the entire thickness of the tile. Porcelain tiles are considered the toughest flooring option available on the market. They are durable and strong making them a perfect option for high traffic areas.
Normally our recommendation is if your budget allows use porcelain tiles on their flooring areas as they are a superior tile compared to ceramic when it comes to durability and strength. This might become important for many homes that were built using the less expensive yellow tongue particle board flooring in upstairs bathrooms in the attempt to save their profit margins, whereas they should have used the more expensive 18mm compressed fibro flooring. This may have made the job more profitable for the builder, however it allows a lot more movement and causes ordinary ceramic tiles in upstairs bathrooms to crack with this inevitable movement.
However when it comes to wall tiling, there are no benefits that the porcelain tile can provide that ceramic cannot. Porcelain tiles are usually more expensive than ceramic tiles, therefore customers can save by using ceramic tiles on walls and use the proportion of that saving to the use of porcelain tiles on the floor, of course if budget allows.
What does it cost to get new bathroom tiling in Sydney
It costs just $5 inc gst to get new bathroom tiling in Sydney.
Just kidding – it is literally impossible to put a price on getting new tiles installed for a bathroom. To start with, it is a labour intensive trade therefore you might be paying anywhere from $30 inc gst per hour to $150 inc gst per hour depending on the tiler you choose to use. They will charge different rates based on their experience & of course how busy they are. The other reason the rate will vary is based on how difficult the site is to tile – plain 3 x 3 metre room vs intricate shapes and curves with lots of cutting and finishing needed.
The next element to consider is the type of tile you choose and what they cost per square metre – this will vary greatly as we explained above in relation to whether you use porcelain or ceramic tiles – or if they are from exclusive designers or from places like Reece or The Bathroom Collective.
vWe can give you a fixed price quote to find out the cost to do retiling once we do an inspection of your bathroom.
Here are some of our recent bathroom renovations in Sydney that Nu-Trend has completed. The majority of the projects we are contracted for are complete bathroom renovations where the room is completely stripped so that the flooring, walls, tiling and waterproofing is installed brand new.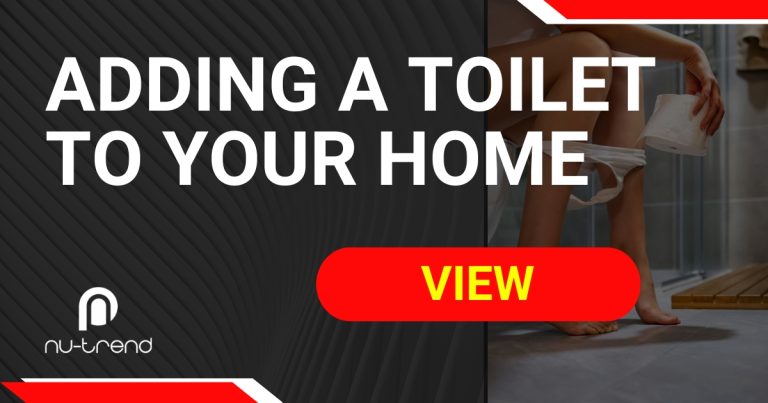 We explain how you can add another toilet to your home by tapping into the existing plumbing that is in place
READ MORE >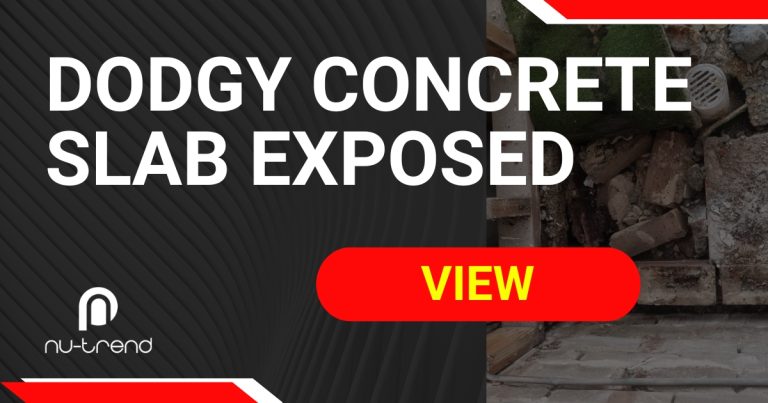 We found a damaged concrete slab in this bathroom then even more surprises hidden underneath it. See why you can't renovate if the slab is damaged
READ MORE >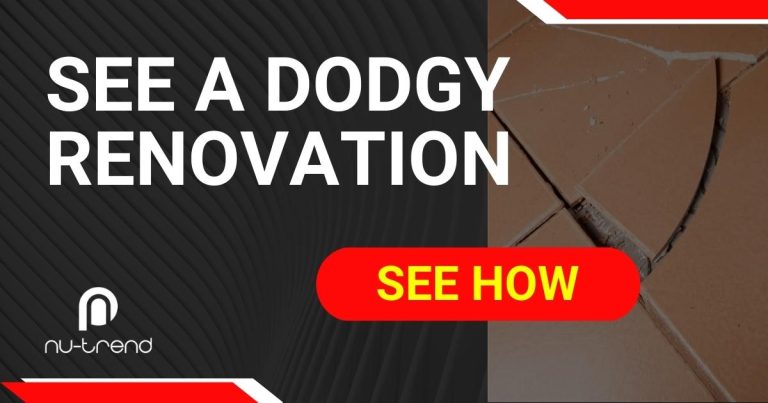 Nice uniforms, stylish work truck, fancy iPads & perfect photos can hide low cost bathroom renovations that are poor quality, see these examples for proof
READ MORE >
Local | Licensed | Insured

Protection for home owners.
Local Sydney contractors.
A qualified and licensed renovator.
Public liability insurance for peace of mind.
Drainer | gas fitter | plumber | renovator
Nu-Trend is a Sydney company with more than 15 years experience completing bathroom renovations & solving plumbing problems. he Directors Rob and Rick are hands-on, and provide a personalised service.
STANDARDS AUSTRALIA AS/NZS3500:2018 Compliant
All the work carried out by Nu-Trend is AS/NZ3500:2018 compliant. It is the Australian Standard for Plumbing and Drainage in NSW as set down by Standards Australia and the Australian Building Codes Board. They give the plumbing industry technical direction to enable compliance with required regulatory frameworks.
15 years experience with a written commitment.
Rick and Rob are the hands-on directors for Nu-Trend. Rather than hire sub-contractors and manage their business from a distant office, they are on the tools, at your site & working towards delivering your bathroom renovation or plumbing service. It means you are talking directly to the owners of the business, the guys who are accountable and responsible rather than via email or through customer service teams.
It is why they are able to provide a written guarantee that demonstrates their confidence in standing by the quality of their workmanship and the service they deliver to every single client.
They have a very single minded commitment to deliver a high level of professionalism and quality, they've been doing renovation contracting in Sydney for 15+ years.