A total bathroom renovation means starting from scratch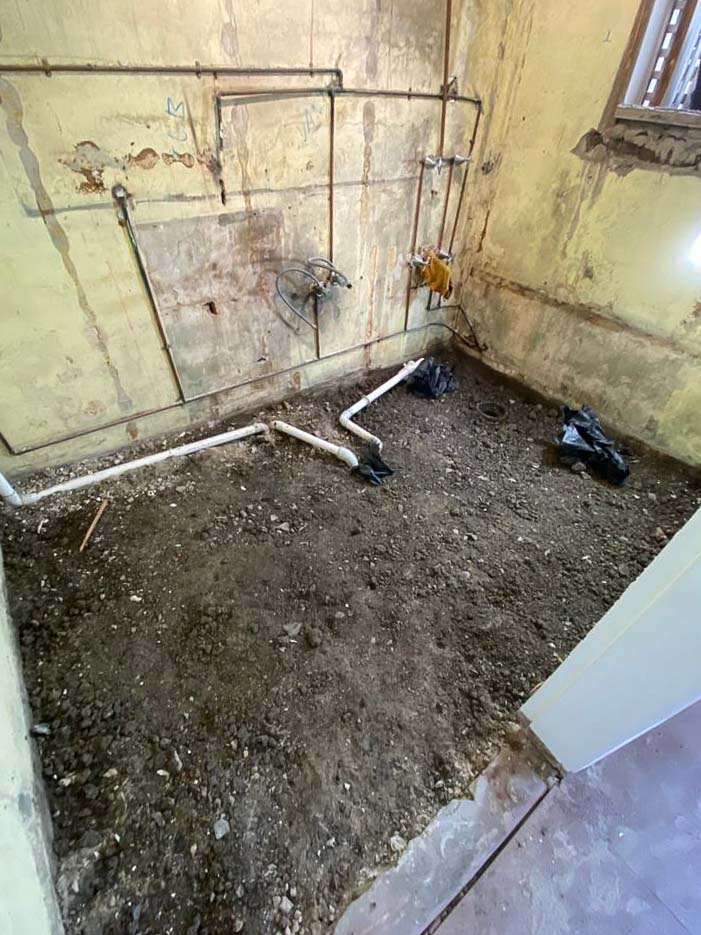 If you are thinking about renovating your bathroom then the first thing you have to do is work out how much money you want to spend. This will make the decision for you when it comes to getting a makeover, remodel or total bathroom renovation. They all sound like similar things, but the difference is in how much is actually renovated or changed and that is simply determined by the amount of labour put into it & the materials that are changed. 
If you are serious about renovating your bathroom the the most involved, extensive, way of doing this is a total or complete renovation. Our bathroom building company literally strips and demolishes the old bathroom back to the bare walls and plumbing connections.
A total bathroom renovation means exactly what it sounds like, the whole room is renovated, everything from the flooring to the lights in the ceiling and everything in between.
Is a total bathroom renovation better than a makeover
A total bathroom renovation isn't better or worse than a makeover or remodel, it is different. It is like comparing apples and oranges, they are both fruits but have different taste and texture. Comparing a total bathroom renovation to a makeover is the same idea – both will update the look of your room, but a total renovation will be a more extensive, deeper transformation. The whole interior design of the bathroom will probably change with a total renovation whereas a makeover might be a simple as new taps and some paint on the walls.
What are the benefits of a total bathroom renovation
There are so many benefits to a total bathroom renovation;
By demolishing the old floor and wall tiling we can repair any damage that couldn't be seen before. We have renovated lots of bathrooms that had water damage, crumbling floor beam supports and other hidden problems.
If you completely demolish the old bathroom every single step of a new build is done to the latest building standards & with modern materials. Instead of renovating over the top of existing building materials you are starting fresh.
The room can be adjusted so that the floors, walls and ceiling is 100% square and accurate. By stripping all the floor and wall tiling, screed and waterproofing we can check all the framework of the room to make sure it is perfectly square. This means we are building in a room that has precise right angles so that tiles or other furniture will fit correctly and not be at an angle.
A total bathroom renovation lets you change the layout of the room because we can access the plumbing and make adjustments to where it is placed in the floor or walls. 
You can change the colour, style and textures in the bathroom by using brand new materials instead of trying to paint over existing ones. So everything can be changed including floor tiling, wall tiles, taps, lights, switches and even power points. You can turn an old 60's style bathroom into a modern hotel-like style using the latest colours and textured tiles.
When you start with a blank canvas you can literally create anything you like, this even includes adding a bath, building a new steam room, adding bi-fold doors to create an outdoor area and more. Totally renovating can create so many more choices vs a basic makeover.
Is a total bathroom renovation the same as a complete bathroom renovation
Yes a total bathroom renovation is the same extensive work as a complete bathroom renovation. The terms are used by different people but mean the same thing, completely demolish the old bathroom and build a new one from the floor up. So that means new flooring, waterproofing, tiling, shower, bath, vanity, lighting and painting. In some cases it could even mean a new skylight is installed, underfloor heating, heated towel rails or other items to transform the bathroom completely.
Is a total bathroom renovation more expensive than a remodel
A total bathroom renovation is normally the most expensive option you can take when renovating simply because you are doing more work therefore need more labour. A remodel might be something simple like changing your vanity or putting in a new shower screen so the rest of the bathroom remains the same. The licensed tradespeople you need are the same but a total bathroom renovation might take two or three weeks to complete while a remodel might be done in a few hours if it is something simple getting changed.
Here are some of our recent bathroom renovations in Sydney that Nu-Trend has completed. The majority of the projects we are contracted for are complete bathroom renovations where the room is completely stripped so that the flooring, walls, tiling and waterproofing is installed brand new.
Local | Licensed | Insured

Protection for home owners.
Local Sydney contractors.
A qualified and licensed renovator.
Public liability insurance for peace of mind.
Drainer | gas fitter | plumber | renovator
Nu-Trend is a Sydney company with more than 15 years experience completing bathroom renovations & solving plumbing problems. he Directors Rob and Rick are hands-on, and provide a personalised service.
STANDARDS AUSTRALIA AS/NZS3500:2018 Compliant
All the work carried out by Nu-Trend is AS/NZ3500:2018 compliant. It is the Australian Standard for Plumbing and Drainage in NSW as set down by Standards Australia and the Australian Building Codes Board. They give the plumbing industry technical direction to enable compliance with required regulatory frameworks.
15 years experience with a written commitment.
Rick and Rob are the hands-on directors for Nu-Trend. Rather than hire sub-contractors and manage their business from a distant office, they are on the tools, at your site & working towards delivering your bathroom renovation or plumbing service. It means you are talking directly to the owners of the business, the guys who are accountable and responsible rather than via email or through customer service teams.
It is why they are able to provide a written guarantee that demonstrates their confidence in standing by the quality of their workmanship and the service they deliver to every single client.
They have a very single minded commitment to deliver a high level of professionalism and quality, they've been doing renovation contracting in Sydney for 15+ years.