It's easy to keep your bathroom looking like new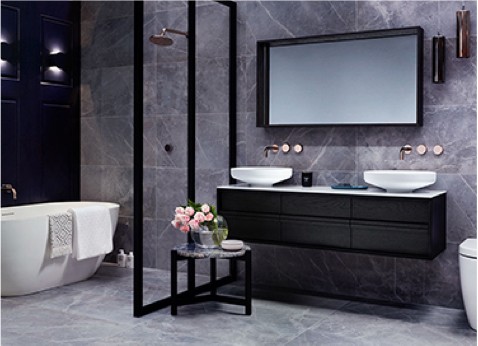 Every time Nu-Trend completes a bathroom renovation in Sydney we also try to make sure every home owner understands how to keep it looking new.  We know what it is like, you've just had your bathroom renovation completed after months & weeks of preparation. Everything is bright and shiny, fresh and clean. Not a water spot to be found. The grout is bright and white. The mirrors gleam. The vanity, bath and tiles sparkle. Your new bathroom is like a showroom and its almost a shame to use it.
Let's get practical though, you want to spend hours in the new deep bath we installed and the amazing new shower head that offers a massage after a long hard day. That's the whole point, it isn't a museum after all. Although that means there is soap, oils or other bathroom products leaving their residue on different surfaces.
Below are some tips to preserve that new bathroom look and feel.  There are certain products and cleaning tools that are the main staple in almost everyone's cleaning product cupboard that should be avoided when cleaning your new bathroom. At the end of the day keeping your bathroom looking new just takes some common sense and where possible, avoiding harsh chemicals that can break down the surfaces of your new products.
Here are some of our recent bathroom renovations in Sydney that Nu-Trend has completed. The majority of the projects we are contracted for are complete bathroom renovations where the room is completely stripped so that the flooring, walls, tiling and waterproofing is installed brand new.
Local | Licensed | Insured

Protection for home owners.
Local Sydney contractors.
A qualified and licensed renovator.
Public liability insurance for peace of mind.
Drainer | gas fitter | plumber | renovator
Nu-Trend is a Sydney company with more than 15 years experience completing bathroom renovations & solving plumbing problems. he Directors Rob and Rick are hands-on, and provide a personalised service.
STANDARDS AUSTRALIA AS/NZS3500:2018 Compliant
All the work carried out by Nu-Trend is AS/NZ3500:2018 compliant. It is the Australian Standard for Plumbing and Drainage in NSW as set down by Standards Australia and the Australian Building Codes Board. They give the plumbing industry technical direction to enable compliance with required regulatory frameworks.
15 years experience with a written commitment.
Rick and Rob are the hands-on directors for Nu-Trend. Rather than hire sub-contractors and manage their business from a distant office, they are on the tools, at your site & working towards delivering your bathroom renovation or plumbing service. It means you are talking directly to the owners of the business, the guys who are accountable and responsible rather than via email or through customer service teams.
It is why they are able to provide a written guarantee that demonstrates their confidence in standing by the quality of their workmanship and the service they deliver to every single client.
They have a very single minded commitment to deliver a high level of professionalism and quality, they've been doing renovation contracting in Sydney for 15+ years.