How you can avoid costly Sydney shower repairs
This is our free guide giving you some information about how you can avoid getting ripped off when trying to repair your leaking shower in Sydney. You can learn from the mistakes of other home owners by looking at the decisions they made. In this example the property owner chose to have cheap repair work completed that costed thousands in repairs because of water leaks that appeared later on. 
In this example it will cost the owner $30,000 in rectification costs.
Why?
One of the worst shower repairs in Sydney we have ever seen.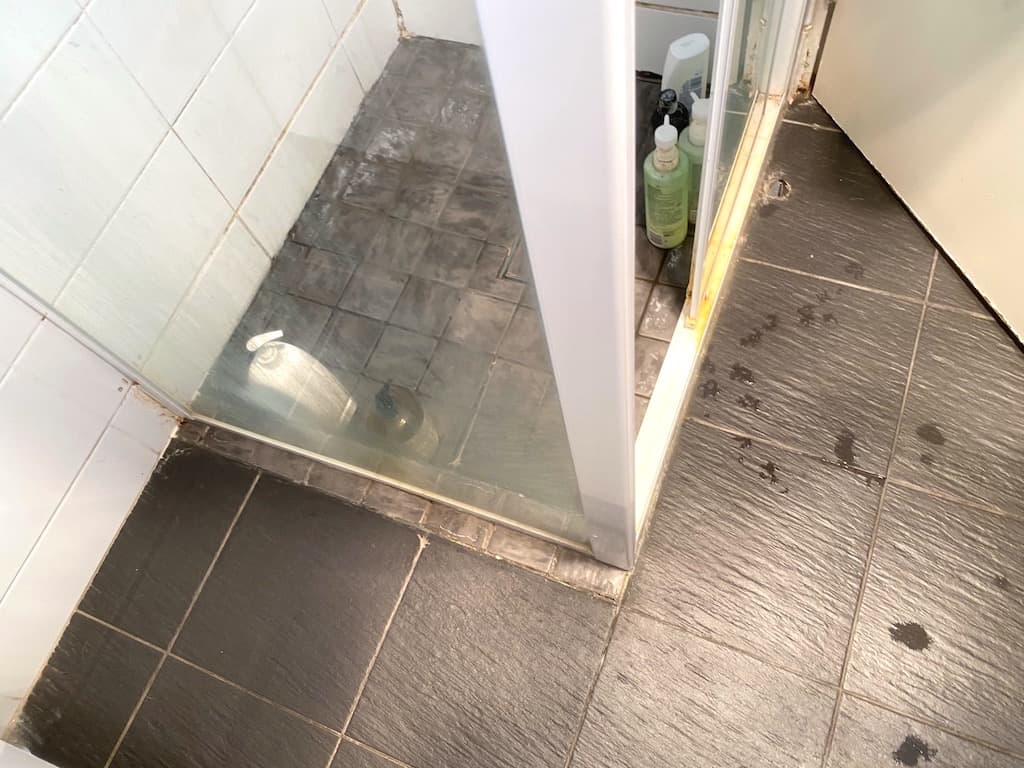 Nu-Trend is a bathroom plumbing repair company in Sydney that has repaired thousands of leaking shower recess ares for property owners in houses or units. Our breadth of experience means that we can do anything from finding a water leak in a shower, bathroom leak repairs, moving the shower plumbing or even a complete shower renovation to make it larger or convert it to a walk-in design.
Over the years we have provided thousands of free bathroom plumbing quotations and unfortunately we didn't win the contract to complete this shower repair in Sydney. In this example, the client needed a shower repair in Connely Point. Their cubical had a leaking shower that was identified in December 2019 and they explored the cost differences between retiling the shower, doing a shower remodel or even a complete shower renovation.
We provided a quotation for a shower leak repair after doing a free inspection, but they chose another contractor in Sydney that was nearly $5,000 cheaper. This wasn't just about a fix for a leaking shower tap, this was more extensive and would have originally cost them about $10,000 to fix properly but because of the poor repairs, might now cost up to $30,000 in get fixed correctly, we even had fears that the shower drain was leaking under the slab.
We know what you are thinking – how is it possible to have such a price difference for a simple shower repair quotation?
Well the devil is in the details and this property owner didn't realise the consequences of the choices they were making. We were called back to help them because nearly 12 months later they have even more problems with failed waterproofing caused by the cheap shower repair job the other company completed.
It created even more water related damage to other parts of the property.
What are examples of how or why a shower needs to be repaired?
CLIENT EXAMPLE 1
"It looks like that our shower (built 1999) doesn't drain properly due to not adequate fall towards the drain which creates water pooling in our shower.
We also have mould growing regularly at where shower floor and walls join, extremely high moisture level in the bathroom, everything gets rusty very quickly despite a good ventilation, cracked tiles along the shower floor. 
Who should we contact to assess the shower floor and evaluate if it was built properly, according to the standards? And conclude if poor built shower base causing all these and other issues or not?
Are you able to assist with this request or can you recommend who does these sort of assessments
Should we contact building engineer or someone else to carry out this job?"
For this scenario there is a mix of pooling water and mould building up because there isn't adequate fall on the bathroom floor but it could also be because the waterproofing in the room has failed.
If the sub floor wasn't prepared properly or the tiling not installed to a high standard then any movement over time can lead to cracked tiles, water leaks or failed waterproofing.
To be able to diagnose this properly would require an inspection but the rectification could be completely renovating the shower so that the walls, floors, waterproofing and tiling can be reinstated correctly.
Whether you need to engage a building engineer will depend if damage can be seen to the roofing or wall structure due to excessive movement from failed framework.
CLIENT EXAMPLE 2
"When someone takes a shower in the upstairs ensuite shower, we now have water flowing into the room on the ground floor beneath it.
Can you please provide a quote to:
1. get the leaking stopped
2. a new shower floor that includes some sort of fixed basin to cover the entire shower recess (so that we stop any future tiles cracking and causing leaks)
3. a new shower glass door and
4. replacement of the 8 cracked tiles in the area around the shower."
This is another classic example of a bathroom shower water leak that could be coming from a drain pipe, wall fixture, shower head, broken tile or failed waterproofing. Each of these items has the ability to allow water to escape into the building structure so if any of them haven't been installed correctly it can cause issues at a later stage.
This would require a leak detection service to be done & the repair work could be as extensive as doing a shower remodel to ensure the waterproofing is sound & all other elements installed correctly.
What problems did the shower repair company cause?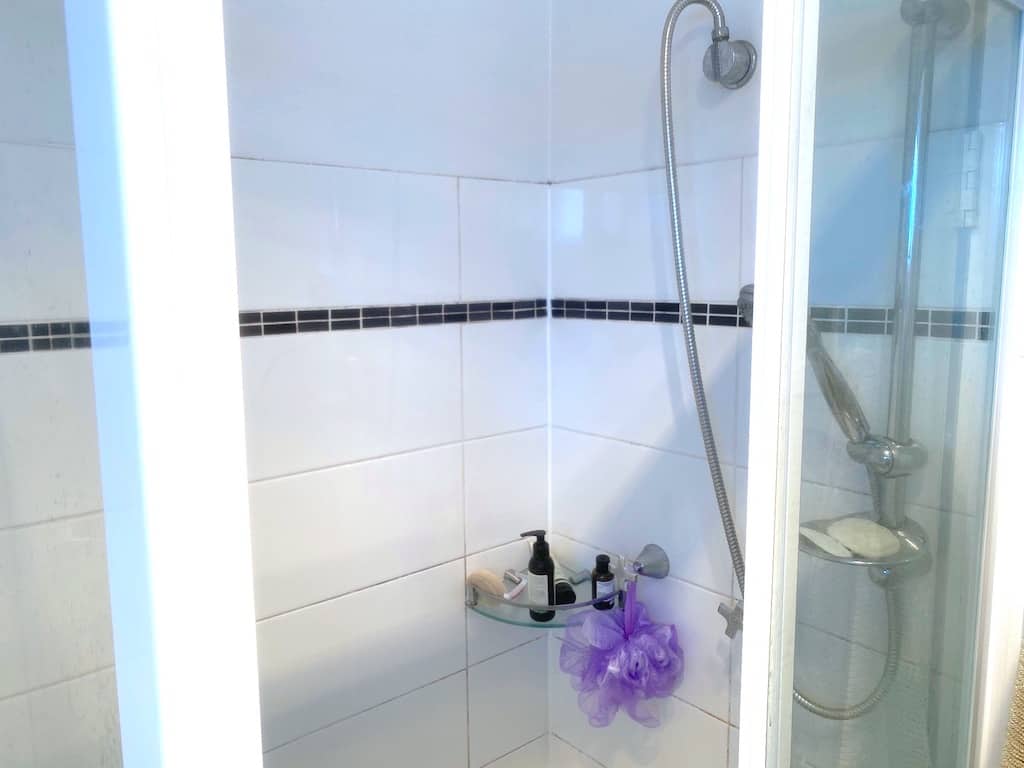 Even if you don't believe a single word we are writing, open each of the photos on this page and take a close look. This is what a $5,000 shower repair looks like just 12 months after being completed. From our point of view it is a disgrace, it is full of mould & the shower door doesn't work and the hallway floor is now water damaged from water leaking from the bathroom into other areas of the property. 
So what is the rundown;
The bathroom waterproofing is failing again, less than 12 months after spending $5,000 on a repair.
The corridor floor boards are now water damaged.
The grout lines are not even or even the same colouring.
The gradients are incorrect which means water can pool.
They finished the tiles shorter than the floor.
The grout lines vary from 2mm to 6mm so no care has been taken.
The old vs new tiles are not a close match.
A cheap, pre-fabricated shower screen has been used which is now falling apart.
There hasn't been allowance for the plumbing taps and shower head.
You can see existing green plugs and existing screw holes.
There is mould growing around the base and walls, this is a bathroom that kids use to shower in.
How to choose the right shower plumbing company in Sydney?
Don't get tempted by cheap repair quotes
Choosing the right shower repair company in Sydney is not only important but critical when it comes to making sure you don't spend more money later on getting even more repairs done. There is a big reason why quotes might vary so much and you can see from the list of shower repair items that need to be rectified that many shortcuts were taken for this repair.
Worst still the bathroom's waterproofing has failed again and caused even more damage than before. So in their mind the owner 'saved $5000' on the original quotes, but will most likely have to pay $20-$30K in rectification costs because it might be more than just the shower that has to be reinstated. 
It is another example of property owners not doing their due diligence when it comes to shower repairs for their property. Choosing a shower repair company in Sydney based on the cheapest quote isn't necessarily the smartest decision to make. 
In this example what is unknown is just how much damage has been done because there could be water damage to the whole bathroom, not just the shower. It would mean there is no point just trying to repair the shower corner but rather the whole room.
The benefit of using a bathroom plumbing company in Sydney
Nu-Trend is proud to be a leading small bathroom renovation specialist in Sydney with a reputation demonstrated with over 150 reviews & a mix of residential, commercial and real estate projects completed over the years.
We weren't sure whether to cry out of frustration or laugh at the property owner for making a decision on their bathroom renovation project that was down to pricing.
We've learnt the hard way when it comes to proving quotes or estimates on bathroom renovation projects in Sydney when we have underestimated the time needed, the difference quality materials can make or even hiring the right tradespeople to work with us when other specialist skills might be needed.
It means we know exactly how other bathroom renovation companies in Sydney can provide cheap renovation quotes because it typically means they are using low quality materials, inexperienced labour or rushing jobs to flip them quickly and get onto the next one.
A cheap renovation quote should be a red flag for any home owner and for this project we were under-quoted by around $5,000. That's right, another company were that much cheaper than our estimates and there wasn't any way possible for us to match them.
Although, now we can see why. 
Here are some of our recent bathroom renovations in Sydney that Nu-Trend has completed. The majority of the projects we are contracted for are complete bathroom renovations where the room is completely stripped so that the flooring, walls, tiling and waterproofing is installed brand new.
Local | Licensed | Insured

Protection for home owners.
Local Sydney contractors.
A qualified and licensed renovator.
Public liability insurance for peace of mind.
Drainer | gas fitter | plumber | renovator
Nu-Trend is a Sydney company with more than 15 years experience completing bathroom renovations & solving plumbing problems. he Directors Rob and Rick are hands-on, and provide a personalised service.
STANDARDS AUSTRALIA AS/NZS3500:2018 Compliant
All the work carried out by Nu-Trend is AS/NZ3500:2018 compliant. It is the Australian Standard for Plumbing and Drainage in NSW as set down by Standards Australia and the Australian Building Codes Board. They give the plumbing industry technical direction to enable compliance with required regulatory frameworks.
15 years experience with a written commitment.
Rick and Rob are the hands-on directors for Nu-Trend. Rather than hire sub-contractors and manage their business from a distant office, they are on the tools, at your site & working towards delivering your bathroom renovation or plumbing service. It means you are talking directly to the owners of the business, the guys who are accountable and responsible rather than via email or through customer service teams.
It is why they are able to provide a written guarantee that demonstrates their confidence in standing by the quality of their workmanship and the service they deliver to every single client.
They have a very single minded commitment to deliver a high level of professionalism and quality, they've been doing renovation contracting in Sydney for 15+ years.