Add value to a home by renovating your bathroom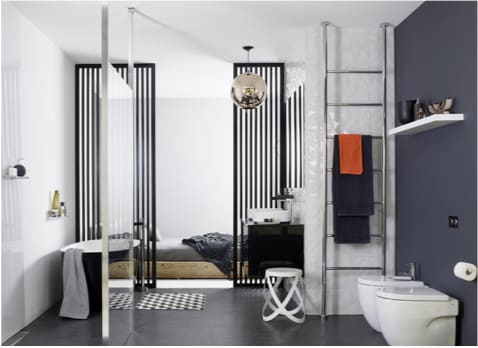 The property market in Sydney has reached record levels in recent years and so many people are simply priced out of the market. It is no surprise that people are moving to regional areas to seek a more affordable lifestyle. Regional NSW Today reports talk about 90,000 people that have moved in the 2015 / 2016 time period. 
Therefore, it is natural for property owners in Sydney to think about ways they can increase the value of their home or generate extra income to help pay the mortgage.
The simplest and most cost effective way of doing this is to renovate your bathroom or kitchen considering they are the most used areas of any house. 
Any property investment guide or real estate agent will say the same thing. All of the experts will repeat the same information that the kitchen and bathroom is where we spend most of our daily lives so it makes sense they are the first areas people consider to renovate.
Renovate or extend to create better living spaces
Renovate to profit
Recent statistics from sites like Domain show that the number of bathrooms in properties average just over 2.5 per home. So it becomes a worthwhile area to consider renovating either to enjoy it for yourself, update the property to then put it on the market for sale or renovate now, to then either sell or rent the property later in life. 
A modern, spacious bathroom can help attract more potential buyers to your listing, especially when similar properties have older interiors or you want to attract people who can't be bothered doing it themselves. When it comes to renters, similar principles apply. Your property will appeal to a wider cross section of people and you may even be able to increase your weekly rental price vs competitive properties. Either way a renovation can create a competitive advantage in the marketplace where the investment can become a profitable return either short term if it is being sold or long term via higher rental prices.
Renovate to earn a rental income
In other situations you can renovate an old bathroom in Sydney with the view to creating more living space in the property. A change to your floor plan might create a new bedroom with ensuite & external access, this could create a rental accomodation opportunity. You might already rent out rooms in your property that use a shared bathroom, it might be possible to combine a laundry and bathroom to create a new master plus ensuite or even a 3 way layout that can improve living practicality. 
These types of changes can help the chances of increasing the rent, making the rooms more attractive for potential tenants or creating completely new opportunities to use your property to earn an income.
Renovate vs extending
Either of the options outlined above, if done correctly, can add value to a property in the short or long term. The alternative to consider if you don't have the space available is to extend the property by adding more space to an existing room or adding another level. If you live on a large enough block of land or the property is positioned with enough space in the back yard with the right local zoning, then this can become a viable option.
It is obviously more expensive compared to renovating within the existing structure because you most likely will need an architect or builder, council approvals & the labour with associated materials will cost more. Although the upside is it might create even more unique opportunities to use the existing property.
Build a granny flat
More recently in Sydney, property owners have been building granny flats in their back yards. As small as 60 square metres with a bedroom, bathroom and living area is all you need that can be built from a kit, timber cladding, brick veneer or even double brick construction. These structures can be used as a living space, rental accomodation, outdoor office or even entertaining.
With the Australian lifestyle changing, people don't use their large backyards as much as they used to, so this becomes wasted space in many situations. Building a granny flat is more expensive than renovating but you have a completely separate structure that you can then use.
So there are lots of options available to improve the value of your home in Sydney. Renovating might cost between $15,000 and $30,000, extending or adding a second story might be between $50,000 and $80,000 while building a granny flat might cost anywhere between $50,000 and $150,000.
Common questions about renovating in Sydney
Here are some of our recent bathroom renovations in Sydney that Nu-Trend has completed. The majority of the projects we are contracted for are complete bathroom renovations where the room is completely stripped so that the flooring, walls, tiling and waterproofing is installed brand new.
Local | Licensed | Insured

Protection for home owners.
Local Sydney contractors.
A qualified and licensed renovator.
Public liability insurance for peace of mind.
Drainer | gas fitter | plumber | renovator
Nu-Trend is a Sydney company with more than 15 years experience completing bathroom renovations & solving plumbing problems. he Directors Rob and Rick are hands-on, and provide a personalised service.
STANDARDS AUSTRALIA AS/NZS3500:2018 Compliant
All the work carried out by Nu-Trend is AS/NZ3500:2018 compliant. It is the Australian Standard for Plumbing and Drainage in NSW as set down by Standards Australia and the Australian Building Codes Board. They give the plumbing industry technical direction to enable compliance with required regulatory frameworks.
15 years experience with a written commitment.
Rick and Rob are the hands-on directors for Nu-Trend. Rather than hire sub-contractors and manage their business from a distant office, they are on the tools, at your site & working towards delivering your bathroom renovation or plumbing service. It means you are talking directly to the owners of the business, the guys who are accountable and responsible rather than via email or through customer service teams.
It is why they are able to provide a written guarantee that demonstrates their confidence in standing by the quality of their workmanship and the service they deliver to every single client.
They have a very single minded commitment to deliver a high level of professionalism and quality, they've been doing renovation contracting in Sydney for 15+ years.