An ensuite bathroom with walk in shower -
with interior design by ThinkDzine.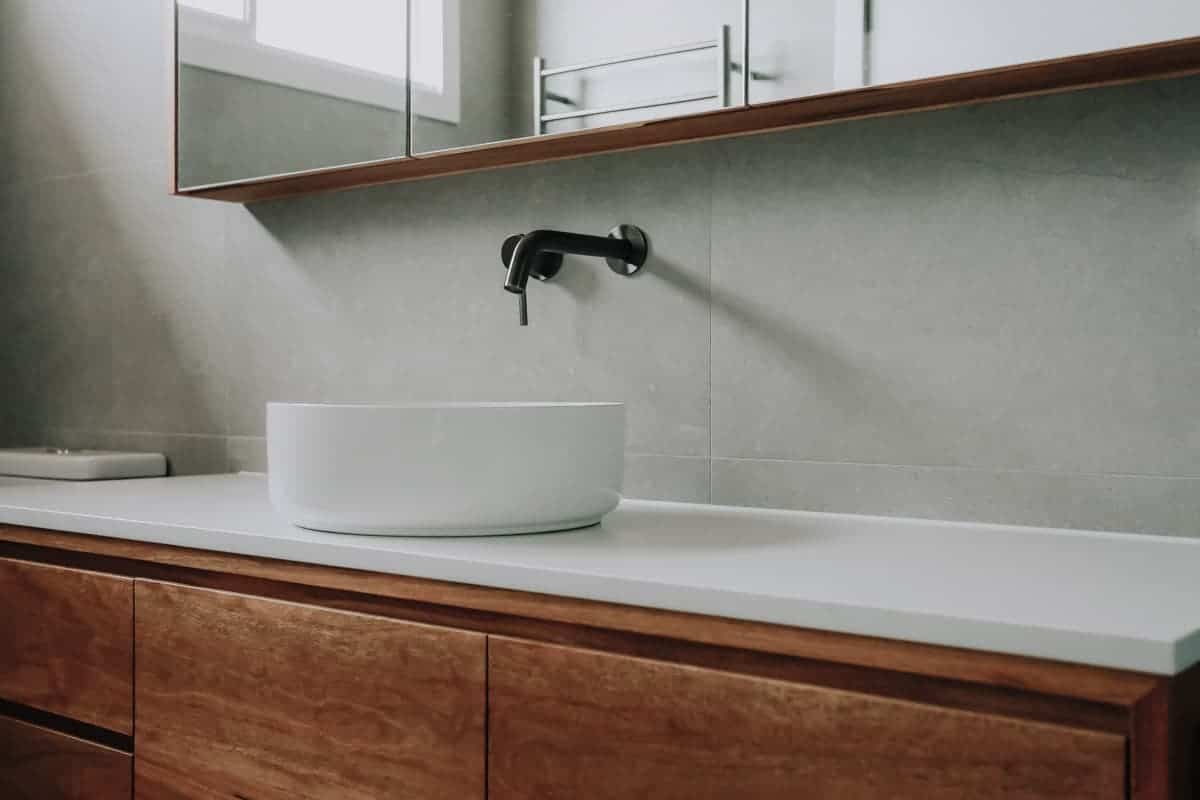 A custom interior designed bathroom renovation using products from ABI Interiors, Just In Place and Surface Studio with all the interior design work done by Dean at ThinkDzine
You might find Nu-Trend in the Renovating Mums Sydney Facebook Group with Rick and Rosey answering questions and providing advice about bathroom renovations or plumbing problems. That is how Jenny found Nu-Trend and she was after help with her bathroom renovation in Russell Lea in Sydney's inner west.
Jenny had already done extensive research about the products she wanted to use & the various bathroom renovation costs in Sydney and was ready to get her project started. This project turned into a complete bathroom renovation because the room had a major waterproofing failure, this meant stripping the room back to the wall studs and concrete slab.
We worked with Jenny to get her interior design plans drawn up which included exact measurements of the room as well as 2D virtual plans which helped make decision making easy for product selection and placement. We kept all the existing plumbing in their existing locations and the existing sub floor was in great condition so no pipes needed to be moved in the concrete slab.
The other benefit of a fully demolished room is that we can ensure everything is renovated to a very high standard with all the work focussed around new waterproofing, tiling & fixture installation. It means we aren't trying to work over existing conditions which could hide underlying issues.
Jenny had already selected a range of products from ABI Interiors and Surface Studio with her feature piece a spotted gum, wall hung, timber vanity from Just In Place. The scope of our renovation work included;
Hot and cold water rough in

Fit off fixtures and fittings 

Screeding gradients to correct falls 

Render correction of all walls 
Everything went to plan as Jenny had put in so much pre-work and planning when combined with the interior design drawings of the bathroom it meant everything was organised precisely. The only small issue we encountered was the mirror cabinet was supposed to be recessed into the wall but the wall stud timbers weren't placed in a way that made this possible. This was an unexpected issue as we couldn't see behind the pre-existing wall, although it turned out out to Jenny's advantage as it meant the beautiful timber of the glass wall cabinet could be seen.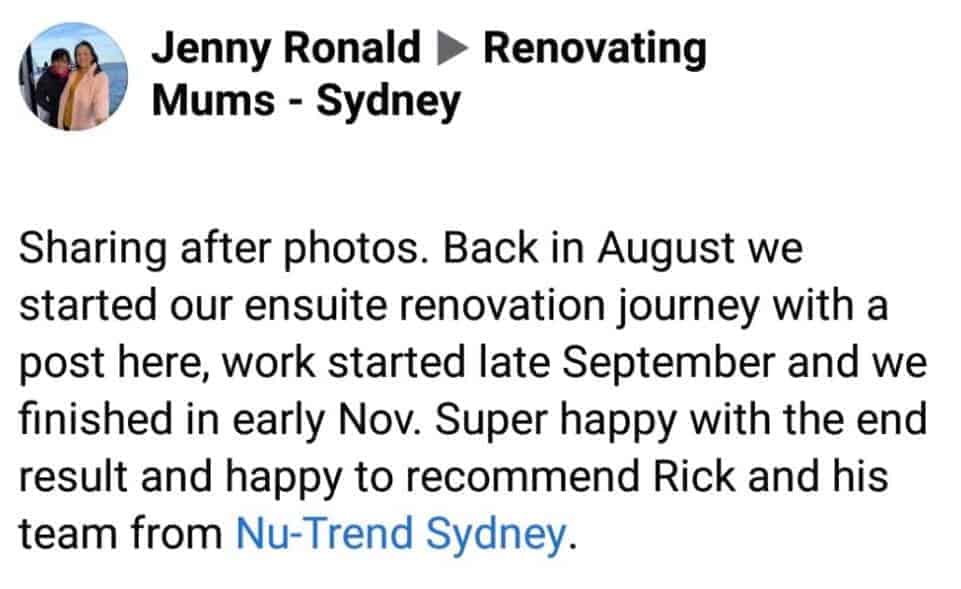 The benefits of getting a 3D Virtual Bathroom Design with ThinkDzine
An interior designer merges expertise in interior architecture, design & project management.
The team at ThinkDzine Interiors in Sydney were selected to help with the interior design of this bathroom renovation project. They helped create the initial concept using their blend of experience with colours, textures, products and design. Taking things a step further their service created the ability to take a flat 2D floor plan and turn it into a virtual 3D Design. This enabled the property owners to visualise their bathroom renovation project from start to finish.
Taking this approach helps in many different ways;
You can see how all the bathroom fixtures will placed in relation to each other.
The floor layout can be visualised in a 'virtual' view that can help with decision making about the placement of toilet, shower, vanity etc.
You get an impression of the colours, textures and surfaces to get a feel for how the finished room will look. 
Everything is measured with absolute precision to make sure each piece & every element will fit perfectly in the room. Read our story about how this property owner chose the cheap option which will cost $20,000 to repair 

here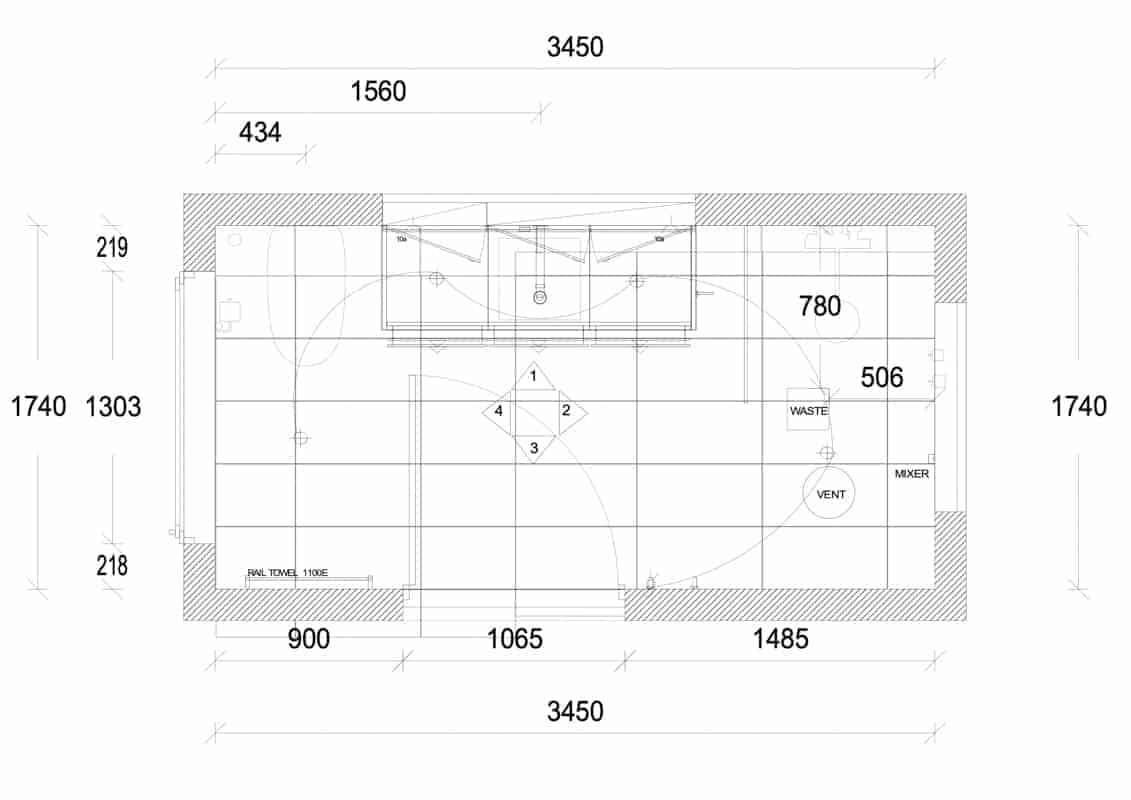 Custom made spotted gum timber vanity with Caesarstone top from Just In Place
Just In Place Fern Timber Vanity & Mirror Cabinet with Snow Caesaestone Top
Galit & Leah started Just in Place back in 2017 using their wealth of realistic real-world experience in design, building, project management, budget management and business. Their unique blend of interior design and fashion label business experience now turns out incredible products that are stylish and functional. 
Jenny had chosen their Fern Timber Vanity & Mirror Cabinet combination that is hand crafted out of spotted gum which ads a warm though to the room and is set off against the white of the Caesaestone top & grey wall tiles. The understated white circular basin almost blends in and helps to highlight the ABI Interiors tapware.
A bathroom with Elysian tapware from ABI Interiors
ABI Interiors Elysian range of tapware in brushed Gunmetal for the sink, shower and towel rails.
The range of products from ABI Interiors is one of our favourites as they focus on creating architecturally inspired designs and never stop innovating. These types of products are a step above anything you can find in Bunnings or online at eBay and this is what makes the difference between a bathroom renovation for $10,000 or $30,000. 
Their quality and designs make the difference between a good bathroom and one that really stands out as being unique and well designed.. This is one of the benefits of using an interior designer to come up with your bathroom renovation design as they understand how to use a combination of quality materials.
Jenny had chosen the Elysian range of products from ABI Interiors which is a premium fixture using ceramic cartridge swivel technology. It is an extremely durable, user-friendly mixer with precise temperature and pressure control. The Wall Mounted Spout has soft curvature and an aerated water cartridge providing a seamless pressure supply with efficient water use.
The products included;
ELYSIAN MINIMAL MIXER AND SPOUT SET
VINO HAND SHOWER
CALI MULTIPURPOSE HOLDER
OTTO SINGLE TOWEL RAIL
Everything was set off with very neutral, Stone Argento Tiles from Surface Studio in Sydney
What did we do in this
custom design bathroom renovation?
#1 PROTECTED THE PROPERTY
Doing as many house renovation projects as we do, we understand how stressful they can be for people trying to live through them. Most tradies also make a big mess. We make sure we protect your property with floor and wall coverings to make sure nothing is damaged while we are renovating your house.
#2 PLUMBING & FLOORING INSPECTION
Nu-Trend is a licensed plumber which is an advantage when you are renovating a bathroom. For every project we inspect all the plumbing to make sure it is ready for use. We conduct a CCTV Camera Inspection of your piping and if required a high pressure jet blast to make sure everything is ready.
#3 TAKING CARE OF THE PROPERTY
It is the small things that count. We will check things like how your pets get into the house, if neighbours require access to driveways or other things that are important to how you live in your home to make sure everything goes smoothly during a renovation. 
Some renovation contractors will not include this in their service, they might leave the rubbish from the demolition in your backyard or on the street. Nu-Trend will make sure all the materials and rubbish that are not used are removed neatly ensuring your property isn't left in a mess and neighbours are happy.