Small bathroom renovator for Randwick
The small bathroom renovation brief for this project in Randwick was a little different. The Client was in trouble after the builder they booked to manage the project went missing. This is a common story that we see many home owners experience when they choose cheap quotes, confirm jobs via email but without a written contract or don't engage a licensed or qualified builder. You just leave yourself exposed to fraud, poor quality workmanship & other issues.
This is why it is important to choose a reliable renovating contractor that has a proven track record, you can check their credentials, see previous work & even look over their reviews to know they are a good choice. Sydney's Eastern Suburbs is one of the most valuable property areas in Australia so for this property it was critical for our Client to quickly find a replacement building contractor so they could complete the work needed & then sell the property.
This couple were seasoned property flippers and were no strangers to tackling projects that needed quick turnaround times. Their plan was to renovate for profit by turning a two bedroom, one bathroom apartment into a three bedroom, two bathroom open plan living area. Flipping is known as the process of selling and buying a house (or any property) with the intention of renovating it to then sell it for a profit in a relatively short space of time. The aim obviously is to buy the property, make the necessary updates to attract more buyers then sell it for more than the combined price of the property, legal or finance costs and renovation costs. The risk is if the renovation work isn't done well or exceeds the budget set, you can run the risk of losing money and your "flip will have flopped" so to speak.
For many other family's or property owners in Randwick their requirements are much simpler – just make improvements to the home to make it more liveable & of course we can help with that too.
For some people though, flipping can be a lucrative way to earn great returns, then flip those returns back into renovating the next property. You can read stories of seasoned flippers who say they make at least $25,000 profit on the homes they flip with some being lucky enough to make as much as $100,000 on certain properties. There has to be the right mix of elements for that to happen.
Nu-Trend helped this couple in Randwick manage the entire project with our focus placed on the master bathroom and ensuite while we used our network of building contacts to get the kitchen remodelled. The goal was to create very simple open plan living spaces that would suit the rental market, have a style that wouldn't date or age quickly while appeal to a wide range of potential tenants.
We were fortunate and didn't run into any unforeseen issues which helped kept the costs down as we worked with all the existing services in place. This small bathroom renovation was a classic case of transforming the rooms from 70's style, teal decore, to be fresh, modern and practical. As of December 2021, Randwick has 235 properties available for rent and just 37 properties for sale with the median property prices over the last year ranging from $3,360,000 for houses to $1,160,250 for units with the last five years of sales seeing compound growth of 8.6% for houses and 5.9% for units. From an investment property perspective houses in Randwick rent out on average for $1,100 PW and units rent for $550 PW. So renovating for profit in this suburb can potentially make a lot of sense with the right financial scenario in place. The location has close proximity to the city, transport and the beaches which makes it a great central location & long term investment.
We can complete bathroom renovations in Sydney for a house, unit or townhouse. We are able to work with all types of room shapes and sizes creating a design in collaboration with a designer or working with your ideas.
What did we do in this small bathroom renovation?
Our scope of work for this small bathroom renovation in Randwick was extensive and included the following;
Managing the demolition of the existing bathroom.
Removing all the rubbish.
New ceilings & painting.
Relocation of the kitchen plumbing.
Reworking gas and water pipes to obtain Strata and Local Councils approvals for bathroom waste disposal.

Some of the electrical work.

Minor carpentry work for the existing door and skirting.

Waterproofing and certification processes.
All the tiling.
Connecting the existing plumbing services.
So ultimately it was all about creating a modern, functional small bathroom suitable for a rental property or quick sale. So it had to be practical, not too luxurious and within budget. It proved again that no matter the size of the space there are always ways to add value to your property by being clever about the materials and choices made.
In this situation with so many older properties available for rent, it would mean this one would stand out to potential renters with its fresh looking bathroom & kitchen. So the initial investment put into renovating turns into a shorter time on market and faster rental returns or a quicker sale.
A review for our renovation work
"Best plumbers in Sydney! Loved woking Nutrend.

Our new bathroom looks great, we could not have done it without Ricky, Robbie & the Boys"
What was unique about this small bathroom renovation?
The client sourced and supplied all the items that were fitted or installed such as;
Towel rails.
Mosaic tiles.
Vanity. 
The work was  completed in 3 weeks with a similar renovation costing between $25,000 – $30,000.
With a restricted budget and tight time frame there weren't too many extra design elements added to this project, it was all about fast, efficient and cost effective turnaround to get the property on the market to be sold.
Is renovating in Randwick difficult to do?
Randwick is one of the oldest suburbs in Sydney so it has a mix of heritage-listed properties (you can check your property here) as well as a lot of duplexes with two dwellings attached to each other. So doing renovations for your property in Randwick may require DA Approvals before work can commence.
Randwick Council have some great resources on their website that explains the approval process here.
For most internal non-structural/non-load-bearing internal alterations and renovations, your project will be exempt from needing development approval. The council explains those scenarios on their website here
The other consideration is access because many of the streets are quite narrow so getting materials or debris in and out might add to the labour cost of the project.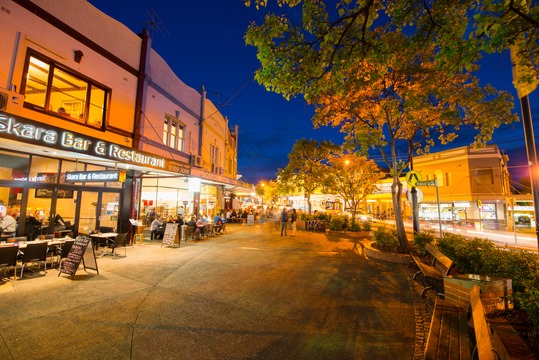 What is the cost of renovating a property in Randwick
$100 – yes, it's true. Just kidding. The cost of renovating in Randwick is really no different to any other suburb in Sydney. The are a billion variables so the pricing will be dependent on exactly what is being done.
Nu Trend can do a site inspection, talk through your renovation brief, design ideas & then provide a fixed price written quotation so you can calculate your costs accurately.
What will vary?
The materials used
The quality of the labour
Products that get installed
Type of tiling
Whether the existing room needs to have remediation to repair flooring or walls
If the floor plan is getting changed which requires services to be moved.
Either way we can help you work out all the required costs to help you budget accordingly.